Transforming the Landscape of Cybersecurity

SANS is dedicated to creating opportunity by providing more pathways to education, community, and careers. We believe that there is no place for racism or discrimination in our community or industry. We stand in solidarity with those who, like us, are committed to advancing equal opportunity for all. 
The SANS+HBCU Committee was birthed as a spinoff of the SANS Diversity, Equity, and Inclusion Task Force with a strategic focus on connecting Historically Black Colleges and Universities with industry leading SANS/GIAC training and resources.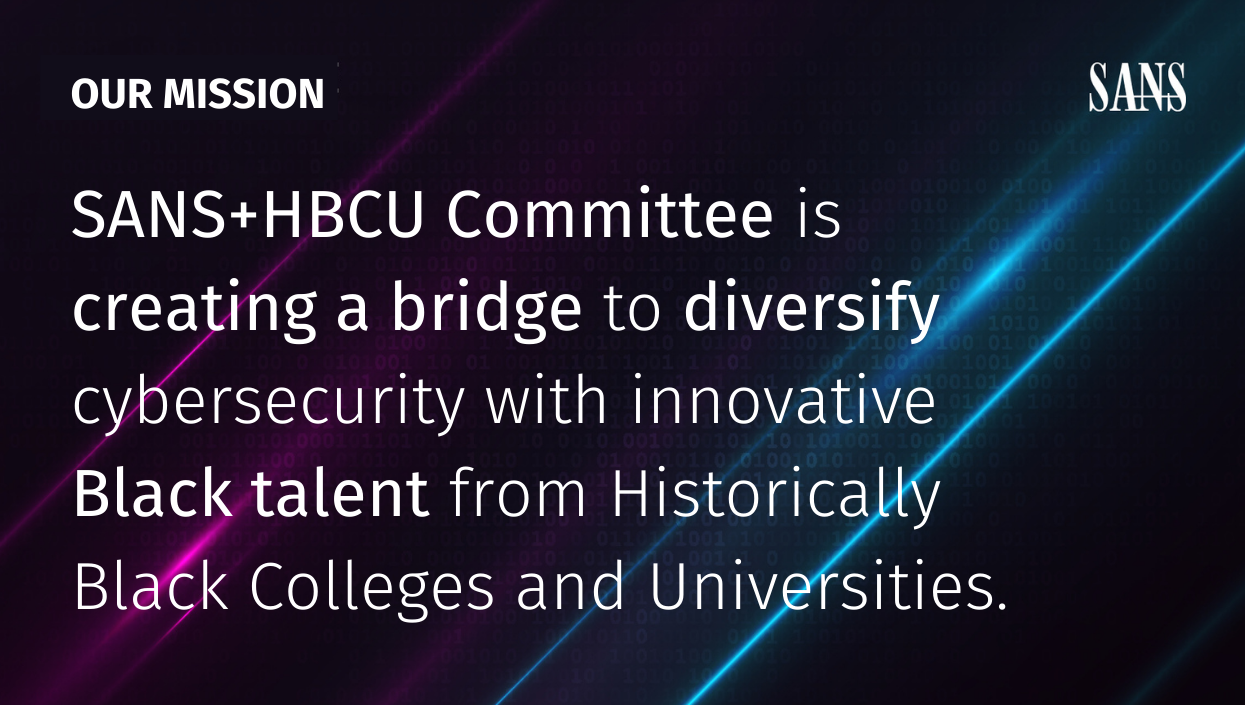 According to United Negro College Fund (UNCF), HBCUs are responsible for 25% of all African American students with bachelor's degrees in STEM fields despite making up only 3% of our nation's Universities and Colleges. Establishing cybersecurity programs within HBCUs gives SANS the opportunity to work with large groups of innovative Black talent who are already on a path towards higher education, paving the road to a more diverse cybersecurity industry faster. Reference
SANS+HBCU Initiatives
Partnerships
SANS' goal is to be intentional about developing a pipeline of Black excellence into the cybersecurity field and we believe the best way to do so is by establishing a meaningful relationship with some of the best Historically Black Colleges and Universities in the country.
The intent is to understand the needs of our partner institution and provide support through various resources such as:
Scholarships
Guest Lecturers/Speakers (Adjunct Support)
Paid Internships as lab technicians and courseware support
Mentorship and coaching with industry-leading instructors
Technology Package
Sponsor an institution-wide Capture the Flag competition
Free access to our SANS Summits (Black in Cloud Security Forum – February 18, 2021)
Free cyber camps for middle and high school students
We are pleased to announce our very first partnership agreement with University of Virgin Islands! Read about it here.
Cyber Ranges
SANS+HBCU has hosted two capture the flag events to date. Participants played to gained cybersecurity skills by competing in progressively tougher hands-on challenges during the self-paced events. These skills are applicable to real-world jobs, such as:
Using a command line interface
Scripting and programming
Thinking creatively
Interaction with pcaps and flow logs, parsing, extracting, and visualizing packets
Introduction and use of common forensic tools
Interaction with common developer pitfalls
We hosted both intermediate versions, as well as beginner versions that provided tips and hints within the challenges so even if this it was all new, anyone could participate.
SANS+HBCU Black History Month Edition 2021
Questions? HBCUChallenge@sans.org
Cyber Talent Academy
The first ever SANS+HBCU Cyber Academy is underway to level the playing field and provide Historically Black College and Universities direct access to industry-leading certifications for free. More information soon to follow.
Webcasts, Forums, and Community
SANS+HBCU is working closely with the DEI Taskforce on additional initiatives, such as the BIPOC in Cloud Security Forum that was held in February 2021 and the Live Stream Series with our Committee members. We are actively creating additional, regular events, educational opportunities, and ways for the community to connect and support one another. This blog post will be kept up to date with information.
Committee Members

Delisha Hodo, SANS HBCU Engagement and Outreach Coordinator, dhodo@sans.edu
Dennis Scandrett, SANS DEI Task Force Lead, dscandrett@sans.org

Alexandra Bishop, Monisha Bush, Lara Dawson, Alison Kim, Chelsea Newbould, and Lisa Peterson