Are you looking to speak to one of our representatives and would like to learn more about SANS? SANS regularly attends trade events across the globe, providing the opportunity for you to meet some of our staff and hear all about the complete SANS portfolio, from our more than 70 cyber security training classes to some of our bespoke programs.
The table below lists all of the upcoming trade events which SANS will be attending, the list will be updated as more trade events are confirmed so be sure to check back regularly.
If you are already attending any of the listed trade events, be sure to come and speak with us or reach out to us via email to possibly set up a meeting at this trade event. Our team will be on hand to talk you through SANS training and how we can support your cyber security strategy. If you are interested in attending, you can secure your place through some of the registration links below.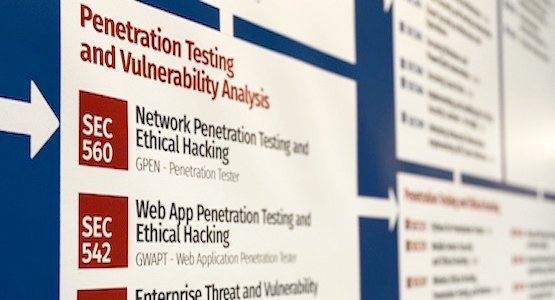 Trade Events Schedule
| Trade Event | Location | Start Date |
| --- | --- | --- |
| Rocky Mountain Cyber Symposium (RMCS) | Colorado Springs, CO, USA | 20 Feb, 2023 |
| Gartner Security & Risk Management Summit | Dubai | 27 Feb, 2023 |
| Cloud & Cyber Expo | London | 08 Mar, 2023 |
| RootedCon Madrid | Madrid | 09 Mar, 2023 |
| Australian Cyber Conference | Canberra, Australia | 20-22 Mar, 2023 |
| Gartner Security & Risk Management Summit | Sydney, Australia | 28-29 Mar, 2023 |
| GISEC | Dubai | 14 Mar, 2023 |
| Security Summit | Milan | 14 Mar, 2023 |
| BOTCONF | Strasbourg | 12 Apr, 2023 |
| Securithon | Oslo | 17 Apr, 2023 |
| HIMSS Global Health Conference & Exhibition | Chicago, IL, USA | 17 April, 2023 |
| CyberSec Europe | Brussels | 18 Apr, 2023 |
| CyberUK | Belfast | 19 Apr, 2023 |
| Mundo Hacker Day | Iberia | 20 Apr, 2023 |
| RSA Conference | San Francisco, CA, USA | 24 Apr, 2023 |
| AFCEA TechNet Cyber | Baltimore, MD, USA | 02 May, 2023 |
| Adriatic Sea Defense & Aerospace | Zadar, Croatia | 03 May, 2023 |
| AFCEA Fachausstellung | Bonn | 10 May, 2023 |
| V2 Security | Copenhagen | 10 May, 2023 |
| IDC Security Forum Adriatic 2023 | Belgrade, Serbia | 11 May 2023 |
| Osintomatico | Madrid, Spain | 12 May, 2023 |
| Qubit Prague | Prague | 17 May, 2023 |
| Nordic IT Security | Stockholm | 25 May, 2023 |
| Hackinbo | Bologna, Italy | 10 Jun, 2023 |
| Infosecurity Europe | London | 20 Jun, 2023 |
| LEHACK | Paris, France | 24 Jun, 2023 |
| Bsides TLV | Tel Aviv | 29 Jun, 2023 |
| Technet Augusta | Augusta, GA, USA | 14 Aug, 2023 |
| NGAUS-145th General Conference & Exhibition | Reno, NV, USA | 18 Aug, 2023 |
| AUSA Annual Meeting and Expo | Washington, DC, USA | 09 Oct, 2023 |