Free Upcoming SANS Workshops
In these workshops you will:
Learn Hands-on Skills that you can use immediately
Go In-Depth into the latest technology
Interact with other attendees
Get access to SANS top Instructors
The upcoming workshops are listed out below and will feature live stream instruction, subject matter expert support, immersive hands-on labs and student to student interactive Slack workspace similar to our Live Online environment.

Due to the nature of these workshops, many have a capacity limit and may not be made available for archive. To help us offer this opportunity to as many people as possible, we are asking that you please only register if you plan to attend live. Archived workshops will be available for self-guided viewing after the workshop has ended.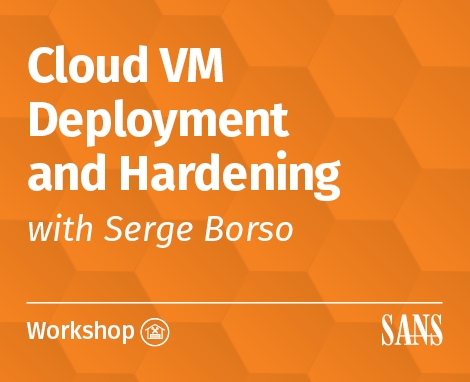 Thursday, 13 Oct 1:00PM EDT (17:00 UTC)
Duration: 2 Hours
This Workshop will scrutinize a common cloud service: Virtual Machines, and focus on the secure implementation of that service. We'll discuss Operating Systems, as well as security groups, remote access, system and network hardening as well as how mature organizations handle deployments.
Upcoming SANS Workshops
Please click through to registration for more information including prerequisites and systems requirements.
Workshop
Presenter(s)
Date/Time
Description
Serge Borso
Oct 13, 1:00PM EDT

Join this Workshop to learn how experts solve for the security concerns surrounding virtual machines in a cloud environment.

Advanced Vulnerability Discovery Workshop

Matthew Toussain
Oct

PrintNightmare, Log4Shell, and more! Your vulnerability scanners are TERRIBLE at discovering these kinds of findings!

In this workshop we will perform an in-depth exploration of unique vulnerabilities, and design custom scanning modules using languages such as Python and NSE-LUA.
Details and registration for future workshops will be added as they become available.