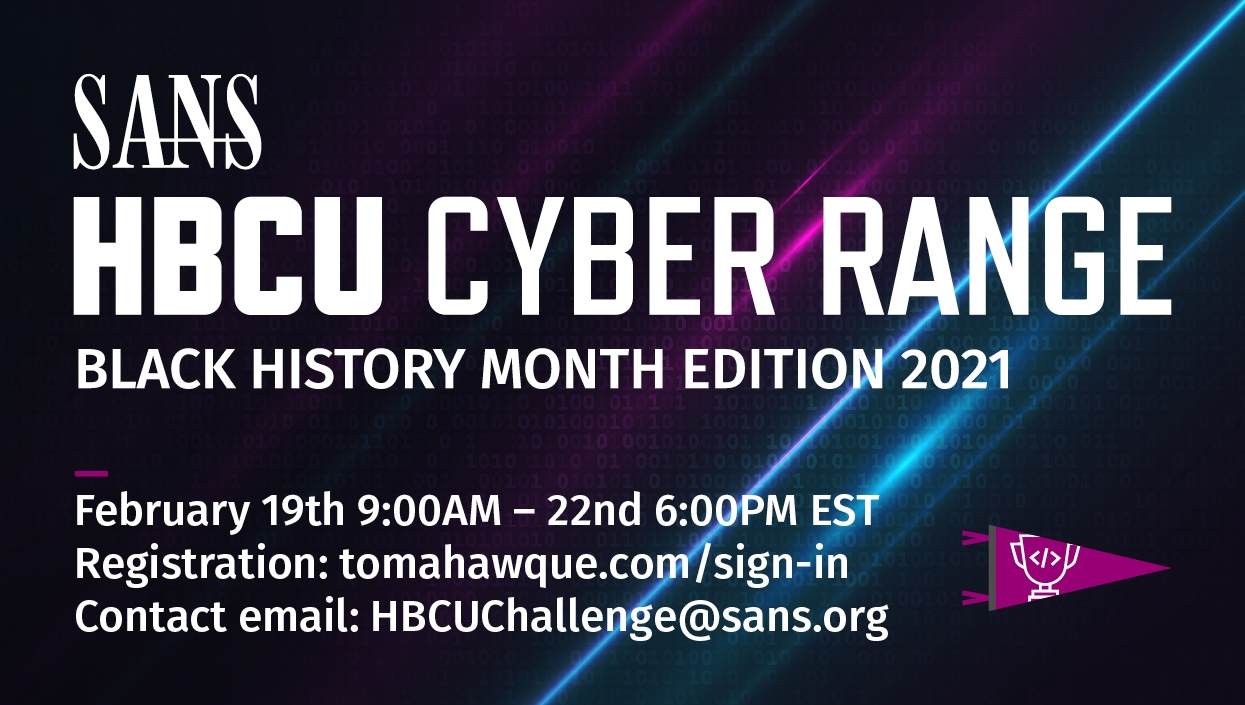 GOOD NEWS!
In November, during the SANS + HBCU Fall Classic Cyber Range Competition, we showed the world how HBCUs aren't only known for their bands, culture, and history. In fact, the world discovered that HBCUs are proudly Historically Black in Cyber and coming to claim their place in the field! Participating HBCUs from the Fall Classic Cyber Range Competition included:
Alabama A & M University
Alabama State University
Albany State University
Hampton University
Howard University
Johnson C. Smith University
Mississippi Valley State University
Norfolk State University
Xavier University of Louisiana
BETTER NEWS!
Even better news is that SANS – the global leader in cybersecurity training and certification – is hosting our next SANS+HBCU Cyber Ranges competition - Black History Month Edition! This is a FOUR DAY event from Friday, Feb 19, 2021 through Monday Feb 22, 2021. The range will be open for competition on February 19th at 9 am ET and will remain open, around the clock, until it officially closes on February 22nd at 6 pm ET. Participants should feel free to come and go as they please. The Cyber Range will be open around the clock for 81 hours to provide maximum flexibility.
Throughout this four-day event, participants will gain cybersecurity skills by competing in a self-paced, independent, hands-on challenge. The skills gained from our CTF are applicable to real-world jobs and include concepts such as:
Using a command line interface
Scripting and programming
Thinking creatively
Interaction with pcaps and flow logs, parsing, extracting, and visualizing packets
Introduction and use of common forensic tools
Interaction with common developer pitfalls
In addition to the competition for those who know their stuff, this event will also include both beginner and intermediate versions in which participants can be provided hints and tips within the challenge. No experience necessary!
This competition has been put together specifically for HBCUs. While anyone in the community may sign up to play, only HBCU students or alum are eligible to win the prizes for this event.
BEST NEWS!
Who doesn't love free stuff?? We have prizes for the top winners*!

Top 3 winners* of both Intermediate and Beginner Levels** will win:

1st PLACE: Free Account on NetWars Continuous - 4 months access ($3200 value!)
2nd PLACE:SANS Store Credit of $ 200

3rd PLACE: SANS Store Credit of $ 100
*Winners must prove their HBCU enrollment or affiliation prior to awarding of prizes.
**Players cannot win double prizes. Previous SANS + HBCU Cyber Range winners are ineligible to win prizes again.

REGISTRATION DETAILS
Registration is NOW LIVE! Go here to register for this event: https://www.tomahawque.com/
EVENT CODES:
HBCU Cyber Range (Beginner CTF): tough-talk
HBCU Cyber Range (Intermediate CTF): seemly-trip
Welcome to the Event Webcast
Join us on Fri, Feb 19th at 8:30 am ET for a 30 minute welcome session prior to the Cyber Range start. We will review the details of the event and answer any questions you have. Register for the webcast here: https://sans.zoom.us/webinar/register/WN_FeEivuhPRMiNi9-NjaU9LQ (This is an optional webcast and is not required to participate in the Cyber Range Competition.)

CYBER RANGE TECH REQUIREMENTS
To successfully participate you will need access to a laptop or desktop with a Virtual Machine (VM) installed. To prepare yourself, we recommend that you download a VM on to your machine and test to ensure the VM works properly before the event opens on February 19th, so you're prepared!
WINNERS
CONGRATULATIONS to the Black History Month Edition winners!
FAQ
1. What is a Cyber Range or CTF?

Capture the Flag (CTF) events are typically competitions and challenges that provide hands-on learning for novice through advanced participants to gain cybersecurity skills. The purpose of the competition is to capture as many flags as possible for points by solving cybersecurity challenges along the way.
2. What is an HBCU?

Historically Black College and Universities (HBCU) is a designation given to institutions of higher education in the United States that were established before the Civil Rights Act of 1964 with the intention of primarily serving the African-American community.
3. Who can participate in SANS+HBCU Cyber Range events?
These events are specifically created for HBCU students, alumni, and faculty. While anyone in the cybersecurity community can participate in the event, only HBCU students and alum are eligible to win the prizes for this event.
4. Who do I contact if I have general questions about the competition, proof of eligibility to win prizes, or future partnerships?
Please send your general inquires to HBCUChallenge@sans.org
5. What is the Cyber FastTrack scholarship and NetWars?
To learn more about SANS.edu CFT scholarship and SANS.org NetWars please visit: Cyber FastTrack or NetWars Continuous
6. How do you determine who wins prizes and scholarships?
After the competition, we'll check the leaderboard for top performers, verify their HBCU affiliation or enrollment, and reach out to confirm affiliation/enrollment prior to rewarding prizes.
7. Who do I contact if I have issues during the competition?
Please email Sans-ctf@sans.org if you have any technical issues.
8. How do I prepare for the event?
There are dozens of free resources on the internet to help you improve your cybersecurity skills. Closer to the event date we will share our recommended resources.

9. What if I'm not affiliated with an HBCU but still want to play?
SANS offers a wide range of CTFs and competitions. Some are affiliated with specific SANS courses, while others are open to the entire cybersecurity community. Learn more here.
10. Do you have zoom backgrounds for the event?
YES WE DO! You can access them here.