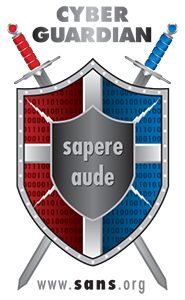 The SANS Cyber Guardian logo symbolizes the purpose of the program - protecting the world from cyber crime.
The shield has two encoded messages. The first is a Latin Message, "sapere aude" which means "Dare to Be Wise". The second message is written in binary code and means "That I May Serve". Combined these two messages capture the essence of a true SANS Cyber Guardian. Cyber guardians are always protecting vital systems and information. The shield and swords are also a symbol of protection. The colors represent both the offensive and defensive side of cyber security.
Every student who completes the core courses and certifications will receive a Cyber Guardian logo patch and upon completion of the program, students and their organization may use the Cyber Guardian logo on stationery, websites and other collateral.