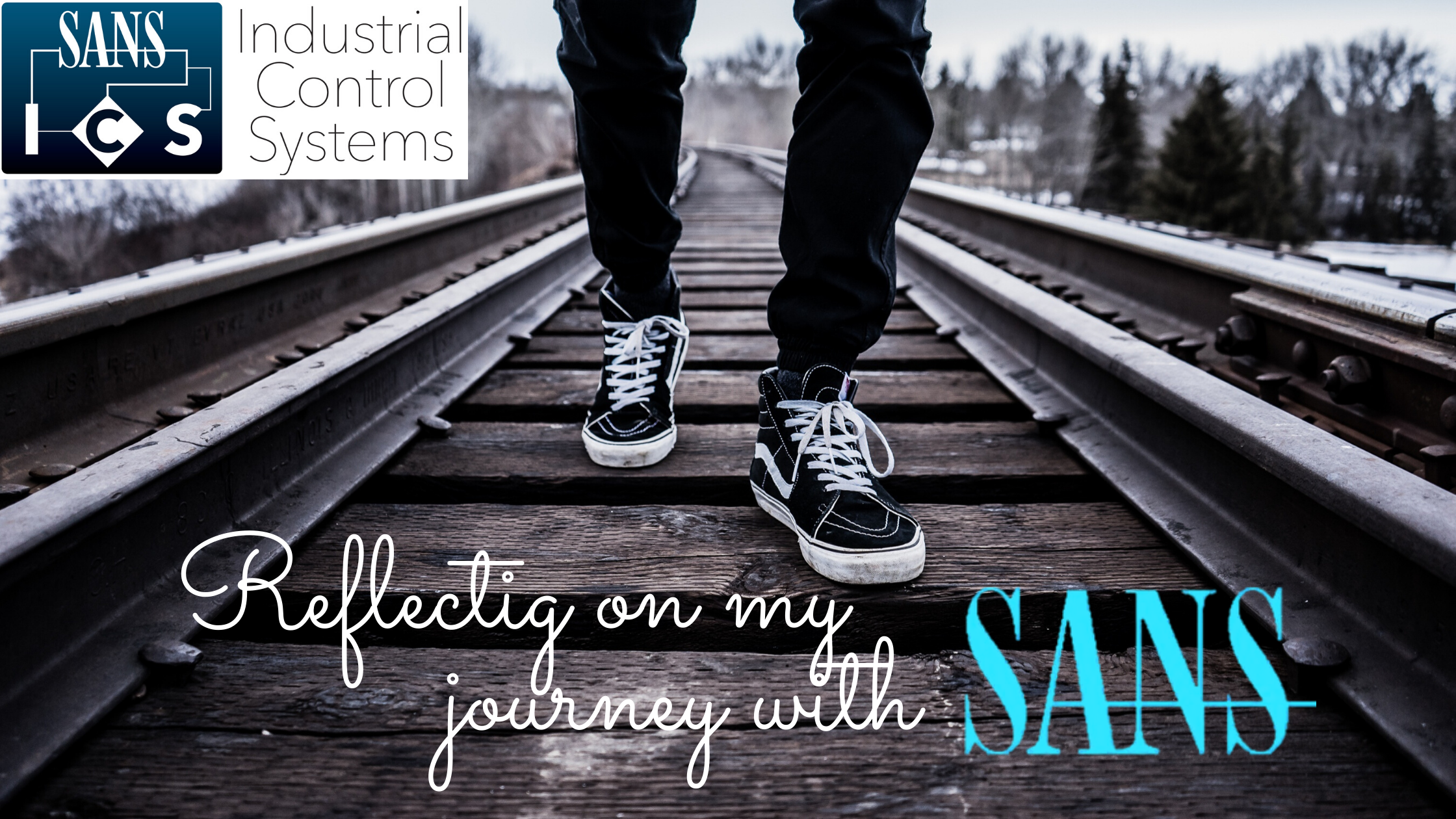 An individual's path in life is often fraught with twists and turns as one gains understanding and learns new concepts. People rarely work the same role or job their entire life, and I am no exception. I am often asked how I landed in ICS security. My answer is that it is mainly due to my curiosity about control systems, programming, networks, and how to protect and defend ICS systems that operate critical environments. I remember pining the statement "the day you stop learning is the day you begin to die" in my room as a youngster and have tried to learn something new every day since. My journey to ICS security started as an instrumentation and electrical technician (I&E) working on instrumentation, automation systems, and lower voltage electrical equipment. Shortly in the I&E role, I was drawn to analytical instrumentation, as the systems were programmable and capable of networking functionality. After becoming a specialist in the analytical field, I moved over to administrating, configuring, and programming automation systems (e.g., PLCs, SCADA, and DCS). I also acquired a bachelor's degree in computer science to wet the learning appetite. That knowledge gave more significant insights into understanding how the ICS systems were working "under the hood." From that assignment, I moved into an ICS security and administration role, where my involvement with SANS begun. Therefore, my path to ICS security has taken many years to get to this point, but SANS was a pivotal point in my career.

Back in 2015, I had the opportunity to take the ICS410 course from Justin Searle. It was my first course from SANS and the first opportunity to "drink from the firehose." I remember the excitement of being in class with like-minded peers and listening from industry experts. Indeed, the number of books and labs were overwhelming at times, but the learning and takeaways were significant. My company was one of the GICSP founders, and it was exciting to be part of something bigger and feel connected to the rest of the industry. SANS delivered on the course promise, and I was able to leverage knowledge gained in projects, architectures, and system(s) configurations at the asset where I was working.
One of my main concerns was the lack of network visibility for operational assets as an ICS security specialist. Without combined network and host visibility, it's difficult to answer the question of "am I compromised?" When Rob M. Lee created ICS515, I was one of the first to attend after a review of the course errata. The concepts gained from that course were/are invaluable. As I moved into a global ICS security role, I applied course learnings by working with cyber defense teams for improved monitoring and incident response, developed new logging architectures, and tested/deployed Network Security Monitoring (NSM) products into operational environments. I have recently had the opportunity to support ICS515 as a teaching assistant (TA) and always learn something new after every course run.
Coming from an Oil and Gas background was not conducive to having an inherent understanding of NERC-CIP regulations. However, as I became involved in power generation projects that provided bulk power back to the grid, NERC-CIP became very relevant. I turned to SANS for ICS456 with Tim Conway instructing. To be honest, I was dreading a "regulation class," but thinking back on the course, it was one of my favorite courses taken from SANS -- mostly due to Tim's instruction. From working as an Electrician to working on standards committees and co-authoring the course, Tim had a profound knowledge of the complicated standards and presented with astute knowledge and combined it with the right amount of humor thrown in to keep the class lively. I came away from that course with an excellent understanding of the CIP standards. I immediately provided insights into the needed security controls and programs that would be required for our ICS systems to meet NERC-CIP compliance.
At this point in my journey, I had acquired the GSEC, GCIH, GPYC, GICSP, GCIP certifications, and was beginning to eye to the prestigious GSE. Apart from those certifications, my role had grown into a global ICS security role with leadership responsibilities. It was time to become a more well-rounded security professional, so I applied for the SANS Technology Institute (STI) Master of Science in Information Security Engineering (MSISE) degree. I have been in the MSISE program now for over two years and have a target completion for Spring 2021. My experience in the MSISE program and support from STI staff, such as Liz Diamond and Leah Tremaglio, has been exceptional. I cannot recommend STI enough. The breadth and depth of material covered throughout the program have helped in ways I never expected – both personally and professionally. I have been able to author two research papers and have been given the ability and encouragement to speak publicly. Those who know me well understand that standing up in front of a large audience is quite a stretch for this introvert.
The STI MSISE program is very focused and takes diligence and determination to keep up with the course pace and grade requirements. The challenge is real. Trying to take on additional courses outside of the program is difficult. However, upon learning of the new ICS612 course, I had to sign up for the first beta class. Coming into the room on the first day of class was an absolute delight with cabling and wiring strung about and loads of automation and security equipment on student tables. I was home and in my element. ICS612 is an incredible course that builds upon the other ICS courses but gets students into the nuts and builds of PLC code, troubleshooting, and ICS security considerations with equipment on the plant floor. There is no other course like it, and, coming from an automation background, I never quite felt home between IT security and automation. This course was an incredible affirmation that my meandering path to ICS security was not mistaken. My past experiences, combined with SANS courses and instruction, were the perfect fit for continuing in ICS security. Inspired by Jeff Shearer, Tim Conway, and Jason Dely, I wrote a paper on Mitigations for Insecure ICS Protocols leveraging ICS515 and ICS612 student kits, and I am currently working on ways to automate the perfect coffee roast, with an ICS612 PLC of course.
My sights are set on the GSE and completing the STI MSISE program. The community support and SANS staff have left a lasting impression on me, and I am working towards giving back to the community by teaching some of the SANS ICS courses that have impacted me the most. I have also learned that the wandering path and experiences gained can always be leveraged and built upon into new pursuits. I encourage you to keep moving forward in your journey, always be curious, pay it forward, and finally, play a role in protecting our critical infrastructure.
I look forward to seeing you at a future ICS SANS event!

---
How to become a SANS Instructor
SANS is consistently seeking the best practitioners and speakers to join the ranks of our world-class cadre of instructors. Becoming a SANS Certified instructor is an honor reserved for those who exhibit consistent expertise as practitioners in cybersecurity and an insatiable desire to improve the community through education.
SANS Certified instructors are passionate teachers that dedicate themselves to helping improve the cybersecurity community and others, regardless of skill, through teaching and educating.
SANS Instructor Development program requirements:
Dedicate multiple weeks per year to SANS teaching engagements
Present yourself as a current practitioner in the cybersecurity community with many years of experience
Demonstrate in-depth technical and professional capabilities with a consistent and continued desire to learn and master many subjects
Speak at teaching, conference, or industry events with dedication and proficiency
Show passion for the cybersecurity field and sharing of knowledge with the global community
If you can meet the above requirements, please submit your application for the SANS Instructor Development program. Upon application review and acceptance into the program, we will assess your current capabilities and experience to help build a plan specific to your development needs that will help you succeed as an Instructor.
The SANS Instructor Development program is a highly competitive opportunity with limited positions available. Please contact us at teach@sans.org with any questions about the SANS Instructor Development program.