When it comes to imaging a hard disk, I believe that keeping it simple is best. I also believe that faster is better. The less time it takes to prepare for imaging, and the faster the imaging speed, the sooner I can begin analysis.
I've imaged disks using many different methods. A few of the more common methods are:
For ease of use and imaging speed, when circumstances allow for it, I much prefer using the HardCopy 2.
HardCopy 2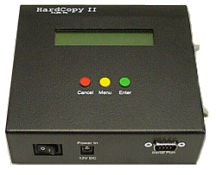 The HardCopy 2 contains everything needed to image a 3.5" IDE drive, without needing a computer. Simply pick up a couple SATA adapters, and a 1.8" and 2.5" drive adapter, and you're ready to image most hard drives you'll encounter.
Features of the HardCopy 2 include:
The IDE port labeled "Read Only Suspect Drive" uses built-in write block functionality that can't be disabled (I appreciate this feature, as it reduces the possibility of making a mistake)
Its "Wipe Drive" feature overwrites the entire destination disk with zeros —handy for sanitizing your destination disk
Its "Format Drive" feature will format the destination disk (you can choose NTFS or FAT32)
Its "Image Drive" feature performs a bit-level image of the source drive, saving it as a file onto the (pre-formatted) destination drive (It also records critical information about the source drive, including its make/model, geometry, serial number, and an MD5 hash of the drive as calculated during the imaging process)
Its "Clone Drive" feature will perform a bit-level copy of the source drive onto the destination drive
Summary
Because the Hard Copy 2 (with the help of a few inexpensive adapters) can quickly image hard drives in a forensically sound manner, with very little prep time, it has become my tool of choice. I use it to sanitize my destination drive, format it with NTFS, then image the source drive to a file. It's compact size lets me keep it, the needed adapters and accessories, and a couple hard drives in a Pelican 1450 case.
Brian Eckman, GCFA Silver #434, is currently the lead Forensic Analyst at the University of Minnesota. In addition to the GCFA, Brian holds the EnCE certification, and serves on the REN-ISAC Technical Advisory Group.