This webcast has been archived. To view the webcast login into your SANS Portal Account or create an account by clicking the "Get Registered" button on the right. Sorry, the slides for this webcast are not available for download.
Next Level in Cyber Threat Intelligence Training: New FOR578
Friday, May 20, 2016 at 1:00 PM EDT (2016-05-20 17:00:00 UTC)
Robert M. Lee
You can now attend the webcast using your mobile device!


Overview
The SANS FOR578 Cyber Threat Intelligence course has been part of the DFIR curriculum for over a year, and it has proven to be one of hottest courses often sold out in each city. The overwhelming acceptance of this course has allowed us to collect invaluable feedback that is leading the course to the next level. We invite you to join lead author Robert M. Lee as he covers core cyber threat intelligence concepts and provides an overview of the FOR578 class who should attend and why. Attend this webcast and be among the first to get a sneak peak of the changes, additions, exciting new tools and tradecraft added into the course.
---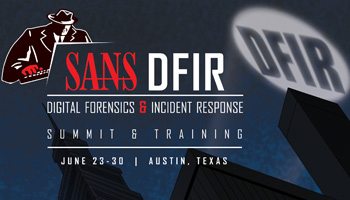 The 9th annual Digital Forensics and Incident Response Summit will once again be held in the live musical capital of the world, Austin, Texas. The Summit brings together DFIR practitioners who share their experiences, case studies and stories from the field. Summit attendees will explore real-world applications of technologies and solutions from all aspects of the fields of digital forensics and incident response, all in one single place.
Summit Dates: June 23-24 | Training Course Dates: June 25-30 | Register at sans.org/dfirsummit.
---
Speaker Bio
Robert M. Lee
Robert M. Lee is the CEO and Founder of the critical infrastructure cyber security company Dragos Security LLC where he has a passion for control system traffic analysis, incident response, and threat intelligence research. He is a SANS Certified Instructor and the course author of SANS ICS515 - "Active Defense and Incident Response" and the co-author of SANS FOR578 - "Cyber Threat Intelligence." Robert is also a non-resident National Cyber Security Fellow at New America focusing on policy issues relating to the cyber security of critical infrastructure and a PhD candidate at Kings College London. For his research and focus areas, he was named one of Passcode's Influencers, awarded EnergySec's 2015 Cyber Security Professional of the Year, and named to the 2016 Forbes' 30 Under 30 list.
Robert obtained his start in cyber security in the U.S. Air Force where he served as a Cyber Warfare Operations Officer. He has performed defense, intelligence, and attack missions in various government organizations including the establishment of a first-of-its-kind ICS/SCADA cyber threat intelligence and intrusion analysis mission. Robert routinely writes articles in publications such as Control Engineering and the Christian Science Monitor's Passcode and speaks at conferences around the world. Lastly, Robert, is author of the book "SCADA and Me" and the weekly web-comic http://www.LittleBobbyComic.com.
"Rob is the best instructor I have seen. Real world examples, humor, time efficient, [and] effective." - Toni Benson, Cyber Analyst
Need Help? Visit our FAQ page or email webcast-support@sans.org.
Not able to attend a SANS webcast? All Webcasts are archived so you may view and listen at a time convenient to your schedule. View our webcast archive and access webcast recordings/PDF slides.