SANS DHS Continuous Diagnostics & Mitigation Award Workshop PART II Afternoon Session
Friday, August 01, 2014 at 1:30 PM EDT (2014-08-01 17:30:00 UTC)
Tony Sager, John Pescatore, Alan Paller
Sponsors
You can now attend the webcast using your mobile device!


Overview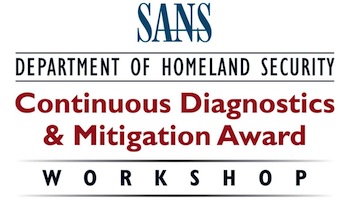 ***Please use the Morning Session Webcast Page to register for and watch the morning sessions.
Agenda:
Morning Session Ended
12:15pm - 1:30pm Lunch Networking Reception
For Online Viewers - Use this registration page to register for and join the afternoon session.
1:30pm - 2:30pm Federal CIO Interview
John Pescatore and Alan Paller will interview Bob Brese, CIO at the Department of Energy to get his perspective on the challenges of keeping government systems secure while also addressing an uncertain budget environment and demands for mobility, use of cloud and BYOD. We will drill down into the challenges of implementing continuous monitoring and hear both success stories about "What Works" at DoE and lessons learned from what did not.
Interviewer: Alan Paller, SANS Director of ResearchJohn Pescatore, SANS Director of Emerging Security Trends
Interviewee: Robert Brese, CIO, US Department of Energy
2:30pm - 3:30pm Phase II Panel
Hear about the solutions (and customer case studies where possible) included within the scope of the CDM Program, Phase 2 Moderator: John Pescatore, Director of Emerging Security Trends, SANS Institute Panelists: Mark Seward, Senior Director, Public Sector, Splunk Ken Ammon, Chief Strategy Officer, Xceedium
3:30pm - 4:30pm Closing Remarks
Tony Sager from SANS will provide guidance for attendees on how to take advantage of the CDM program and the Critical Security Controls to increase the level of their agency's security and decrease the time spent on certification/accreditation, FISMA reporting and other efforts that detract from the true mission of raising the bar to attackers. Tony Sager, SANS
Speaker Bios
Alan Paller
Alan Paller is the director of research for the SANS Institute, responsible for projects ranging from the Internet Storm Center (the Internet's early warning system with 500,000 sensors around the world) to the Top Ten Security Menaces of the coming year. He also edits NewsBites, the twice-weekly summary of the most important news stories in security. But he says his most satisfying responsibility is finding people who have solved important security problems and helping SANS 85,000 alumni in 60 countries learn about those people and their discoveries. Alan earned degrees in computer science and engineering from Cornell and MIT. He wrote hundreds of articles on computer graphics, EIS and computer security, and authored two books, The EIS Book: Information Systems for Top Managers and How to Give the Best Presentation of Your Life. He has testified before the House and Senate, and in 2001 the President named Alan as one of the original members of the National Infrastructure Assurance Council. In 2005 the Federal CIO Council chose him as its annual Azimuth Award winner recognizing his singular vision and outstanding service to government information technology. His degrees are from Cornell University and the Massachusetts Institute of Technology.
---
John Pescatore
John Pescatore joined SANS as director of emerging security trends in January 2013. He has 35 years experience in computer, network and information security. Prior to joining the SANS Institute, Mr. Pescatore was Gartnerís lead security analyst for 13 years, working with global 5000 corporations and major technology and service providers. Before joining Gartner, Mr. Pescatore was Senior Consultant for Entrust Technologies and Trusted Information Systems, where he started, grew and managed security consulting groups focusing on firewalls, network security, encryption and Public Key Infrastructures. Prior to that, Mr. Pescatore spent 11 years with GTE developing secure computing and telecommunications systems. Mr. Pescatore began his career at the National Security Agency, where he designed secure voice systems, and the United States Secret Service, where he developed secure communications and surveillance systems. He holds a Bachelor's degree in Electrical Engineering from the University of Connecticut and is a NSA Certified Cryptologic Engineer. He is also an Extra class amateur radio operator, callsign K3TN.
---
Tony Sager
Tony Sager is the Chief Technologist and a founding member of the Council on CyberSecurity - an independent, international, non-profit organization whose mission is to identify, validate and sustain best practices in cybersecurity by people, in the application of technology, and in the use of policy. He leads the development of the Top 20 Critical Security Controls, a world-wide volunteer consensus activity to find and support technical practices that stop the vast majority of attacks seen today. Tony also serves as the Director of the SANS Innovation Center, a subsidiary of The SANS Institute.
Tony retired from the National Security Agency in June 2012 after 34 years as an Information Assurance professional. His last job was Chief Operating Officer of the Information Assurance Directorate. Before that he created and led the Vulnerability Analysis and Operations Group (VAO), which was responsible for some of NSAs most important advancements in cyber
Need Help? Visit our FAQ page or email webcast-support@sans.org.
Not able to attend a SANS webcast? All Webcasts are archived so you may view and listen at a time convenient to your schedule. View our webcast archive and access webcast recordings/PDF slides.