Building Effective CTI Sharing for Network Defense
Friday, May 26th, 2017 at 1:00 PM EDT (17:00:00 UTC)
Scott Roberts
This webcast has been archived. You can view the webcast presentation and download the slides by logging into your SANS Portal Account or creating an Account. Click the Register Now button after you have logged in to view the Webcast.
You can now attend the webcast using your mobile device!


Overview
When discussing cyber threat intelligence sharing is often everyone's default answer. Sharing is a powerful tactic for threat intelligence and an important ingredient of the best threat intelligence programs, but the devil is in the details. In this webcast we'll discuss how to build an effective intelligence sharing program with a focus on building communities that facilitate effective sharing of tactical & operational intelligence. Teams will come away with ideas on improving their intelligence distribution and make themselves better able to help others and help themselves.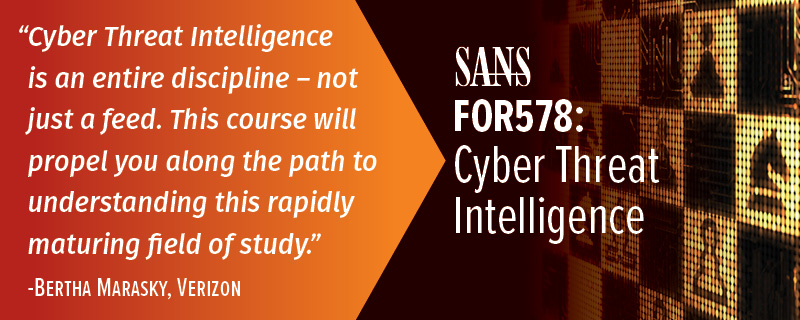 For more information about the FOR578 Cyber Threat Intelligence course and the next course runs visit: sans.org/FOR578
Speaker Bio
Scott J. Roberts
Scott J. Roberts is an incident responder, manager, and developer at GitHub, the world's code collaborative development platform. He also teaches the FOR578: Cyber Threat Intelligence course at SANS. Scott has worked major investigations involving criminal fraud and abuse and nation-state espionage while with Symantec, Mandiant, and others. He is a sought-after speaker, having presented on threat intelligence and incident response for SANS, Silicon Valley, and various BSides. He is an author of O'Reilly's upcoming Intelligence Driven Incident Response. Scott is also a member of the SANS CTI Summit and NYU Poly CSAW advisory boards.
Need Help? Visit our FAQ page or email webcast-support@sans.org.
Not able to attend a SANS webcast? All Webcasts are archived so you may view and listen at a time convenient to your schedule. View our webcast archive and access webcast recordings/PDF slides.