AUD507: Auditing & Monitoring Networks, Perimeters & Systems
Mon, July 12 - Sat, July 17, 2021
Associated Certification: GIAC Systems and Network Auditor (GSNA)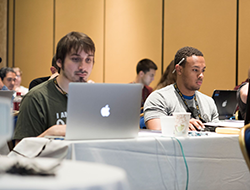 Performing IT security audits at the enterprise level can be a daunting task. How should you determine which systems to audit first? How do you assess the risk to the organization related to information systems and business processes? What settings should you check on the various systems under scrutiny? Is there a set of processes that can be put into place to allow an auditor to focus on the business processes rather than the security settings? How do you turn this into a continuous monitoring process? The material covered in this course will answer all of these questions and more.
AUD507 teaches students how to apply risk-based decision making to the task of auditing enterprise security.
This track is organized specifically to provide a risk-driven method for tackling the enormous task of designing an enterprise security validation program. After covering a variety of high-level audit issues and general audit best practices, students will have the opportunity to delve into the technical "how-to" for determining the key controls that can be used to provide a high level of assurance to an organization. Real-world examples provide students with tips on how to verify these controls in a repeatable way, as well as many techniques for continuous monitoring and automatic compliance validation. These same real-world examples help the students learn how to be most effective in communicating risk to management and operations staff.
AUD507 allows students to practice new skills in realistic, hands-on labs.
In this course, students learn how to use technical tests to develop the evidence needed to support their findings and recommendations. Each day affords students opportunities to use the tools and techniques discussed in class, with labs designed to simulate real-world enterprise auditing challenges and to allow the students to use appropriate tools and techniques to solve these problems.
We also go beyond simply discussing the tools students could use; we give them the experience to use the tools and techniques effectively to measure and report on the risk in their organizations. The final section of the course is a lab that lets students challenge themselves by solving realistic audit problems using and refining what they have learned in class.
The skills students learn in AUD507 can be used immediately after class.
Students will leave the course with the know-how to perform effective tests of enterprise security in a variety of areas. The combination of high-quality course content, provided audit checklists, in-depth discussion of common audit challenges and solutions, and ample opportunities to hone their skills in the lab provides a unique setting for students to learn how to be an effective enterprise auditor.
"AUD507 has obvious practical applications, and it's great to see some of the most infamous hacking methods explained and executed in real time. In the labs, I'm getting hands-on experience with the tools. The opportunity to learn how to interpret the results taught me more in one afternoon than I've picked up here-and-there over an entire career." - Tyler Messa, AWS
A Sampling of Course Topics
Audit planning and techniques
Effective risk assessment for control specification
Time-based assessment and auditing
Delivering effective reports to management
Auditing virtualization hosts
Understanding and auditing cloud services and containers
Effective network population auditing
Performing useful vulnerability assessments
Detailed router, switch and firewall auditing
OWASP Top Ten Proactive Controls for web applications
Auditing traditional web applications
Auditing web APIs, AJAX, and single-page applications
Windows PowerShell
Windows system auditing & scaling to the enterprise
Auditing Active Directory
Building an audit toolkit
Linux/UNIX auditing

HANDS-ON TRAINING:
AUD507 uses hands-on labs to reinforce the material discussed in class and develop the "muscle memory" needed to perform the required technical tasks during audits. An abbreviated sampling of the many lab topics includes:
Calculating audit sample sizes and margins of error
Understanding hypervisors
Auditing Docker security configuration
Population scanning and monitoring
Auditing network device configurations
Testing SMTP and DNS server settings
Using the Burp proxy to analyze and modify web traffic
Auditing of web session handling mechanisms
Performing brute force attacks against websites
Testing website input handling
Scripting with PowerShell
Auditing Active Directory
Querying Windows system information
Determining installed software on Windows
Auditing Windows patching
Working with Linux system logs and journals
Scripting Linux with Bash
Using Tripwire to ensure file integrity
Using Auditd to monitor Linux filesystems
YOU WILL BE ABLE TO:
Understand the different types of controls (e.g., technical vs. non-technical) essential to performing a successful audit
Conduct a proper risk assessment of an enterprise to identify vulnerabilities and develop audit priorities
Establish a well-secured baseline for computers and networks as a standard to conduct audit against
Perform a network and perimeter audit using a repeatable process
Audit virtualization hosts and container environments to ensure properly deployment and configuration
Utilize vulnerability assessment tools effectively to provide management with the continuous remediation information necessary to make informed decisions about risk and resources
Audit a web application's configuration, authentication, and session management to identify vulnerabilities attackers can exploit
Utilize scripting to build a system which will baseline and automatically audit Active Directory and all systems in a Windows domain
Utilize scripting to build a system which will baseline and automatically audit Linux systems
WHAT YOU WILL RECEIVE:
In this course, you will receive the following:
Printed and Electronic Courseware
MP3 audio file of the complete course lecture
Course Syllabus
Additional Information
Important! Use your own system configured according to these instructions!
A properly configured system is required to fully participate in this course. These requirements are the mandatory minimums. If you do not carefully read and follow these instructions, you will likely leave the class unsatisfied because you will not be able to participate in hands-on exercises that are essential to this course. We strongly urge you to arrive with a system meeting all the requirements specified for the course.
It is critical that you back-up your system before class. It is also strongly advised that you do not use a system storing any sensitive data.
System Hardware Requirements
CPU: 64-bit Intel i5/i7 2.0+ GHz processor: Your system's processor must be a 64-bit Intel i5 or i7 2.0 GHz processor or
higher. Your CPU and OS must support a 64-bit guest virtual machine.
VMware provides a free tool for Windows that will detect whether or not your host supports 64-bit guest virtual machines.
Windows users can use this article to learn more about their CPU and OS capabilities.
Apple users can use this support page to learn more information about Mac 64-bit capability. Note: Apple systems using the M1 processor cannot perform the necessary virtualization at this time and cannot be used for this course.
BIOS: Enabled "Intel-VT": Intel's VT (VT-x) hardware virtualization technology should be enabled in your system's BIOS or UEFI settings. You must be able to access your system's BIOS throughout the class. If your BIOS is password-protected, you must have the
password.
USB: USB 3.0 Type-A port: At least one available USB 3.0 Type-A port is required for copying large data files from the USB 3.0 drives we provide in a physical classroom. The USB port must not be locked in hardware or software. Some newer laptops may have only the smaller Type-C ports. In this case, you will need to bring a USB Type-C to Type-A adapter.
RAM: 16 GB RAM: 16 GB RAM is required for the best experience. To verify on Windows 10, pressWindows key + "I" to open Settings, then click "System", then "About". Your RAM information will be toward the bottom of the page. To verify on a Mac, click the Apple logo at the top left-hand corner of your display and then click "About this Mac".
Hard Drive Free Space: 100 GB Free space: 100 GB of FREE space on the hard drive is critical to host the VMs and additional files we distribute. SSD drives are also highly recommended, as they allow virtual machines to run much faster than mechanical hard drives.
Operating System: Windows 10 Pro or macOS 10.12+: Your system must be running either Windows 10 Pro or macOS 10.12 or higher. Make sure your operating system is fully updated with the correct drivers and patches prior to arriving in class.
Additional Hardware Requirements
The requirements below are in addition to baseline requirements provided above. Prior to the start of class, you must install virtualization software and meet additional hardware and software requirements as described below. If you do not carefully read and follow these instructions, you will leave the class unsatisfied because you will not be able to participate in hands-on exercises that are essential to this course.
Additional Software Requirements
VMware
Credential Guard: If your host computer is running Windows, Credential Guard may interfere with the ability to run VMs. It is important that you start up VMWare prior to class and confirm that virtual machines can run. It is required that Credential Guard is turned off prior to coming to class.
System Configuration Settings
Local Admin: Have an account with local admin privileges. Some of the tools used in the course will require local admin access. This is absolutely required. If your company will not permit this access for the duration of the course, then you should make arrangements to use a different system.
If you have additional questions about the laptop specifications, please contact laptop_prep@sans.org.
If you have additional questions about the laptop specifications, please contact laptop_prep@sans.org.
Auditors seeking to identify key controls in IT systems
Audit professionals looking for technical details on auditing
Managers responsible for overseeing the work of an audit or security team
Security professionals newly tasked with audit responsibilities
System and network administrators looking to understand better what an auditor is trying to achieve, how they think and how to better prepare for an audit
System and network administrators seeking to create strong change control management and detection systems for the enterprise
Anyone looking to implement effective continuous monitoring processes within the enterprise
"It's a ton of information that's applicable in the field, and not just theory." - Hatim Othman, Sony Interactive Entertainment
AUD507 assumes that the student is capable of:
Navigating the filesystem in Microsoft Windows
Launching the command prompt and PowerShell in Windows
Running commands from the command line in Windows
Navigating the command line and running simple commands in Linux
Deeper Linux experience will be helpful but is not required. The courseware and instruction provide the student with the information necessary to use the Linux systems and tools utilized in class.
Author Statement
Being an excellent information technology auditor requires a special mix of skills. An effective auditor will know how to assess organizational risk, scope, plan and execute an audit engagement properly. They must have the technical skills to design and perform tests of controls. Then, they must have the business communication skills to report risks to the business in a clear, actionable format. Auditors require the ability to work "in the weeds" when necessary with systems and network engineers and administrators, and then walk into the boardroom and deliver their findings and recommendations in a way that enables business leaders to make well-informed decisions regarding the risk faced by their enterprise.
AUD507 is designed to allow students from diverse backgrounds to learn the skills they need to design and deliver high-quality audits of organizations' IT systems, networks, and web applications. From day one, we teach students the thought processes, technical tools, and communications techniques to become a world-class auditor. When they leave the class, they have the technical skills and the mindset required to identify and report on risk in any organization.
"Clay did an outstanding job of being able to teach to people with the lowest level of knowledge to those with the technical acumen to know how to utilize all the tools right up front." - Heather Brewer, NAVSEA