SEC401: Security Essentials Bootcamp Style
Mon, August 6 - Sat, August 11, 2012
SEC401 took what I thought I knew and truly explained everything to me. Now, I also UNDERSTAND the security essentials fundamentals and how/why we apply them. Loved the training, cannot wait to come back for more.

Great course for people starting into security essentials.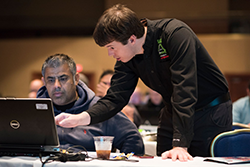 Maximize your training time and turbo-charge your career in security by learning the full SANS Security Essentials curriculum needed to qualify for the GSEC certification. In this course you will learn the language and underlying theory of computer security. At the same time you will learn the essential, up-to-the-minute knowledge and skills required for effective performance if you are given the responsibility for securing systems and/or organizations. This course meets both of the key promises SANS makes to our students: (1) You will gain up-to-the-minute knowledge you can put into practice immediately upon returning to work; and, (2) You will be taught by the best security instructors in the industry. As always, great teaching sets SANS courses apart, and SANS ensures this by choosing instructors who have ranked highest in a nine-year competition among potential security faculty.
Learn even more about security in the SANS Reading Room. Over 1600 free White Papers authored by real industry professionals.
Assessment Available
Test your security knowledge with our free SANS Security Essentials Assessment Test here.
Notice:
This course is endorsed by the Committee on National Security Systems (CNSS) NSTISSI 4013 Standard for Systems Administrators in Information Systems Security (INFOSEC).
Course Content Overlap Notice:
Please note that some course material for SEC 401 and MGT 512 may overlap. We recommend SEC 401 for those interested in a more technical course of study, and MGT 512 for those primarily interested in a leadership-oriented but less technical learning experience.
This course prepares you for the GSEC certification which meets the requirement of the DoD 8570 IAT Level 2.
Course Syllabus
Additional Information
Security 401: SANS Security Essentials courses consist of instruction and hands-on sessions. The lab sessions are designed to allow students to utilize the knowledge gained throughout the course in an instructor-led environment. Students will have the opportunity to install, configure, and use the tools and techniques that they have learned.
NOTE: Do not bring a regular production laptop for this class! When installing software, there is always a chance of breaking something else on the system. Students should assume that all data could be lost.
NOTE: It is critical that students have administrator access to the operating system and all security software installed. Changes need to be made to personal firewalls and other host-based software in order for the labs to work.
NOTE: Anti-virus software will need to be disabled in order to install some of the tools.
Laptops should be properly installed and configured prior to coming to class. There is not enough time in class to help you install your laptop. You are also required to test your systems (as described below) prior to coming to class.
You must bring a laptop with Windows 7 installed (the specific version does not matter). You can also run Windows 7 in a virtual machine if you prefer. You MUST also download/install VMware Player and BackTrack 5 R2 prior to coming to class.
To decompress the file, you will need to have a program that supports decompressing the 7z format, such as WinZip or 7-zip.
The attached SEC401 Installation Guide will provide step-by-step instructions on how to install your system.
In summary, before you arrive at the conference you should:
Confirm that Windows 7 is installed and working
Download and install VMware Player and BackTrack 5 R2 using the SEC401 Installation Guide
Confirm that you can start up Back Track and run a program
Download the introduction to Linux and Windows 7 tutorial
It is critical that you work through the documents before class so that you arrive with a properly configured laptop and a base understanding of Windows and Linux.
By properly preparing, we know that you will have a knowledge rich and enjoyable lab experience.
If you have additional questions about the laptop specifications, please contact laptop_prep@sans.org.
SEC 501 :: Advanced Security Essentials - Enterprise Defender
SEC 502 :: Perimeter Protection In-Depth
SEC 503 :: Intrusion Detection In-Depth
SEC 504 :: Hacker Techniques, Exploits and Incident Handling
SEC 505 :: Securing Windows
Author Statement
One of the things I love to hear from students after teaching Security 401 is "I have worked in security for many years and after taking this course I realized how much I did not know." With the latest version of Security Essentials and the Bootcamp, we have really captured the critical aspects of security and enhanced those topics with examples to drive home the key points. After attending Security 401, I am confident you will walk away with solutions to problems you have had for a while plus solutions to problems you did not even know you had.
- Eric Cole