If there was ever a time to focus on delivering business critical results in real time, we are living it…
The COVID-19 pandemic is presenting mission critical challenges abound. In teaching MGT525 over the past 14 years, I have always leveraged industry case-studies and real-life examples to show how to improve executing cybersecurity projects. There are numerous examples out there of time critical projects and development initiatives that are undertaken to maintain business continuity, but really none like the present situation many of us find ourselves in. If you find yourself or someone you work with facing mission critical challenges, reacquainting yourself with some key tenants of effective communication can be of great benefit.
Having worked in a largely virtual environment for many years, I am very familiar with regular conference calls and virtual meetings where screens are shared, mics are used (or muted), etc. Until recently, I'd typically opt out of using a webcam because I knew I would see everyone live and in person again in a few weeks (and maybe because I was still not wearing pants), but things have sure changed in a short amount of time.
I think back to a study I discuss in class on the comparative importance of verbal and non-verbal messages as pertaining to effective communication (by Dr. Albert Mehrabian, Professor Emeritus of Psychology, UCLA). The study states that in face-to-face communication, words account for only 7% of the meaning, while non-verbal communication accounts for a staggering 93% of the meaning - with tone of voice representing 38% and body language 55%. Whether you realize it or not, a personal connection is greatly enhanced when you are able to see people, read facial expressions and gauge reactions real time.
When I taught MGT525 for the first time in a fully virtual environment a few weeks ago, I was struggling with how some of the typical classroom small group interactions would unfold. The words of the great Pete Townshend, "Meet the new boss. Same as the old boss." hit me. The new quarantined ways of communicating are the same as the old school ways of communicating…with some minor adjustments.
Using a combination of Zoom break out rooms, Slack messaging, and polls for real-time feedback, along with webcam demos has added a lot of value to the class. Not only did it enable small group interaction to happen seamlessly and comfortably, but I found it really enhanced student-to-student communications, adding an entirely new dimension to the classroom. Whereas in a physical classroom environment with a one-to-many communication model, virtual classrooms provide the opportunity for students to message each other directly. This shifted things and added increased opportunities for small group and one-to-one communication, which in turn enabled the development of relationships, sharing of information and ideas, and the quality of the outcome.
So, back to real life… I find it helpful to reinforce some of the basics of effective communication daily. One of the most effective ways for me to do this has been to open up my webcam on a regular basis to add back that depth of understanding and clarity thanks to non-verbal communication.
Any chance I get to improve the clarity of team communications pays off immediately; this is especially important when we are under looming deadlines and making critical business decisions, as is prevalent in our current environment.
MGT525: IT Project Management, Effective Communication, and PMP® Exam Prep has a strong focus on effective communication, risk analysis and risk management.
SANS is offering MGT525 Live Online June 1st – 12th. The live virtual classroom will run M-F from 6 – 10 pm ET. By investing a few hours each evening over a two-week period, you will walk away with tools and techniques that can be applied immediately to increase your chances of success on current initiatives. https://www.sans.org/vlive/details/mgt525-jun-2020-staff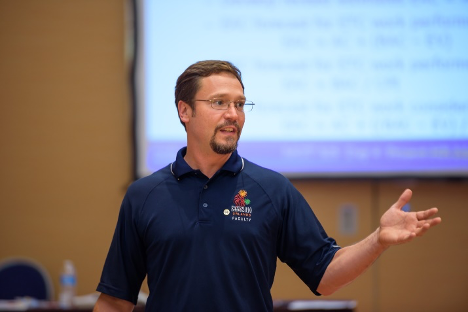 Jeff Frisk has served as the director of the GIAC certification program since 2006 and is a member of the SANS Technology Institute Curriculum Committee. Jeff holds the PMP certification from the Project Management Institute and GIAC GSEC, and GSLC credentials. He is a certified SANS instructor and course author for MGT525. He has worked on many projects for SANS and GIAC over the past 15 years, including courseware, certification, and exam development. Jeff has an engineering degree from The Rochester Institute of Technology and more than 20 years of international IT project management experience with computer systems, high tech consumer products, and business development initiatives.
Here is What Students Say About Jeff Frisk:
" Jeff is an awesome instructor. He expresses ideas clearly with real life and business examples. " - Miguel Vargas, FedEx

"Jeff is a rock star. Always on message and very entertaining. Kept me engaged." - Austin Pearson, U.S. Army

"Jeff is a wonderful teacher. He engages his students and understands the topic deeply." - Michael Carter, LDS