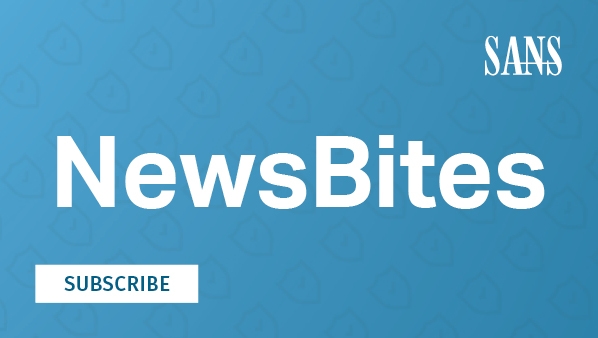 John Pescatore – SANS Director of Emerging Security Trends
This week's Drilldown focuses on one item from NewsBites Issue 44 and two from Issue 45.
The first item summarizes a paper by Rapid7 that scanning of publicly exposed servers running Microsoft Exchange discovered that 82% of enterprises had not implemented a February 2020 patch of a critical security flaw. While server patch processes usually take longer than PC patching, less than 20% being patched for a critical flaw after more than three months is unusual. For a Microsoft "Vulnerability Tuesday" patch released in February, the typical server change window likely didn't happen until after the shutdowns and move to work at home caused by the coronavirus. Enterprises need to scan data centers (on premises and cloud) to ensure that critical patch processes have not missed critical security vulnerabilities since late February.
The second item is yet another item about Zoom's 90-day effort to improve security, which got a lot of press coverage. Zoom released a whitepaper for public review of its architecture and plans for end-to-end encryption, which will only be available for paying customers. While end-to-end encryption (such as "SSL Everywhere") does raise the security bar, the risk of bits in motion being intercepted is not the highest risk to sensitive information exposed during online conferencing or collaboration. Enterprises should highly weight comprehensive and scalable security management features and default user settings when comparing online conferencing applications.
The final item details a judge's ruling against Capital One, in which the judge argued that the report from an investigation into their 2019 breach of customer information was protected under the work product doctrine, under which certain kinds of material prepared for litigation are protected from disclosure. The key takeaway here: To be effective, such investigative reports (whether conducted internally or by third parties) will have to include sensitive information in order to provide value. Enterprises should involve legal counsel to include requirements for redacted or summarized versions of incident investigations that can be released when required.
______________________________________________________________________________
Large Number of Exchange Servers Remain Unpatched Against Critical Flaw
(June 3, 2020)
According to Rapid7 Research's 2020: Q1 Threat Report, as many as 350,000 Microsoft Exchange Servers remain unpatched against a critical privilege elevation flaw. Microsoft released a patch for the vulnerability in February 2020.The flaw exists in the Exchange Control Panel component, which uses a static cryptographic key that is identical on every installation.
[Editor Comments]
[Pescatore] The patch has been out since February and the CISA CERT put out an alert in March about exploitation of CVE 2020-0688, but three months later 82% of Exchange servers are unpatched, according to Rapid7 scanning! This may indicate delayed server patching since Coronavirus shutdowns hit - an important warning sign to check all patch levels immediately.
[Murray] Several of today's reports involve "patches." Unfortunately, the cost of using these popular but porous products includes the hidden cost of routine patching or accepting the risk of not doing so. Only you know which is the efficient strategy for your enterprise but for most it will be patching.
Read more in:
Rapid7: 2020: Q1 Threat Report | Microsoft Exchange Outlook Web Application (OWA)
www.rapid7.com/research/report/2020Q1-threat-report/
Dark Reading: Many Exchange Servers Are Still Vulnerable to Remote Exploit
www.darkreading.com/attacks-breaches/many-exchange-servers-are-still-vulnerable-to-remote-exploit/d/d-id/1337986
DUO: Into the Great Wide Open with CVE-2020-0688
https://duo.com/decipher/into-the-great-wide-open-with-cve-2020-0688
Zoom Explains Why End-to-End Encryption Is for Paying Customers Only
(June 3 and 4, 2020)
Zoom says that its end-to-end encryption will be available to paying customers only because it will be easier for the company to comply with FBI requests for access to communications data. A Zoom spokesperson said, "We plan to provide end-to-end encryption to users for whom we can verify identity, thereby limiting harm to these vulnerable groups. Free users sign up with an email address, which does not provide enough information to verify identity."

[Editor Comments]
[Pescatore] Zoom first has to get end-to-end encryption working before we spend much time on whether it should be part of a free offering. Other teleconferencing apps that do include end-to-end encryption on free services get revenue by collecting user information as part of offerings to advertisers--a major privacy issue. Others don't offer it for free either, or do so only upon submission of a request to support. Businesses that are evaluating competing offerings should make overall security management tools and security of the application software (especially the client-side agents) more highly weighted criteria than end-to-end encryption for this kind of application.
[Neely] When considering end-to-end encryption for video conferencing, understand both your data protection requirements and what the given solution provides. Know what and where content is not encrypted. For example, voice traffic over the public switched telephone network (PSTN) is not encrypted until it reaches the entry point for the service. Also, understand who is managing the keys and who can access them. Lastly, look at any trade-offs of using end-to-end encryption. The key exchange process may disable or impede functions you utilize, such as joining before the meeting host. Beyond encryption, make sure that you also configure the other meeting security settings properly.
Read more in:
Wired: Zoom's End-to-End Encryption Will Be for Paying Customers Only
www.wired.com/story/zoom-end-to-end-encryption-paid-accounts/
Infosecurity Magazine: Zoom: Free Users Won't Get Encryption So We Can Help FBI
www.infosecurity-magazine.com/news/zoom-free-users-wont-get/
CNET: Zoom won't add end-to-end encryption to free calls so it can keep aiding police
www.cnet.com/news/zoom-wont-add-encryption-to-free-calls-so-it-can-work-with-law-enforcement/
Judge: Capital One Must Provide Lawyers with a Copy of Digital Forensic Breach Report
(May 29, 2020)

A U.S. federal judge in Virginia has ordered Capital One to provide a copy of a forensic report regarding a data breach to attorneys who are suing the company on behalf of affected customers. The Capital One breach, which was disclosed in 2019, affected payment card application data for more than 100 million people.
[Editor Comments]
[Murray] Subsequent to a breach, first hire experienced and competent legal counsel; let them hire and supervise the investigators. Any report of the investigators should be "attorney work product," so labeled, and arguably privileged. While transparency is desirable, litigation may increase transparency, and courts are entitled to all evidence--one does not want one's legitimate efforts used against one.

[Neely] Understanding data protection and disclosure restrictions, particularly around security audits, assessments and reports is key before the engagement begins. When taking legal action, be certain that the case, for or against, doesn't depend on disclosing the very documents you wish to keep private. Sometimes you can offer a redacted document as a compromise, particularly when protecting information with regulatory driven or mandatory protections such as PII, HIPAA and CUI; even so, your legal and information management teams should validate your assumptions up front.
Read more in:
ZDNet: Judge demands Capital One release Mandiant cyberforensic report on data breach
www.zdnet.com/article/judge-demands-capital-one-releases-mandiant-cyberforensic-report-on-data-breach/
Gov Infosecurity: Capital One Must Turn Over Mandiant's Forensics Report
www.govinfosecurity.com/capital-one-must-turn-over-mandiants-forensics-report-a-14352