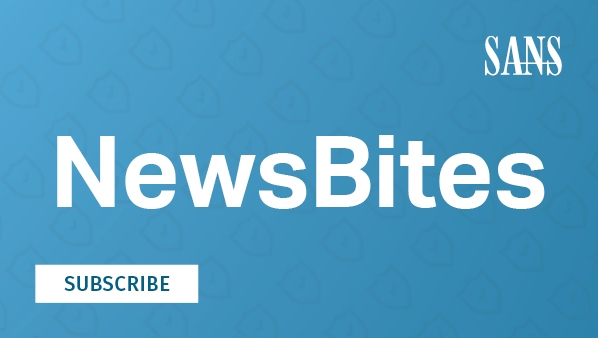 John Pescatore - SANS Director of Emerging Security Trends
Two Key New Year's Resolutions: Cloud Services Availability and Strong Authentication
This week's Drilldown will focus on items (included below) from NewsBites Issue 98 and NewsBites Issue 99--detailing a massive Google Cloud services outage and Microsoft's move to two-factor authentication (2FA) for GitHub administrative functions.
There is often an assumption that cloud services will automatically be more reliable than the same services run in an on-premises data center. Sometimes that is the case, especially when the cloud service provider is one of the major IaaS or SaaS providers. However, there are many scenarios where cloud service availability can be lower than what is expected or needed:
The guaranteed availability in the contractual service level agreement (SLA), such as the 99.5% offered by Google Cloud Functions, may be lower than the SLA IT was providing.
Even if the SLA threshold isn't below previous levels, the timing of outages may be less controlled than when the services were provided and managed locally. For example, a four-hour outage on a key date (e.g., tax filing or revenue reporting deadlines, holiday sale dates, etc.) may be catastrophic to business but would not cross the SLA threshold if it was the only disruption that month.
Second- and third-tier SaaS providers may offer no SLAs or may have definitions of SLA terms that result in unacceptably low thresholds.
Finally, no SLA actually covers full business damage. SLAs only provide some amount of free or reduced cost service in the future as partial compensation.
Bottom line: For business-critical services (and especially for use of SaaS), organizations should prepare and maintain playbooks for emergency operations.
GitHub is the largest global host of source code, providing repository, code management and collaboration services across more than 28 million public repositories and more than 150 million private repositories. It is and has always been a very lucrative target for attackers. (Microsoft acquired GitHub in 2017.)
Compromising code in GitHub could have catastrophic results, and there have been direct and indirect GitHub breaches and exposures over the years. Especially since the Microsoft acquisition, GitHub has continued to raise the bar in the security around GitHub, as well the security level of the code in GitHub repositories. Moving to 2FA for GitHub operations is a major step forward to raise the bar against phishing and brute force access attacks.
______________________________________________________________________________
Google Services Affected by Authentication System Outage
(December 14, 2020)

Several Google applications were temporarily unavailable on Monday morning, December 14. The outage was due to an internal storage quota issue with Google's authentication system. The outage affected YouTube, Gmail and Google Docs. The authentication system outage began about 6:45 a.m. EST; services were restored by 9:00 a.m. EST.
[Editor Comments]
[Neely] The root cause was exceeding a quota on their authentication server. The modern federated authentication services used to support cloud, legacy and hybrid use cases necessitates active monitoring and response because outages can have an enterprisewide impact. Even so, consider over-provisioning these services, not only redundant implementations but also maintaining free storage to handle surges or unexpected events.
[Pescatore] This is a harsh reminder that most SLAs do not guarantee levels of availability; they just define levels of available service hours per month below which there will be some granting of fee reduction. Google Cloud Functions' SLA, for example, has a 99.5% monthly availability threshold before any recompense. If there were four one-hour outages of your services in one billing month, you could file for credits equal to the cost of three days of service. Doesn't matter if those four hours were every Monday during highest usage time or in the wee hours of the morning when business might be minimally impacted. SLAs do not cover business impact; they really just provide guidance on how much backup/redundancy of critical services you need to plan for.
Read more in:
Bleeping Computer: Google outage affecting YouTube, Gmail and more
www.bleepingcomputer.com/news/google/google-outage-affecting-youtube-gmail-and-more/
SC Magazine: Google outage tied to authentication system outage, not supply chain attacks
www.scmagazine.com/application-security/google-outage-tied-to-authentication-system-outage-not-supply-chain-attacks/
The Verge: Gmail, YouTube, Google Docs, and other Google services hit by massive outage
www.theverge.com/2020/12/14/22173803/gmail-youtube-google-assistant-docs-down-outage
Google: Gmail - Service Details
www.google.com/appsstatus#hl=en&v=issue&sid=1&iid=fb8d75414a47ec5d83d0ae0157083efe
Google: Google Workspace Status Dashboard
www.google.com/appsstatus#hl=en&v=status
GitHub to Move Away from Passwords for Git Operations Authentication
(December 17, 2020)
GitHub is planning to switch from password-based to token-based authentication for Git operations. The change will not apply to logging into accounts. The scheme will be tested in summer 2021, and as of August 13, 2021, GitHub "will no longer accept account passwords when authenticating Git operations on GitHub.com."
[Editor Comments]
[Neely] If you have 2FA for your GitHub account, you're already using token-based authentication. The primary impact is to command line and apps/services which access Git Repos directly using your password. Two "brownouts" scheduled for June 30 and July 28 will provide testing windows before the hard cutoff in August. If you want to be more proactive, you can convert your account to 2FA today, which will require configuration of tokens for authenticated operations and third-party integrations immediately.

[Pescatore] This doesn't take effect until August 13, 2021, but should serve as a model for all such repositories and services. All admin operations should move beyond reusable passwords. If nothing else, this will eliminate the hard-coded default password risk. In their daily real lives, human beings are getting quite used to 2FA--the assumed barriers to more 2FA being used online are largely just excuses for inaction.

[Murray] The use of passwords for authentication makes one vulnerable to credential replay attacks, as well as so called "password stuffing" attacks, short dictionary attacks, and brute force attacks. Strong authentication is essential for all but the most trivial applications. GitHub does not qualify as "trivial."
Read more in:
GitHub Blog: Token authentication requirements for Git operations
https://github.blog/2020-12-15-token-authentication-requirements-for-git-operations/
The Register: Passwords begone: GitHub will ban them next year for authenticating Git operations
www.theregister.com/2020/12/17/github_bans_passwords/