The day has finally arrived: Today we're launching the SANS Blueprint podcast, a new way for fellow blue teamers to hear from some truly interesting people changing the game in the blue teaming field, and ultimately learn actionable ways to take your cyber defense skills to the next level.
Given that cyber defense is such a fast-paced, enormous topic, I wanted to help out the community by creating an easy-to-reference resource for new blue team content. As an avid podcast listener, I saw the promise of this format's ability to teach not only effectively but very conveniently as well. And given my role as an instructor and course author within the SANS Blue Team Operations curriculum, I'm in the fortunate position to meet many of the top minds working within cyber defense.
With today's launch, I'm excited to have a new platform to connect my fellow blue teamers to many of the outstanding cyber defense professionals I've had the opportunity of engaging with, and at the same time, help these professionals share their amazing research and knowledge with the world.
I hope that the launch of this podcast will be the start of another new highly useful and informative resource for blue teamers. I say "the start of" because while we've already talked with many amazing people, there are so many more projects and stories I'd love to help people share.
Series Details
If you're a student, SOC analyst, cybersecurity engineer, architect manager, director, or a cyber defender of any sort, Blueprint was created for you.
With today's launch, you can get an introduction to the series with our short series trailer and listen to the first two full-length episodes.
Episode 01 - "The Art of Blue Teaming" kicks things off with an introductory solo episode. In the episode, I give a summary of my approach to blue teaming, share some of my background, and discuss a bit about the inspiration behind the Blueprint podcast. In episode 02, we have our very first guest interview with Mark Orlando, CEO of Bionic Cyber and SANS Instructor, who discusses how to re-evaluate your security operations.
All in all, the first season of the Blueprint podcast includes 10 episodes, and we'll be releasing a new episode weekly. I don't want to spoil too much, but take a look at the guests for just the first five episodes in the graphic below and I'm pretty sure you'll want to hit that subscribe button and join us on our journey throughout the series.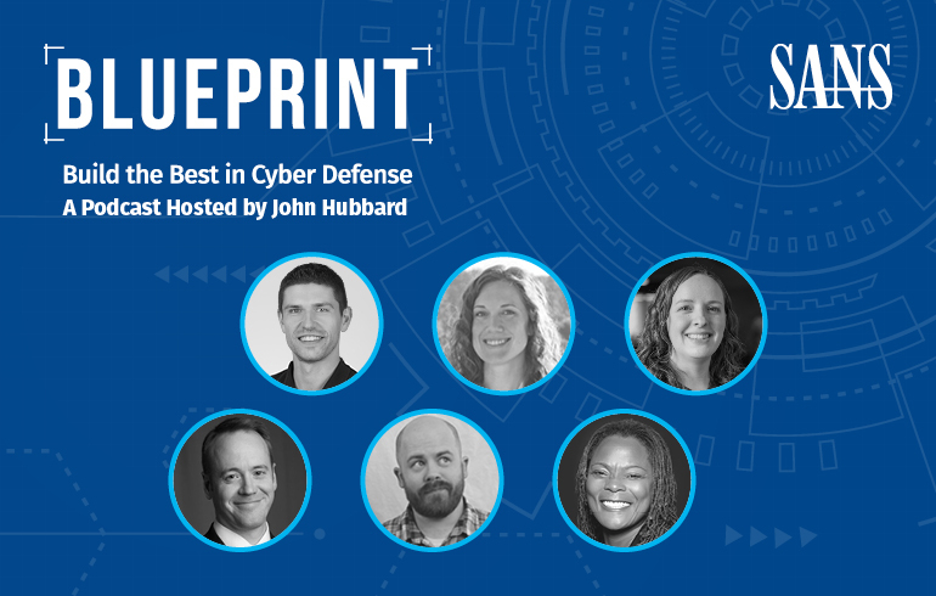 As you might be able to gather from looking at the first five guests, my goal as host has been to try to find people who represent different areas of specialty within cyber defense for every episode. That means that each week brings a fresh take on a topic – whether it's analysis techniques, threat intelligence, cyber law, or machine learning – from an expert in that particular niche.
In an upcoming episode, for example, I speak with Roberto Rodriguez, Principal Threat Researcher at Microsoft, about data analysis and the future of blue team data. Roberto is doing multiple projects today that I believe will influence and guide the types of analysis each and every one of us will be doing in perhaps just a couple of years. He's blazing the trail for the blue team, and in episode 09, you'll be able to get his perspective on a good data collection strategy and what logs and data are crucial for threat identification.
As another example, tune in to episode 03 – airing on June 23, 2020 – for a thought-provoking discussion with Stephanie Rand and Chris Sanders. In this episode, Chris and Stef share their unique research at the intersection of psychology and cyber defense that may be a game-changer for our investigations and broader work in the SOC.
You can tune in to the podcast today on Apple Podcasts, Spotify, Google Podcast, or wherever you listen to podcasts. Or, to learn more, visit: https://www.sans.org/blueprint-podcast
I'm excited to kick off this new series and bring some top-notch blue team wisdom straight to you weekly. I hope you'll subscribe and tune in each week, but to add a little extra incentive, I'd like to share just one more tidbit of information…
Help Us Expand Our Reach and You Can Win Big!
What's a podcast launch without a free giveaway?! To mark this very special occasion, and because we'd like to ask for your help in reaching as many podcast listeners as possible, we're holding a fun giveaway contest in which two winners will each receive a ticket to a SANS 2021 Summit of their choosing!
To enter our special giveaway contest and be in the running to receive a ticket to a SANS 2021 Summit of your choice, follow these steps:
Subscribe to Blueprint on Apple Podcasts
Leave an honest rating and review on Apple Podcasts
Share the podcast on LinkedIn or Twitter using the hashtag #BlueprintPodcast
That's all there is to it! Two lucky subscribers will be randomly selected on July 1, 2020, so in order to have a chance to win, you must complete these 3 steps by June 30, 2020.