Many experienced security analysts end up repeating the same investigative playbook for similar types of cases day after day. They become technical experts but siloed into a single lane of investigative scenario, whether it be intellectual property theft, malware or intrusion investigations. With the rapid evolution of fileless malware and sophisticated anti-forensics mechanisms, security analysts need access to current system state that can be derived solely from memory analysis. Learning bleeding edge analysis skills such as memory interrogation can be a touch challenge requiring determined and extraordinary work. The relaunched bootcamp SANS FOR526 Advanced Memory Forensics and Threat Detection is the class that will get you and your team to this next level - it's time for bootcamp!
Malware is more sophisticated, and its ability to evade detection growing. Cryptojacking — software programs and malware that hijack another's computer without their knowledge to mine cryptocurrency — is one such example. Recently, researchers discovered a new cryptocurrency mining malware that employs multiple evasion techniques, including one that poses as an installer file for the Windows operating system so it seems less suspicious. And illicit cryptocurrency mining operations have increased dramatically over the past year, according to a recent Cyber Threat Alliance report, rising by as much as 459 percent in 2018.
The more complex, advanced malware and anti-analysis and evasion techniques pose great challenges to today's security practitioners, as the endpoint detection methods and technologies, we rely upon to protect our enterprise fail. For this reason, we at SANS have decided to go big with a revised FOR526 course — with an additional boot camp — that teaches you how to isolate malicious activity using memory analysis to counter these evasions and allows you to determine the capability and intent of the intrusion for successful scoping and containment.
To move to proactive hunting, teams must have the skills to identify the activity for which there is no signature. The FOR526 course delivers this expertise with an intensive hands-on focus, allowing security practitioners to build on the knowledge advanced security professionals already have.
The two creators of FOR526, Alissa Torres and Jake Williams, understand the unique challenges of memory forensics and the complex types of cases examiners are up against today. Both forensics practitioners themselves, they know examiners need deeper technical expertise beyond just running a tool so they can perform memory analysis to understand the evidence, and that means offering students labs inspired by real-world investigations in which memory forensics saved the day. As Williams notes, "memory offers a very dense and target-rich search space for evidence of value. Memory-only malware? Malicious insiders using private browsing to eliminate disk evidence? Anti-forensics techniques? They all get stuck in memory."
Williams and Torres have added a boot camp consisting of additional content and memory forensics challenges to make the course even more relevant for present-day memory forensics investigations and threat detection. The NEW FOR526: Advanced Memory Forensics and Threat Detection BootCamp brings you extended mid-week SANS NetWars challenges, more in-depth technical content and advanced threat detection scenarios to take senior incident responder professionals to the next level.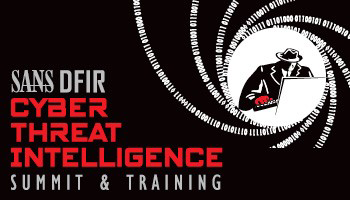 At this month's Cyber Threat Intelligence Summit in Arlington, Virginia, Torres will run FOR526: Advanced Memory Forensics & Threat Detection January 23 — 28. The summit is a week-long conference and educational event with in-depth talks and interactive discussions, as well as community-building events, networking opportunities and hands-on, immersive courses designed to give you world-class training.
Hear the archived webcast: http://www.sans.org/u/Mi2
Next FOR526 course runs: http://www.sans.org/u/MhX