Are you in digital forensics and/or incident response? Do you love all things DFIR? Then you'll love DFIRCON because this event was created just for you.
SANS DFIRCON 2022 takes place in Charlotte, NC November 14-19 and is the place to be to take advantage of endless opportunities to practice and test your skills, network, and share ideas, and learn about the latest solutions to overcome challenges you're facing in the field.
It's not your typical event. DFIRCON was created to provide an all-inclusive learning experience that leverages the DFIR community's unique willingness to support colleagues, provide solutions to those who are facing investigative challenges, and always stay ahead of the adversaries.
Here are our top reasons to make the trip and join us this year:
1. Top-Notch DFIR Training Courses
At this event, we're offering 12 SANS DFIR training courses to choose from, with the majority offered in both In-Person and Live Online formats. This year DFIRCON features the brand new FOR608: Enterprise-Class Incident Response & Threat Hunting and FOR710: Reverse-Engineering Malware: Advanced Code Analysis courses. So, in the case that you can't travel to join us in Charlotte, you can tune in for training virtually. Those who attend in Charlotte will have the added benefit of hallway conversations that simply can't happen anywhere else.
2. Social Events and Bonus Sessions Galore
One of the perks of attending in-person is getting to partake in networking events, social outings, and fascinating bonus sessions with the best of the best in digital forensics and incident response. Three things to put on your schedule: 
Monday, November 14, 6:30-8:30 pm | Fireside Chat with DFIR Instructors
Don't miss this rare opportunity to chat one-on-one with some of the DFIR community's leading professionals and fellow colleagues.
Tuesday, November 15, 6:00-7:30 pm | Keynote: What makes a solid DFIR professional – How to keep growing in the field and not lose your luster
In this talk, SANS Faculty Fellow Heather Mahalik will walk you through lessons learned and methods you can leverage to get the most out of DFIR and enhance your daily work. (This session is also available to Live Online attendees to join virtually, but registration is required in advance.)
Wednesday, November 16, 6:30-8:30 pm | DFIRCON Social Night Out
Share stories, make connections, and wind down as you continue through your week of training in Charlotte, NC. There will be games, light fare, refreshments, and more.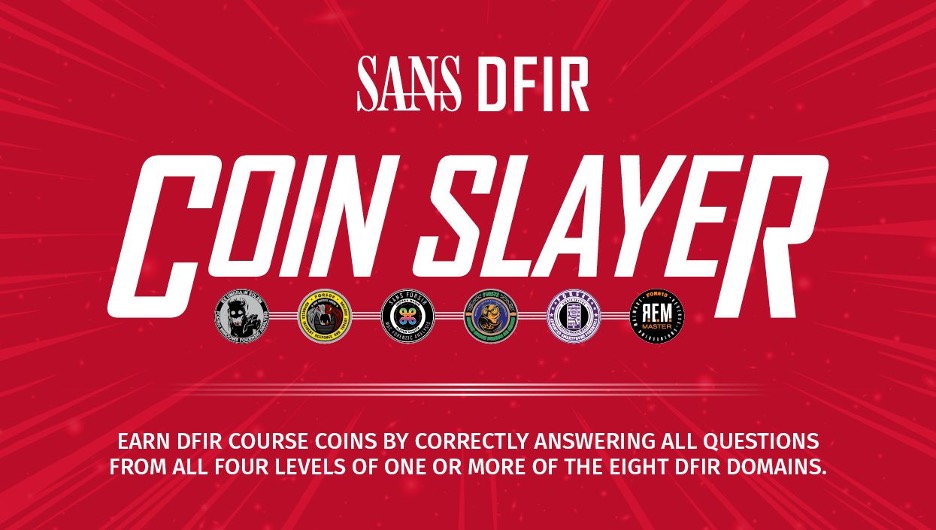 3. SANS DFIR Coin Slayer
What is DFIR Coin Slayer, you ask? An opportunity for you to prove your mastery in the DFIR arts by playing in the DFIR Netwars Coin Slayer Tournament. Plus, as the name implies, you can win a fortune of DFIR coinage.
Here's how it works: You must correctly answer all five questions from all four levels of one or more DFIR domains. If you answer all questions correctly for a single discipline, you will earn the class coin even for classes you did not take yet. You can start at any level and with any DFIR field, but watch out, there will be no hints this time like in years past! Take your pick, win them all, or answer as many questions as you can, and be the top team or among the top players to get the DFIR course coins.
This is only available to In-Person attendees, and it will be a fun time for all.
4. Posters, Posters, Posters!
I don't know about you, but I LOOOOOVE SANS posters. They are just packed with tons of easy-to-reference material. Well, DFIRCON In-Person attendees will get access to free printed posters. Some of the new posters that will be available include the Malware Analysis Tips and Tricks, authored by FOR610 course author Lenny Zeltser, and the Enterprise Cloud Forensics 7 Incident Response poster, authored by FOR509 course co-author Megan Roddie. Updated posters that will debut at the event include the Windows Forensics Poster and the Hunt Evil Poster.
Check out the overview of the new Enterprise Cloud Forensics and Incident Response course with Megan Roddie:

5. Charlotte's Pimento Cheese & More
Did you know that Charlotte is the pimento cheese capital of the world? Now you do! When you come to DFIRCON in Charlotte, NC, there's no shortage of things to do here, as it's the largest city in the state. While you're here, take in a Carolina Panthers football game or pay a visit to the NASCAR Hall of Fame. Or get your outdoor adventuring on at the U.S. National Whitewater Center.