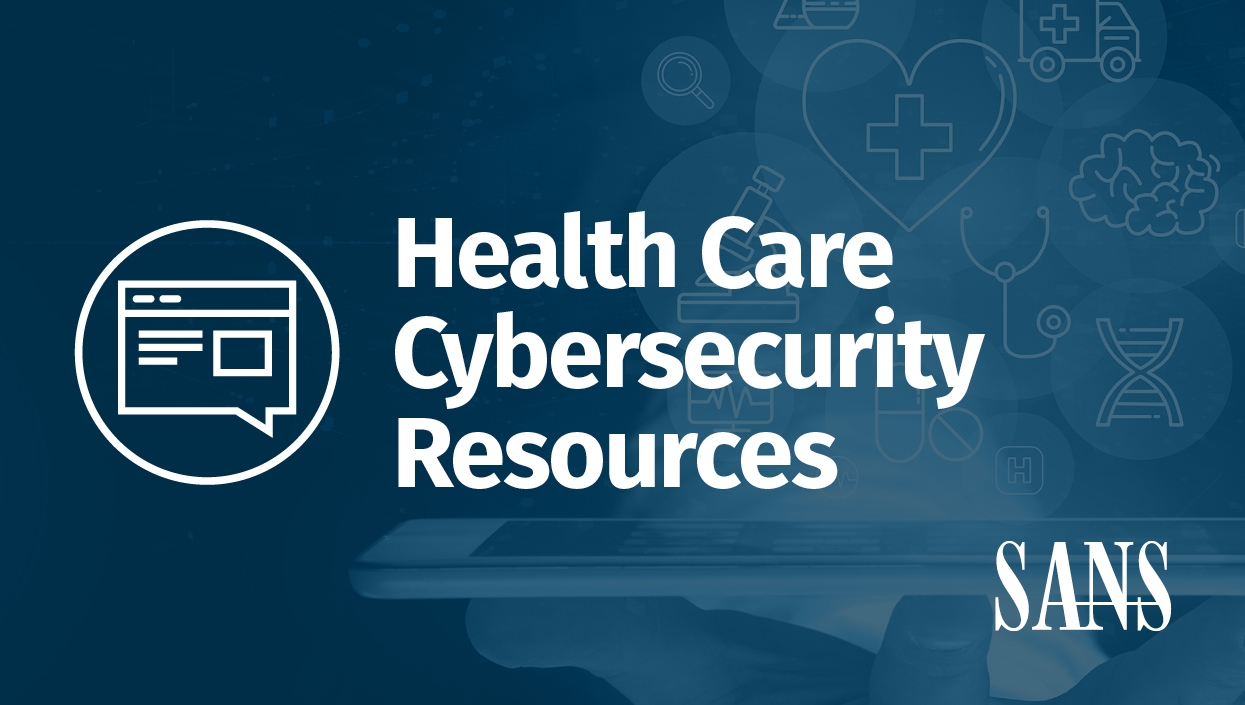 The targeting and theft of sensitive health information continues to be a challenge. Increased regulation combined with a dynamic threat landscape requires today's health care leader to have a clear understanding of relevant legislation and how to measurably defend patient data and related systems. We can support you with practical advice for stopping even the most advanced attacks that may target your health care organization.
Free Resources Available:
Webcasts
Blog
Unbreak My Heart: What I Learned About Building Better Medical Devices While Troubleshooting My Pacemaker

Healthcare NetWars
The SANS Institute is super excited to announce our newest cyber range, exclusively focused on securing health care environments! In this series of challenges, you'll help Generic Hospital deal with some major cybersecurity issues facing similar organizations around the world today. Generic Hospital's cybersecurity staff has identified suspicious events that require an immediate investigation. Also, new medical IoT devices in the hospital need to be analyzed for vulnerabilities. What's more, the organization has deployed a new telemedicine web application that requires a security test. And, to top it all off, Generic Hospital is being targeted with some nasty ransomware! Participants will build critically important cybersecurity skills in each of these areas vital to defending health care environments. Don't miss this brand-new Health Care Mini-NetWars experience.
For more information, check out our flyer for our Healthcare NetWars.
But don't just take our word for it. Here's what an attendee of Healthcare NetWars had to say about it:
Courses
SEC474: Building A Healthcare Security & Compliance Program
There are three huge reasons why SEC474: Building a Healthcare Security and Compliance Program is important to all healthcare organizations. 
First, the problem of healthcare security is big and only getting bigger. Adversaries are becoming more sophisticated in their approach and more focused on healthcare because of the value of the sector's data. Healthcare organizations of all sizes and types are concerned that the lack of properly trained security professionals is resulting in IT systems that are insecure and that they may be out of compliance and face steep fines. 
Second, fines under the Health Insurance Portability and Accountability Act (HIPAA) are only getting bigger. Recent years have seen many million-dollar+ fines levied against healthcare organizations for not being "HIPAA Compliant." Recent trends show that this situation is getting worse, not better. 
Third, HIPAA compliance regulations don't actually tell you how to attain "HIPAA Compliance." With absent specific guidance, organizations are left to figure out these challenges on their own. This course has been designed to help organizations with concrete guidance to build a secure and compliant environment.