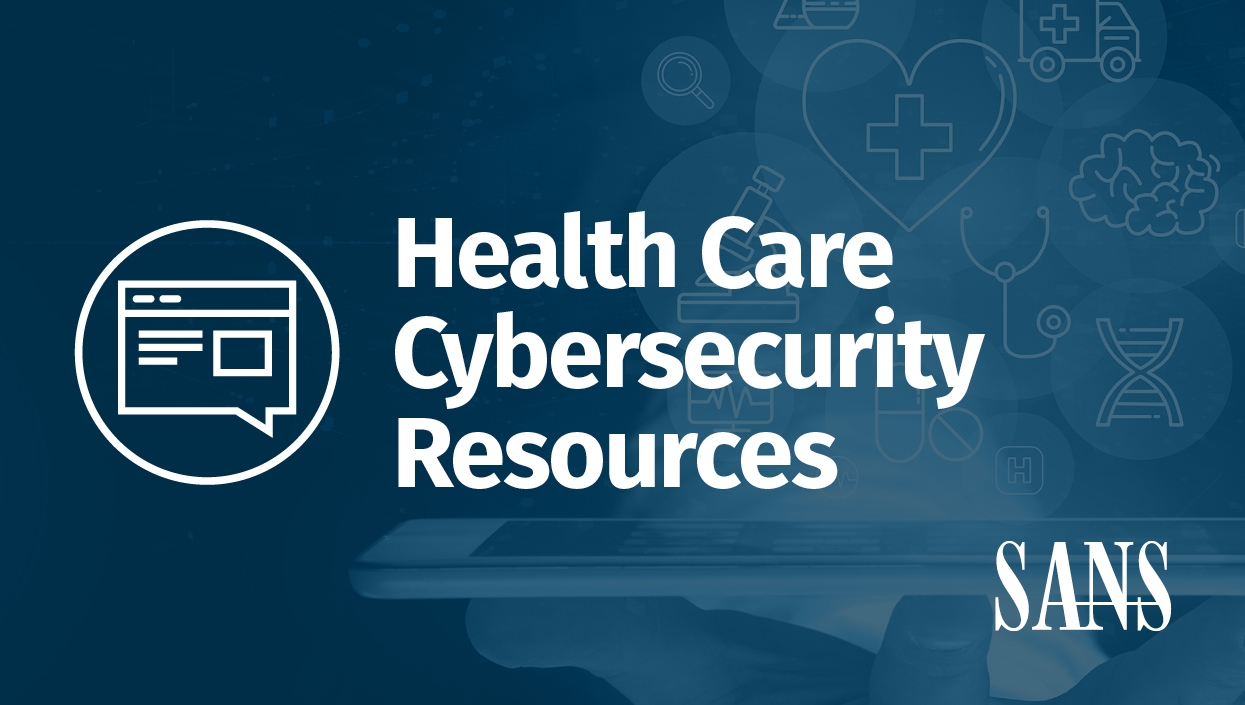 The targeting and theft of sensitive health information continues to be a challenge. Increased regulation combined with a dynamic threat landscape requires today's health care leader to have a clear understanding of relevant legislation and how to measurably defend patient data and related systems. We can support you with practical advice for stopping even the most advanced attacks that may target your health care organization.


Webcasts
What you need to know about the SolarWinds Supply Chain Attack, Jake Williams

Deployment Kit for Securing Your Workforce at Home, Lance Spitzner
Introducing SANs Offensive Operations, Stephen Sims
Building an Enterprise Grade Home Lab, Ismael Valenzuela & Justin Henderson
CISSP Cram Session, Eric Conrad
Faster, Better, AND Cheaper: Improving security operations using open source tools, John Hubbard
Live Stream
Download notes from the Ransomware + Healthcare Live Stream
here
.
Download notes from the Privacy Officer Live Stream
here
.
Blog
Applying Cyber Hygiene to Defend Health Care Data and Systems, Greg Porter
Infographics
HIPAA Compliance Dos and Don'ts
Infofliers
Ransomware + Healthcare: A Deadly Combination
What Your Privacy Officer is Trying to Tell You...If Only You Would Listen

Video Series - Doc's Shorts
Whitepapers
SANS Top New Attacks and Threat Report, John Pescatore
Cybersecurity in the Age of the Cloud, Frank Kim
Measuring and Improving Cyber Defense Using the MITRE ATT&CK Framework, John Hubbard
Implementer's Guide to Deception Technologies, Kyle Dickinson
Generating Hypotheses for Successful Threat Hunting, Robert M. Lee & David Bianco
2020 SANS Cyber Threat Intelligence (CTI) Survey, Robert M. Lee
Detecting Malicious Activity in Large Enterprises, Matt Bromiley
A Plan for How to Get There and What to Do When You Arrive: Practical Advice on Establishing a Security Information Management Program within Healthcare, Barbara Filkins
Spends and Trends: SANS 2020 IT Cybersecurity Spending Survey, Barbara Filkins & John Pescatore
Making and Keeping Work-at-Home Operations Safe and Productive, John Pescatore

Hot Topics and Related SANS Resources
Ransomware
Webcast: Malware & Ransomware Solutions Forum
Blog: Finding a Cure for Ransomware
Blog: Turning Out the Lights on Ransomware
Livestream: Ransomware and Healthcare: A Deadly Combination
Download Doc's notes from the Ransomware + Healthcare Live Stream here.
Ransomware + Healthcare in the News:
Ransomware and HIPAA Fact Sheet, pdf download
Ransomware Guidance, US HHS Office for Civil Rights, pdf download
Supply Chain/3rd Party Vendors
Webcast: Success Patterns for Supply Chain Security
Webcast: Combatting Cyber Risks in the Supply Chain
Webcast: How to Inject Security Into YOur Software Development Life Cycle - Close Security Gaps in Your Software Supply Chain Through Automation and Deep Analysis
Blog: Automated Hunting of Software Update Supply Chain Attacks
Blog: Six Presentations You Don't Want to Miss at Supply Chain Cybersecurity Summit
Webcast: New Year, Same Magecart: The Continuation of Web-based Supply Chain Attacks

Telemedicine
Webcast: How to Secure a Modern Web Application in AWS
Resource: Securing Web Application Technologies [SWAT] Checklist and Poster
Webcast: Choosing the Right Path to Application Security

Healthcare NetWars
The SANS Institute is super excited to announce our newest cyber range, exclusively focused on securing health care environments! In this series of challenges, you'll help Generic Hospital deal with some major cybersecurity issues facing similar organizations around the world today. Generic Hospital's cybersecurity staff has identified suspicious events that require an immediate investigation. Also, new medical IoT devices in the hospital need to be analyzed for vulnerabilities. What's more, the organization has deployed a new telemedicine web application that requires a security test. And, to top it all off, Generic Hospital is being targeted with some nasty ransomware! Participants will build critically important cybersecurity skills in each of these areas vital to defending health care environments. Don't miss this brand-new Health Care Mini-NetWars experience.
For more information, check out our flyer for our Healthcare NetWars.
But don't just take our word for it. Here's what an attendee of Healthcare NetWars had to say about it:
Top SANS Courses for Healthcare Organizations