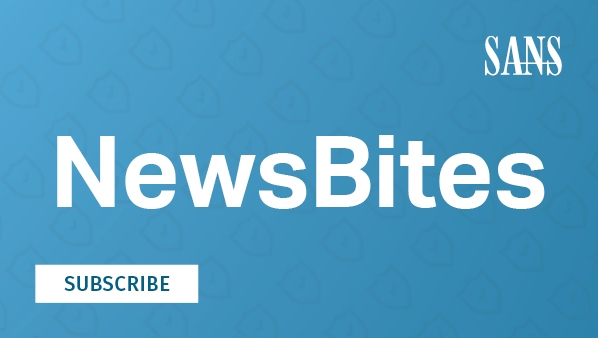 John Pescatore - SANS Director of Emerging Security Trends
Ransom Payoffs and Cellphone Location Information Exposure
This week's Drilldown focuses on two items (included below): one from NewsBites Issue 61, about ransomware payoffs, and one from Issue 62, which detailed guidance from the U.S. National Security Agency (NSA) on location information leakage from cellphones.
At a high level, there are several important points to consider when making the decision about what to do if you are hit with a ransomware incident. Many of the decisions should be made before the ransomware attack and periodically updated:
At least two common scenarios should be workshopped: one or more critical business services impacted, and one or more critical databases or information repositories hit. Baseline "time to restore" estimates should be developed based on existing levels of basic security hygiene, including backup/restore capabilities.
This should include getting guidance on what existing insurance policies would or would not reduce the financial exposure, including if policies explicitly cover or exclude "extortion."
A decision process playbook should be documented and approved up the management chain with the unique incident response aspects of a ransomware event worked through and highlighted. The data from (1) and (2) should be updated regularly.
If possible, use this data for a tabletop exercise with CXO staff and the Board of Directors.
Most ransomware incidents are enabled by the same basic security hygiene failures seen in data breaches and other incidents. The major difference areas are in backup and recovery processes and the decision about whether to pay off the ransom demands. The business decision on that is going to very different for each organization and incident, but the more prepared you are, the better the chances you have of taking the right course to minimize business disruption--and gain the trust needed to make the changes needed to avoid the next ransomware attack.
Compared to many other issues, leakage of location data from cellphones is generally pretty low on the risk priority list for most organizations. However, there are real scenarios for executives, some critical business processes, and even logistics operations where nation-sponsored industrial espionage is happening and could undermine key business initiatives.
As a minimum, organizations should have policies and mobile device management capabilities to reduce overexposure of location data from mobile devices. User-awareness sessions should provide guidance for minimizing mobile app permissions, with a special session for management and directors.
______________________________________________________________________________
Bleeping Computer: Garmin Paid Ransomware Demand
(August 3, 2020)
According to a report in Bleeping Computer, Garmin received the WastedLocker ransomware encryption key on July 25, two days after the malware hit its network. While the amount Garmin paid the WastedLocker operators is unknown, the initial demand was reportedly $10 million. Bleeping Computer obtained "access to an executable created by the Garmin IT department to decrypt a workstation and then install a variety of security software on the machine."
[Editor Comments]
[Pescatore] Dealing with the coronavirus has reinforced the importance of data-based decision making. There are many good reasons not to pay ransomware demands, but there is no good data to support when/if it does make financial sense. One factor that can swing the decision: If your company has extortion insurance and the language in that policy covers/does not exclude ransomware, management may find that the cost of paying off is reduced enough to be well below the business disruption costs. In next week's NewsBites Drilldown, I'll publish a deeper dive into the issues, along with a few example datasets.
Read more in:
Bleeping Computer: Confirmed: Garmin received decryptor for WastedLocker ransomware?
www.bleepingcomputer.com/news/security/confirmed-garmin-received-decryptor-for-wastedlocker-ransomware/
Threatpost: Garmin Pays Up to Evil Corp After Ransomware Attack -- Reports
https://threatpost.com/garmin-pays-evil-corp-ransomware-attack-reports/157971/
NSA: Mobile Devices Expose Location Data
(August 4 and 5, 2020)
The U.S. National Security Agency (NSA) released an advisory that enumerates ways in which mobile devices leak location data, often by design. The advisory includes suggestions for users to limit the ways they are tracked through their mobile devices. Recommendations include turning off services like "find my phone," Wi-Fi and Bluetooth when they are not needed.
[Editor Comments]
[Pescatore] Some location exposure will always be there if you carry a constantly transmitting device with you all the time, . But Apple and Google on the phone OS side, the wireless carriers on the service side, and (probably most important) the U.S. Federal Communications Commission (FCC) on the rules and enforcement side really need to change the priorities to put privacy first, exposure by exception as the norm. Where we are today is like the time when full Social Security number (SSN) and credit card numbers were printed on every receipt and displayed everywhere. It doesn't have to happen.
[Neely] Ten years ago, keeping location services disabled was a reasonable option for users. Today, so many devices and mobile activities rely on or leverage location, and for some users, disabling these services is akin to going offline. The NSA acknowledges these measures are impractical for most users. The advice is spot-on for not revealing a sensitive location or staff and should be assessed in those contexts. As John says, the protection measures around location services need to evolve to limit exposure and access to this information.
[Ullrich] Please remember to conduct your own risk assessment before following this guide. The recommendations are good, and it represents a very nice and concise guide to limit location data you leak. But some recommendations, such as anti-theft features on the phone, may be better left enabled. It all depends on what you consider the greater risk.
Read more in:
Threatpost: NSA Warns Smartphones Leak Location Data
https://threatpost.com/nsa-warns-smartphones-leak-location-data/158040/
Ars Technica: Beware of find-my-phone, Wi-Fi, and Bluetooth, NSA tells mobile users
https://arstechnica.com/tech-policy/2020/08/beware-of-find-my-phone-wi-fi-and-bluetooth-nsa-tells-mobile-users/
The Register: NSA warns that mobile device location services constantly compromise snoops and soldiers
www.theregister.com/2020/08/05/nsa_location_data_guide/
Cyberscoop: Here's the NSA's advice for reducing the exposure of cellphone location data
www.cyberscoop.com/nsa-cellphone-location-data-guidance/
U.S. Department of Defense: Limiting Location Data Exposure (PDF)
https://media.defense.gov/2020/Aug/04/2002469874/-1/-1/0/CSI_LIMITING_LOCATION_DATA_EXPOSURE_FINAL.PDF