More Opportunities to Become a SANS Cloud Ace
The demand for cybersecurity professionals that are knowledgeable and skilled in cloud security is increasing rapidly as a broader range of enterprises leverage cloud infrastructure to transform their businesses. SANS Cloud Security Curriculum accelerated its development of specialized cloud security training and certifications throughout 2020 which will significantly enhance the knowledge, skills, and credentials of current and aspiring cloud security professionals. Although we recently retired one of our well-known courses, SEC545: Cloud Security Architecture and Operations, the SANS Cloud Security Curriculum now has a broader and deeper array of cloud courses in 2021. We have 9 new courses, 12 in total, curated, written, and taught by world-renowned cloud security experts to help you become a SANS Cloud ACE.
We can start you on your cloud security journey today with a flight plan that will prepare you for the present and the future of cloud security as it continuously evolves. The course options below provide more focused, detailed content supported with extensive hands-on, high quality labs.
What SANS Cloud Security Course Should I Take?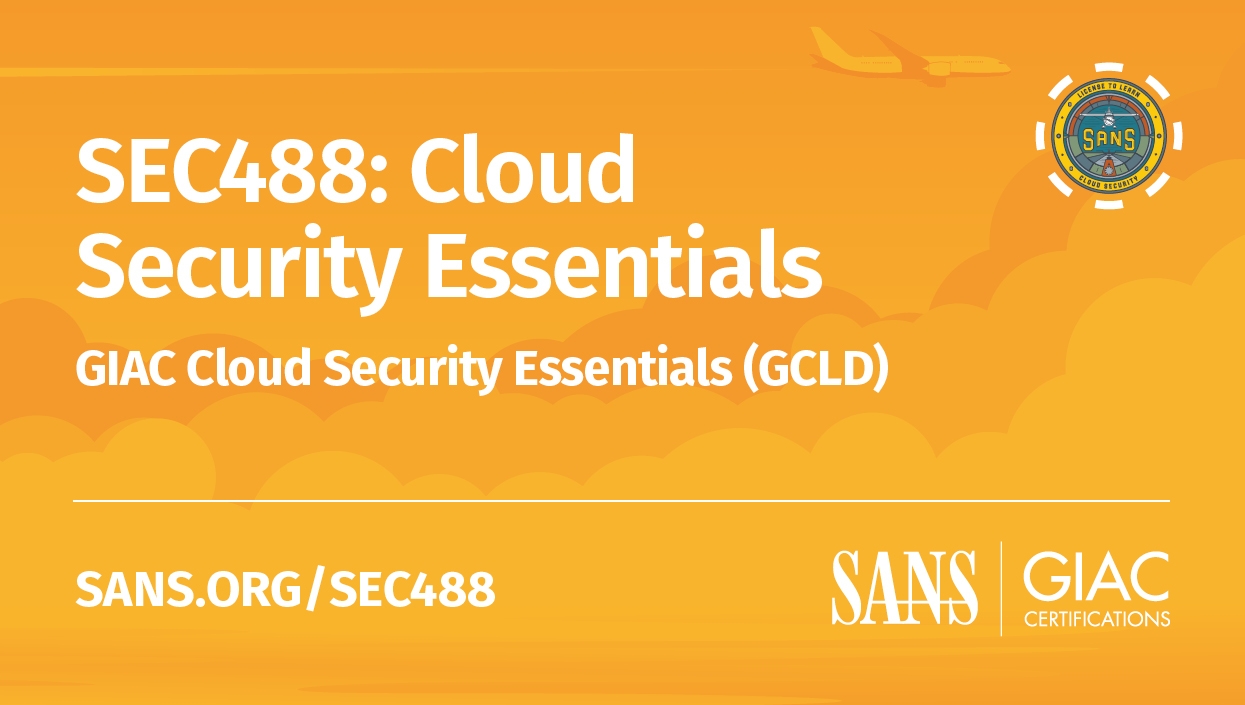 Are you looking to develop foundational skills in cloud security?
Are you new to cybersecurity or transitioning into a cloud security role?
Are you a cybersecurity leader working to understand cloud fundamentals?
If you answered YES to any of the above, then SEC488: Cloud Security Essentials is the course for you. This course covers Amazon Web Services, Azure, Google Cloud, and other cloud service providers (CSPs). Upon completion of this course, you will be able to advise and speak about a wide range of cybersecurity topics and help your organization successfully navigate the challenges and opportunities presented by cloud service providers.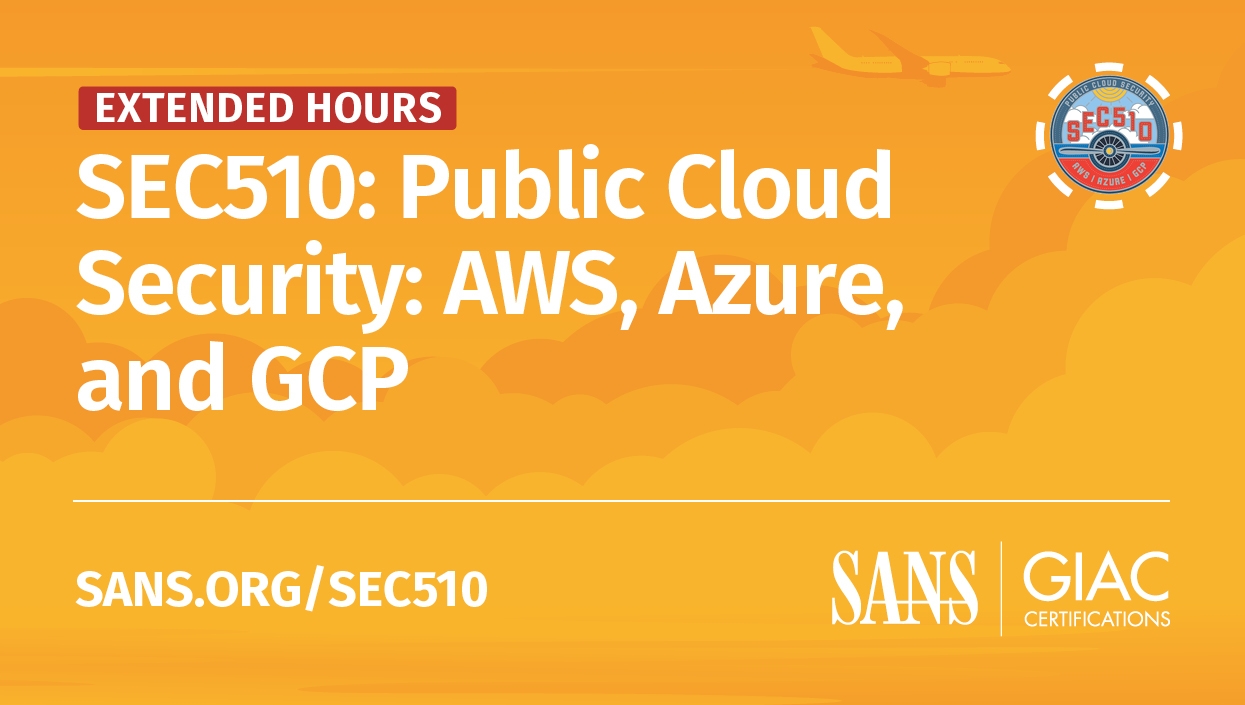 Do you already have a technical foundation in cloud security?
Are you looking to expand your hands-on skills in public cloud security?
Looking to properly architect a multicloud environment to maximize service benefits and minimize risks?
If you answered YES to any of the above, SEC510: Public Cloud Security: AWS, Azure, & GCP is the class for you. It is an in-depth analysis of the security of managed services for the Big 3 cloud providers: Amazon Web Services, Azure, and Google Cloud Platform. It is defensive in nature teaching how to use and configure cloud services correctly through comprehensive, hands-on labs with Terraform code to deploy full-blown infrastructure in all three major cloud environments.
Students will leave the course confident that they have the knowledge they need when adopting services and Platform as a Service (PaaS) offerings in each cloud. Students will launch unhardened services, analyze the security configuration, validate that they are insufficiently secure, deploy patches, and validate the remediation.
Written by seasoned SANS Senior Instructor and multi-course author, Eric Johnson, and Certified Instructor, Brandon Evans
Includes new Extended Lab Hours, 38 CPEs
Challenge Coin for Live Online events
Available Live Online and OnDemand
Course Demo available – free
Another big announcement coming in May…stay tuned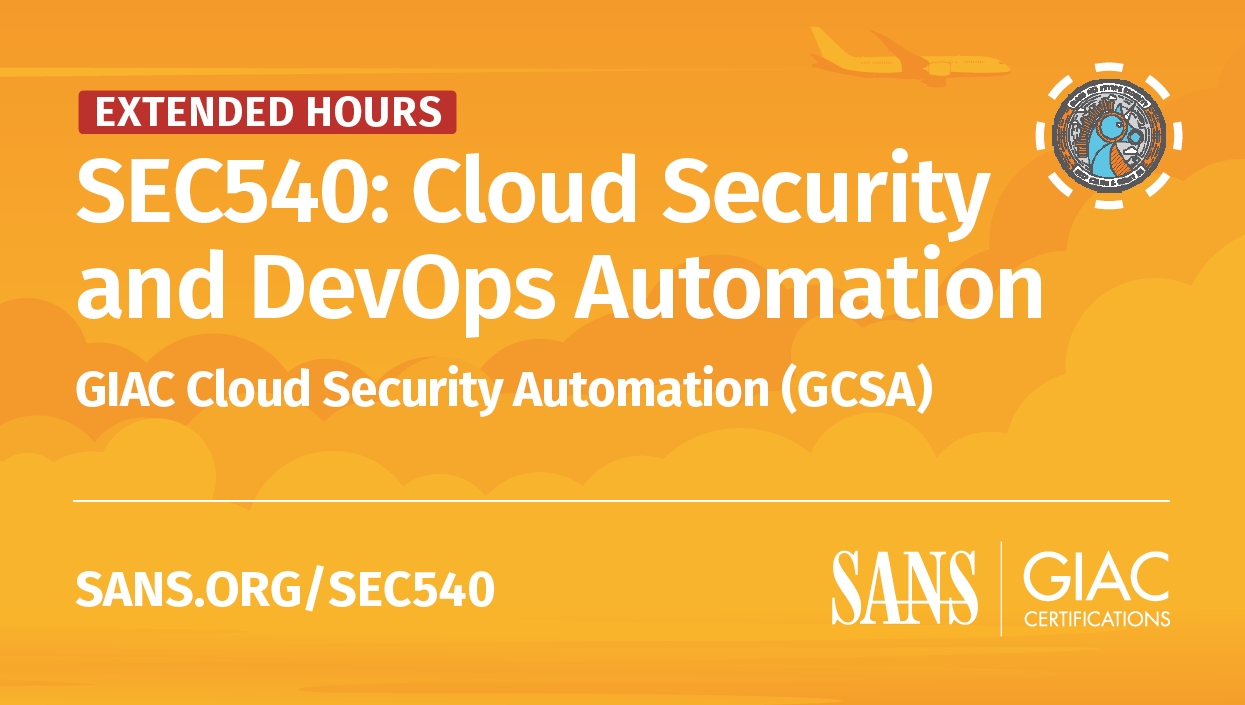 Are you struggling to understand the DevOps toolchain and how to better implement security into automated pipelines?
Is your org looking to shift further left for more security?
Hoping to catch and correct misconfigurations in your clouds before sensitive data is exposed?
If you answered YES to any of the above, SEC540: Cloud Security and DevSecOps Automation is the course for you. Providing security professionals with a methodology to secure modern Cloud and DevOps environments, students learn how to implement more than 20 DevSecOps security controls to build, test, deploy, and monitor cloud infrastructure and services. Immersive hand-on labs ensure that students not only understand theory, but how to configure and implement each security control.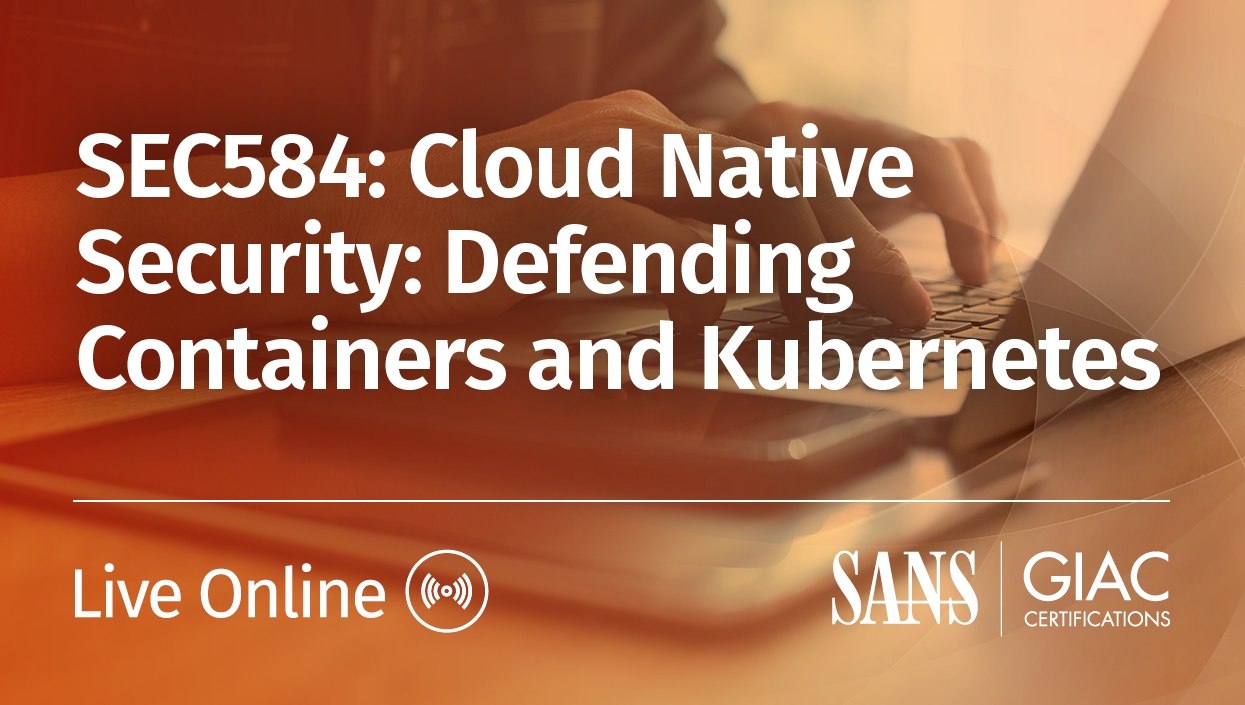 Are you responsible for containers, kubernetes, or orchestration?
Are you highly technical and very comfortable with hands-on lab environments?
Are you looking to leverage automated testing tools to perform security testing and harden your deployments?
If you answered YES to any of the above, then SEC584: Cloud Native Security: Defending Containers and Kubernetes is the course for you. This course performs a deep dive into defending key infrastructure deployment components, focusing on containerization and orchestration exploits. Students will be thrust directly into detailed issues related to misconfiguration and known attack patterns and will learn how to properly harden and protect against these exploits.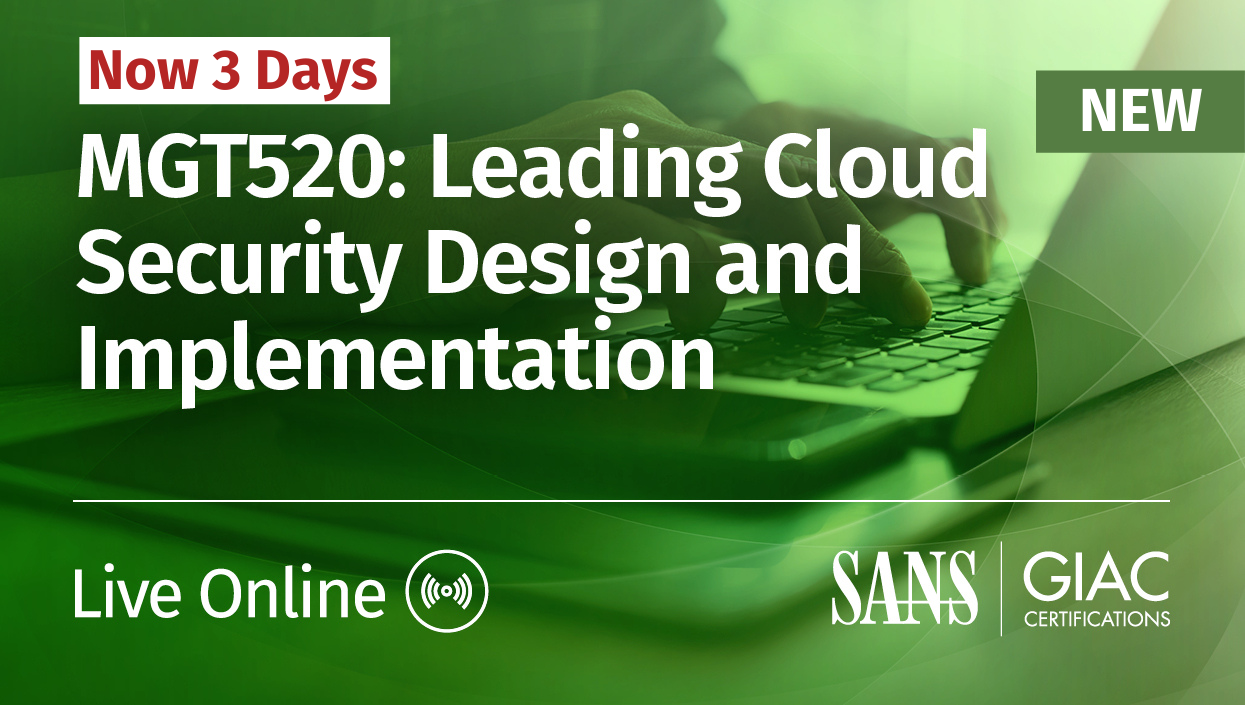 Need help defining a strategy for securing your workload in the cloud that supports your business objectives?
Looking to create / refine a security roadmap that can support fast-paced cloud adoption and migration while maintaining a low risk profile?
Wanting to understand the security basics of the cloud environments across different types of service offerings so you can explain and justify your plan with key stakeholders and decision makers?
If you answered YES to any of the above, then MGT520: Leading Cloud Security Design and Implementation is the course for you. This course teaches students how to build, lead, and implement a cloud security transition plan and roadmap, and then execute and manage ongoing operations. This course provides the information security leader's need to drive a secure cloud model and leapfrog on security by leveraging the security capabilities in the cloud. This course is less technical and includes cloud architecture components.
Written by seasoned SANS Certified Instructor and SEC522 course author, Jason Lam
Available Live Online

SANS Cloud Security Flight Plan
Review our entire job role flight plan for the entire curriculum below.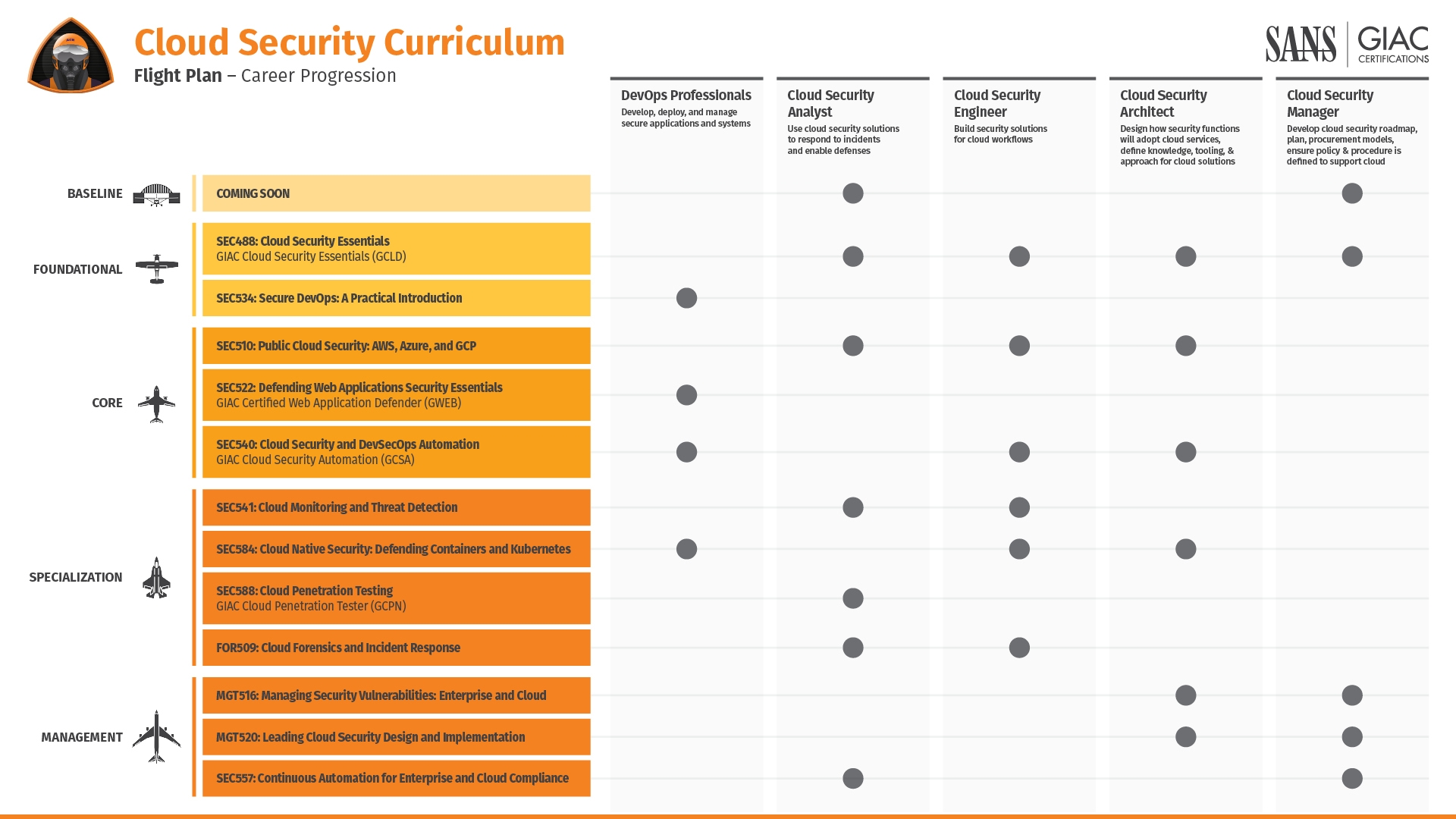 We look forward to seeing you in one of our courses soon!