The SANS Institute and Global Information Assurance Certification Announce Their Partnership with the White House's IT Training and Certification Program
Pictured: First Lady Michelle Obama delivers remarks at the White House Forum on Military Credentialing and Licensing, in the Eisenhower Executive Office Building South Court Auditorium, April 29, 2013. (Official White House Photo by Chuck Kennedy)
Bethesda, MD

April 29, 2013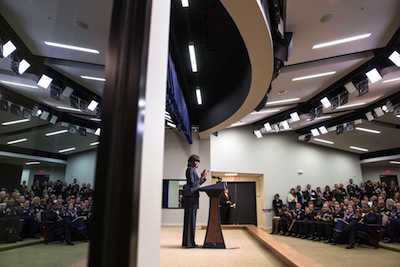 The SANS Institute and GIAC Certifications announced today their participation in the Obama Administration's IT Training and Certification Program, a partnership which will enable thousands of service members to earn industry-recognized information technology certifications before they transition from military service. The IT Training and Certification Program was announced today at a White House press conference with First Lady Michelle Obama, Gene Sperling, Director of the National Economic Council; John Chambers, Chairman and CEO of Cisco; and Senior Master Sergeant Alexander Hall.
SANS Institute and GIAC are proud to be part of this program, helping to train and certify service members returning to the civilian workforce. SANS and GIAC are providing over $33,000 in training and certification scholarships to the program.
One of the greatest challenges our military personnel face when transitioning to civilian life is locating and securing gainful employment. The mission of the IT Training and Certification Program is to bring meaningful, rewarding and life-long career opportunities to service personnel in the IT sector.
SANS is the most trusted and by far the largest source for information security training in the world. GIAC is the leading provider of technical, job-duty-specific information security certifications and its exams validate the hands-on ability of practitioners around the world. SANS courses and GIAC certifications are part of the NICE Initiative and GIAC is ISO/ANSI/IEC 17024 accredited and has more certifications approved under the DoD 8570 directive than any other certification body.
To learn more about this program, please go to:
http://www.whitehouse.gov/sites/default/files/docs/military_credentialing_and_licensing_report_2-24-2013_final.pdf
About GIAC
GIAC Certifications is a certification body featuring over 20 hands-on, technical certifications in information security. GIAC has certified over 49,000 IT security professionals since it was founded in 1999. The GIAC program is accredited under the IEC/ISO/ANSI 17024 quality standard for certifying bodies. GIAC is an affiliate of the SANS Institute. (www.GIAC.org)
SANS Media Contact
About SANS Institute
The SANS Institute was established in 1989 as a cooperative research and education organization. Today, SANS is the most trusted and, by far, the largest provider of cyber security training and certification to professionals in government and commercial institutions worldwide. Renowned SANS instructors teach more than 60 courses at In-Person and Live Online cyber security training events, and more than 50 courses are available anytime, anywhere with our OnDemand platform. GIAC, an affiliate of the SANS Institute, validates practitioner skills through more than 35 hands-on, technical certifications in cyber security. The SANS Technology Institute, a regionally accredited independent subsidiary, offers a master's degree, graduate certificates, and an undergraduate certificate in cyber security. SANS Security Awareness, a division of SANS, provides organizations with a complete and comprehensive security awareness solution, enabling them to easily and effectively manage their 'human' cybersecurity risk. SANS also delivers a wide variety of free resources to the InfoSec community including consensus projects, research reports, webcasts, podcasts, and newsletters; it also operates the Internet's early warning system – the Internet Storm Center. At the heart of SANS are the many security practitioners, representing varied global organizations from corporations to universities, working together to support and educate the global information security community. (https://www.sans.org)