SEC540: Cloud Security and DevOps Automation
Mon, April 12 - Fri, April 16, 2021
Associated Certification: GIAC Cloud Security Automation (GCSA)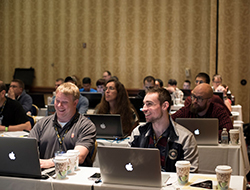 The Cloud Moves Fast. Automate to Keep Up.
SEC540 provides development, operations, and security professionals with a methodology to build and deliver secure infrastructure and software using DevOps and cloud services. Students will explore how DevOps principles, practices, and tools of DevOps can improve the reliability, integrity, and security of on-premise and cloud-hosted applications.
SEC540 examines the Secure DevOps methodology and its implementation using lessons from successful DevOps security programs. Students will gain hands-on experience using popular tools such as Jenkins, GitLab, Puppet, Vault, and Grafana to automate Configuration Management ("Infrastructure as Code"), Continuous Integration (CI), Continuous Delivery (CD), cloud infrastructure, containerization, micro-segmentation, Functions as a Service (FaaS), Compliance as Code, and Continuous Monitoring.
The lab environment starts with an on-premise CI/CD pipeline that automatically builds, tests, and deploys infrastructure and containerized applications. Leveraging the Secure DevOps toolchain, students perform a series of labs injecting security into the CI/CD pipeline using a variety of security tools, patterns, and techniques. After laying the DevSecOps foundation, students put their DevSecOps skills to work by deploying and managing a real-world cloud infrastructure. Hands-on exercises deploy containerized workloads in the cloud, integrate on-premise configuration management with Puppet, and manage secrets with HashiCorp Vault and Cloud Key Management Service (KMS). Students analyze and fix cloud infrastructure vulnerabilities, perform cloud-hosted application vulnerability scanning, and defend microservices using tools such as API Gateway and FaaS. Cloud security compliance tools help monitor the infrastructure using code-drive Web Application Firewall (WAF) services, continuous auditing with CloudMapper, and continuous monitoring with Cloud Custodian.
SEC540 Will Prepare You To:
Understand the Core Principles and Patterns behind DevOps
Recognize how DevOps works and identify keys to success
Map and Implement a Continuous Delivery/Continuous Deployment Pipeline
Utilize Continuous Integration, Continuous Delivery, and Continuous Deployment workflows, patterns, and tools
Identify the security risks and issues associated with DevOps and Continuous Delivery
Understand the DevSecOps Methodology and Workflow
Use DevOps practices to secure DevOps tools and workflows
Conduct effective risk assessments and threat modeling in a rapidly changing environment
Design and write automated security tests and checks in CI/CD
Understand the strengths and weaknesses of different automated testing approaches in Continuous Delivery
Implement self-serve security services for developers
Inventory and patch your software dependencies
Threat model and secure your build and deployment environment
Integrate Security into Production Operations
Automate configuration management using Infrastructure as Code
Secure container technologies (such as Docker and Kubernetes)
Build continuous monitoring feedback loops from production to engineering
Securely manage secrets for continuous integration servers and applications
Automate compliance and security policy scanning
Move Your DevOps Workloads to the Cloud
Understand how to automate cloud architecture components
Use CloudFormation and Terraform to create Infrastructure as Code
Build CI/CD pipelines using Jenkins and CodePipeline
Wire security scanning into Jenkins and CodePipeline workflows
Containerize applications with Elastic Container Service and Azure Kubernetes Service
Integrate cloud logging and metrics with Grafana
Create Slack alerts from CloudWatch metrics
Manage secrets with Vault, KMS, and the SSM Parameter store
Consume Cloud Services to Secure Cloud Applications
Protect static content with CloudFront Signatures
Leverage Elastic Container Service for blue/green deployments
Secure REST APIs with API Gateway
Implement an API Gateway custom authorization Lambda function
Deploy the AWS WAF and build custom WAF rules
Perform continuous compliance scans with CloudMapper
Enforce cloud configuration policies with Cloud Custodian
SEC540 goes well beyond traditional lectures and immerses students in hands-on application of techniques during each section of the course. Each lab includes a step-by-step guide to learning and applying hands-on techniques, as well as a "no hints" approach for students who want to stretch their skills and see how far they can get without following the guide. This allows students, regardless of background, to choose a level of difficulty they feel is best suited for them - always with a frustration-free fallback path.
SEC540 also offers students an opportunity to participate in NetWars Bonus Challenges each day. The gamified environment allows students to compete against each other in a race to win the SEC540 challenge coin, while also providing more hands-on experience with the cloud and DevOps toolchain.

NOTICE TO STUDENTS:
Please plan to arrive 30 minutes early before your very first session for lab preparation and set-up. During this time, students can confirm that their Amazon Web Services (AWS) account is properly set up, ensure laptops have virtualization enabled, copy the lab files, and start the Linux virtual machine. For Live Online, the instructor will be available to assist students with laptop prep and set-up 30 minutes prior to course start time. Live Online class lecture will begin on time.
An Amazon Web Services (AWS) account is required to do hands-on exercises during this course. Students must create an AWS account prior to the start of class. Your ability to execute the hands-on exercises will be delayed if you wait to set up the AWS account during a live class.
The estimated AWS cost for running the lab environment is $20 per week. Costs are significantly less for free-tier accounts.
Microsoft Azure bonus challenges are available to students. Completing the bonus challenges requires that students register a Microsoft Azure account prior to the start of class.
The estimated Azure cost for running the lab environment is $20 per week. Eligible free-tier accounts receive $200 in Azure credits (subject to verification and approval)
WHAT YOU WILL RECEIVE:
Printed and Electronic Courseware
ISO containing the course Virtual Machine (VM)
Course VM containing a pre-built DevOps CI/CD toolchain, Cloud Security, and Secure DevOps lab exercises
A VM-hosted wiki and an electronic lab workbook for completing the lab exercises
Course Syllabus
Additional Information
Important! Bring your own system configured according to these instructions!
A properly configured system is required to fully participate in this course. If you do not carefully read and follow these instructions, you will likely leave the class unsatisfied because you will not be able to participate in hands-on exercises that are essential to this course. Therefore, we strongly urge you to arrive with a system meeting all the requirements specified for the course.
!!! IMPORTANT NOTICE !!!
Mandatory: Students must bring their own AWS and Azure accounts to complete the cloud exercises. Please ensure you have done the following before class starts:
Register for a personal free-tier account.
Activate your new account.
Log in to the AWS Console with your root account.
Browse to the EC2 Service and verify that you see the dashboard (not an activation screen).
In the top right-hand corner of the page, select one the following supported regions (preferably the region closest to where the course is running or you live):
U.S. East (Northern Virginia)
U.S. West (Oregon)
E.U. (Ireland)
Asia Pacific (Tokyo)
6. From the left navigation bar, select "Limits."
7. Verify that you have at least 10vCPUs for On-Demand Standard (A, C, D, H, I, M, R, T, Z) instances.
8. If your limits are less than 10 vCPUs, please start by creating a new t2.micro instance. Creating a new instance often causes the limits to increase automatically. If your limits do not automatically increase (wait 30 minutes to check again), request an increase to open a ticket with the AWS support team. More details can be found in the AWS EC2 Service Limits documentation.
Microsoft Azure
1. Browse to the Azure Portal.
2. Register for a personal 12-month free account.
BRING YOUR OWN LAPTOP CONFIGURED USING THE FOLLOWING DIRECTIONS:
A properly configured system is required for each student participating in this course. Before starting your course, carefully read and follow these instructions exactly:
Host Operating System: Latest version of Windows 10, macOS 10.15.x or later, or Linux that also can install and run VMware virtualization products described below.
Note: Apple systems using the M1 processor cannot perform the necessary virtualization at this time and cannot be used for this course.
It is necessary to fully update your host operating system prior to the class to ensure you have the right drivers and patches installed to utilize the latest USB 3.0 devices.
Those who use a Linux host must also be able to access exFAT partitions using the appropriate kernel or FUSE modules.
Download and install 7-Zip (for Windows Hosts) or Keka (macOS). Without these extraction tools, you'll be unable to extract large archives we'll supply to you in class.
Download and install either VMware Workstation Pro 15.5.x, VMware Player 15.5.x or Fusion 11.5.x or higher versions before class.
If you do not own a licensed copy of VMware Workstation or Fusion, you can download a free 30-day trial copy from VMware. VMware will send you a time-limited serial number if you register for the trial at their website.
Other virtualization software, such as VirtualBox and Hyper-V, are not appropriate because of compatibility and troubleshooting problems you might encounter during class.
VMware Workstation Pro and VMware Player on Windows 10 is not compatible with Windows 10 Credential Guard and Device Guard technologies. Please disable these capabilities for the duration of the class, if they're enabled on your system, by following instructions in this document.
Mandatory Host Hardware Requirements
CPU: 64-bit 2.5+ GHz multi-core processor or higher
BIOS/UEFI: VT-x, AMD-V, or the equivalent must be enabled in the BIOS/UEFI
Hard Disk: Solid-State Drive (SSD) is MANDATORY with 50GB of free disk space minimum
Memory: 16GB of RAM or higher is mandatory for this class (IMPORTANT! - 16GB of RAM is MANDATORY)
Working USB 2.0 or higher port
Wireless Ethernet 802.11 B/G/N/AC
Local Administrator Access within your host operating system
Mandatory Host Operating System Requirements
You must use a 64-bit laptop with one of the following operating systems that have been verified to be compatible with course VMware image:
Latest version of Windows 10, macOS 10.15.x or later, or Linux that also can install and run VMware virtualization products described below.
Mandatory Software Requirements
Prior to class, ensure that the following software is installed on the host operating system:
VMware Workstation Pro 15.5.X+, VMware Player 15.5.X+ or Fusion 11.5+
Zip File Utility (7Zip or the built-in operating system zip utility)
In summary, before beginning the course you should:
Have a laptop with a solid-state drive (SSD), 16GB of RAM, and a 64-bit operating system.
Install VMware (Workstation or Fusion).
Windows Only: Verify that the BIOS settings have the Intel VT virtualization extensions enabled.
Download the SEC540 Lab Setup Instructions and Course Media from your sans.org account.
Register a NEW AWS free-tier account prior to the start of the class at https://aws.amazon.com/.
Register a NEW Azure free-tier account prior to the start of class at https://azure.microsoft.com/en-us/free/.
Your course media will now be delivered via download. The media files for class can be large, some in the 40 - 50 GB range. You need to allow plenty of time for the download to complete. Internet connections and speed vary greatly and are dependent on many different factors. Therefore, it is not possible to give an estimate of the length of time it will take to download your materials. Please start your course media downloads as you get the link. You will need your course media immediately on the first day of class. Waiting until the night before the class starts to begin your download has a high probability of failure.
SANS has begun providing printed materials in PDF form. Additionally, certain classes are using an electronic workbook in addition to the PDFs. The number of classes using eWorkbooks will grow quickly. In this new environment, we have found that a second monitor and/or a tablet device can be useful by keeping the class materials visible while the instructor is presenting or while you are working on lab exercises.
If you have additional questions about the laptop specifications, please contact laptop_prep@sans.org.
If you have additional questions about the laptop specifications, please contact laptop_prep@sans.org.
Anyone working in or transitioning to a public cloud environment
Anyone working in or transitioning to a DevOps environment
Anyone who wants to understand where to add security checks, testing, and other controls to cloud and DevOps Continuous Delivery pipelines
Anyone interested in learning how to migrate DevOps workloads to the cloud, specifically Amazon Web Services (AWS) and Microsoft Azure
Anyone interested in leveraging cloud application security services provided by AWS
Developers
Software architects
Operations engineers
System administrators
Security analysts
Security engineers
Auditors
Risk managers
Security consultants
"There is value whether entry, mid- to manager." - Alex Rams
Course Prerequisites
Courses or equivalent experiences that are prerequisites for SEC540:
Familiarity with Linux command shells and associated commands
Basic understanding of common application attacks and vulnerabilities (e.g., OWASP Top 10)
Hands-on experience using the AWS and Azure Cloud recommended
Preparing for SEC540
Students taking SEC540 will have the opportunity to learn and use a number of DevOps and cloud tools during the hands-on exercises. Getting a head start on the following tools, technologies, and languages will help students enjoy their lab experience:
Running basic Git commands (clone, add, commit, push): https://docs.gitlab.com/ee/gitlab-basics/start-using-git.html
Using GitLab for version control: https://docs.gitlab.com/ee/gitlab-basics/
Jenkins Getting Started Guide: https://jenkins.io/doc/book/getting-started/
Learning Puppet: https://puppet.com/docs/puppet/6.5/puppet_language.html
YAML: https://docs.ansible.com/ansible/latest/reference_appendices/YAMLSyntax.html
AWS CloudFormation Templates (YAML & JSON): https://aws.amazon.com/cloudformation/aws-cloudformation-templates/
Terraform HCL: https://www.terraform.io/docs/configuration/syntax.html
"SEC540 helped me understand the complex ecosystem of DevOps. I came away with a well-rounded understanding of how the different technologies work together and how security needs to be tied into the CI/CD aspect. More than that, I found a new enthusiasm to learn and explore DevOps. Eric Johnson, our instructor was the best person to teach this course as he is a practitioner of these technologies and he very gladly gave his time to help and answer questions during the labs. The labs were very well designed to drill the concepts home." - Uday Pothakamury, Citi
"It has helped me get a better handle on the SEC DEV OPS concepts." - Fausto Franco, NYS ITS
"Definitely makes security in Dev Ops more relatable and concrete. Love that we are asked to fix issues." - Stephen Germain, Disney
"Great course! Excellent instructor! Lots of hands-on! Met my expectations definitely and I will absolutely recommend it to other people." - Sandro Blatter, SBB
Authors Statement
"DevOps and the cloud are radically changing the way that organizations design, build, deploy, and operate online systems. Leaders like Amazon, Etsy, and Netflix are able to deploy hundreds or even thousands of changes every day, continuously learning, improving, and growing - and leaving their competitors far behind. Now DevOps and the cloud are making their way from Internet 'Unicorns' and cloud providers into enterprises.
"Traditional approaches to security can't come close to keeping up with this rate of accelerated change. Engineering and operations teams that have broken down the 'walls of confusion' in their organizations are increasingly leveraging new kinds of automation, including Infrastructure as Code, Continuous Delivery and Continuous Deployment, microservices, containers, and cloud service platforms. The question is: Can security take advantage of the tools and automation to better secure its systems?
"Security must be reinvented in a DevOps and cloud world."
- Ben Allen, Jim Bird, Eric Johnson, and Frank Kim
"Instructor's insight and knowledge of the materal and how to apply it in real life scenarios was very valuable." - Chris Turvey, Southeastern Grocers