SANS Immersion Academy | Cyber Workforce Academy | Hiring Opportunities | Assessments
An Innovative Approach to Hiring, Developing, and Managing Cybersecurity Talent
Whether you are looking to hire new employees for cybersecurity positions or creating opportunities for your existing talent, SANS CyberTalent can help ensure you find the right skills match for the job. According to the U.S. Department of Labor, the cost of a bad hire is at least 30 percent of the employee's first-year earnings - for a security analyst, that's $27,000+. You can't afford to get hiring wrong at a time when talent is increasingly difficult to find.
The SANS Immersion Academy offers employers an innovative way to hire skilled, trained and certified cybersecurity professionals.
SANS CyberTalent Assessments measure the aptitude and skills of cybersecurity professionals, allowing employers to create professional development and retention programs for existing employees or test and rank the skill sets of candidates to fill open positions.
"The day Rich came aboard at Tekla Research, he was thrown in to the fire as the cyber security test expert, alone and unafraid. Rich's cyber security training and his experience as a Navy Chief Petty Officer enabled him to adjust to the new environment, learn the aircraft systems and laboratory capabilities for cyber testing, and get integrated as the cyber lead on many projects. I believe SANS Cyber Workforce Academy provided a firm foundation in cyber security and enables Rich to envision potential threat vectors and system vulnerabilities in light of cyber-related test requirements for the systems and projects that he supports."
Ivan Thomas Senior Analyst, Tekla Research Inc.
SANS Immersion Academy
United States Cyber Academy programs

The SANS CyberTalent Immersion Academy provides a range of models that increase the number of qualified professionals entering the cybersecurity field, provide meaningful employment for U.S. veterans and increase gender diversity in the InfoSec industry.
The program quickly and cost-efficiently meets the specific needs of organizations and employers seeking to discover, develop, and retain top cyber talent.
There are currently three types of Immersion Academies, VetSuccess, Women's and CyberTalent Solutions.
VetSuccess Immersion Academy

Provides transitioning U.S. military veterans with advanced technical training, certifications, and connections to jobs in cybersecurity.
Key Employer Benefits
Access to pre-screened candidates and highly trained, certified graduates
Support U.S. Veterans and make a positive, immediate impact
Opportunity to sponsor Academy seats, support U.S. veterans, and hire Academy graduates
Women's Academy

Provides training, certification and employment opportunities to women with interest and aptitude in cybersecurity and increases gender diversity in the InfoSec industry.
Key Employer Benefits
Access to pre-screened candidates and highly trained, certified graduates
Support gender diversity in the InfoSec industry
Opportunity to sponsor academy seats and hire Academy graduates
Cyber Workforce Academy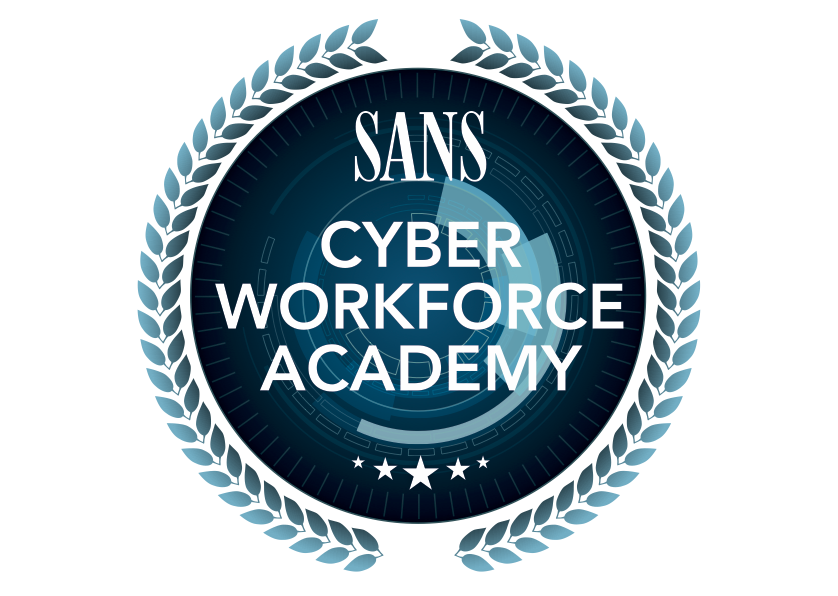 Provides customized, accelerated, and intensive training and certifications to an organization's existing cybersecurity team and/or new candidates and employees.
Key Employer Benefits
Custom designed training and certification program based on employer needs
Targeted professional development opportunities for existing employees to increase effectiveness and retention
Opportunity to integrate new hires during training
Cost-efficient recruitment and talent development
" AJ joined the BB&T Cyber Threat Management team and had an immediate positive impact. AJ has quickly garnered the respect of her teammates as she is able to apply the skills acquired though the SANS Women's Immersion Academy daily to the benefit of BB&T."
Hartwell Watkins VP, Manager-Cyber Threat Operations Center and Threat Intelligence, BB&T
"The SANS Institute is renowned and respected for its world-class cyber training. CACI is pleased to team with SANS on this critical workforce development initiative, which will help fill a pressing need for cybersecurity experts in industry and government."
Mike Mourelatos CACI Vice President and Chief Technology Officer of National Services
Immersion Academy: How it Works
Recruiting:
Organizational leadership and cybersecurity management currently grapple with a talent shortage of unprecedented proportions, almost 350,000 cybersecurity related positions went untilled in 2016. SANS works with partner organizations and the US military to identify candidates with a high aptitude for cybersecurity. Our rigorous recruitment process includes an aptitude and foundational skills assessment as well as personal interviews. Each candidate must submit their resume and application as part of the process, too.
Organizations opting for a CyberTalent Solutions Academy will have the option to interview candidates at the beginning of the recruitment process and have final say for admissions decisions. Academy sponsors will have the opportunity to sponsor a seat in the program and follow candidates throughout their Academy journey as well as interview candidates throughout the Academy process as they complete their training.
Each Academy cohort averages 12 - 15 members. Once candidates are accepted into a cohort, they will complete up to three SANS courses and the corresponding GIAC certifications. See the curriculum below.
Curriculum:
Academy students will complete up to three technical courses and certifications. The standard Academy curriculum is below, but a custom curriculum can be created to meet your organization's specific needs.
"VetSuccess is a great program to provide industry-best training to a group of disciplined, trustworthy, and accomplished people. Having recently hired a Vet who came through the program, I can say it was perhaps the easiest "get up to speed" period we've ever experienced here at Sage. We'd recommend other companies look to the program to find future talent!"
John H. Rogers Director of Advisory Services Sage Data Security, L.L.C.
"The assessment tool has been great and we have used it for almost all of our hires on the Security program we support. Also, we have used it to baseline a few current employees. So far it has been wonderful."
Mike Schmidt Triumph Enterprises, Inc. Talent Acquisition Lead
Hiring Opportunities
There are a variety of opportunities for organizations to engage Immersion Academy students and graduates. For more information, please email immersionacademy@sans.org
SANS CyberTalent Assessments
The cost of hiring mistakes in cybersecurity is exceptionally high. Organizations can't afford to get it wrong. That's why more hiring managers are using SANS Cyber Talent Assessments to increase their hiring success rate.
SANS' easy-to-use assessments reveal which candidates truly have the skills you need to successfully fill your positions. The Assessments can also benchmark your current team's skills and help you create professional development and retention plans for your cyber talent employees.
There are nine CyberTalent Assessments:
Want to see what types of questions are on the Assessments? Demo Now!