SEC542: Web App Penetration Testing and Ethical Hacking
Mon, August 3 - Sat, August 8, 2020
Associated Certification: GIAC Web Application Penetration Tester (GWAPT)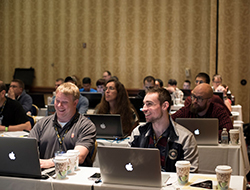 Web applications play a vital role in every modern organization. But, if your organization does not properly test and secure its web apps, adversaries can compromise these applications, damage business functionality, and steal data. Unfortunately, many organizations operate under the mistaken impression that a web application security scanner will reliably discover flaws in their systems.
SEC542 helps students move beyond push-button scanning to professional, thorough, high-value web application penetration testing.
Customers expect web applications to provide significant functionality and data access. Even beyond the importance of customer-facing web applications, internal web applications increasingly represent the most commonly used business tools within any organization. Unfortunately, there is no "patch Tuesday" for custom web applications, so major industry studies find that web application flaws play a major role in significant breaches and intrusions. Adversaries increasingly focus on these high-value targets either by directly abusing public-facing applications or by focusing on web apps as targets after an initial break-in.
Modern cyber defense requires a realistic and thorough understanding of web application security issues. Anyone can learn to sling a few web hacks, but effective web application penetration testing requires something deeper.
SEC542 enables students to assess a web application's security posture and convincingly demonstrate the business impact should attackers exploit the discovered vulnerabilities.
Students will come to understand common web application flaws, as well as how to identify and exploit them with the intent of demonstrating the potential business impact. Along the way, students follow a field-tested and repeatable process to consistently find flaws. Information security professionals often struggle with helping organizations understand risk in terms relatable to business. Executing awesome hacks is of little value if an organization does not take the risk seriously and employ appropriate countermeasures. The goal of SEC542 is to better secure organizations through penetration testing, and not just show off hacking skills. The course will help students demonstrate the true impact of web application flaws not only through exploitation but also through proper documenting and reporting.
In addition to high-quality course content, SEC542 focuses heavily on in-depth, hands-on labs to ensure that students can immediately apply all they learn.
In addition to walking students through a web app penetration through using more than 30 formal hands-on labs, the course culminates in a web application pen test tournament, powered by the SANS NetWars Cyber Range. This Capture the Flag event on the final day brings students into teams to apply their newly acquired command of web application penetration testing techniques in a fun way to hammer home lessons learned.
Course Topics
Interception Proxies

ZAP (Zed Attack Proxy)
BurpSuite Professional

Common Vulnerabilities

SSL/TLS misconfigurations
Username harvesting
Command Injection
SQL Injection
Cross-Site Scripting (XSS)
Insecure Deserialization
XML External Entities (XXE)
Local and Remote File Inclusion (LFI / RFI)
Cross-Site Request Forgery (CSRF)

Open Source Intelligence (OSINT)
Target Profiling
Application Discovery
Authentication and Authorization
Session Management Flaws
Automated Exploitation
You Will Learn:
To apply a repeatable methodology to deliver high-value penetration tests.
How to discover and exploit key web application flaws.
How to explain the potential impact of web application vulnerabilities.
The importance of web application security to an overall security posture.
How to wield key web application attack tools more efficiently.
How to write web application penetration test reports.
Notice:
SEC542 students will receive licensing information in the SANS portal account that is linked to their registration. Please ensure that you can access the SANS portal account that is linked to your registration at the start of your course.
If you are registering another individual on behalf of your organization, you must register that individual using the email address that is linked to his or her SANS portal account. That will ensure that the individual can receive licensing information in his or her SANS portal account in order to be prepared with the proper equipment to complete the course (SEC542).
Course Syllabus
Additional Information
A properly configured system is required to fully participate in this course. If you do not carefully read and follow these instructions, you will likely leave the class unsatisfied because you will not be able to participate in hands-on exercises that are essential to this course. Therefore, we strongly urge you to arrive with a system meeting all the requirements specified for the course.
It is critical that you back-up your system before class. It is also strongly advised that you do not bring a system storing any sensitive data.
Baseline Hardware Requirements
CPU: 64-bit Intel i5/i7 2.0+ GHz processor
BIOS: Enabled "Intel-VT"
USB: 3.0 Type-A Port
RAM: 8GB RAM (4GB min)
Hard Drive Free Space: 30 GB Free Space
Operating System: Windows, macOS or Linux
Additional Hardware Requirements
The requirements below are in addition to baseline requirements provided above. Prior to the start of class, you must install virtualization software and meet additional hardware and software requirements as described below. If you do not carefully read and follow these instructions, you will leave the class unsatisfied because you will not be able to participate in hands-on exercises that are essential to this course.
Network, Wireless Connection: A wireless 82.11 B, G, N or AC network adapter is required.
Additional Software Requirements
Install VMWare Workstation Player 15, VMware Fusion 11.x, or VMware Workstation 15
If you have additional questions about the laptop specifications, please contact laptop_prep@sans.org.
General security practitioners
Penetration testers
Ethical hackers
Web application developers
Website designers, architects, and developers
Use this sample training request letter, or elements of it, to justify the time and budget required to complete SANS training to your manager. Simply copy and paste text into an email to your manager, then make any necessary adjustments to personalize the information.
SEC542 assumes students have a basic working knowledge of the Linux command line.
Other Courses People Have Taken
Course media that includes both web application attack tools, as well as many vulnerable web applications for testing and training within the classroom and beyond
Audio recordings of the course to review material after class
A custom virtual machine tailored specifically for web application penetration testing, with all labs installed locally so they can be repeated even after the course
Apply OWASP's methodology to your web application penetration tests to ensure they are consistent, reproducible, rigorous, and under quality control.
Analyze the results from automated web testing tools to validate findings, determine their business impact, and eliminate false positives.
Manually discover key web application flaws.
Use Python to create testing and exploitation scripts during a penetration test.
Discover and exploit SQL Injection flaws to determine true risk to the victim organization.
Understand and exploit insecure deserialization vulnerabilities with ysoserial and similar tools.
Create configurations and test payloads within other web attacks.
Fuzz potential inputs for injection attacks.
Explain the impact of exploitation of web application flaws.
Analyze traffic between the client and the server application using tools such as the Zed Attack Proxy and BurpSuite Pro to find security issues within the client-side application code.
Manually discover and exploit Cross-Site Request Forgery (CSRF) attacks.
Use the Browser Exploitation Framework (BeEF) to hook victim browsers, attack client software and the network, and evaluate the potential impact that XSS flaws have within an application.
Perform two complete web penetration tests, one during the five days of course instruction, and the other during the Capture the Flag exercise.
SANS SEC542 employs hands-on labs throughout the course to further students' understanding of web application penetration concepts. Some of the many hands-on labs in the course include:
DNS Harvesting and Virtual Host Discovery
Authentication Bypass
Heartbleed Exploitation
Insecure Deserialization
Reflected and Persistent XSS Attacks
DOM-Based XSS Attacks
Spidering and Forced Browsing
WPScan
SQL Injection
Blind SQL Injection
CSRF Exploitation
XML External Entities
Metasploit for Web Application Attacks
Exploiting Shellshock
Leveraging the sqlmap tool
BeEF and Browser Exploitation
Username Harvesting
Password Guessing Attacks
HTML Injection
Remote File Inclusion
Local File Inclusion
OS Command Injection
Drupalgeddon and Drupalgeddon 2 Exploitation
BurpSuite Professional Scanner
Python for Web Application Pen Testers
Troubleshooting when automated tools fail
Extensive use of both BurpSuite Pro and ZAP throughout the course
"This course taught me to truly focus on the methodology while performing a pen test. During the Capture the Flag event, I realized how much time can be wasted if you fail to respect your methodology." - Sean Rosado, RavenEye
"SEC542 provides rapid exposure to a variety of tools and techniques invaluable to recon on target site." - Gareth Grindle, QA Ltd.
"As a developer, SEC542 opens my eyes to vulnerabilities I should be protecting against.√ʬ¬ - Timothy Phelps, Georgia Farm Bureau
√ʬ¬Network defenders traditionally view the security landscape from inside the castle walls, but SEC542 took me around the 'fortress' and helped me better conceptualize the target value of web applications.√ʬ¬ - Ryan Tomcik, Sony Corporation of America
Author Statement
Students routinely show up to SEC542 having been demoralized by their organization's web application vulnerability scanner. Sitting on the business end of these scanners, students regularly attest to 1,000+ pages of output littered with false positives. One of the most rewarding aspects of teaching SEC542 is seeing and hearing those very same students' enthusiasm for applying the skills they have learned through the week to the applications they are responsible for securing. They intrinsically knew the push-button approach to penetration testing was failing them, but lacked the knowledge and skill to ably and efficiently perform any other style of assessment. We are happy to say that SEC542 remedies this problem. Students walk away from class with a deep knowledge of key web application flaws and how to discover and exploit them, as well as how to present these findings in an impactful way. - Eric Conrad, Timothy McKenzie, and Bojan Zdrnja