MGT512: Security Leadership Essentials for Managers
Sold Out
Mon, March 16 - Fri, March 20, 2020
Associated Certification: GIAC Security Leadership (GSLC)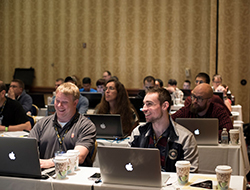 Security managers need both technical knowledge and management skills to gain the respect of technical team members, understand what technical staff are actually doing, and appropriately plan and manage security projects and initiatives. This is a big and important job that requires an understanding of a wide array of security topics.
This course empowers you to become an effective security manager and get up to speed quickly on information security issues and terminology. You won't just learn about security, you will learn how to manage security. MGT512 covers a wide range of security topics across the entire security stack. Data, network, host, application, and user controls are covered in conjunction with key management topics that address the overall security lifecycle, including governance and technical controls focused on protecting, detecting, and responding to security issues.
The approach of this course will prepare you to:
Make sense of different cybersecurity frameworks
Understand and analyze risk
Understand the pros and cons of different reporting relationships
Manage technical personnel
Build a vulnerability management program
Inject security into modern DevOps workflows
Strategically leverage a SIEM
Change behavior and build a security-aware culture
Effectively manage security projects
Enable modern security architectures and the cloud
How the Course Works
MGT512 uses case studies, group discussions, team-based exercises, in-class games, and a security leadership simulation to help students absorb both technical and management topics.
The course uses a board game called Cyber42 (see graphic). This security leadership simulation is a continuous tabletop exercise where students play to improve the security culture, manage the budget and schedule, and improve security capabilities at a fictional organization. This puts students in real-world scenarios that spur discussion and critical thinking of situations that they will encounter at work.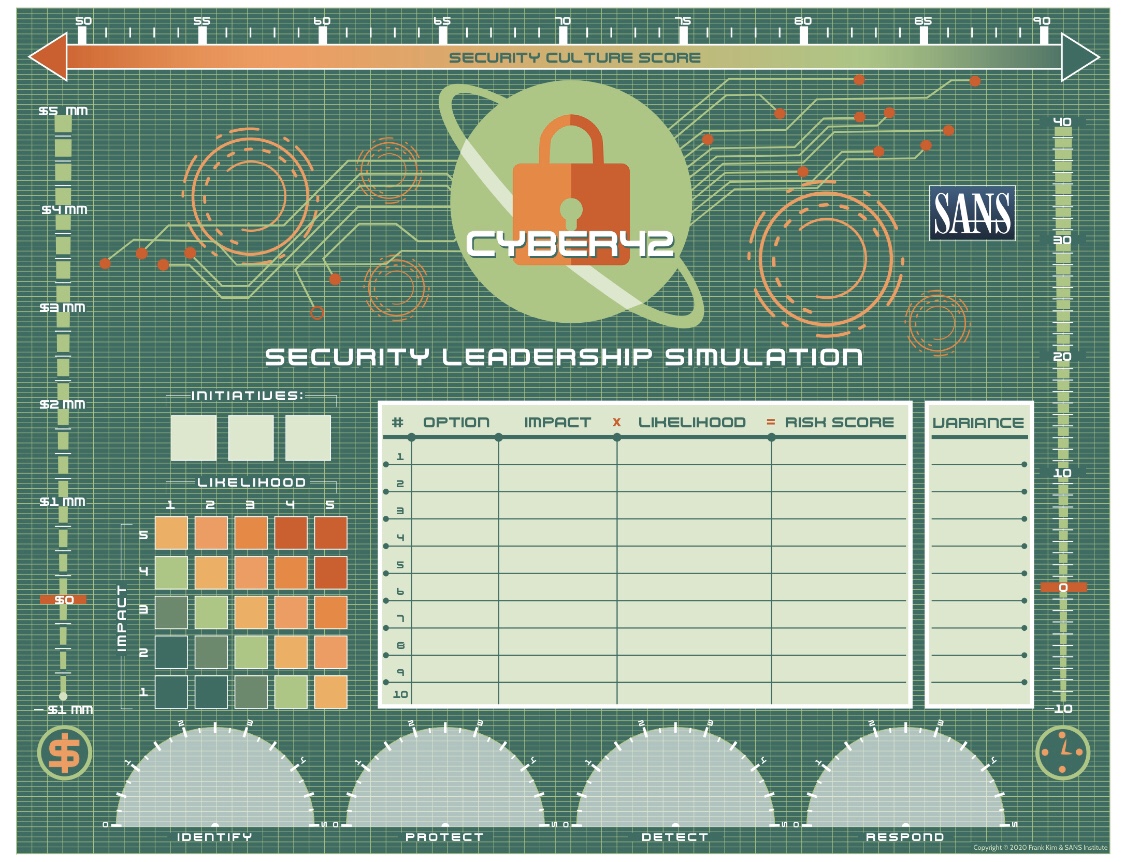 Notice:
Some course material for SEC401 and MGT512 may overlap. SANS recommends SEC401 for those interested in a more technical course of study, and MGT512 for those primarily interested in a leadership-oriented but less technical learning experience.
This course prepares you for the GIAC Security Leadership Certification (GSLC), which meets the requirement of DoD 8570 IAM Levels 1, 2, and 3.
Course Syllabus
Additional Information
A laptop is not required for this course. Pen and paper are sufficient for the in-class exercises, discussions, leadership simulations, and board game.
If you have additional questions about the laptop specifications, please contact laptop_prep@sans.org.
Security Managers

Newly appointed information security officers
Recently promoted security leaders who want to build a security foundation for leading and building teams

Security Professionals

Technically skilled security administrators who have recently been given leadership responsibilities
Team leads with responsibility for a specific security function who want to understand what other teams are doing

Managers

Managers who want to understand what technical people are telling them
Managers who need an understanding of security from a management perspective
Use this sample training request letter, or elements of it, to justify the time and budget required to complete SANS training to your manager. Simply copy and paste text into an email to your manager, then make any necessary adjustments to personalize the information.
This course covers the core areas of security leadership and assumes a basic understanding of technology, networks, and security. For those who are new to the field and have no background knowledge, the recommended starting point is the SEC301: Introduction to Information Security course. While SEC301 is not a prerequisite, it will provide the introductory knowledge to maximize the experience with MGT512.
Student books containing the entire course content
Printed game board for the Cyber42 security leadership simulation
MP3 audio files of the complete course lecture
Become an effective information security manager
Get up to speed quickly on information security issues and terminology
Establish a minimum standard of security knowledge, skills, and abilities
Speak the same language as technical security professionals
"The activities are excellent! The discussion and student involvement are both motivating and enlightening. This course is, by far, is the most useful course IâÂÂve ever taken." - Bill Brown, Intuit
"SANS MGT512 course has been instrumental in bridging the gaps in my knowledge & has prepared me to take on bigger responsibilities." - Mir Shajee, Accenture
"Was able to merge management skills and technical materials in one simple format." - Abdulaziz Al-Sultan, Saudi Electric Company
"This course is highly useful for giving me a sound baseline of technical and general skills to help me manage an effective team." - Richard Ward, REA Group
"I will be leading a team of security experts. This course will enable me to better understand their concerns and provide better and more supportive leadership." - Kathie Anderson, QA Training
"This course is 100% applicable to my work every day. Could not have designed a better course for someone in my situation; a new manager in cybersecurity risk." - Charlotte Ware, USPS
"It covers all areas of modern security, providing valuable knowledge to key aspects of the cybersecurity world at work." - Reece Edney, CLS Services LTD
Author Statement
"I have found that technical professionals who are taking on management responsibility need to learn how to convey security concepts in ways that non-technical people can understand. At the same time, managers who are new to security need to learn more about the different domains of cybersecurity. In both cases, there is a need to learn about the work of managing security. That is why this course focuses on the big picture of securing the enterprise, from governance all the way to the technical security topics that serve as the foundation for any security manager. Ultimately, the goal of the course is to ensure that you, the advancing manager, can make informed choices to improve security at your organization."
- Frank Kim