FOR408: Computer Forensic Investigations - Windows In-Depth
This is by far the best training I have ever had. My forensic knowledge increased more in the last 5 days than in the last year.
Vito Rocco, UNLV

I was really looking forward to Windows in-depth and that is exactly what we are getting!
Joshua Hoover, Charles Schwab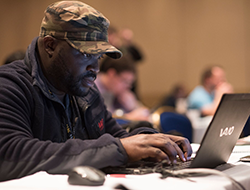 Master computer forensics. Learn critical investigation techniques. With today's ever-changing technologies and environments, it is inevitable that every organization will deal with cybercrime including fraud, insider threats, industrial espionage, and phishing. In addition, government agencies are now performing media exploitation to recover key intelligence kept on adversary systems. In order to help solve these cases, organizations are hiring digital forensic professionals and calling cybercrime law enforcement agents to piece together what happened in these cases.
FOR408: Computer Forensic Investigations - Windows In-Depth focuses on the critical knowledge of the Windows OS that every digital forensic analyst must know to investigate computer incidents successfully. You will learn how computer forensic analysts focus on collecting and analyzing data from computer systems to track user-based activity that could be used internally or in civil/criminal litigation.
This course covers the fundamental steps of the in-depth computer forensic and media exploitation methodology so that each student will have the complete qualifications to work as a computer forensic investigator in the field helping solve and fight crime. In addition to in-depth technical digital forensic knowledge on Windows Digital Forensics (Windows XP through Windows 7 and Server 2008) you will be exposed to well known computer forensic tools so such as Access Data's Forensic Toolkit (FTK), Guidance Software's EnCase, Registry Analyzer, FTK Imager, Prefetch Analyzer, and much more. Many of the tools covered in the course are freeware, comprising a full-featured forensic laboratory that students can take with them.
FOR408: Computer Forensic Investigations - Windows In-Depth is the first course in the SANS Computer Forensic Curriculum. If this is your first computer forensics course with SANS we recommend that you start here.
FIGHT CRIME. UNRAVEL INCIDENTS... ONE BYTE AT A TIME.
Computer Forensic Investigations - Windows In-Depth course topics
Windows File System Basics
Evidence Acquisition Tools and Techniques
Law Enforcement Bag and Tag
Evidence Integrity
Registry Forensics
Windows Artifact Analysis
Facebook, Gmail, Hotmail, Yahoo Chat and Webmail Analysis
E-mail Forensics (Host, Server, Web)
Microsoft Office Document Analysis
Windows Link File Investigation
Windows Recycle Bin Analysis
File and Picture Metadata Tracking and Examination
Prefetch Analysis
Event Log File Analysis
Firefox and Internet Explorer Browser Forensics
Deleted File Recovery
String Searching and Data Carving
Examine cases involving Windows XP, VISTA, and Windows 7
Media Analysis And Exploitation Involving:
Tracking user communications using a windows PC (email, chat, IM, webmail)
Tell if and how the suspect downloaded a specific file to the PC
Determine the exact time and the number of times a suspect executed a program
Show when any file was first and last opened by a suspect
Determine if a suspect had knowledge of a specific file
Show the exact physical location of the system
USB device tracking and analysis
Show how the suspect logged into the machine via the console, RDP, or network
Recover and examine browser artifacts even those used in private browsing mode
Fully Updated to include full Windows 7 and Server 2008 Examinations
Course Contents
Instructors
Schedule

FOR408.1: WINDOWS DIGITAL FORENSICS AND EVIDENCE ACQUISITION
Chad Tilbury
Mon Sep 17th, 2012
9:00 AM - 5:00 PM


Overview

Focus: Investigations begin with a firm knowledge in proper evidence acquisition and analysis. Digital Forensics is more than just using a tool that automatically recovers data. Digital Forensics requires analytical skills. Today you will learn how the professionals accomplish digital forensics.

At the beginning, investigating a case would appear to be a daunting task. The hardest part of forensics is not recovering data, but understanding how the recovered evidence could prove a case. Starting on this day, students are familiarized with fundamental forensic topics that every investigator should know.

Securing or "Bagging and Tagging" digital evidence can be tricky. Each computer forensic examiner should be familiar with different methods of successfully acquiring it, maintaining the integrity of the evidence. Starting with the foundations from law enforcement training in proper evidence handling procedures, you will learn firsthand the best methods for acquiring evidence in a case. You will utilize the Tableau T35es write blocker, part of your SIFT Essentials kit, to obtain evidence from a hard drive using the most popular tools utilized in the field. You will learn how to utilize toolkits to obtain memory, encrypted or unencrypted hard disk images, or protected files from a computer system that is running or powered off.

Topics

Purpose of forensics

Investigative Mindset
Focus on the Fundamentals

Evidence fundamentals

Admissibility
Authenticity
Threats against Authenticity

Reporting and presenting evidence

Taking Notes
Report Writing Essentials
Best Practices for Presenting Evidence

Evidence acquisition basics

Tableau Write Blocker utilization
Access Data's FTK Imager
Access Data's FTK Imager Lite

Preservation of evidence

Chain of custody
Evidence Handling
Evidence Integrity

Types of acquisition

Logical vs. physical
Basic Windows Memory Acquisition
Basic Disk Based Acquisition
E-discovery Acquisition

Forensic field kits

Adapters/Cables
Write Blockers
Laptops/Handheld Imagers

Full disk image acquisition tools and techniques

Seize Evidentiary Image of a USB Device
Seize Evidentiary Image From a Hard Drive

FOR408.2: Core Windows Forensics Part I - String Search, Data Carving, and Email Forensics
Chad Tilbury
Tue Sep 18th, 2012
9:00 AM - 5:00 PM


Overview

Focus: Moving quickly from evidence acquisition, you will begin your investigation using cutting-edge tools that the pros use. Host, server, and webmail forensics the investigator will learn how to recover and analyze the most popular form of communication.

The day will begin with the analysis of electronic evidence using commercial and freely available toolkits packaged into the Windows SIFT Workstation. You will learn how to recover deleted data from the evidence, perform string searches against it using a word list, and begin to piece together the events that shaped the case. Today's course is critical to anyone performing digital forensics to learn the most up-to-date techniques of acquiring and analyzing digital evidence.

Email Forensics: Investigations involving email occur every day. However, email examinations require the investigator to pull data locally, from an email server, or even recover web-based email fragments from temporary files left by a web browser. Email has become critical in a case and the investigator will learn the critical steps needed to investigate Outlook, Exchange, Webmail, and even Lotus Notes email cases.

This course is very hands-on. Each investigator will acquire a disk image and begin analysis on a case that will utilize the skills presented throughout the day. This course is necessary for anyone looking to put to practice the skills they are learning daily.

Topics

Forensic tools

Access Data's Forensic Tool Kit (FTK)
Guidance Software's EnCase
Freeware/Open source capabilities

Traditional tasks utilized using the forensic tools

Triage techniques
String/file searches
Automated forensics
Browsing disks

Recover deleted files

Automated recovery
String searches
Dirty word searches

Email forensics

How email works
Locations
Examination of email
Types of email formats

Microsoft Outlook/Outlook Express

Web based mail
Microsoft Exchange
Lotus Notes
Email analysis
Email searching and examination

Day 2 exercises

Recover deleted files
Search for files or emails containing specific words related to a case
Find email evidence sent to a specific email and IP addresses
Detect phishing emails

FOR408.3: Core Windows Forensics Part II - Registry and USB Device Analysis
Chad Tilbury
Wed Sep 19th, 2012
9:00 AM - 5:00 PM


Overview

Focus: Focus on Windows XP, Vista, and Windows 7 Registry Analysis and USB Device Forensics.

Each examiner will learn how to examine the Registry to obtain user profile data and system data. The course will also teach each forensic investigator how to show that a specific user performed key word searches, ran specific programs, opened saved files, and then list the most recent items that were used. Finally, USB Device investigations are becoming more and more a key part of performing computer forensics. We will show you how to perform in-depth USB device examinations on Windows 7, Vista, and Windows XP machines.

Topics

Registry Forensics in-depth

Registry basics

Hives, keys, and values
Registry last write time
MRU lists

Profile users and groups

Discover usernames and the SID mapped to them
Last login
Last failed login
Logon count
Password policy

Core system information

Identify current control set
System name and version
Timezone
Local IP Address info
Wireless/Wired/3G Networks
Network shares
Last shut down time

User forensic data

Evidence of program execution
Evidence of file download
Evidence of file and folder access (Shellbag)
XP and Win7 search history
Typed URLS
Recent documents
Open-> Save/Run dialog boxes
Application execution history (UserAssist)

USB device forensic examinations

Vendor/Make/Version
Unique serial number
Last drive letter
Volume name and serial number
The username that used the USB Device
Time of first use of USB device
Time of first use of USB device after last reboot
Time of last use of USB device

Tools utilized

Regripper
Access Data's Registry Viewer
YARU (Yet Another Registry Utility)

Day 3 exercises

Profile a computer system using evidence found in the registry.
Profile a user's activities using evidence found in the registry.
Track USB devices that were connected to the system via the registry and filesystem
Recover critical user data from the pagefile, memory images, and unallocated space

FOR408.4: Core Windows Forensics Part III - Artifact and Log File Analysis
Chad Tilbury
Thu Sep 20th, 2012
9:00 AM - 5:00 PM


Overview

Focus: Suspects unknowingly create hundreds of files that link back to their actions on a system. Learn how to examine key files such as link files, the windows prefetch, pagefile/system memory, and more. The latter part of the day will center on examining the Windows log files and the usefulness in both simple and complex cases.

Continuing from the previous day, the investigator will initially focus on key files found on the Windows operating system that contains evidence. We start with examining the pagefile, system memory, and unallocated space, all difficult to access locations that could offer the critical piece of your case. These files could be especially important to an investigation, providing key evidentiary links to pictures, printed office documents, or files that were saved to a removable device.

Windows Log File analysis has solved more cases than possibly any other type of analysis. Understanding the locations and content of these files is crucial to the success of any type of investigator. Many overlook these files as they do not have adequate knowledge or tools to get the job done. The last part of the day will arm each investigator with core knowledge and capability that will enable them to maintain this crucial skill for many years to come.

Topics

Memory, Pagefile, and unallocated space analysis

Artifact recovery and examination
Facebook live, MSN Messenger, Yahoo, AIM, GoogleTalk chat
IE8/IE9 InPrivate/Recovery URLs
Yahoo, Hotmail, Gmail Webmail email

Forensicating files containing critical digital forensic evidence

Office Documents (2000-2007, doc, and .docx)
Adobe files
Exif data including GPS coordinates
Link/shortcut files (.lnk)
Windows 7 jump lists
XP Thumbs.db and Vista / Win7 Thumbscache files
Internet chat programs (Skype/AIM/MSN)
Windows Prefetch analysis (XP/Vista/Win7)
Windows Recycle Bin analysis (XP/Vista/Win7)

Windows event log digital forensic analysis

Which Windows events matter to a digital forensic investigator
EVT log files
EVTX log files

Day 4 exercises

Recycle Bin analysis
Shortcut (LNK) file analysis
Prefetch folder analysis
Find and examine various logfiles from hosts and servers to determine critical case details

FOR408.5: Core Windows Forensics Part IV - Web Browser Forensics
Chad Tilbury
Fri Sep 21st, 2012
9:00 AM - 5:00 PM


Overview

Focus: Internet Explorer and Firefox Browser Digital Forensics. Learn how to examine exactly what an individual did while surfing via their web-browser. The results will give you pause the next time you use the web.

With the increasing use of the web and the shift toward cloud computing using web-based applications, it is essential that browser forensic analysis is key to the investigator's skills. The investigator will explore comprehensive web browser evidence created during the use of Internet Explorer and Firefox. The analyst will learn how to examine cookies, history, and Internet cache files of the suspect's system. We will show you where you can examine these files and the common mistakes amateur investigators make when looking at browser artifacts.

Throughout the day, the investigator will utilize their skills in real hands-on cases, exploring evidence created by Firefox and Internet Explorer and Windows OS artifacts.

Topics

Browser forensics

History
Cache
Searches
Downloads
Understanding of browser timestamps
Internet Explorer 6, 7, 8, and 9

IE Key forensic file locations

History Index.dat (master, daily, weekly) timestamps
Cache Index.dat timestamps
InPrivate browsing
IE8/IE9 recovery folder analysis

Firefox 2-5

FF2 and FF3-5 key forensic file locations
Mork format and .sqlite files
Download history
Cache examinations
Typed URLs
FF3+ recovery data analysis
Private browsing
Session Recovery

Examination of browser artifacts

Flash cookie files
DOM objects
Super cookies

Tools used

MANDIANT Inc.'s Web Historian
Access Data's FTK
FoxAnalysis

Day 5 exercises

Track a suspect's activity in browser history and cache files
Examine which files a suspect downloaded
Determine URLs a suspect type, click on, bookmark, or merely pop-up while they were browsing

FOR408.6: Digital Forensic Challenge and Mock Trial
Chad Tilbury
Sat Sep 22nd, 2012
9:00 AM - 5:00 PM


Overview

Focus: Windows Vista/7 Based Digital Forensic Challenge. There has been a murder-suicide and you are the investigator assigned to process the hard drive. This day is a capstone for every artifact discussed in the class. You will use this day to solidify your skills that you have learned over the past week.

Nothing will prepare you more than a full hands-on challenge utilizing the skills and knowledge presented throughout the week. In the morning, you will have the option of working in teams on a real forensic case in which evidence will be provided to you to analyze. The case will step you through proper acquisition, analysis, and reporting in preparation for a possible trial. Every team will work on the case for the majority of the day with the objective of discovering critical pieces of evidence to present during the trial.

The case presented is a complex murder case based that will engage the individual to examine one of the most recent versions of the Windows Operating System released. The case took 3 weeks to create following a script that lays out the key parts of the case in correct time sequence to make for the most realistic training opportunity available. The case will utilize skills from each of the previous days in order to solve the case.

The day will conclude with a mock trial in which presentations of the collected evidence will occur. The team with the best in-class presentation and short write-up will win the challenge and the case.

Topics

Digital Forensic Case

Analysis

Following evidence analysis methods discussed throughout the week, find critical evidence.

Teams will examine registry, email, recovered files and more for use in the case.

Reporting

Focus and submit the top three pieces of evidence discovered, and discuss what they prove factually.
One of the submitted pieces of evidence will be documented for potential examination during the mock trial.

Mock Trial

Each team would be asked to prepare an

Executive Summary
Short Presentation
Conclusion

The team voted with the best argument and presentation to prove their case will win the challenge.

Day 6 exercises

Windows 7/Vista Based Forensic Challenge
Mock Trial

Additional Information

Laptop Required

!!IMPORTANT - BRING YOUR OWN LAPTOP CONFIGURED USING THESE DIRECTIONS!!

A properly configured computer system is required for each student participating in this course. Before coming to class, download the forensic installation document that will describe the steps in detail to follow to complete the installation. If you do not carefully read and follow these instructions exactly, you are guaranteed to leave the course unsatisfied since you will not be able to accomplish many of the in-class exercises.

You will use VMware with preconfigured virtual forensic workstation built in a Windows 7 Home Premium environment that will enable you to perform hands-on analysis during class. You must download and install VMware Workstation 7, VMware Fusion 4.0, or VMware Player 4.0 or higher versions on your system prior to class beginning. If you do not own a licensed copy of VMware Workstation or Fusion, you can download a free 30-day trial copy from VMware. VMware will send you a time-limited serial number if you register for the trial at their Web site. VMware Player is a free download.

MANDATORY LICENSE REQUIREMENTS:

Very Important: Student must bring a Retail, OEM, or MSDN Microsoft Windows 7 Home Premium License Key with them to class at the beginning of the first day.

Do not bring a license key that is already in use on another system as it will likely not work.
You can purchase licenses from http://www.microsoftstore.com
The key will look like XXXXX-XXXXX-XXXXX-XXXXX-XXXXX
Corporate, Site, Volume, and Group Licenses are not acceptable as they will fail the Windows Genuine Advantage Test.

MANDATORY LAPTOP SOFTWARE REQUIREMENTS:

MANDATORY LAPTOP HARDWARE REQUIREMENTS:

CPU: 64bit based 2.0 GHz or higher CPU is required (Multi-Core recommended)
DVD/CD Combo Drive
Wireless 802.11 B/G/N Networking Capability
4 Gigabyte of RAM minimum (More RAM is recommended)
100 Gigabytes of free space on your Host System Hard Drive
Microsoft Office (any version) w/Excel or OpenOffice w/Calc installed on your host

MANDATORY ADDITIONAL ITEMS:

One External USB 2.0 or Firewire Hard Drive (Formatted NTFS)
Large Capacity 150GB or larger preferred
One USB Thumb Drive (2-4 GB in size)
One new, old, used, or out-of-computer IDE, SATA, or laptop hard disk drive from:
Hard drive purchased from EBAY or craigslist
Hard drive from used PC at home/work
Local computer show
New/Old hard drive from any computer store
During an image acquisition exercise, we use the drive for imaging only

IN SUMMARY, BEFORE YOU BEGIN THE COURSE YOU SHOULD:

Write down and bring with you a MS Windows 7 Home Premium License Key (XXXXX-XXXXX-XXXXX-XXXXX-XXXXX)
Bring the proper laptop hardware and software configuration
Install VMware Workstation, Player, or Fusion
Bring the proper mandatory additional items

FOR408 Laptop Setup F.A.Q. (Frequently Asked Questions)

Can I use Win7 Professional or Ultimate for the class? No, only Win7 Home Premium will work.
Where can I purchase the license online without having to head to the store? Will any retail version of Win7 Home Premium work? You can also purchase or bring licenses from Microsoft Store, or MSDN. Overall, any retail version of Win7 Home Premium will work.
My company already has Win7 Professional Site license, can I use that license? Unfortunately, even though your organization might have a site license, we would still need you to bring a separate retail license. Retail licenses and Site/Enterprise licenses are incompatible.
Why don't you include the Win7 Home Premium license in the class even if it increased the price of the course? When we have asked previous classes, many students had a license already and did not want to spend money on another copy. It was overwhelming in favor that each student should bring his or her own version as a result. We are looking at ways in the future to have an optional purchase of the license. But in the meantime, you can purchase the Win7 Home Premium online at the Microsoft online store.
My company refuses to pay for Win7 Home Premium license because we have a site license, what options do I have? With a Site/Enterprise license each organization gets access to MSDN. I guarantee the Win7 Home Premium keys are probably not in use. I recommend calling your IT Support and asking to bring one of the MSDN Win7 Home Premium keys with you.
I have a workstation already installed with Win7 Home Premium; can I use the license key with two computers? No, it will not work.

If you have additional questions about the laptop specifications, please contact laptop_prep@sans.org.

Who Should Attend

Information technology professionals who wish to learn the core concepts in computer forensics investigations
Incident Response Team Members who are new to responding to security incidents and need to utilize computer forensics to help solve their cases
Law enforcement officers, federal agents, or detectives who desire to become a subject matter expert on computer forensics for Windows based operating systems
Media Exploitation Analysts who need to master Tactical Exploitation and Document and Media Exploitation (DOMEX) operations on systems used by an individual. They will be able to specifically determine how the individual used their system, who they communicated with, and files they have downloaded, edited, or deleted.
Information security managers who need to understand digital forensics in order to understand information security implications and potential litigation related issues or manage investigative teams
Information technology lawyers and paralegals who desire to have a formal education in digital forensic investigations
Anyone interested in computer forensic investigations with a background in information systems, information security, and computers

Why Take This Course?

Certifications

What You Will Receive

Windows version of the SIFT Workstation Virtual Machine
License to FTK and EnCase for 3 months

Write Blocker Kit

SATA/IDE Write Blocker with cables and power adapter

Course DVD loaded with case examples, tools, and documentation

You Will Be Able To

Perform proper windows forensics analysis, deter- mine how and who placed an artifact on the system by applying key analysis techniques covering Windows XP through Windows 8
Use full scale forensic analysis tools and analysis methods to detail every action a suspect accomplished on a windows system, and determine program execution, file/folder opening, geo-location, browser his- tory, USB devices, and more.
Uncover the exact time that a specific user last executed a program over time that is key to proving intent in many cases such as intellectual property theft, hacker breached systems, and traditional crimes through registry analysis, windows artifact analysis, and email analysis.
Demonstrate every time a file has been opened by a suspect through IE browser forensics, shortcut file analysis (LNK), email analysis and registry parsing using regripper.
Using automated analysis techniques via AccessData's Forensic ToolKit (FTK), identify key words searched for by a specific user on a Windows system that can be used to identify files that the suspect was interested in finding.
Using shellbags analysis tools, articulate every folder and directory that a user opened up while he was browsing through their hard drive
Determine each time a unique and specific USB device is attached to the windows system, the files and folders that were accessed on it, and who plugged it in via tools parsing key Windows artifacts such as the registry and log files.
Using the Win8 SIFT Workstation, examine how a user logged into a Windows system through a remote session, at the keyboard, or simply unlocking their screensaver by viewing the logon types in the Windows security event logs.
Using FTK Registry Viewer, pinpoint geo-location of a windows system through the examination of the networks they have connected to, browser search terms, and cookie data to determine where a crime was committed.
Using Webhistorian, recover browser history of a suspect who has attempted to clear their trail using in-private browsing through the recovery of session restore points and flash cookies.