SEC511: Continuous Monitoring and Security Operations
Mon, August 24 - Sat, August 29, 2020
Associated Certification: GIAC Continuous Monitoring Certification (GMON)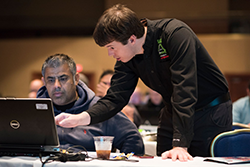 We continue to underestimate the tenacity of our adversaries! Organizations are investing a significant amount of time and financial and human resources trying to combat cyber threats and prevent cyber attacks, but despite this tremendous effort organizations are still getting compromised. The traditional perimeter-focused, prevention-dominant approach to security architecture has failed to prevent intrusions. No network is impenetrable, a reality that business executives and security professionals alike have to accept. Prevention is crucial, and we can't lose sight of it as the primary goal. However, a new proactive approach to security is needed to enhance the capabilities of organizations to detect threats that will inevitably slip through their defenses. SEC511: Continuous Monitoring and Security Operations will teach you how to strengthen your skills to undertake that proactive approach.
The underlying challenge for organizations victimized by an attack is timely incident detection. Industry data suggest that most security breaches typically go undiscovered for an average of seven months. Attackers simply have to find one way into most organizations, because they know that the lack of visibility and internal security controls will then allow them to methodically carry out their mission and achieve their goals.
The Defensible Security Architecture, Network Security Monitoring (NSM)/Continuous Diagnostics and Mitigation (CDM)/Continuous Security Monitoring (CSM) taught in this course will best position your organization or Security Operations Center (SOC) to analyze threats and detect anomalies that could indicate cybercriminal behavior. The payoff for this new proactive approach would be early detection of an intrusion, or successfully thwarting the efforts of attackers altogether. The National Institute of Standards and Technology (NIST) developed guidelines described in NIST SP 800-137 for Continuous Monitoring (CM), and day five of this course will greatly increase your understanding and enhance your skills in implementing CM using the NIST framework.
SANS is uniquely qualified to offer this course. Course authors Eric Conrad (GSE #13) and Seth Misenar (GSE #28) hold the distinguished GIAC Security Expert Certification, and both are experienced, real-world, practitioners who apply the concepts and techniques they teach in this course on a daily basis. SEC511 will take you on quite a journey. We start by exploring traditional security architecture to assess its current state and the attacks against it. Next, we discuss and discover modern security design that represents a new proactive approach to such architecture that can be easily understood and defended. We then transition to how to actually build the network and endpoint security, and then carefully navigate our way through automation, NSM/CDM/CSM. For timely detection of potential intrusions, the network and systems must be proactively and continuously monitored for any changes in the security posture that might increase the likelihood that attackers will succeed.
Your SEC511 journey will conclude with one last hill to climb! The final day features a capture-the-flag competition that challenges you to apply the skills and techniques learned in the course to detect and defend the modern security architecture that has been designed. The competition has been designed to be fun, engaging, comprehensive, and challenging. You will not be disappointed!
With your training journey now complete and your skills enhanced and honed, it is time to go back to work and deliver on the SANS promise that you will be able to apply what you learn in this course the day you return to the office.
Notice:
This is a technical course and a laptop is required to perform the hands-on exercises. Also, building and establishing a SOC are outside the scope of this course.
Course Syllabus
Additional Information
A properly configured system is required to fully participate in this course. If you do not carefully read and follow these instructions, you will likely leave the class unsatisfied because you will not be able to participate in hands-on exercises that are essential to this course. Therefore, we strongly urge you to arrive with a system meeting all the requirements specified for the course.
It is critical that you back-up your system before class. it is also strongly advised that you do not bring a system storing any sensitive data.
Baseline Hardware Requirements
CPU: 64-bit Intel i5/i7 2.0+ GHz processor
BIOS: Enabled "Intel-VT"
USB: 3.0 Type-A port
RAM: 8GB RAM
Hardware Drive Free Space: 60 GB Free Space
Operating System: Windows 10 Pro or macOS 10.5+
Additional Hardware Requirements
A wireless 802.11 B, G, N or AC network adapter is required
Additiional Software Requirements
Install VMware Workstation Player 15.5X+, VMware Fusion 11.5+ or VMware Workstation 15
Your course media will now be delivered via download. The media files for class can be large, some in the 40 - 50 GB range. You need to allow plenty of time for the download to complete. Internet connections and speed vary greatly and are dependent on many different factors. Therefore, it is not possible to give an estimate of the length of time it will take to download your materials. Please start your course media downloads as you get the link. You will need your course media immediately on the first day of class. Waiting until the night before the class starts to begin your download has a high probability of failure.
SANS has begun providing printed materials in PDF form. Additionally, certain classes are using an electronic workbook in addition to the PDFs. The number of classes using eWorkbooks will grow quickly. In this new environment, we have found that a second monitor and/or a tablet device can be useful by keeping the class materials visible while the instructor is presenting or while you are working on lab exercises.
If you have additional questions about the laptop specifications, please contact laptop_prep@sans.org.
Security Architects
Senior Security Engineers
Technical Security Managers
SOC Analysts
SOC Engineers
SOC Managers
CND Analysts
Individuals working to implement Continuous Diagnostics and Mitigation (CDM), Continuous Security Monitoring (CSM), or Network Security Monitoring (NSM)
Use this sample training request letter, or elements of it, to justify the time and budget required to complete SANS training to your manager. Simply copy and paste text into an email to your manager, then make any necessary adjustments to personalize the information.
Basic understanding of network protocols and devices
Experience with Linux and Windows from the command line
MP3 audio files of the complete course lecture
Intro and walkthrough videos of most labs
Licensed Windows 10 virtual machine
A Linux VM loaded with tons of extra logs, pcaps, and other resources
A Digital Download Package that includes the above and more
This Course Will Prepare You To:
Analyze a security architecture for deficiencies
Apply the principles learned in the course to design a defensible security architecture
Understand the importance of a detection-dominant security architecture and Security Operations Centers (SOC)
Identify the key components of Network Security Monitoring (NSM)/Continuous Diagnostics and Mitigation (CDM)/Continuous Monitoring (CM)
Determine appropriate security monitoring needs for organizations of all sizes
Implement robust Network Security Monitoring/Continuous Security Monitoring
Determine requisite monitoring capabilities for a SOC environment
Determine capabilities required to support continuous monitoring of key Critical Security Controls
Utilize tools to support implementation of Continuous Monitoring per NIST guidelines SP 800-137
While the above list briefly outlines the knowledge and skills you will learn, it barely scratches the surface of what this course has to offer. Hands-on labs throughout the course will reinforce key concepts and principles, as well as teach you how to use scripting to automate continuous monitoring. We look forward to seeing you soon!
SEC511 employs several different hands-on tactics that go well beyond simple lecture and instructor-led discussions:
Linux-based local labs
Linux-based networked labs
Windows 10-based local labs
Windows 10-based networked labs
Daily Immersive Cyber Challenges (NetWars game engine)
NetWars-based Final Capstone
The meticulously crafted SEC511 Workbook serves as the starting point for hands-on elements in the course. The workbook-driven labs include multiple paths to complete each exercise. This multifaceted approach allows the labs to better accommodate diverse student backgrounds and technical exposure.
A more recent development is the SEC511 Portal/Wiki available within the class virtual environment. The portal provides students with electronic versions of the workbook labs. Even cooler, for most labs the portal includes both an introduction and walkthrough video for each of the workbook-based labs.
Shall we play a game?
The NetWars game engine now permeates every single course day! Since the launch of SEC511, students have consistently found the NetWars-based Final Capstone to be great fun. Who would have guessed that a game would be fun, right? Students' praise did not stop at "fun" - they also found the game to be a tremendously successful way to further their learning. Taking this cue, we have now incorporated a game-style environment into every day, not just day six.
Author Statement
"We are just beginning to accept that every organization can and will be breached. Perimeter-focused preventive security controls have failed. Attackers simply have to find one way into most organizations - the lack of internal security controls then allows them to take their time to achieve their goal.
"This course assesses the current state of security architecture and continuous monitoring, and provides a new approach to security architecture that can be easily understood and defended. What we love most about this course is that when students walk out they have a list of action items in hand to make their organization one of the most effective vehicles for frustrating adversaries. Students are able to assess deficiencies in their own organizations' security architectures and effect meaningful changes that are continuously monitored for deviations from their expected security posture."
- Eric Conrad and Seth Misenar