SEC504: Hacker Techniques, Exploits & Incident Handling
Thu, December 12 - Tue, December 17, 2013
SEC504 is the single best technical training course I've taken.

The hands-on labs and the technical background about how attacks work in SEC504 are very insightful and shows us how hackers operate.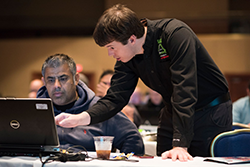 If your organization has an Internet connection or one or two disgruntled employees (and whose doesn't!), your computer systems will get attacked. From the five, ten, or even one hundred daily probes against your Internet infrastructure to the malicious insider slowly creeping through your most vital information assets, attackers are targeting your systems with increasing viciousness and stealth.
By helping you understand attackers' tactics and strategies in detail, giving you hands-on experience in finding vulnerabilities and discovering intrusions, and equipping you with a comprehensive incident handling plan, the in-depth information in this course helps you turn the tables on computer attackers. This course addresses the latest cutting-edge insidious attack vectors, the "oldie-but-goodie" attacks that are still so prevalent, and everything in between. Instead of merely teaching a few hack attack tricks, this course includes a time-tested, step-by-step process for responding to computer incidents; a detailed description of how attackers undermine systems so you can prepare, detect, and respond to them; and a hands-on workshop for discovering holes before the bad guys do. Additionally, the course explores the legal issues associated with responding to computer attacks, including employee monitoring, working with law enforcement, and handling evidence.
This challenging course is particularly well-suited to individuals who lead or are a part of an incident handling team. Furthermore, general security practitioners, system administrators, and security architects will benefit by understanding how to design, build, and operate their systems to prevent, detect, and respond to attacks.
The step-by-step approach used by many computer attackers
The latest computer attack vectors and how you can stop them
Proactive and reactive defenses for each stage of a computer attack
Hands-on workshop addressing scanning for, exploiting, and defending systems
Strategies and tools for detecting each type of attack
Attacks and defenses for Windows, Unix, switches, routers, and other systems
Application-level vulnerabilities, attacks, and defenses
Developing an incident handling process and preparing a team for battle
Legal issues in incident handling
Recovering from computer attacks and restoring systems for business
Notice:
It is imperative that you get written permission from the proper authority in your organization before using these tools and techniques on your company's system and also that you advise your network and computer operations teams of your testing.
Course Syllabus
Additional Information
IMPORTANT - BRING YOUR OWN LAPTOP WITH WINDOWS
To get the most value out of the course, students are required to bring their own laptop so that they can connect directly to the workshop network that we will create. It is the students' responsibility to make sure that the system is properly configured with all drivers necessary to connect to an Ethernet network.
Some of the course exercises are based on Windows, while others focus on Linux. VMware Player or VMware Workstation is required for the class. If you plan to use a Macintosh, please make sure you bring VMware Fusion, along with a Windows guest virtual machine.
Windows
You are required to bring Windows 7 (Professional, Enterprise, or Ultimate), Windows Vista (Business, Enterprise, or Ultimate), Windows XP Pro, or Windows 2003 or 2008 Server, either a real system or a virtual machine. Windows 8 Pro is an acceptable option. Windows 7 Home, Windows Vista Home, Windows XP Home, and Windows 2000 (all versions) will NOT work for the class as they do not include all of the built-in capabilities we need for comprehensive analysis of the system.
The course includes a VMware image file of a guest Linux system that is larger than 3 GB. Therefore, you need a file system with the ability to read and write files that are larger than 3 GB, such as NTFS on a Windows machine.
IMPORTANT NOTE: You will also be required to disable your anti-virus tools temporarily for some exercises, so make sure you have the anti-virus administrator permissions to do so. DO NOT plan on just killing your anti-virus service or processes because most anti-virus tools still function even when their associated services and processes have been terminated. For many enterprise-managed clients, disabling your anti-virus tool may require a different password than the Administrator account password. Please bring that administrator password for your anti-virus tool.
We also require that no enterprise group policies be applied to the system. These policies can and will interfere with our labs.
Enterprise VPN clients may interfere with the network configuration required to participate in the class. If your system has an enterprise VPN client installed, you may need to uninstall it for the exercises in class.
VMware
You will use VMware to run Windows and Linux operating systems simultaneously when performing exercises in class. You must have either the free VMware Player 5 or later or the commercial VMware Workstation 9 or later installed on your system prior to coming to class. You can download VMware Player for free here.
Alternatively, if you want a more flexible and configurable tool, you can download a free 30-day trial copy of VMware Workstation here. VMware will send you a time-limited license number for VMware Workstation if you register for the trial at their Web site. No license number is required for VMware Player.
If you are using a Macbook or Macbook Pro with OS X 10.8 or later you will need VMWare Fusion 5.0 or later.
VirtualBox is not supported and may interfere with our labs. It should not be installed on a system you are planning to use for this class.
We will give you a DVD full of attack tools to experiment with during the class and take home for later analysis. We will also provide a Linux image with all of our tools pre-installed that runs within VMware Player or VMware Workstation.
Linux
You do not need to bring a Linux system if you plan to use our Linux image in VMware. However, you are required to bring VMware Workstation or VMware Player. The class does not support VirtualPC or other non-VMware virtualization products.
Mandatory Laptop Hardware Requirements
x86- or x64-compatible 2.0 GHz CPU Minimum or higher
DVD Drive (not a CD drive)
3 GigaByte RAM minimum with 4 GB or higher recommended
Ethernet adapter (A wired connection is required in class. If your laptop supports only wireless, please make sure to bring an Ethernet adapter with you)
10 GigaByte available hard drive space
Any Service Pack level is acceptable for Windows 8, Windows 7, Windows Vista, or Windows XP Pro
During the workshop, you will be connecting to one of the most hostile networks on planet Earth! Your laptop might be attacked. Do not have any sensitive data stored on the system. SANS is not responsible for your system if someone in the class attacks it in the workshop.
By bringing the right equipment and preparing in advance, you can maximize what you'll see and learn as well as have a lot of fun.
If you have additional questions about the laptop specifications, please contact laptop_prep@sans.org.
Incident handlers
Leaders of incident handling teams
System administrators who are on the front lines defending their systems and responding to attacks
Other security personnel who are first responders when systems come under attack
Apply incident handling processes in-depth, including preparation, identification, containment, eradication, and recovery, to protect enterprise environments
Analyze the structure of common attack techniques to be able to evaluate an attacker√ʬ¬s spread through a system and network, anticipating and thwarting further attacker activity
Utilize tools and evidence to determine the kind of malware used in an attack, including rootkits, back- doors, and trojan horses, choosing appropriate de- fenses and response tactics for each
Use built-in command-line tools such as Windows tasklist, wmic, and reg as well as Linux netstat, ps, and lsof to detect an attacker√ʬ¬s presence on a machine
Analyze router and system ARP tables along with switch CAM tables to track an attacker√ʬ¬s activity through a network and identify a suspect
Use memory dumps and the Volatility tool to determine an attacker√ʬ¬s activities on a machine, the malware installed, and other machines the attacker used as pivot points across the network
Gain access of a target machine using Metasploit, and then detecting the artifacts and impacts of exploita- tion through process, file, memory, and log analysis
Analyze a system to see how attackers use the Netcat tool to move files, create backdoors, and build relays through a target environment
Run the Nmap port scanner and Nessus vulnerability scanner to find openings on target systems, and apply tools such as tcpdump and netstat to detect and analyze the impacts of the scanning activity
Apply the tcpdump sniffer to analyze network traffic generated by a covert backdoor to determine an attacker√ʬ¬s tactics
Employ the netstat and Isof tools to diagnose specific types of traffic-flooding denial-of-service techniques and choosing appropriate response actions based on each attacker's flood technique
Analyze shell history files to find compromised machines, attacker-controlled accounts, sniffers, and backdoors
Author Statement
My favorite part of teaching Hacker Techniques, Exploits, and Incident Handling is watching students when they finally get it. It's usually a two-stage process. First, students begin to realize how truly malicious some of these attacks are. Some students have a very visceral reaction, occasionally shouting out "Oh, shoot!" when they see what the bad guys are really up to. But if I stopped the process at that point, I'd be doing a disservice. The second stage is even more fun. Later in the class, students gradually realize that, even though the attacks are really nasty, they can prevent, detect, and respond to them. Using the knowledge they gain in this track, they know they'll be ready when a bad guy launches an attack against their systems. And being ready to thwart the bad guys is what it's all about.
- Ed Skoudis