SEC503: Intrusion Detection In-Depth
Mon, June 29 - Sat, July 4, 2015
The concepts learned in 503 helped me bridge a gap in knowledge of what we need to better protect our organization.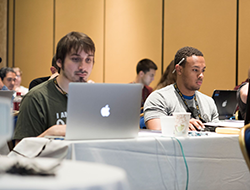 Reports of prominent organizations being hacked and suffering irreparable reputational damage have become all too common. How can you prevent your company from becoming the next victim of a major cyber attack?
SEC503: Intrusion Detection In-Depth delivers the technical knowledge, insight, and hands-on training you need to defend your network with confidence. You will learn about the underlying theory of TCP/IP and the most used application protocols, such as HTTP, so that you can intelligently examine network traffic for signs of an intrusion. You will get plenty of practice learning to configure and master different open-source tools like tcpdump, Wireshark, Snort, Bro, and many more. Daily hands-on exercises suitable for all experience levels reinforce the course book material so that you can transfer knowledge to execution. Basic exercises include assistive hints while advanced options provide a more challenging experience for students who may already know the material or who have quickly mastered new material. In addition, most exercises include an "extra credit" stumper question intended to challenge even the most advanced student.
Industry expert Mike Poor has created a VMware distribution, Packetrix, specifically for this course. As the name implies, Packetrix contains many of the tricks of the trade to perform packet and traffic analysis. It is supplemented with demonstration "pcaps," which are files that contain network traffic. This allows students to follow along on their laptops with the class material and demonstrations. The pcaps also provide a good library of network traffic to use when reviewing the material, especially for certification.
SEC503 is most appropriate for students who are or will become intrusion detection/prevention or security analysts, although others may benefit from the course as well. Students range all the way from seasoned analysts to novices with some TCP/IP background, but to keep pace with the class students are expected to have at least a basic working knowledge of TCP/IP (see www.sans.org//media/security-training/tcpip_quiz.php ). Please note that the Packetrix VMware used in class is a Linux distribution, so we strongly recommend that you spend some time getting familiar with a Linux environment that uses the command line for entry, along with learning some of the core Unix commands, before coming to class.
Preserving the security of your site in today's threat environment is more challenging than ever before. The security landscape is continually changing from what was once only perimeter protection to protecting exposed and mobile systems that are almost always connected and often vulnerable. Security-savvy employees who can help detect and prevent intrusions are therefore in great demand. Our goal in SEC503: Intrusion Detection In-Depth is to acquaint you with the core knowledge, tools, and techniques to defend your networks. The training will prepare you to put your new skills and knowledge to work immediately upon returning to a live environment.
Course Syllabus and Course Contents
Fundamentals of Traffic Analysis
TCP/IP concepts
Using tcpdump and Wireshark
Link layer, IPv4, IPv6, and fragmentation
Transport layers TCP, UDP, and ICMP
Application Protocols
HTTP
SMTP
Microsoft protocols
DNS
IDS evasions
Examination or real-world traffic
Hands-On Snort and Bro Usage
Running, installing, configuring, and customizing Snort
Writing Snort rules
Running, installing, configuring, and customizing Bro
Writing Bro scripts and signatures, and raising Bro notices
Network Traffic Forensics and Monitoring
Analyst toolkit
Using the SiLK open-source network flow tool
Network forensics
Using logs for correlation
OSSEC open-source HIDS/SIM
You Will Learn:
How to analyze traffic traversing your site to avoid becoming another "Hacked!" headline
How to place, customize, and tune your IDS/IPS for maximum detection
Hands-on detection, analysis, and network forensic investigation with a variety of open-source tools
TCP/IP and common application protocols to gain insight about your network traffic, enabling you to distinguish normal from abnormal traffic
The benefits of using signature-based, flow, and hybrid traffic analysis frameworks to augment detection
Course Syllabus
Additional Information
IMPORTANT - BRING YOUR OWN LAPTOP
You will need to run a Linux VMware image supplied at the training event on your laptop for the hands-on exercises that will be performed in class. Some familiarity and comfort with Linux and entering commands via the command line will facilitate your experience with the hands-on exercises.
VMware
VMware Player or VMware Workstation is required for the class. If you plan to use a Macintosh laptop, please make sure you bring VMware Fusion.
You must have either the free VMware Player 3 or later or the commercial VMware Workstation 6 or later installed on your system prior to coming to class. You can download VMware Player for free at https://my.vmware.com/web/vmware/downloads.
Alternatively, if you want a more flexible and configurable tool, you can download a free 30-day trial copy of VMware Workstation from. https://my.vmware.com/web/vmware/downloads.
VMware will send you a time-limited license number for VMware Workstation if you register for the trial at their Web site. No license number is required for VMware Player.
If you are a Macintosh user, you must have VMware Fusion 3 or later installed on your system prior to coming to class. It is available for a free 30-day trial copy at https://my.vmware.com/web/vmware/downloads.
Mandatory Laptop Hardware Requirements
x86- or x64-compatible 1.5 GHz CPU minimum or higher
USB Port
2 gigabyte RAM minimum with 4 GB or higher recommended
12 gigabyte available hard drive space
Windows XP/Vista/7/8, Mac OS X, and Linux - any type
Any Service Pack level is acceptable for your Windows XP/Vista/Win 7/8
Do not bring a laptop with sensitive data stored on it. SANS is not responsible if your laptop is stolen or compromised.
By bringing the right equipment and preparing in advance, you can maximize what you will learn and have a lot of fun.
If you have additional questions about the laptop specifications, please contact laptop_prep@sans.org.
Intrusion detection (all levels), system, and security analysts

Analysts will be introduced to or become more proficient in the use of traffic analysis tools for signs of intrusions.

Network engineers /administrators

Network engineers/administrators will understand the importance of optimal placement of IDS sensors and how the use of network forensics such as log data and network flow data can enhance the capability to identify intrusions.

Hands-on security managers

Hands-on security managers will understand the complexities of intrusion detection and assist analysts by providing them with the resources necessary for success.
Students must have at least a working knowledge of TCP/IP and hexadecimal. To test your knowledge, see our TCP/IP and Hex Quizzes.
Familiarity and comfort with the use of Linux commands such as cd, sudo, pwd, ls, more, less
Course book with each day's material
Workbook with hands-on exercises and questions
DVD with the Packetrix Linux VMware image
TCP/IP pamphlet cheat sheet
Configure and run open-source Snort and write Snort signatures
Configure and run open-source Bro to provide a hybrid traffic analysis framework
Understand TCP/IP component layers to identify normal and abnormal traffic
Use open-source traffic analysis tools to identify signs of an intrusion
Comprehend the need to employ network forensics to investigate traffic to identify and investigate a possible intrusion
Use Wireshark to carve out suspicious file attachments
Write tcpdump filters to selectively examine a particular traffic trait
Synthesize disparate log files to widen and augment analysis
Use the open-source network flow tool SiLK to find network behavior anomalies
Use your knowledge of network architecture and hardware to customize placement of IDS sensors and sniff traffic off the wire
The hands-on training in SEC503 is intended to be both approachable and challenging for beginners and seasoned veterans. There are two different approaches for each exercise. The first contains guidance and hints for those with less experience, and the second contains no guidance and is directed toward those with more experience. In addition, an optional "Extra Credit" question is available for each exercise for advanced students who want a particularly challenging brain teaser. A sampling of hands-on exercises includes the following:
Day 1: Hands-On: Introduction to Wireshark
Day 2: Hands-On: Writing tcpdump filters
Day 3: Hands-On: Application protocols and detection
Day 4: Hands-On: Writing a Snort rule
Day 5: Hands-On: Network traffic forensics
Day 6: Hands-On: The entire day is spent analyzing traffic from an actual intrusion
"This course provides a good basis of knowledge and presents important tools which will be at the core of any intrusion analysis." - Thomas Kelly, DIA
"This course is valuable for anyone interested in IDS. The instructor's knowledge and willingness to help you understand the material is unlike any other training I have been to. Great course and instructor." - Dannie Arnold, U.S. Army
"Course was designed around real-world intrusions and is highly needed for network security administrators and/or analysts."- Hector Araiza, U.S. Air Force
Courses that lead in to SEC503:
Courses that are prerequisites for SEC503:
Courses that are good follow-ups to SEC503:
Author Statement
When I was invited to be a member of a computer incident response team in the late 1990s (just after Al Gore invented the Internet), there was no formal cybersecurity training available. Consequently, I learned on the job and made my share, and then some, of mistakes. I was so naive that I tried to report an attack on our network by a host with an IP address in the 192.168 reserved private network, available for use by anyone. Needless to say, I got a very embarrassing enlightenment when someone clued me in. With the benefit of experience and the passage of time, there are many lessons to be shared with you. This knowledge affords you the opportunity to learn and practice in the classroom to prepare you for the fast-paced always-interesting job of intrusion detection analysts.
- Judy Novak