SEC450: Blue Team Fundamentals: Security Operations and Analysis
New
Wed, March 4 - Mon, March 9, 2020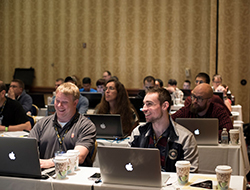 Is your organization looking for a quick and effective way to onboard new Security Analysts, Engineers, and Architects? Do your Security Operations Center (SOC) managers need additional technical perspective on how to improve analysis quality, reduce turnover, and run an efficient SOC?
SEC450 is an accelerated on-ramp for new cyber defense team members and SOC managers. This course introduces students to the tools common to a defender's work environment, and packs in all the essential explanations of tools, processes, and data flow that every blue team member needs to know.
Students will learn the stages of security operations: how data is collected, where it is collected, and how threats are identified within that data. The class dives deep into tactics for triage and investigation of events that are identified as malicious, as well as how to avoid common mistakes and perform continual high-quality analysis. Students will learn the inner workings of the most popular protocols, and how to identify weaponized files as well as attacks within the hosts and data on their network.
The course employs practical, hands-on instruction using a simulated SOC environment with a real, fully-integrated toolset that includes:
Security Information and Event Management (SIEM)
An incident tracking and management system
A threat intelligence platform
Packet capture and analysis
Automation tools
While cyber defense can be a challenging and engaging career, many SOCs are negatively affected by turnover. To preemptively tackle this problem, this course also presents research-backed information on preventing burnout and how to keep engagement high through continuous growth, automation, and false positive reduction. Students will finish the course with a full-scope view of how collection and detection work, how SOC tools are used and fit together, and how to keep their SOC up and running over the long term.
Course Syllabus
Additional Information
!! IMPORTANT: BRING YOUR OWN LAPTOP CONFIGURED USING THESE DIRECTIONS!!
A properly configured system is required for each student participating in this course. Before coming to class, carefully read and follow these instructions exactly.
You can use any 64-bit version of Windows, Mac OSX, or Linux as your core operating system that also can install and run VMware virtualization products. You also must have 8 GB of RAM or higher for the VM to function properly in the class.
It is critical that your CPU and operating system support 64-bit so that our 64-bit guest virtual machine will run on your laptop.
In addition to having 64-bit capable hardware, AMD-V, Intel VT-x, or the equivalent must be enabled in BIOS/UEFI.
Please download and install the most recent version of VMware Workstation, VMware Fusion, or VMware Workstation Player (VirtualBox and other virtualization platforms are not supported) on your system prior to the beginning of class. If you do not own a licensed copy of VMware Workstation or Fusion, you can download a free 30-day trial copy from VMware. VMware will send you a time-limited serial number if you register for the trial at its website.
MANDATORY SEC450 SYSTEM REQUIREMENTS:
CPU: 64-bit 2.0+ GHz processor or higher-based system is mandatory for this class (Important - Please Read: a 64-bit system processor is mandatory)
BIOS/UEFI: VT-x, AMD-V, or the equivalent must be enabled in the BIOS/UEFI
RAM: 8 GB (gigabytes) of RAM or higher is mandatory for this class (Important - Please Read: 8 GB of RAM or higher is mandatory)
Disk: 25 gigabytes of free disk space
Connectivity:
Wireless Ethernet 802.11 B/G/N/AC
USB-A ports or an adapter to use a USB-A thumb drive (version 3.0 compatibility highly recommended)
Software:
VMware Workstation, Workstation Player, or Fusion.
The Linux virtual machine will be provided in class via USB thumb drive.
Configuration:
Please verify before coming to class that you have the administrative permissions required to transfer a virtual machine from a USB drive to your hard disk and start it. Also verify that Windows Device Guard, DLP, or other host-based protections will not interfere with the USB transfer or VM startup. (This is a common issue with company-built PCs, so if you intend to bring a corporate laptop, please test this before the event.)
If you have additional questions about the laptop specifications, please contact laptop_prep@sans.org.
This course is intended for those who are early in their career or new to working in a SOC environment, including:
Security Analysts
Incident Investigators
Security Engineers and Architects
Technical Security Managers
SOC Managers looking to gain additional technical perspective on how to improve analysis quality, reduce turnover, and run an efficient SOC
Anyone looking to start their career on the blue team
A basic understanding of TCP/IP and general operating system fundamentals is needed for this course. Being accustomed to the Linux command-line, network security monitoring, and SIEM solutions is a bonus. Some basic entry-level security concepts are assumed.
Custom distribution of the Linux Virtual Machine containing a pre-built simulated SOC environment
MP3 audio files of the complete course lecture
Introduction and walk-through videos of labs
USB 3.0 stick that includes the above and more
It is our belief that hands-on training is a crucial component of classroom learning, so each day of this course will include multiple hands-on exercises. To achieve the most realistic scenario possible, the class virtual machine is loaded with all the tools typically used in a SOC. Students will be introduced to the concepts, interconnections, and workflow associated with each of those tools. Throughout the class we will utilize a SIEM, threat intelligence platform, incident management and ticketing system, automation and orchestration tools, full packet capture, and analysis software, as well as multiple command line, open-source intelligence, and analysis tools. All of these tools have been set up and integrated to work with each other in order to re-create the workplace environment as closely as possible, allowing students to gain experience that they can directly translate to their own setup when they get back to the office.
Some of the highlights of what students will learn include:
How SIEM, threat intelligence platforms, incident management systems, and automation should connect and work together to provide a painless workflow for analysts
Analysis of common alert types including HTTP(S), DNS, and email-based attacks
Identification of post-exploitation attacker activity
Mental models for understanding alerts and attack patterns that can help to effectively prioritize alerts
How to perform high-quality, bias-free alert analysis and investigation
How to identify the most high-risk alerts, and quick ways to verify them
How logs are collected throughout the environment and the importance of parsing, enrichment, and correlation capability of the SIEM
How to create and tune threat detection analytics to eliminate false positives
Author Statement
"As someone who has held every position from entry-level analyst to SOC manager at a 100,000-employee company, I thoroughly understand the struggle of starting your first position in cyber defense. While there is a seemingly infinite amount of information to learn, there are certain central concepts that, when explained systematically, can greatly shorten the time required to become a productive member of the team. This course was written to pass this knowledge on to you, giving you both the high- and low-level concepts required to propel your career in cyber defense. It's packed with the concepts that I expected new employees to understand, as well the thought process we tried to cultivate throughout analysts' careers to ensure the success of the individual and the organization. I have also worked hard to distill the lessons I've learned through the years on staying excited and engaged in cyber defense work. While some believe SOC positions can feel like a grind, they do not need to be that way! This course goes beyond technical knowledge to also teach the concepts that, if implemented in your SOC, will keep you and your colleagues challenged, happy, and constantly growing in your day-to-day work, leading to a successful, life-long career on the blue team!"
John Hubbard