FOR500: Windows Forensic Analysis
Mon, November 30 - Sat, December 5, 2020
Associated Certification: GIAC Certified Forensic Examiner (GCFE)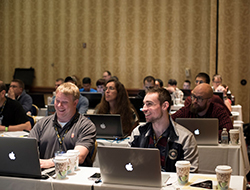 Master Windows Forensics - "You Can't Protect What You Don't Know About."
All organizations must prepare for cyber-crime occurring on their computer systems and within their networks. Demand has never been greater for analysts who can investigate crimes such as fraud, insider threats, industrial espionage, employee misuse, and computer intrusions. Government agencies increasingly require trained media exploitation specialists to recover vital intelligence from Windows systems. To help solve these cases, SANS is training a new cadre of the world's best digital forensic professionals, incident responders, and media exploitation experts capable of piecing together what happened on computer systems second by second.
FOR500: Windows Forensic Analysis focuses on building in-depth digital forensics knowledge of Microsoft Windows operating systems. You can't protect what you don't know about, and understanding forensic capabilities and artifacts is a core component of information security. You will learn how to recover, analyze, and authenticate forensic data on Windows systems, track particular user activity on your network, and organize findings for use in incident response, internal investigations, and civil/criminal litigation. You will be able to use your new skills to validate security tools, enhance vulnerability assessments, identify insider threats, track hackers, and improve security policies. Whether you know it or not, Windows is silently recording an unbelievable amount of data about you and your users. FOR500 teaches you how to mine this mountain of data.
Proper analysis requires real data for students to examine. The completely updated FOR500 course trains digital forensic analysts through a series of new hands-on laboratory exercises that incorporate evidence found on the latest Microsoft technologies (Windows 7, Windows 8/8.1, Windows 10, Office and Office365, Cloud Storage, SharePoint, Exchange, Outlook). Students leave the course armed with the latest tools and techniques and prepared to investigate even the most complicated systems they might encounter. Nothing is left out - attendees learn to analyze everything from legacy Windows 7 systems to just-discovered Windows 10 artifacts.
FOR500: Windows Forensic Analysis will teach you to:
Conduct in-depth forensic analysis of Windows operating systems and media exploitation focusing on Windows 7, Windows 8/8.1, Windows 10, and Windows Server 2008/2012/2016
Identify artifact and evidence locations to answer critical questions, including application execution, file access, data theft, external device usage, cloud services, geolocation, file download, anti-forensics, and detailed system usage
Focus your capabilities on analysis instead of on how to use a particular tool
Extract critical answers and build an in-house forensic capability via a variety of free, open-source, and commercial tools provided within the SANS Windows SIFT Workstation
FOR500 is continually updated. The course starts with an intellectual property theft and corporate espionage case that took over six months to create. You work in the real world, so your training should include real-world practice data. Our instructor development team used incidents from their own investigations and experiences to create an incredibly rich and detailed scenario designed to immerse students in an actual investigation. The case demonstrates the latest artifacts and technologies an investigator might encounter while analyzing Windows systems. The detailed workbook shows step-by-step the tools and techniques that each investigator should employ to solve a forensic case.
Windows Forensics Course Topics:
Windows Operating Systems Focus (Windows 7, Windows 8/8.1, Windows 10, Server 2008/2012/2016)
Windows File Systems (NTFS, FAT, exFAT)
Advanced Evidence Acquisition Tools and Techniques
Registry Forensics
Shell Item Forensics

Shortcut Files (LNK) - Evidence of File Opening
Shellbags - Evidence of Folder Opening
JumpLists - Evidence of File Opening/Program Exec

Windows Artifact Analysis

Facebook, Gmail, Hotmail, Yahoo Chat, and Webmail Analysis
Microsoft Office Document Analysis
System Resource Usage Database
Windows 10 Timeline Database
Windows Recycle Bin Analysis
File and Picture Metadata Tracking and Examination
Ten Different Application Execution Artifacts Including Several New to Windows 10

Cloud Storage File and Metadata Examinations

OneDrive, Dropbox, G Drive, G Suite File Stream, Box

Email Forensics (Host, Server, Web), Including Office 365 and G Suite
Event Log File Analysis
Firefox, Chrome, Edge, and Internet Explorer Browser Forensics
Deleted Registry Key and File Recovery
Recovering Missing Data From Registry and ESE Database .Log Files
String Searching and File Carving
Examination of Cases Involving Windows 7, Windows 8/8.1, and Windows 10
Media Analysis and Exploitation Involving:

Tracking User Communications Using a Windows PC (Email, Chat, IM, Webmail)
Identifying If and How a Suspect Downloaded a Specific File to the PC
Determining the Exact Time and Number of Times a Suspect Executed a Program
Showing When Any File Was First and Last Opened by a Suspect
Determining If a Suspect Had Knowledge of a Specific File
Showing the Exact Physical Location of the System
Tracking and Analyzing External and USB Devices
Showing How the Suspect Logged on to the Machine via the Console, RDP, or Network
Recovering and Examining Browser Artifacts, Even Those Used in a Private Browsing Mode
Discovering Utilization of Anti-Forensics, Including File Wiping, Time Manipulation, and Program Removal

The Course Is Fully Updated to Include Latest Windows 7, 8, 8.1, 10, and Server 2008/2012/2016 Techniques
You Will Be Able To
Perform proper Windows forensic analysis by applying key techniques focusing on Windows 7, Windows 8/8.1, and Windows10
Use full-scale forensic tools and analysis methods to detail nearly every action a suspect accomplished on a Windows system, including who placed an artifact on the system and how, program execution, file/folder opening, geo-location, browser history, profile USB device usage, and more
Uncover the exact time that a specific user last executed a program through Registry and Windows artifact analysis, and understand how this information can be used to prove intent in cases such as intellectual property theft, hacker-breached systems, and traditional crimes
Determine the number of times files have been opened by a suspect through browser forensics, shortcut file analysis (LNK), email analysis, and Windows Registry parsing
Audit cloud storage usage, including detailed user activity, identifying deleted files, and even documenting files available only in the cloud
Identify keywords searched by a specific user on a Windows system to pinpoint the data and information that the suspect was interested in finding and accomplish detailed damage assessments
Use Windows Shellbag analysis tools to articulate every folder and directory that a user or attacker opened up while browsing local, removable, and network drives
Determine each time a unique and specific USB device was attached to the Windows system, the files and folders that were accessed on it, and who plugged it in by parsing Windows artifacts such as the Registry and Event Log files
Learn Event Log analysis techniques and use them to determine when and how users logged into a Windows system, whether via a remote session, at the keyboard, or simply by unlocking a screensaver
Determine where a crime was committed using Registry data to pinpoint the geo-location of a system by examining connected networks and wireless access points
Use browser forensic tools to perform detailed web browser analysis, parse raw SQLite and ESE databases, and leverage session recovery artifacts database carving to identify the web activity of suspects, even if privacy cleaners and in-private browsing are used
Specifically determine how individuals used a system, who they communicated with, and files that were downloaded, modified, and deleted

What Will You Receive
Windows 10 Enterprise version of the SIFT Workstation Virtual Machine with over 200 commercial, open-source, and freeware Digital Forensics and Incident Response tools prebuilt into the environment
Full version licenses for 120 days:
Electronic Download package containing real-world cases to examine during and after class
FOR500 detailed electronic exercise workbook with nearly 500 pages in length with detailed step-by-step instructions
MP3 audio files of the complete course lecture
Complete course lecture
Notice:
Please plan to arrive 30 minutes early on Day 1 for lab preparation and set-up.
Course Syllabus
Additional Information
Important! Bring your own system configured according to these instructions!
We ask that you do 5 things to prepare prior to class start. This early preparation will allow you to get the most out of your training. One of those five steps is ensuring that you bring a properly configured system to class. This document details the required system hardware and software configuration for your class. You can also watch a series of short videos on these topics at the following web link https://sansurl.com/sans-setup-videos.
A properly configured system is required to fully participate in this course. If you do not carefully read and follow these instructions, you will likely leave the class unsatisfied because you will not be able to participate in hands-on exercises that are essential to this course. Therefore, we strongly urge you to arrive with a system meeting all the requirements specified for the course.
You can use any 64-bit version of Windows, Mac OSX, or Linux as your core operating system that also can install and run VMware virtualization products. You also must have a minimum of 8 GB of RAM or higher for the VM to function properly in the class.
It is critical that your CPU and operating system support 64-bit so that our 64-bit guest virtual machine will run on your laptop. VMware provides a free tool for Windows and Linux that will detect whether or not your host supports 64-bit guest virtual machines. For further troubleshooting, this article also provides good instructions for Windows users to determine more about the CPU and OS capabilities. For Macs, please use this support page from Apple to determine 64-bit capability.
Please download and install VMware Workstation Pro 15.5.X+, VMware Player 15.5.X+ or Fusion 11.5+ or higher versions on your system prior to class beginning. If you do not own a licensed copy of VMware Workstation or Fusion, you can download a free 30-day trial copy from VMware. VMware will send you a time-limited serial number if you register for the trial at their website.
MANDATORY FOR500 SYSTEM HARDWARE REQUIREMENTS:
CPU: 64-bit Intel i5/i7 (4th generation+) - x64 bit 2.0+ GHz processor or more recent processor is mandatory for this class (Important - Please Read: a 64-bit system processor is mandatory)
It is critical that your CPU and operating system support 64-bit so that our 64-bit guest virtual machine will run on your laptop. VMware provides a free tool for Windows that will detect whether or not your host supports 64-bit guest virtual machines. For further troubleshooting, this article also provides good instructions for Windows users to determine more about the CPU and OS capabilities. For Macs, please use this support page from Apple to determine 64-bit capability.

BIOS settings must be set to enable virtualization technology, such as "Intel-VT".

Be absolutely certain you can access your BIOS if it is password protected, in case changes are necessary. Test it!

16 GB (Gigabytes) of RAM or higher is mandatory for this class (Important - Please Read: 16 GB of RAM or higher of RAM is mandatory and minimum.)
USB 3.0 Type-A port is required. At least one open and working USB 3.0 Type-A port is required. (A Type-C to Type-A adapter may be necessary for newer laptops.) (Note: Some endpoint protection software prevents the use of USB devices - test your system with a USB drive before class to ensure you can load the course data.)
200 Gigabytes of Free Space on your System Hard Drive - Free Space on Hard Drive is critical to host the VMs we distribute
Local Administrator Access is required. This is absolutely required. Don't let your IT team tell you otherwise. If your company will not permit this access for the duration of the course, then you should make arrangements to bring a different laptop.
Wireless 802.11 Capability
MANDATORY FOR500 SYSTEM SOFTWARE REQUIREMENTS:
Host Operating System: Latest version of Windows 10 or macOS 10.15.x or a recent version of Linux operating system (released 2016 or later) that also can install and run VMware virtualization products (VMware Workstation, VMware Fusion, or VMware Player). Please note: It is necessary to fully update your host operating system prior to the class to ensure you have the right drivers and patches installed to utilize the latest USB 3.0 devices. Those who use a Linux host must also be able to access ExFAT partitions using the appropriate kernel or FUSE modules.
PLEASE INSTALL THE FOLLOWING SOFTWARE PRIOR TO CLASS:
Microsoft Office (any version) w/Excel or OpenOffice w/Calc installed on your host - Note you can download Office Trial Software online (free for 30 days)
Install VMware Workstation Pro 15.5.X+, VMware Player 15.5.X+ or Fusion 11.5+
Your course media will now be delivered via download. The media files for class can be large, some in the 40 - 50 GB range. You need to allow plenty of time for the download to complete. Internet connections and speed vary greatly and are dependent on many different factors. Therefore, it is not possible to give an estimate of the length of time it will take to download your materials. Please start your course media downloads as you get the link. You will need your course media immediately on the first day of class. Waiting until the night before the class starts to begin your download has a high probability of failure.
SANS has begun providing printed materials in PDF form. Additionally, certain classes are using an electronic workbook in addition to the PDFs. The number of classes using eWorkbooks will grow quickly. In this new environment, we have found that a second monitor and/or a tablet device can be useful by keeping the class materials visible while the instructor is presenting or while you are working on lab exercises.
If you have additional questions about the laptop specifications, please contact laptop_prep@sans.org.
Information security professionals who want to learn the in-depth concepts of Windows digital forensics investigations
Incident response team members who need to use deep-dive digital forensics to help solve their Windows data breach and intrusion cases and perform damage assessments
Law enforcement officers, federal agents, and detectives who want to become deep subject-matter experts on digital forensics for Windows-based operating systems
Media exploitation analysts who need to master tactical exploitation and Document and Media Exploitation (DOMEX)
Anyone interested in a deep understanding of Windows forensics who has a background in information systems, information security, and computers
"I have been in IT infrastructure for over 20 years and my mind is blown by how much could be learned in this training. I recommend this class for everyone." - Nick Condos, ACADIA
FOR500: Windows Forensic Analysis focuses on in-depth analysis of the Microsoft Windows Operating System and artifacts. There are no prerequisite courses required to take this course. The artifacts and tool-agnostic techniques you will learn will lead to the successful analysis of any cyber incident and crime involving a Windows Operating System. Please note that this is an analysis-focused course; FOR500 does not cover the basics of evidentiary handling, the "chain of custody," or introductory drive acquisition. Our authors update FOR500 aggressively to stay current with the latest artifacts and techniques discovered. This course is perfect for you if you are interested in in-depth and current Microsoft Windows Operating System forensics and analysis for any incident that occurs. If you have not updated your Windows forensic analysis skills in the past three years or more, this course is essential.
Course Review: SANS FOR500 Windows Forensic Analysis
Course and GIAC Cert Review
"The SANS Institute is currently the leader in the commercial IR and computer forensic training market. They have a large number of quality courses." - From Incident Response & Computer Forensics, Third Edition (July 2014), by Jason Luttgens, Matthew Pepe, Matthew, and Kevin Mandia
"This is a very high-intensity course with extremely current course material that is not available anywhere else in my experience." - Alexander Applegate, Auburn University
"Best forensics class I have had yet (and pretty much the only one that gives you some sort of framework on HOW to attack an exam)." - Det. Juan C. Marquez, Prince William County, Virginia Police Department
"Hands down the BEST forensics class EVER!! Blew my mind at least once a day for 6 days!" - Jason J., Federal Government, Military
"I took SANS FOR500 Windows Forensics and the learning opportunity was second to none. Anyone looking for a first-rate forensics class that they can immediately take back to the real world and apply to their job needs to take at least one class from SANS in their lifetime. Whatever the cost may be to you, if forensics is a career priority for you, then you need to take at least one forensics class from SANS." - Chris Nowell, Information Security Architect, Airlines Reporting Corporation
"As a member of the IR team, this course will aid in investing compromised hosts." - Mike Piclher, URS Corp.
"FOR500 is based on real scenarios that are likely to occur again. The most up-to-date training I have received." - Martin Heyde, UK Ministry of Defence
"Best forensics course I have taken to date. Vast amounts of information." - Ellen C., Federal Government, Agency
"Call me a geek, but this is FUN!" - Frank Dixon, Babcock & Wilcox Company
"Overall the course continues to be chock full of megalicious forensicness. Thanks a bunch for the key knowledge." - Vincent Bryant, Blue Cross Blue Shield of Tennessee
"If you were not interested in forensics before, you will be after this class. For those who already love it, it is reassurance that you are doing the right thing with your life." - Cleora Madison, Walt Disney Theme Parks and Resorts
"The Registry labs are invaluable. I learned more in this class about registry than in 10 years at work. Thanks!" - Michael Mimo, JP Morgan
"I was really looking forward to Windows in-depth and that is exactly what we are getting!" - Joshua Hoover, Charles Schwab
"I have been using forensics tools for years. I never professed to know it all; however, I did not expect to learn as much as I did." - Jody Hawkins, Cook Children's Health Care System
"I really appreciate the prebuilt and configured SIFT workstation. The FOR500 class materials and instruction were outstanding." - Clint Modesitt, LSUHSC
"FOR500 is absolutely necessary for any computer forensic type career. Excellent information!" - Rebecca P., Federal Government, Agency
"This course was by far the most informative and well taught class I have attended." - Brian Periera, Farfield Police Department
"Love the amount of detail/info in books, love the VM." - Jeff Datzman, Vacaville Police Department
"Best course I have taken in 20 years." - Gary Sanders, Louisiana Workers' Compensation Corporation
"The hands-on labs are excellent - best I have had in 15 years of forensics classes. The best books as well." - Shawn Bostick, Arkansas Attorney General's Office
"This is by far the best training I have ever had. My forensic knowledge increased more in the last five days than in the last year." - Vito Rocco, University of Nevada, Las Vegas
"Are you kidding me? I, personally, see this course (FOR500) as pretty much perfected." - Mike Bowden, Boeing
"There's not a lot of courses that cover depth as well as the width of material. I think FOR500 strikes the right balance between the two." - Wayne Dawson, Vancity Savings Credit Union
Author Statement
"After 30 years in law enforcement, three capabilities immediately rise to the top of my list when I think of what makes a great digital forensic analyst: superior technical skill, sound investigative methodology, and the ability to overcome obstacles. SANS FOR500: Windows Forensic Analysis was designed to impart these critical skills to students. Unlike many other training courses that focus on teaching a single tool, FOR500 provides training on many tools. While there are some exceptional tools available, we feel that all forensic analysts need a variety of tools in their arsenal to be able to pick and choose the best tool for each task. However, we also understand that forensic analysts are not great because of the tools they use, but because they artfully apply the right investigative methodology to each analysis. A carpenter can be a master with all his tools and still not know how to build a house. FOR500 teaches students to apply digital forensic methodologies to a variety of case types and situations, enabling them to apply the right methodology to achieve the best outcome in the real world. Finally, the course teaches and demonstrates the problem-solving skills necessary to be a truly successful forensic analyst. Almost immediately after starting your forensic career, you will learn that each forensic analysis presents its own unique challenges. A technique that worked flawlessly for previous examinations may not work for the next one. A good forensic analyst must be able to overcome obstacles through advanced troubleshooting and problem-solving. FOR500 gives students the foundation to solve future problems, overcome obstacles, and become great forensic analysts. No matter if you are new to the forensic community or have been doing forensics for years, FOR500 is a must-have course." - Ovie Carroll
"Former students have contacted me regularly about how they were able to use their digital forensic skills in very real situations that were part of the nightly news cycle. The skills you learn in this class are used directly to stop evil. Graduates of SANS FOR500: Windows Forensic Analysis are the front-line troops deployed when you need accurate digital forensic, incident response, and media exploitation analysis. From analyzing terrorist laptops, data breaches, to investigating insider intellectual property theft and fraud, SANS digital forensic graduates are battling and winning the war on crime and terror. Graduates have directly contributed to solving some of the toughest cases out there because they learn how to conduct analysis and run investigations properly. It brings me great comfort knowing that this course places the correct methodology and knowledge in the hands of responders who thwart the plans of criminals or foreign attacks. Graduates are doing just that on a daily basis. I am proud that the SANS FOR500 course helped prepare them to fight and solve crime." - Rob Lee
"Digital forensics has never been more in demand than it is today. Zettabytes of data are created yearly, and forensic examiners will increasingly be called in to separate the wheat from the chaff. For better or worse, digital artifacts are recorded for almost every action, and the bar has been raised for investigators working to repel computer intrusions, stop intellectual property theft, and put bad actors in jail. We wrote this course as the forensics training we wish would have been available early in our careers. Keeping up with the cutting edge of forensics is daunting, but with frequent updates I am confident this course provides the most up-to-date training available, whether you are just starting out or are looking to add new skills to your forensic arsenal." - Chad Tilbury
"Ovie has been great as an instructor for this course. His knowledge and passion to share his insight with us has excited me in learning and reviewing the case materials again even after lessons. I stayed back to spend extra time to read and learn so that I could prepare in anticipation of what he is offering us the next morning. He conducts start-of-the-day recaps and end-of-the-day pop quizzes to tie in knowledge that would have otherwise been just "another artifact" that was taught. He showed us how to think critically, to tell the story, and to always ask questions." - Yao Guang Tan