SEC530: Defensible Security Architecture
Beta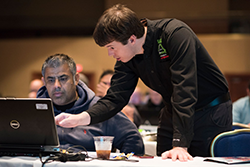 SEC530: Defensible Security Architecture is designed to help students build and maintain a truly defensible security architecture. "The perimeter is dead" is a favorite saying in this age of mobile, cloud, and the Internet of Things, and we are indeed living in new a world of "de-perimeterization" where the old boundaries of "inside" and "outside" or "trusted" and "untrusted" no longer apply.
This changing landscape requires a change in mindset, as well as a repurposing of many devices. Where does it leave our classic perimeter devices such as firewalls? What are the ramifications of the "encrypt everything" mindset for devices such as Network Intrusion Detection Systems?
In this course, students will learn the fundamentals of up-to-date defensible security architecture. There will be a heavy focus on leveraging current infrastructure (and investment), including switches, routers, and firewalls. Students will learn how to reconfigure these devices to better prevent the threat landscape they face today. The course will also suggest newer technologies that will aid in building a robust security infrastructure.
While this is not a monitoring course, this course will dovetail nicely with continuous security monitoring, ensuring that security architecture not only supports prevention, but also provides the critical logs that can be fed into a Security Information and Event Management (SIEM) system in a Security Operations Center.
Hands-on labs will reinforce key points in the course and provide actionable skills that students will be able to leverage as soon as they return to work.
You Will Learn To:
Analyze a security architecture for deficiencies
Apply the principles learned in the course to design a defensible security architecture
Maximize the current investment by reconfiguring existing equipment to become more defensible
Configure computer systems and network components to support proper logging and continuous monitoring
Improve both preventive and detective capabilities
Improve the security of devices from layer 1 (physical) through layer 7 (application)
Course Syllabus
SEC530.1: Defensible Security Architecture
Topics
Modern Attack Techniques
Traditional Security Architecture Deficiencies

Emphasis on Perimeter/Exploitation
Lack of a True Perimeter ("De-perimeterization" as a Result of the Cloud/Mobile)
The Internet of Things
Predominantly Network-centric

Defensible Security Architecture

Mindset

Presumption of Compromise
De-perimeterization
Predominantly Network-centric

Models

Zero Trust Model (Kindervag - Forrester)
Intrusion Kill Chain
Diamond Model of Intrusion Analysis

Internal Segmentation
Automatic Device Change Notification
Integrated Endpoint Visibility

Threat, Vulnerability, and Data Flow Analysis

Threat Vector Analysis
Data Exfiltration Analysis
Detection Dominant Design
Attack Surface Analysis
Visibility Analysis
Data Visualization
Lateral Movement Analysis
SEC530.2: Network Security Architecture
Topics
Layer 1

Cabling Best Practices
Network Closets

Layer 2: Switches

Baselines

CISecurity
Cisco's Best Practices
Cisco Autosecure

Hardening against Layer 2 Attacks
VLANs

Hardening
Private VLANs
MacSec
802.1X
NAC

NetFlow Introduction

Layer 3: Routers

Software-Defined Networking
Baselines

CISecurity
Cisco's Best Practices
Cisco Autosecure

Securing Routing Protocols
Securing NTP
Bogon Filtering
Darknets
IPv6
Layer 3 NetFlow

Layer 3/4 Stateful Firewalls

Stateful
Layer 3/4 NetFlow
SEC530.3: Architecting Application Layer Security
Topics
Proxy
NGFW
NIDS/NIPS

IDS/IPS Rule Writing
Snort
Suricata
Bro

Sandboxing

Beyond Inline
Integration with Endpoint
Feeding the Sandbox Potential Specimens
Malware Detonation Devices

Encryption

The "Encrypt Everything" Mindset
Free SSL/TLS Certificate Providers

Many Are Personal Use Only
Let's Encrypt

SSL/SSH Inspection
SSL/SSH Decrypt Dumps
Certificate Pinning
Strict SSL
HSTS
Crypto Suite Support

Whole Disk Encryption

Bitlocker
File Vault
Linux Options

Secure Remote Access

Access Into Organization
Dual Factor for All Remote Access (and More)

Google Authenticator/TOTP: Open Authentication

IPSec VPNs
SSH VPNs
SSL/TLS VPN
Jump Boxes

Org Remotely Using/Accessing

Cloud-hosted Applications (SaaS)
Cloud-based storage

Virtualized Infrastructure
Cloud Services

Control
Right to Audit/Right to Pen Test
Cloud Data Remanence
Visibility

Mobile Devices/Applications

Consumerization/BYOD

Control (Remote Wipe, Encryption, PIN/etc., Locking)
Visibility

Mobile Applications
SEC530.4: Data and Application Security Architecture
Topics
Protecting Web/Mobile Applications

Web Apps
Mobile Apps
Application (Reverse) Proxies
Full Stack Security Design

Web Server
App Server
DB Server

Web Application Firewalls

Whitelisting and Blacklisting
WAF Bypass

Database Firewalls/Database Activity Monitoring
Secure DNS

Split and Split/split
DNSSEC
DNS Logging
DNS Sinkholes

Protecting Endpoints from Malicious/Compromised Applications

Dangerous Endpoint Applications

Java
Adobe Reader
Flash
Microsoft Office

Browser Security

Active Scripting
IE
ActiveX
Chrome
Firefox

Securing the Internet of Things (IoT)

The Accelerating Growth Wave of IoT
More than Just Video Cameras and DVRs

Healthcare: IV Drip Pumps, CAT Scan Machines, etc.
Physical Plant: Power, HVAC
Televisions and Appliances

Shodan
SEC530.5: Zero Trust Architecture: Addressing the Adversaries Already in Our Networks
Topics
Rogue Devices

Mobile Devices/BYOD
Remote Users
Business Partners
Embedded Contractors/Consultants

Compromised Internal Assets

Pivoting Adversaries
Insider Threat

Deceptive Security Ops
Building Tripwires for Breach Detection

Honeynets, Honeypots, and Honeytokens

Deputizing Endpoints as Hardened Security Sensors

End-user Privilege Reduction
Application Whitelisting
Host Hardening
Host-based IDS/IPS
Endpoint Firewalls

Scaling Endpoint Log Collection/Storage/Analysis
SEC530.6: Hands-On Secure the Flag Challenge
Overview
The course culminates in a team-based design-and-secure the flag competition. Powered by NetWars, day six provides a full day of hands-on work applying the principles taught throughout the week. Your team will progress through multiple levels and missions designed to ensure mastery of the modern cyber defense techniques promoted throughout this course. Teams will assess, design, and secure a variety of computer systems and devices, leveraging all seven layers of the OSI model.
Topics
Capstone - Design/Detect/Defend

Defensible Security Architecture
Assess Provided Architecture and Identify Weaknesses
Use Tools/Scripts to Assess the Initial State
Quickly/Thoroughly Find All Changes Made
Additional Information
!! IMPORTANT - BRING YOUR OWN LAPTOP CONFIGURED USING THESE DIRECTIONS !!
A properly configured system is required for each student participating in this course. Before coming to class, carefully read and follow these instructions exactly.
You can use any 64-bit version of Windows, Mac OSX, or Linux as your core operating system that also can install and run VMware virtualization products. You also must have 8 GB of RAM or higher for the VM to function properly in the class.
It is critical that your CPU and operating system support 64-bit so that our 64-bit guest virtual machine will run on your laptop.
In addition to having 64-bit capable hardware, AMD-V, Intel VT-x, or the equivalent must be enabled in BIOS/UEFI.
Please download and install VMware Workstation 11, VMware Fusion 7, or VMware Workstation Player 7 or higher versions on your system prior to the beginning of the class. If you do not own a licensed copy of VMware Workstation or Fusion, you can download a free 30-day trial copy from VMware. VMware will send you a time-limited serial number if you register for the trial on its website.
MANDATORY SEC530 SYSTEM REQUIREMENTS:
CPU: 64-bit 2.0+ GHz processor or higher-based system is mandatory for this class (Important - Please Read: a 64-bit system processor is mandatory)
BIOS/UEFI: VT-x, AMD-V, or the equivalent must be enabled in the BIOS/UEFI
RAM: 8 GB (gigabytes) of RAM or higher is mandatory for this class (Important - Please Read: 8 GB of RAM or higher is mandatory)
Wireless Ethernet 802.11 B/G/N/AC
USB 3.0 Ports Highly Recommended
Disk: 25 Gigabytes of free disk space
Administrative access to disable any host-based firewall
VMware Workstation 11, Workstation Player 7, or Fusion 7 (or newer)
A Linux virtual machine will be provided in class
If you have additional questions about the laptop specifications, please contact laptop_prep@sans.org.
Security Architects
Network Engineers
Network Architects
Security Analysts
Senior Security Engineers
System Administrators
Technical Security Managers
CND Analysts
Security Monitoring Specialists
Cyber Threat Investigators
Basic understanding of network protocols and devices.
Experience with Linux from the command line.
MP3 audio files of the complete course lecture
Intro and walkthrough videos of most labs
A Linux VM loaded with tons of tools and other resources
A 32GB USB 3.0 stick that includes the above and more
Analyze a security architecture for deficiencies
Apply the principles learned in the course to design a defensible security architecture
Determine appropriate security monitoring needs for organizations of all sizes
Maximize existing investment in security architecture by reconfiguring existing assets
Determine capabilities required to support continuous monitoring of key Critical Security Controls
Configure appropriate logging and monitoring to support a Security Operations Center and continuous monitoring program
While the above list briefly outlines the knowledge and skills you will learn, it barely scratches the surface of what this course has to offer. Hands-on labs throughout the course will reinforce key concepts and principles, as well as teach you how to use key scripting tools.
When your SEC530 training journey is complete, and your skills are enhanced and honed, it will be time to go back to work and deliver on the SANS promise that you'll be able to apply what you learned in this course the day you return to the office.
*CPE/CMU credits not offered for the SelfStudy delivery method