Mobile Device Security and Ethical Hacking
Excellent material for security professionals wanting a deeper level of knowledge on how to implement security policies, procedures, and defensive mechanisms in an organization.

Great course for people starting into security essentials.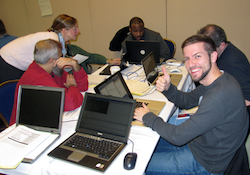 Mobile phones and tablets have become essential to enterprise and government networks ranging from small organizations to Fortune 500 companies and large agencies. Often, mobile phone deployments grow organically, adopted by multitudes of end-users for convenient email access, as well as by managers and executives who need access to sensitive organizational resources from their favored personal mobile devices. In other cases, mobile phones and tablets have become critical systems for a wide variety of production applications from enterprise resource planning (ERP) to project management.
For all of its convenience, however, the ubiquitous use of mobile devices in the work place and beyond has brought new security risks. As reliance on these devices has grown exponentially, organizations have quickly recognized that mobile phones and tablets need greater security implementations than a simple screen protector and clever password. Whether an Apple iPhone or iPad, a Windows Phone, or an Android or BlackBerry phone or tablet, these devices have become hugely attractive and vulnerable targets for nefarious attackers. The use of such devices poses an array of new risks to organizations, including:
Distributed sensitive data storage and access mechanisms
Lack of consistent patch management and firmware updates
High probability of the device being hacked, lost or stolen
Mobile code and apps are also introducing new avenues for malware and data leakage, exposing critical enterprise secrets, intellectual property, and personally identifiable information assets to attackers. To further complicate matters, today there simply are not enough people with the security skills needed to manage mobile phone and tablet deployments.
SEC575: Mobile Device Security and Ethical Hacking is designed to help organizations secure their mobile devices by equipping personnel with the knowledge to design, deploy, operate, and assess a well-managed and safe mobile environment. The course will help you build the critical skills to support your organization's secure deployment and use of mobile phones and tablets. You will learn how to capture and evaluate mobile device network activity, disassemble and analyze mobile code, recognize weaknesses in common mobile applications, and conduct full-scale mobile penetration tests.
You will gain hands-on experience in designing a secure mobile phone network for local and remote users and learn how to make critical decisions to support devices effectively and securely. You will also learn to analyze and evaluate mobile software threats, as well as understand how attackers exploit mobile phone weaknesses, so that you can test the security of your own deployment. With these skills, you will be a valued mobile device security analyst, fully able to guide your organization through the challenges of securely deploying mobile devices.
You Will Learn:
How to capture and evaluate mobile application network activity
How to decrypt and manipulate Apple iOS application behavior
How to identify the steps taken by Android malware
How to reverse-engineer and change Android applications in the Google Play Store
How to conduct mobile device and mobile application penetration tests
Course Syllabus
SEC575.1: Architecture and Management
---
Overview
The first section of the course looks at the significant threats affecting mobile phone deployments and how organizations are being attacked through these systems. As a critical component of a secure deployment, we will examine the architectural and implementation differences between Android, Apple, BlackBerry and Windows Phone systems, including platform software defenses and application permission management. We will also look at the specific implementation details of popular platform features such as iBeacon, AirDrop, App Verification, and more. Hands-on exercises will be used to interact with mobile device emulator features, including low-level access to installed application services.
We will also examine the critical considerations for platform management systems and how attackers evade or manipulate platform management controls. While we look at the positive side of mobile device management (MDM) systems, we also examine how attackers use MDM tools to manipulate a victim's mobile device and use it for their own malicious purposes. Finally, we will address the threats of mobile malware, including emerging malware threats and the increasingly complex and advanced trends in mobile device malware.
Topics
Mobile Problems and Opportunities
Challenges and opportunities for secure mobile phone deployments
Weaknesses in mobile phones
Exploit tools and attacks against mobile phones and tablets
Mobile Devices and Infrastructure
BlackBerry network and platform architecture
iOS security features and weaknesses
Analysis of iOS features including iBeacon and AirDrop
Google Play Marketplace and third-party application stores
Windows Phone architecture and development platforms
Benefits and weaknesses of container-based mobile device management solutions
Mobile Device Security Models
Privilege and access models on multiple platforms
Device encryption support and threats
Emerging changes in platform security from Android and Apple
Mobile Device Lab Analysis Tools
Using iOS, Android, BlackBerry and Windows Phone emulators
Android mobile application analysis with Android Debug Bridge (ADB) tools
Uploading, downloading and installing applications with ADB
Application testing with the iOS Simulator
Mobile Device Malware Threats
Trends and popularity of mobile device malware
Mobile malware command and control architecture
Efficiency of Android ransomware" malware threats
Value and effectiveness of Android anti-malware platforms
SEC575.2: Security Controls and Platform Access
---
Overview
With an understanding of the threats, architectural components and desired security methods, we can design incident response processes to mitigate the effect of common threat scenarios, including device loss. This section looks at building such a program while developing your own skills to analyze mobile device data and applications through rooting and jailbreaking, filesystem data analysis and network activity analysis techniques.
Topics
Mitigating the Impact of Devices Being Stolen
Bypassing iOS and Android passcode locks
Decrypting iOS keychain credentials
Accessing mobile device backup data
Creating a lost device reporting program
Leveraging remote device wipe strategies
Unlocking, Rooting and Jailbreaking Mobile Devices
Goals of unlocking
Jailbreaking iOS
Unlocking Windows Phone
Rooting Android
BlackBerry platform restrictions
Mobile Phone Data Storage and Filesystem Architecture
Data stored on mobile devices
Mobile device filesystem structure
Decoding sensitive data from database files on iOS and Android
Extracting data from Android backups
Using filesystem artifacts for location disclosure attacks beyond GPS coordinates
Network Activity Monitoring
Mobile application network capture and data extraction
Capturing iOS network traffic through OS X systems
Transparent network proxying for data capture
Encrypted data capture manipulation
Extracting files and sensitive content from network captures
Recovering sensitive data from popular cloud storage providers
SEC575.3: Application Analysis
---
Overview
One of the critical decisions you will need to make in supporting a mobile device deployment is whether to approve unique application requests from end-users in a corporate deployment. With some analysis skills, you will be able to evaluate these requests to determine the type of access and information disclosure threats they represent.
This section will examine the techniques for reverse-engineering iOS and Android applications, obtaining source code for applications from public application stores. For Android applications, we will look at opportunities to change behavior as part of our analysis process by decompiling, manipulating and recompiling code, and by adding new code to existing applications without prior source code access. For iOS, we will extract critical application definition information available in all applications to examine and manipulate behavior through the Cycript tool.
Topics
Static Application Analysis
Reverse-engineering iOS binaries in Objective-C and ARM instructions
Reverse-engineering Android binaries in Java and Dalvik Bytecode
Evaluating mobile malware threats through source-code analysis
Defeating Apple FairPlay encryption for application binary access
Combining source-code and behavior analysis for effective application penetration testing
Overcoming anti-decompilation techniques in defensive code
Automated Application Analysis Systems
iOS application vulnerability analysis with iAuditor
Structured iOS application header analysis
Tracing iOS application behavior and API use with Snoop-it
Effective Android application analysis with Androwarn
Android application interaction and Intent manipulation with Drozer
Manipulating Application Behavior
Runtime iOS application manipulation with Cycript
iOS method swizzling
Android application manipulation with Apktool
Reading and modifying Dalvik Bytecode
Adding Android application functionality, from Java to Dalvik Bytecode
SEC575.4: Penetration Testing Mobile - Part 1
---
Overview
An essential component of developing a secure mobile phone deployment is to perform an ethical hacking assessment. Through ethical hacking and penetration testing, we examine the mobile devices and infrastructure from the perspective of an attacker, identifying and exploiting flaws that deliver unauthorized access to data or supporting networks. By identifying these flaws we can evaluate the mobile phone deployment risk to the organization with practical and useful risk metrics.
Topics
Fingerprinting Mobile Devices
Passive analysis
Active scanning
Application inspection
Wireless Network Probe Mapping
Monitoring network probing activity
Visualizing network discovery and search
Wireless anonymity attacks
Weak Wireless Attacks
Wireless network scanning and assessment
Exploiting weak wireless infrastructure
Monitoring mobile device network scanning
Exploiting "attwifi" and iPad or iPhone captive portal detection
Secure network impersonation
Enterprise Wireless Security Attacks
Certificate impersonation and mobile devices
Manipulating enterprise wireless authentication
RADIUS server impersonation attacks
SEC575.5: Penetration Testing Mobile - Part 2
---
Overview
Continuing our look at ethical hacking and penetration testing, we turn our focus to exploiting weaknesses on individual mobile devices including iPhones, iPads, Android phones and tablets, Windows Phones, and BlackBerry devices. We will also examine platform-specific application weaknesses and look at the growing use of web framework attacks.
Topics
Network Manipulation Attacks
Leveraging man-in-the-middle tools against mobile devices
SSL certificate manipulation and bypass attacks
Effective SSL penetration testing techniques
Mobile Application Attacks
Exploiting mobile application authentication vulnerabilities
Manipulating mobile application network activity
Applying web attacks to thin mobile applications
Exploiting common application flaws on Android and iOS platforms
Web Framework Attacks
Site impersonation attacks
Application cross-site scripting exploit
Remote browser manipulation and control
Data leakage detection and analysis
Back-end Application Support Attacks
Exploiting SQL injection in mobile application frameworks
Leveraging client-side injection attacks
Getting end-to-end control of mobile application server resources
SEC575.6: Hands-on Mobile Security Event
---
Overview
On the last day of class we will pull together all the concepts and technology we have covered during the week in a comprehensive Capture the Flag event. In this hands-on exercise, you will have the option to participate in multiple roles: designing a secure infrastructure for the deployment of mobile phones, monitoring network activity to identify attacks against mobile devices, extracting sensitive data from a compromised iPad, and attacking a variety of mobile phones and related network infrastructure components.
During this mobile security event you will put into practice the skills you have learned in order to evaluate systems and defend against attackers, simulating the realistic environment you will be prepared to protect when you get back to the office.
Schedule
| Date | Time | Instructor |
| --- | --- | --- |
| Mon Nov 10th, 2014 | 7:00 PM - 10:00 PM ET | Peter Szczepankiewicz |
| Wed Nov 12th, 2014 | 7:00 PM - 10:00 PM ET | Peter Szczepankiewicz |
| Mon Nov 17th, 2014 | 7:00 PM - 10:00 PM ET | Peter Szczepankiewicz |
| Wed Nov 19th, 2014 | 7:00 PM - 10:00 PM ET | Peter Szczepankiewicz |
| Mon Nov 24th, 2014 | 7:00 PM - 10:00 PM ET | Peter Szczepankiewicz |
| Tue Nov 25th, 2014 | 7:00 PM - 10:00 PM ET | Peter Szczepankiewicz |
| Mon Dec 1st, 2014 | 7:00 PM - 10:00 PM ET | Peter Szczepankiewicz |
| Wed Dec 3rd, 2014 | 7:00 PM - 10:00 PM ET | Peter Szczepankiewicz |
| Mon Dec 8th, 2014 | 7:00 PM - 10:00 PM ET | Peter Szczepankiewicz |
| Wed Dec 10th, 2014 | 7:00 PM - 10:00 PM ET | Peter Szczepankiewicz |
| Mon Dec 15th, 2014 | 7:00 PM - 10:00 PM ET | Peter Szczepankiewicz |
| Wed Dec 17th, 2014 | 7:00 PM - 10:00 PM ET | Peter Szczepankiewicz |
Additional Information
Throughout this course, students will participate in hands-on lab exercises. Students must bring their own laptops to class that meet the requirements described below.
Windows
Students must bring a Windows 8/8.1 or Windows 7 laptop to class, preferably running natively on the system hardware. It is possible to complete the lab exercises using a virtualized Windows installation, but this will result in reduced performance when running device emulators within the virtualized Windows host.
Administrative Access
For several tools used in the course, students will be required to perform actions with administrative privileges. Students must have administrative access on their Windows host, including the ability to unload or disable security software such as anti-virus or firewall agents as needed for the completion of lab exercises. In addition, students should have knowledge of the local passwords required to manage their system, including local Administrator account passwords and passwords necessary to make system BIOS configuration changes.
VMware
Students will use a virtualized MobiSec Linux VMware guest for several lab exercises. VMware Workstation or VMware Player is recommended. Note that there is no cost associated with the use of VMware Player, which can be downloaded from the VMware website.
While some students successfully use VMware Fusion for the exercises, the relative instability of VMware Fusion may introduce delays in exercise preparation, preventing the timely completion of lab exercises. VirtualBox and other virtualization tools are not supported at this time.
Hardware Requirements
Several of the software components used in the course are hardware-intensive, requiring more system resources than what might be required otherwise for day-to-day use of a system. Please ensure that your laptop meets the following minimum hardware requirements:
Minimum 2 GB RAM, 4 GB recommended
Ethernet (RJ45) network interface; students will not be able to complete lab exercises without an Ethernet interface, either built-in or through a USB adapter.
30 GB free hard disk space
DVD drive
Minimum screen resolution of 1024x768; larger screen resolution will reduce scrolling in for several applications and facilitate an easier end-user experience
During the course, you will install numerous tools and make several system changes. Some students may wish to bring a clean system that is not their everyday production system, or a dedicated Windows virtual machine that meets the minimum requirements for a system, in order to avoid any changes that may interfere with other system software.
If you have additional questions about the laptop specifications, please contact laptop_prep@sans.org.
Penetration testers
Ethical hackers
Auditors who need to build deeper technical skills
Security personnel whose job involves assessing, deploying or securing mobile phones and tablets
Network and system administrators supporting mobile phones and tablets
Other Courses People Have Taken
Course book with a comprehensive index
Step-by-step instructions for all lab exercises
Handouts and cheat-sheets used for quick reference to detailed information sources
Course DVD and associated software, files and analysis resources
Use jailbreak tools for Apple iOS and Android systems
Conduct an analysis of iOS and Android filesystem data to plunder compromised devices and extract sensitive mobile device use information
Analyze Apple iOS and Android applications with reverse-engineering tools
Conduct an automated security assessment of mobile applications
Use wireless network analysis tools to identify and exploit wireless networks used by mobile devices
Intercept and manipulate mobile device network activity
Leverage mobile-device-specific exploit frameworks to gain unauthorized access to target devices
Manipulate the behavior of mobile applications to bypass security restrictions
Using the Android Emulator
Creating Malicious iOS Configuration Profiles
Bypassing Android Swipe Locks
Analyzing Mobile Device Network Traffic with NetworkMiner
Manipulating Android Application Intents
Decompiling Android Applications with JD-GUI, Procyon and Jadx
Analyzing Sensitive iOS File System Data
Hacking the Online Bank: Android Mobile App
"Cutting edge security material, well taught." - Donald Farrell, Kingsisle Entertainment Inc.
"In the fast paced world of Bring Your Own Device (BYOD) and mobile device management, SEC575 is a must course for infosec managers." - Jude Meche, DSCC
"SEC575 provides a pretty comprehensive overview of different attack vectors and vulnerabilities in the mobile field. It covers many topics in enough depth to really get a foothold in the subject. I wish I had taken this course several years ago when first entering the mobile landscape. It would have saved me months of painful self-teaching, and is vastly more complete in many areas." - Jeremy Erickson, Sandia National Labs
Author Statement
I'm not sure exactly when it happened, but laptops and PCs have become legacy computing devices, replaced by mobile phones and tablets. Just when I thought we were getting a much better handle on the security of Windows, Mac, and other Unix systems, there has been an explosion of new devices wanting to join our networks that simply do not have the same security controls that we rely on in modern, secure networks.
Even with their weaknesses, mobile phones are here to stay, and we are being called on to support them more and more. Some organizations try to drag their feet on allowing mobile phones, but that ultimately contributes to the problem: if we do not address security, the threats continue to grow, uncontrolled and unmonitored.
Fortunately, we can securely deploy, manage and monitor mobile phones and tablets inside our organizations through policy and careful network deployment and monitoring. We need to build some essential skills in analyzing the risks of data leakage in mobile code and in the applications our end-users want to run from the app store. And we need to ethically hack our networks to identify the real threat and exposure of mobile phone weaknesses.
I wrote this course to help people build their skills in all these areas, focusing on the topics and concepts that are most important and immediately useful. Every organization should have an analyst who has the skills for mobile phone security analysis and deployment. By taking this course, you will become an even more valued part of your organization. And we'll have lots of geeky fun in getting you there!
- Josh Wright
Venue Information
World Wide Web

Secure Site Requires Login ID & Password
Webcast Classroom Training,