Advanced Security Essentials - Enterprise Defender
Excellent material for security professionals wanting a deeper level of knowledge on how to implement security policies, procedures, and defensive mechanisms in an organization.

Great course for people starting into security essentials.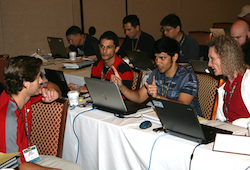 Effective cybersecurity is more important than ever as attacks become stealthier, have a greater financial impact, and cause broad reputational damage. SEC501: Advanced Security Essentials - Enterprise Defender builds on a solid foundation of core policies and practices to enable security teams to defend their enterprise.
It has been said of security that "prevention is ideal, but detection is a must." However, detection without response has little value. Network security needs to be constantly improved to prevent as many attacks as possible and to swiftly detect and respond appropriately to any breach that does occur. This PREVENT - DETECT - RESPONSE strategy must be in place both externally and internally. As data become more portable and networks continue to be porous, there needs to be an increased focus on data protection. Critical information must be secured regardless of whether it resides on a server, in a robust network architecture, or on a portable device.
Of course, despite an organization's best efforts to prevent network attacks and protect its critical data, some attacks will still be successful. Therefore, organizations need to be able to detect attacks in a timely fashion. This is accomplished by understanding the traffic that is flowing on your networks, looking for indications of an attack, and performing penetration testing and vulnerability analysis against your organization to identify problems and issues before a compromise occurs.
Finally, once an attack is detected we must react quickly and effectively and perform the forensics required. Knowledge gained by understanding how the attacker broke in can be fed back into more effective and robust preventive and detective measures, completing the security lifecycle.
You Will Learn
How to build a comprehensive security program focused on preventing, detecting, and responding to attacks
Core components of building a defensible network infrastructure and how to properly secure routers, switches, and network infrastructure
Methods to detect advanced attacks of systems that are currently compromised
Formal methods for performing a penetration test to find weaknesses in an organization's security apparatus
Ways to respond to an incident and how to execute the six-step process of incident response: Preparation, Identification, Containment, Eradication, Recovery, and Lessons Learned
Approaches to remediating malware and how to clean up a compromised system
Course Syllabus
SEC501.1: Defensive Network Infrastructure
---
Overview
Making your network secure from attack starts with designing, building, and implementing a robust network infrastructure. There are many aspects to implementing a defense-in-depth network that are often overlooked when companies focus only on functionality. Achieving the proper balance between business drivers and core information security requires that an organization build a secure network that is mission-resilient to a variety of potential attacks.
On the first course day students will learn how to design and build a secure network that can both prevent attacks and recover after a compromise. They will also learn how to retrofit an existing network to achieve the level of protection that is required. Building a network is not that complicated, but it takes special skills to integrate all of the components so the network can withstand a variety of attacks and support the organization's mission. Students will learn how to design and implement a functionality-rich, secure network and how to maintain and update it as the threat landscape evolves.
Topics
Introduction to network security infrastructure as the target for attacks
Impact of compromised routers and switches
Escalating privileges at Layers 2 and 3
Weaknesses in Cisco router and switch architecture
Integrating and understanding existing network devices to defend against attacks
Implementing the Cisco Gold Standard to improve security
CISecurity Levels 1 and 2 benchmarks for routers
SANS Gold Standard switch configuration
Implementing security on an existing network and rolling out new devices
Advanced Layer 2 and 3 Controls
Filtering with access control lists
DHCP, ARP snooping, and port security
Introduction to network admission control and 802.1x
SEC501.2: Packet Analysis
---
Overview
"Prevention is ideal, but detection is a must" is a critical motto for network security professionals. While organizations always want to prevent as many attacks as possible, some adversaries will still sneak into the network. In cases where an attack cannot be prevented, security professionals must detect the indications that the attack is in progress and stop it before significant harm is caused. Packet analysis and intrusion detection are at the core of such timely detection. Organizations need to not only detect attacks but also to react in a way that ensures those attacks can be prevented in the future.
Because of the changing landscape of attacks, detecting them is an ongoing challenge. Today's attacks are more stealthy and difficult to find than ever before. Only by understanding the core principles of traffic analysis can you become a skilled analyst able to differentiate between normal and attack traffic. New attacks are surfacing all the time, so security professionals must be able to write rules that detect the latest advanced zero-day attacks before they compromise a network.
Traffic analysis and intrusion detection used to be treated as a separate discipline within many organizations. Today, prevention, detection, and reaction must be closely knit so that once an attack is detected, defensive measures can be adapted, proactive forensics implemented, and the organization can to continue to operate.
Topics
Architecture design and preparing filters
Building intrusion detection capability into a network
Understanding the components currently in place
Detection techniques and measures
Understanding various types of traffic occurring on a network
Knowing how normal traffic works
Differentiating between attacks and normal users on a network
Advanced IP packet analysis
Performing deep packet inspection and understanding usage of key fields
Event correlation and analysis
Analyzing an entire network instead of a single device
Building advanced snort rules
Intrusion detection tools
Installing and using analysis software
Wireshark
Building custom filters
---
Overview
Security is all about understanding, mitigating, and controlling the risk to an organization's critical assets. An organization must understand the changing threat landscape and have the capacity to compare it against its own vulnerabilities that could be exploited to compromise its network. While this was never an easy task, it is becoming much more difficult because threats are evolving rapidly and organizations are so complex. On day three, students will learn about the variety of tests that can be run against an organization and how to perform effective penetration testing.
Finding basic vulnerabilities is easy but not necessarily effective if these are not the vulnerabilities attackers exploit to break into a system. Advanced penetration testing involves understanding the variety of systems and applications on a network and how they can be compromised by an attacker. Students will learn about both external and internal penetration testing and the methods of black, gray, and white box testing.
Penetration testing is critical to identify an organization's exposure points, but students will also learn how to prioritize and fix these vulnerabilities to increase the organization's overall security.
Topics
Variety of penetration testing methods
Frequency and use of vulnerability analysis, penetration testing, and security assessment
Vulnerability analysis
How to perform vulnerability analysis
Key areas to identify and ways to fix potential problems
Key tools and techniques
Tools, techniques, and methods used in testing
Basic penetration testing
Methods and means of performing a penetration test
Focus, requirements, and outputs of a successful test
Prioritizing and remediation of issues
Advanced penetration testing
Understanding and mapping to an organization's infrastructure
Application testing and system analysis
SEC501.4: First Responder
---
Overview
Any organization connected to the Internet or that has employees is going to have attacks launched against it. Even with a keen focus on robust network design, preventive security, and identifying vulnerabilities through penetration testing, some attacks will still occur. In these cases, identifying, analyzing, and responding effectively to the attack is critical.
Security professionals need to understand how to perform incident response, analyze what is occurring, and restore their organization back to its normal state as soon as possible. Day four will provide students with a proven six-step process to follow in response to an attack: Prepare, Identify, Contain, Eradicate, Recover, and Learn from previous incidents. Cyber incidents are a lot like a fire-the sooner you detect them, the easier they are to contain, and the less damage they cause. Therefore prompt incident response is a key follow-on to intrusion analysis.
Another key aspect of incident response is forensic analysis and discovery. Students will learn how to perform forensic investigation and identify indications of an attack. This information will be fed into the incident response process to ensure that the attack is prevented from occurring again in the future.
Topics
Incident handling process and analysis
Preparing for an incident
Identifying and responding
Containing a problem to preserve mission resilience
Identifying and eradicating the problem
Recovery system data, including restoring to normal operation
Lessons learned and follow-up reporting
Forensics and incident response
Windows response skills
Windows forensics tool chest
Linux/Unix response and analysis
Linux/Unix tools and system analysis
---
Overview
As security professionals continue to build more proactive security measures, the methods of attackers will continue to evolve. A common way for attackers to target, control, and break into as many systems as possible is through the use of malware. Students must therefore understand what type of malware is currently available to attackers, as well as future trends and methods of exploiting systems. With this knowledge, students can then learn how to analyze, defend, and detect malware on systems and minimize its impact on the organization.
Topics
Malware
Types of malware and corresponding behavior
Dealing with malware
Tying malware into intrusion analysis and incident response
Windows malware
Using Microsoft Windows basic built-in CLI tools
Using Microsoft Windows advanced built-in CLI tools
Using Microsoft Windows built-in GUI tools
External tools and analysis
Using external tools to fight BHO
Fighting rootkits with basic and advanced tools
Inspecting active processes
Using online resources to get help
SEC501.6: Data Loss Prevention
---
Overview
Cybersecurity is all about managing, controlling, and mitigating risk to your critical assets. In almost every organization, critical assets are made up of data or information. Whether it is a customer list, research plans, intellectual property, classified information, or a marketing plan, these data represent your organization's lifeline and must be properly protected. Perimeters are still important and critical, but as our networks become more porous and our data more portable, we are moving away from a fortress model and moving towards a focus on data.
Information no longer solely resides on servers where properly configured access control lists can limit access and protect our information. The same intellectual property that is protected on a server behind a strong perimeter can now be copied to laptops (i.e., portable servers) and plugged into networks (i.e., hotels, airports, and coffee shops). Those venues have no firewalls or security devices in place. This means that you must be able to protect the data no matter where it resides. A compromise of sensitive data will have an impact on your company-no matter how or where it was stolen.
Building a strong perimeter defense is a critical first step, but focusing on protecting and controlling critical data from loss is also critical to building strong preventive measures. Proactive security must be implemented to properly protect critical information and minimize its exposure.
Topics
Risk management
Calculating and understanding risk across an organization
Building proper risk mitigation plans
Applying proactive risk management processes
Incorporating risk management into all business processes
Understanding insider threats
Data classification
Building a data classification program
Key aspects of deploying and implementing classification of critical information
Staged roll-out of classifying new and existing information
Managing and maintaining portable data classification
Digital rights management
Understanding digital rights
Balancing digital rights with data classification
Managing access across the enterprise
Balancing functionality and security
Data loss prevention (DLP)
Identifying requirements and goals for preventing data loss
Identifying practical DLP solutions that work
Managing, evaluating, implementing, and deploying DLP
Schedule
| Date | Time | Instructor |
| --- | --- | --- |
| Tue Sep 23rd, 2014 | 7:00 PM - 10:00 PM ET | Ted Demopoulos |
| Thu Sep 25th, 2014 | 7:00 PM - 10:00 PM ET | Ted Demopoulos |
| Tue Sep 30th, 2014 | 7:00 PM - 10:00 PM ET | Ted Demopoulos |
| Thu Oct 2nd, 2014 | 7:00 PM - 10:00 PM ET | Ted Demopoulos |
| Tue Oct 7th, 2014 | 7:00 PM - 10:00 PM ET | Ted Demopoulos |
| Thu Oct 9th, 2014 | 7:00 PM - 10:00 PM ET | Ted Demopoulos |
| Tue Oct 14th, 2014 | 7:00 PM - 10:00 PM ET | Ted Demopoulos |
| Thu Oct 16th, 2014 | 7:00 PM - 10:00 PM ET | Ted Demopoulos |
| Tue Oct 21st, 2014 | 7:00 PM - 10:00 PM ET | Ted Demopoulos |
| Thu Oct 23rd, 2014 | 7:00 PM - 10:00 PM ET | Ted Demopoulos |
| Mon Oct 27th, 2014 | 7:00 PM - 10:00 PM ET | Ted Demopoulos |
| Tue Oct 28th, 2014 | 7:00 PM - 10:00 PM ET | Ted Demopoulos |
Additional Information
"This is the best technical training course I have ever taken. SEC501 exposed me to many valuable concepts and tools but also gave me a solid introduction to those tools so that I can continue to study and improve on my own." - Curt Smith, Hildago Medical Services
"SEC501 offers a great explanation of Net Defense best practices that often get overlooked." - Kirk G., U.S. Navy
"For an intensive and in-depth course, I found SEC501 to be extremely educational yet fun and entertaining." -Hisham Al-Muhareb, Saudi Aramco
A properly configured laptop is required to participate in SEC501: Advanced Security Essentials - Enterprise Defender. Students must have Administrator privileges. Antivirus software is not recommended and may need to be disabled or uninstalled. If you have a production system already installed with data on it that you do not want to lose, it is recommended that you replace it with a clean hard drive.
Prior to the start of class, you must install the necessary software as described below. The following are minimal hardware requirements for your laptop:
DVD-RW drive
4 GB RAM (more memory is strongly recommended)
40GB of available disk space (more space is recommended)
4GB USB memory stick
Windows 7 32-bit virtual machine
Please note: Windows 7 32-bit and VMWare Workstation is an explicit requirement for SEC501.
You will use VMware to simultaneously run multiple virtual machines when performing hands-on exercises. You must have VMware Workstation installed on your system. If you do not own VMware, you can download a free 30-day trial copy from the VMware website. If taking advantage of the trial offer, please make sure that the license will not expire before you complete the course. You will also need WinRAR installed.
Final Checklist
We suggest going over the following checklist to make sure that your laptop is prepared for SANS SEC501: Advanced Security Essentials - Enterprise Defender :
The laptop meets hardware requirements outlined in this note.
If you use a trial copy of VMware Workstation, make sure that the VMware license will not expire before the class ends.
You created a Windows 7 32-bit virtual machine image (no latest updates from Microsoft needed).
The Windows VMware machine runs using host-only networking mode.
If you have additional questions about the laptop specifications, please contact laptop_prep@sans.org.
Incident response and penetration testers
Security Operations Center engineers and analysts
Network security professionals
Anyone who seeks technical in-depth knowledge about implementing comprehensive security solutions
While not required, it is recommended that students take SEC401: Security Essentials or have the skills taught in that class. This includes a detailed understanding of networks, protocols, and operating systems.
Identify network security threats against infrastructure and build defensible networks that minimize the impact of attacks
Access tools that can be used to analyze a network to prevent attacks and detect the adversary
Decode and analyze packets using various tools to identify anomalies and improve network defenses
Understand how the adversary compromises systems and how to respond to attacks
Perform penetration testing against an organization to determine vulnerabilities and points of compromise
Apply the six-step incident handling process
Use various tools to identify and remediate malware across your organization
Create a data classification program and deploy data-loss-prevention solutions at both a host and network level
The students will participate in labs that:
Analyze network configurations for routers
Perform detailed analysis of traffic using various sniffers and protocol analyzers
Identify and track attacks and anomalies in network packets
Use various tools to perform penetration testing and network discovery
Analyze both Windows and Unix systems during an incident to identify signs of a compromise
Find, identify, and clean up various types of malware
Author Statement
After I finish teaching SEC401-the precursor to the SEC501 course-it is always a thrill to see students leave with fire in their eyes and an excitement about them. They walked into class feeling overwhelmed that security is a lost cause, but now they leave class understanding what they need to do, and they have a focus and drive to do the right thing to secure their organizations.
The next question we receive on a constant basis is, what course should I take next? How do I continue my journey? Well, it depends on your focus area. Do you want to get more into perimeter protection, IDS, operating system security, etc.? The challenge is that many students work in jobs that do not allow them to focus on one area; they need to understand all of the key areas across security.
What students are telling us is that they want a Security Essentials Part 2 or a 500-level continuation of Security Essentials covering the next level of technical knowledge. With SEC501, SANS has decided to give students just what they have been asking for. I am beyond thrilled with the results: we have identified core foundation areas that complement SEC401 with no overlap and continue to build a solid security foundation for network practitioners.
After one recent class, a student ran up and gave me a big hug (he was a retired football player, so I did not argue) and said, "SANS is awesome. I have been frustrated in my job for over a year and had lost hope that you really could secure an organization and that anything I did made a difference. Just as my light of hope was burning out, I decided to take the Security Essentials course, figuring it was a lost cause. After this class the fire is burning brighter than it ever was. I feel like a kid again and cannot wait to go back to my company and make a difference. However, I think my boss is scared because I called him eight times throughout the week, telling him all of the great information and practical knowledge I learned!"
Having taught thousands of students, I am confident you will be just as excited and get similar results from SEC501. However, just for reference, hugs are optional.
- Eric Cole
Venue Information
World Wide Web

Secure Site Requires Login ID & Password
Webcast Classroom Training,