Extend Most SANS Courses by Four Months with an OnDemand Bundle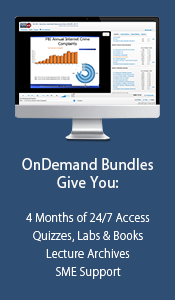 Feel like you're drinking from a firehose in your SANS course?
Want to spend more time with your course labs and exercises, and get extra support?
Studying for a GIAC exam and in need of extended review time?
To gain more time with your course, more practice with quizzes and labs that test your retention of the course content,and for extended subject-matter expert support, you can add an OnDemand Bundle to your course for just $849!
More than 30 of SANS most popular courses are available via OnDemand online training, and you can bundle those with any Live Event, Community, Private Training, Simulcast, vLive or Mentor course to stay engaged in your coursework longer. The additional study can also help you to prepare for a GIAC Certification exam attempt.
Preview what your OnDemand Bundle will look like, choose a demo from the OnDemand course list page.
How Do OnDemand Bundles Work?
You can purchase an OnDemand Bundle with any SANS course that currently has an OnDemand version available. For live event students, your OnDemand access will become available 7 to 10 days after the final day of your live course. For online students, your OnDemand access will begin at the same time as your other online course.
Introducing the new SANS OnDemand Training App!
A free complimentary training tool for students that add an OnDemand bundle. Designed to help you rewind, revisit, and reinforce your SANS cyber security course.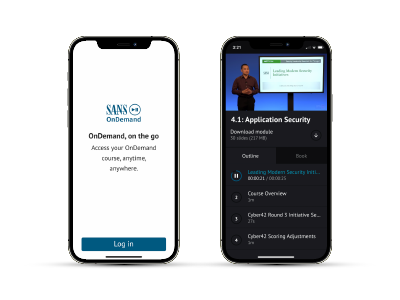 How Do I Purchase an OnDemand Bundle?
Before purchasing your course
Select the OnDemand Bundle option while completing your registration form
After purchasing your course
Up until 7 days after the completion of your Live, Simulcast, or vLive course, follow the steps below to add the OnDemand Bundle to your course.
Log into your SANS Portal Account
Click the "My Orders" link on your Account Dashboard
Find your course and click "Add Available Bundled Items to Order"
Select OnDemand bundle
Provide your payment information
While at a Live training event, visit the Registration Desk to add an OnDemand Bundle to your course
You can also call SANS Customer Support at 301-654-SANS (7267) during normal business hours (9am - 8pm EST/EDT) to add the OnDemand Bundle up until 7 days after the completion of your Live, Simulcast, or vLive course.
The OnDemand bundle may not always present the course content verbatim to the course books provided by SANS other training programs due to continuous updates that are made to SANS course content.
When preparing for a GIAC exam, if there are significant differences between the printed course books and the OnDemand bundle, please note that the GIAC exam will always test on the course content in the printed course books rather than the content presented in the OnDemand bundle.