SEC401: Security Essentials Bootcamp Style
Sun, October 14 - Fri, October 19, 2012
Excellent material for security professionals wanting a deeper level of knowledge on how to implement security policies, procedures, and defensive mechanisms in an organization.

Very well rounded. Great that he(the instructor)was able to bring real world examples to class. Made the class flow smoothly.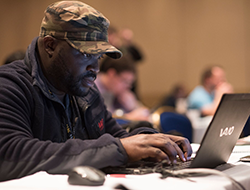 It seems wherever you turn organizations are being broken into and the fundamental question that everyone wants to know is Why? Why do some organizations get broken into and others do not. SEC401 Security Essentials is focused on teaching you the right things that need to be done to keep an organization secure. Organizations are spending millions of dollars on security and are still compromised. The problem is they are doing good things but not the right things. Good things will lay a solid foundation but the right things will stop your organization from being headline news in the Wall Street Journal. SEC401's focus is to teach individuals the essential skills and techniques needed to protect and secure an organization's critical information assets and business systems. We also understand that security is a journey and not a destination. Therefore we will teach you how to build a security roadmap that can scale today and into the future. When you leave our training we promise that you will be given techniques that you can implement today and tomorrow to keep your organization at the cutting edge of cyber security. Most importantly, your organization will be secure.
With the APT (advanced persistent threat) organizations are going to be targeted. Whether the attacker is successful penetrating an organization's network depends on how well they are at the defense. While defending against attacks is an ongoing challenge with new threats emerging all of the time including the next generation of threats, organizations need to understand what works in cyber security. What has worked and will always work is taking a risk based approach to cyber defense. Before your organization spend a dollar of its IT budget or allocate any resources or time on anything in the name of cyber security, three questions must be answered:
1. What is the risk?
2. Is it the highest priority risk?
3. Is it the most cost effective way of reducing the risk
Security is all about making sure you are focusing in on the right areas of defense. By attending SEC401 you will learn the language and underlying theory of computer security. Since all jobs today require an understanding of security, this course will help you understand why security is important and how it applies to your job. In addition, you will learn the essential, up-to-the-minute knowledge and skills required for effective security if you are given the responsibility for securing systems and/or organizations. This course meets both of the key promises SANS makes to our students: (1) You will gain up-to-the-minute knowledge you can put into practice immediately upon returning to work; and, (2) You will be taught by the best security instructors in the industry.
View Dr. Cole's security videos
Learn even more about security in the SANS Reading Room. Over 1600 free White Papers authored by real industry professionals.
Sampling of Topics:
Network fundamentals
Core security design principles for networks
Protocol behavior
Analysis and decoding of packets
Physical Security
Information assurance foundations
Computer security policies
Contingency and continuity planning
Password management and access control
Incident handling
Offensive and defensive information warfare
Host-based intrusion detection and prevention
Network-based intrusion detection and prevention
Offensive methods of attack
Firewall and perimeters
Risk assessment and auditing
Cryptography
Steganography
Wireless security
Operations security
Windows and Unix security
Notice:
This course is endorsed by the Committee on National Security Systems (CNSS) NSTISSI 4013 Standard for Systems Administrators in Information Systems Security (INFOSEC).
Course Content Overlap Notice:
Please note that some course material for SEC 401 and MGT 512 may overlap. We recommend SEC 401 for those interested in a more technical course of study, and MGT 512 for those primarily interested in a leadership-oriented but less technical learning experience.
This course prepares you for the GSEC certification which meets the requirement of the DoD 8570 IAT Level 2.
Course Syllabus
Additional Information
Security 401: SANS Security Essentials courses consist of instruction and hands-on sessions. The lab sessions are designed to allow students to utilize the knowledge gained throughout the course in an instructor-led environment. Students will have the opportunity to install, configure, and use the tools and techniques that they have learned.
NOTE: Do not bring a regular production laptop for this class! When installing software, there is always a chance of breaking something else on the system. Students should assume that all data could be lost.
NOTE: It is critical that students have administrator access to the operating system and all security software installed. Changes need to be made to personal firewalls and other host-based software in order for the labs to work.
NOTE: Anti-virus software will need to be disabled in order to install some of the tools.
Laptops should be properly installed and configured prior to coming to class. There is not enough time in class to help you install your laptop. You are also required to test your systems (as described below) prior to coming to class.
You must bring a laptop with Windows 7 installed (the specific version does not matter). You can also run Windows 7 in a virtual machine if you prefer. You MUST also download/install VMware Player and BackTrack 5 R2 prior to coming to class.
To decompress the file, you will need to have a program that supports decompressing the 7z format, such as WinZip or 7-zip.
The attached SEC401 Installation Guide will provide step-by-step instructions on how to install your system.
In summary, before you arrive at the conference you should:
Confirm that Windows 7 is installed and working
Download and install VMware Player and BackTrack 5 R2 using the SEC401 Installation Guide
Confirm that you can start up Back Track and run a program
It is critical that you work through the documents before class so that you arrive with a properly configured laptop and a base understanding of Windows and Linux.
By properly preparing, we know that you will have a knowledge rich and enjoyable lab experience.
If you have additional questions about the laptop specifications, please contact laptop_prep@sans.org.
Security professionals who want to fill the gaps in their understanding of technical information security
Managers who want to understand information security beyond simple terminology and concepts
Operations personnel that do not have security as their primary job function but need an understanding of security to be effective
IT engineers and supervisors that need to know how to build a defensible network against attacks
Administrators responsible for building and maintaining systems that are being targeted by attackers
Forensic, penetration testers, auditors who need a solid foundational of security principles so they can be effective as possible at their jobs
Anyone new to information security with some background in information systems and networking
SEC401 Security Essentials covers all of the core areas of security and assumes a basic understanding of technology, networks and security. For those that are brand new to the field with no background knowledge, SEC301 Intro to Information Security would be the recommended starting point. While SEC301 is not a prerequisite, it will provide introductory knowledge for those that are new to the field to help maximize their experience with SEC401.
Author Statement
One of the things I love to hear from students after teaching Security 401 is "I have worked in security for many years and after taking this course I realized how much I did not know." With the latest version of Security Essentials and the Bootcamp, we have really captured the critical aspects of security and enhanced those topics with examples to drive home the key points. After attending Security 401, I am confident you will walk away with solutions to problems you have had for a while plus solutions to problems you did not even know you had.