ICS515: ICS Active Defense and Incident Response
New
Mon, August 17 - Fri, August 21, 2015
This course provides valuable insights regarding the process of assessing, defending, and monitoring an ICS environment.

As an EMS Analyst, the concepts in this class will no doubt improve my/our ability to identify any system maliciousness and be able to appropriately respond in a timely matter.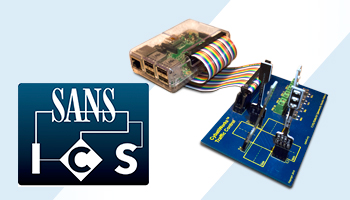 ICS Active Defense and Incident Response training from SANS. This course will empower students with the ability to understand their networked industrial control system (ICS) environment, monitor it for threats, perform incident response against identified threats, and learn from interactions with the adversary to enhance network security. This process of monitoring, responding to, and learning from threats is known as "active defense". It is the approach needed to appropriately counter advanced adversaries targeting ICS, as has been seen with malware such as Stuxnet, HAVEX, and BlackEnergy2. Students can expect to come out of this course fully understanding and able to deconstruct targeted ICS attacks, with a focus on delivery methods and observable attributes. This knowledge demystifies adversary capabilities and gives actionable recommendations to defenders. The course uses a hands-on approach that shows real-world malware and breaks down cyber attacks on ICS from start to finish. Students will gain a practical and technical understanding of concepts such as generating and using threat intelligence, performing network security monitoring, and executing threat triage and incident response to ensure the safety and reliability of operations. The strategy presented in the course serves as a basis for ICS organizations looking to show that defense is do-able.
You Will Learn
How threat intelligence is generated and how to use what is available in the community to support ICS environments. The analysis skills you learn will enable you to critically analyze and apply information from threat intelligence reports on a daily basis.
How to identify ICS assets and their network topologies and how to monitor ICS hotspots for abnormalities and threats. Methodologies such as network security monitoring and approaches to reducing the control system threat landscape will be introduced and reinforced through hands-on labs.
How to safely and properly respond to an incident internally. You will learn how to identify device malfunctions from cyber threats and prepare and use sources of forensic data that can benefit incident response. You will also break down ICS malware to understand various delivery techniques and observable behaviors.
How to operate through an attack and gain the information necessary to instruct teams and decision-makers on when operations must shut down, or if it is safe to respond to the threat and continue operations. We will use threat and malware analysis techniques that are effective even for undermanned operational technology (OT) security teams.
Through a full-day of hands-on labs, you will reinforce the concepts and skills of active defense: threat intelligence, asset identification and network security monitoring, incident response, and threat and environment manipulation. We will stress the ongoing and dynamic nature of the process and how teams can work together to ensure the safety and reliability of control system networks.
Course Syllabus
Additional Information
"This course is the missing piece to get companies to take threats seriously, pursue the truth, and share their findings." - Rob Cantu, DOE
"Awesome!! This course being my 6th SANS course, Robert Lee demonstrated and reiterated the fact that SANS has world's best instructors!!" - Srinath Kannan, Accenture
"This course covered quite a bit of topics that showed an attack from start to finish. I liked it because most other classes only show specific steps, not the whole picture." - Anonymous
NOTE: It is critical that students have administrator access to the operating system and all security software installed. Changes may need to be made to personal firewalls and other host-based software in order for the labs to work.
64-bit system
Laptop with Windows 7 or Windows 8.1 installed on the host or in a Virtual Machine
Laptop with at least two USB ports
Latest VMware Player (7 or higher), VMware Workstation (11 or higher), or VWware Fusion installed
Ability to disable all security software on your laptop, including antivirus and/or firewalls
At least 100 GB of hard-drive space
At least 6 GB of RAM (8 GB recommended)
If you have additional questions about the laptop specifications, please contact laptop_prep@sans.org.
Information Technology and Operational Technology (IT and OT) Cybersecurity Personnel
IT and OT Support Personnel
ICS Incident Responders
ICS Engineers
Security Operations Center Personnel
Other Courses People Have Taken
Other Courses People Have Taken
Courses that lead-in to ICS515:
Courses that are prerequisites for ICS515:
Courses that are good follow-ups to ICS515:
A fully-functioning ICS515 CYBATIWorks Mini-Kit that students keep following the class. The kit includes a Raspberry PI that functions as a PLC, physical components and attachments for I/O, a virtual machine with commercial control system demonstration software from Rex Controls and PeakHMI, and industrial protocols and software including OPC, ModbusTCP, DNP3, and more.
Use the skills gained from hands-on experience with the following tools:

CYBATIWorks Kit and Virtual Machine with PeakHMI
Wireshark and TCPDump for network traffic capturing and packet analysis
Snort for tailoring and tuning Intrusion Detection System rules
Mandiant's Redline and FTK Imager for forensic data acquisition and validation
OpenIOC and YARA for developing Indicators of Compromise
Xplico and NetworkMiner for network flow and data analysis
Volatility and Foremost for fundamental malware analysis skills
Command line tools for analyzing spearphishing emails
Lab: CYBATI Kit Setup
Lab: Pattern and Information Mapping
Lab: ICS Honeypot and Analysis of Competing Hypotheses
Lab: Consuming Threat Intelligence
Lab: Asset Discovery and Network Visualization
Lab: Collecting the Right Data
Lab: Detecting the Bad Data
Lab: Analyzing and Responding
Lab: Acquisition and Verification Part 1
Lab: Acquisition and Verification Part 2
Lab: Capturing the Malware
Lab: Indicators in Action
Lab: Spearphishing Analysis
Lab: Memory Forensics
Lab: Dynamic Malware Analysis
Lab: Indicators of Compromise Development
All of day five is spent working through hands-on activities
Author Statement
"This class was developed from my experiences in the U.S. intelligence community and within the control system community dealing with advanced adversaries targeting industrial control systems. It is the class I wish I would have had available to me while protecting infrastructure against these adversaries. It is exactly what you'll need to maintain secure and reliable operations in the face of determined threats. ICS515 will empower you to prove that defense is do-able."
- Robert M. Lee