ICS515: ICS Active Defense and Incident Response
ICS515 raised my awareness of incidents affected ICS today and broadened my knowledge of techniques and tools to manage them effectively.
Steven Romero, WGMI (Wood Group Engineering)

This course is the missing piece to get companies to take threats seriously, pursue the truth, and share their findings.
Rob Cantu, DOE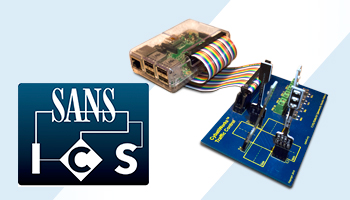 ICS Active Defense and Incident Response training from SANS. This course will empower students with the ability to understand their networked industrial control system (ICS) environment, monitor it for threats, perform incident response against identified threats, and learn from interactions with the adversary to enhance network security. This process of monitoring, responding to, and learning from threats is known as "active defense". It is the approach needed to appropriately counter advanced adversaries targeting ICS, as has been seen with malware such as Stuxnet, HAVEX, and BlackEnergy2. Students can expect to come out of this course fully understanding and able to deconstruct targeted ICS attacks, with a focus on delivery methods and observable attributes. This knowledge demystifies adversary capabilities and gives actionable recommendations to defenders. The course uses a hands-on approach that shows real-world malware and breaks down cyber attacks on ICS from start to finish. Students will gain a practical and technical understanding of concepts such as generating and using threat intelligence, performing network security monitoring, and executing threat triage and incident response to ensure the safety and reliability of operations. The strategy presented in the course serves as a basis for ICS organizations looking to show that defense is do-able.
You Will Learn
How threat intelligence is generated and how to use what is available in the community to support ICS environments. The analysis skills you learn will enable you to critically analyze and apply information from threat intelligence reports on a daily basis.
How to identify ICS assets and their network topologies and how to monitor ICS hotspots for abnormalities and threats. Methodologies such as network security monitoring and approaches to reducing the control system threat landscape will be introduced and reinforced through hands-on labs.
How to safely and properly respond to an incident internally. You will learn how to identify device malfunctions from cyber threats and prepare and use sources of forensic data that can benefit incident response. You will also break down ICS malware to understand various delivery techniques and observable behaviors.
How to operate through an attack and gain the information necessary to instruct teams and decision-makers on when operations must shut down, or if it is safe to respond to the threat and continue operations. We will use threat and malware analysis techniques that are effective even for undermanned operational technology (OT) security teams.
Through a full-day of hands-on labs, you will reinforce the concepts and skills of active defense: threat intelligence, asset identification and network security monitoring, incident response, and threat and environment manipulation. We will stress the ongoing and dynamic nature of the process and how teams can work together to ensure the safety and reliability of control system networks.
Course Contents
Instructors
Schedule

ICS515.1: Threat Intelligence
Robert M. Lee
Mon Aug 17th, 2015
9:00 AM - 5:00 PM


Overview

Takeaway: Today you will learn how threat intelligence is generated and how to critically analyze reports to determine what is and is not useful for ICS security. These analytical skills are useful in day-to-day operations and will enable you to approach problems in new and unique ways. We will set up the CYBATI Kit, review threat intelligence reports, and discover information available to adversaries about your ICS so that you can better prioritize network defenses.

Topics

Case Study: HAVEX
Introduction to Active Defense and Incident Response
Lab: CYBATI Kit Setup
Intelligence Life Cycle and Threat Intelligence
ICS Information Attack Surface
Lab: Pattern and Information Mapping
External Threat Intelligence
Internal Threat Intelligence
Lab: ICS Honeypot and Analysis of Competing Hypotheses
Sharing and Consuming Threat Intelligence
Lab: Consuming Threat Intelligence

ICS515.2: Asset Identification and Network Security Monitoring
Robert M. Lee
Tue Aug 18th, 2015
9:00 AM - 5:00 PM


Overview

Takeaway: Understanding the networked environment is the only way to fully defend it: you cannot defend what you do not know. This course section will teach you to use network tools to discover assets and visualize the network. This will then enable you to perform network security monitoring to identify threats to the ICS through the recognition of abnormalities and adversary tactics.

Topics

ICS Asset and Network Visibility
Lab: Asset Discovery and Network Visualization
Identifying and Reducing the Threat landscape
ICS Network Security Monitoring - Collection
Lab: Collecting the Right Data
ICS Network Security Monitoring - Detection
Lab: Detecting the Bad Data
ICS Network Security Monitoring - Analysis
Lab: Analyzing and Responding

ICS515.3: Incident Response
Robert M. Lee
Wed Aug 19th, 2015
9:00 AM - 5:00 PM


Overview

Takeaway: The ability to prepare for and perform incident response is vital to the safety and reliability of control systems. Incident response in the ICS environment is a young field with many challenges, but today you will learn effective tactics to collect and preserve quality forensic data. You will use this data to perform timely forensic analysis to verify that threats exist in the environment and make actionable recommendations to decision-makers.

Topics

Incident Response and Digital Forensics Overview
Incident Response Fundamentals
Building an ICS Incident Response Team
Preparing Ahead of Time
Lab: Acquisition and Verification Part 1
Sources of Forensic Data in ICS Networks
Remote and Local Systems
Lab: Acquisition and Verification Part 2
Time-Critical Incident Response
Lab: Indicators in Action
Maintaining and Restoring Operations
Lab: Capturing the Malware

ICS515.4: Threat and Environment Manipulation
Robert M. Lee
Thu Aug 20th, 2015
9:00 AM - 5:00 PM


Overview

Takeaway: Understanding the threat is key to discovering its capabilities and the potential impact to the ICS. This information is also critical to making network changes for the purpose of security and sharing threat data internal and external to the organization. Today you will learn how to analyze initial attack vectors such as spearphishing emails, perform malware analysis techniques with memory forensics and dynamic malware analysis, and share threat data.

Topics

ICS Threat and Environment Manipulation Goals and Considerations
Establishing a Safe Working Environment
Initial Attack Vectors
Lab: Spearphishing Analysis
Memory Forensics
Lab: Memory Forensics
Malware Analysis Methodologies
ICS Malware Analysis Essentials
Lab: Dynamic Malware Analysis
Indicators of Compromise
Lab: Indicators of Compromise Development
Uncovering Ongoing Campaigns
Environment Manipulation and Lessons Learned

ICS515.5: Active Defense and Incident Response Challenge
Robert M. Lee
Fri Aug 21st, 2015
9:00 AM - 5:00 PM


Overview

Takeaway: Today focuses on reinforcing the strategy, methodologies, and skillsets that were introduced through the first four days of the course. This entirely hands-on session will present you with two scenarios to demonstrate different types of threats that affect ICS operations and will challenge you to respond to them appropriately.

Topics

Scenario One will present data from a complex ICS environment and require you to:

Map the environment
Perform network security monitoring to identify abnormalities
Identify the adversary's capability in the network data and on the HMI
Analyze the malicious capability

Scenario Two will present a real-world advanced persistent threat capability and challenge you to:

Analyze abnormal data in network captures
Perform forensic techniques on incident response captures
Identify the malicious capability and its functionality
Seek out and utilize threat intelligence to understand the adversary campaign

Additional Information

Testimonials

"This course is the missing piece to get companies to take threats seriously, pursue the truth, and share their findings." - Rob Cantu, DOE

"Awesome!! This course being my 6th SANS course, Robert Lee demonstrated and reiterated the fact that SANS has world's best instructors!!" - Srinath Kannan, Accenture

"This course covered quite a bit of topics that showed an attack from start to finish. I liked it because most other classes only show specific steps, not the whole picture." - Anonymous

Laptop Required

NOTE: It is critical that students have administrator access to the operating system and all security software installed. Changes may need to be made to personal firewalls and other host-based software in order for the labs to work.

64-bit system
Laptop with Windows 7 or Windows 8.1 installed on the host or in a Virtual Machine
Laptop with at least two USB ports
Latest VMware Player (7 or higher), VMware Workstation (11 or higher), or VWware Fusion installed
Ability to disable all security software on your laptop, including antivirus and/or firewalls
At least 100 GB of hard-drive space
At least 6 GB of RAM (8 GB recommended)

If you have additional questions about the laptop specifications, please contact laptop_prep@sans.org.

Who Should Attend

Information Technology and Operational Technology (IT and OT) Cybersecurity Personnel
IT and OT Support Personnel
ICS Incident Responders
ICS Engineers
Security Operations Center Personnel

Prerequisites

Students from various technical backgrounds will do well in this course. Command line experience will be helpful, as well as having taken SANS SEC401 or ICS410, or equivalent essential cybersecurity experience.

Other Courses People Have Taken

Other Courses People Have Taken

Courses that lead-in to ICS515:
Courses that are prerequisites for ICS515:
Courses that are good follow-ups to ICS515:

What You Will Receive

A fully-functioning ICS515 CYBATIWorks Mini-Kit that students keep following the class. The kit includes a Raspberry PI that functions as a PLC, physical components and attachments for I/O, a virtual machine with commercial control system demonstration software from Rex Controls and PeakHMI, and industrial protocols and software including OPC, ModbusTCP, DNP3, and more.

You Will Be Able To

Use the skills gained from hands-on experience with the following tools:

CYBATIWorks Kit and Virtual Machine with PeakHMI
Wireshark and TCPDump for network traffic capturing and packet analysis
Snort for tailoring and tuning Intrusion Detection System rules
Mandiant's Redline and FTK Imager for forensic data acquisition and validation
OpenIOC and YARA for developing Indicators of Compromise
Xplico and NetworkMiner for network flow and data analysis
Volatility and Foremost for fundamental malware analysis skills
Command line tools for analyzing spearphishing emails

Hands-on Training

Lab: CYBATI Kit Setup
Lab: Pattern and Information Mapping
Lab: ICS Honeypot and Analysis of Competing Hypotheses
Lab: Consuming Threat Intelligence
Lab: Asset Discovery and Network Visualization
Lab: Collecting the Right Data
Lab: Detecting the Bad Data
Lab: Analyzing and Responding
Lab: Acquisition and Verification Part 1
Lab: Acquisition and Verification Part 2
Lab: Capturing the Malware
Lab: Indicators in Action
Lab: Spearphishing Analysis
Lab: Memory Forensics
Lab: Dynamic Malware Analysis
Lab: Indicators of Compromise Development
All of day five is spent working through hands-on activities