SEC487: Open-Source Intelligence (OSINT) Gathering and Analysis
Mon, August 12 - Sat, August 17, 2019
This course sets up the student with a whole range of OSINT tools that are essential for many investigation!

Everyday there is something new that surprises me. An amazing course with practical tools and skills.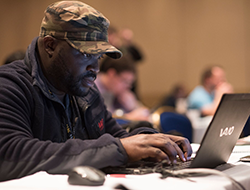 Immeasurable amounts of personal and potentially incriminating data are currently stored in the websites, apps, and social media platforms that people access and update daily via their devices. Those data can become evidence for citizens, governments, and businesses to use in solving real financial, employment, and criminal issues with the help of a professional information gatherer.
Many people think using their favorite Internet search engine is sufficient to find the data they need and do not realize that most of the Internet is not indexed by search engines. SEC487 teaches students legitimate and effective ways to find, gather, and analyze this data from the Internet. You'll learn about reliable places to harvest data using manual and automated methods and tools. Once you have the information, we'll show you how to ensure that it is sound, how to analyze what you've gathered, and how to make it is useful to your investigations.
This is an entry-level, introduction to open-source intelligence (OSINT) course and, as such, will move quickly through many areas of the field. You will learn current, real-world skills, techniques, and tools that law enforcement, private investigators, cyber attackers, and defenders use to scour the massive amount of information across the Internet, analyze the results, and pivot on interesting pieces of data to find other areas for investigation. Our goal is to provide the OSINT knowledge base for students to be successful in their fields whether they are cyber defenders, threat intelligence analysts, private investigators, insurance claims investigators, intelligence analysts, law enforcement personnel, or just someone curious about OSINT.
Throughout the course week, students will participate in numerous hands-on labs using the tools and techniques that are the basis for gathering free data from the Internet. More than 20 labs in this course use the live Internet and dark web to help students gain real-world confidence. You'll leave the course knowing not just how to use search features on a website, but all of the scenario-based requirements and OSINT techniques needed to gather truly important OSINT data.
Notice:
SEC487 students will receive licensing information in the SANS portal account that is linked to their registration. Please ensure that you can access the SANS portal account that is linked to your registration at the start of your course.
If you are registering another individual on behalf of your organization, you must register that individual using the email address that is linked to his or her SANS portal account. That will ensure that the individual can receive licensing information in his or her SANS portal account in order to be prepared with the proper equipment to complete the course (SEC487).
Course Syllabus
Additional Information
Quotes from Former Students
"Great intro to OSINT." - Jason Adamson, CrowdStrike
"The application of OSINT is broad. This course provides opportunities to apply those to my day-to-day work" - Timothy DeBlock, Premise Health
Please bring headphones or ear buds with you so that you can listen to the lab videos without disturbing other students.
Laptop Requirements
!! IMPORTANT - BRING YOUR OWN LAPTOP CONFIGURED USING THESE DIRECTIONS!!
A properly configured system is required for each student participating in this course. Before coming to class, carefully read and follow these instructions exactly.
You can use any 64-bit version of Windows, MacOS, or Linux as your core operating system that also can install and run VMware virtualization products. You also must have 8 GB of RAM or higher for the VM to function properly in the class.
It is critical that your CPU and operating system support 64-bit so that our 64-bit guest virtual machine will run on your laptop.
In addition to having 64-bit capable hardware, AMD-V, Intel VT-x, or the equivalent must be enabled in BIOS/UEFI.
Please download and install VMware Workstation 11, VMware Fusion 7, or VMware Workstation Player 7 or higher versions on your system prior to the start of the class. If you do not own a licensed copy of VMware Workstation or Fusion, you can download a free 30-day trial copy from VMware. VMware will send you a time-limited serial number if you register for the trial on its website.
MANDATORY SEC487 SYSTEM REQUIREMENTS:
CPU: 64-bit 2.0+ GHz processor or higher-based system is mandatory for this course (Important - Please Read: a 64-bit system processor is mandatory)
BIOS/UEFI: VT-x, AMD-V, or the equivalent must be enabled in the BIOS/UEFI
RAM: 8 GB (Gigabytes) of RAM or higher is mandatory for this course (Important - Please Read: 8 GB of RAM or higher is mandatory)
Wireless Ethernet 802.11 G/N/AC
USB 3.0 ports highly recommended
Disk: 25 gigabytes of free disk space
VMware Workstation 11, Workstation Player 7, or Fusion 7 (or newer)
Privileged access to the host operating system with the ability to disable security tools
A Linux virtual machine will be provided in class
If you have additional questions about the laptop specifications, please contact laptop_prep@sans.org.
Who Should Take This Course
We found that the more efficiently you find useful information on the Internet, the more successful you can be in your work. Whether you are trying to find suspects for a legal investigation or candidates to fill a job requisition, gathering hosts for a penetration test or placing honey tokens as a defender, this class will teach you techniques that will aid you in your work.
While far from complete, the Open Source Intelligence (OSINT) topics in SEC487 will be helpful to:
Cyber Incident Responders
Digital Forensics (DFIR) analysts
Penetration Testers
Social Engineers
Law Enforcement
Intelligence Personnel
Recruiters/Sources
Private Investigators
Insurance Investigators
Human Resources Personnel
Researchers
A USB storage device with a custom Linux virtual machine containing software ready for you to conduct your own investigations
A digital wiki (inside the virtual machine) containing electronic versions of the labs, tools, and more
Video walk-throughs, recorded by the author, for each lab to assist you in your work
This Course Will Prepare You To
Create an OSINT process
Conduct OSINT investigations in support of a wide range of customers
Understand the data collection life cycle
Create a secure platform for data collection
Analyze customer collection requirements
Capture and record data
Create sock puppet accounts
Create your own OSINT process
Harvest web data
Perform searches for people
Access social media data
Assess a remote location using online cameras and maps
Examine geolocated social media
Research businesses
Use government-provided data
Collect data from the dark web
Leverage international sites and tools
This is a learn it-do it course where we examine a topic and then dive into a hands-on lab to reinforce the learning. The course has over 22 labs spaced across the first five days, followed by the final hands-on Capture-the-Flag challenge on day six. Check out the lab content below to get a feel for what you will be doing within our class virtual machines.
Day 1
Set up the course virtual machine and configure the VPN that is used to secure all web traffic
Use a MindMap tool to document OSINT data and then analyze relationships between people using a data visualization application
Set up a password manager to securely store all the passwords that we will need for our sock puppets and other accounts
Create a sock puppet account with realistic user-attributes, which will be key to succeeding in some of the other labs later in the course
Join a class Slack group to discuss OSINT and the class by way of a lab that walks you through the setup and use of the application
Day 2
Harvest web data such as Google Analytics IDs and the information within HTTPS certificates
Trace a home address and phone number to their owners
Gather email addresses for a company
Use a reconnaissance framework to rapidly scan websites looking for specific user accounts
Search reverse images to find the identity of the person and other places that image was used
Day 3
Execute queries on search engines to find information about someone
Conduct Facebook queries to retrieve surface and deep data
Analyze tweets to determine sentiment and discover where the tweets are geolocated
Scrape metadata and map GPS coordinates
Day 4
Use online mapping sites to recon an area
Search for wireless network data and use it to verify an alibi
Run an OSINT framework to discover what information can be found about a domain
Examine various government websites to answer trivia questions
Gather data points about the CEO and the systems used at a business
Day 5
Dive into the deep web by using Tor to visit Internet sites and hidden services, and set up our own hidden service
Query the HaveIBeenPwned.com website and API to find compromised user accounts
Use translation sites to practice translating text into other languages
Discover the popular websites and mobile apps used in several countries
Undertake the Solo CTF that brings together many of the previous labs and helps students practice process
Day 6
Participate in the group Capture the Flag competition
Author Statement
"I have always been intrigued by the types and amount of data that are available on the Internet. From researching the best restaurants in a foreign town to watching people via video cameras, it all fascinates me. As the Internet evolved, more high-quality, real-time resources became available and every day was like a holiday, with new and wondrous tools and sites coming online and freely accessible.
"At a certain point, I was no longer in awe of the great resources on the web and, instead, transitioned to being surprised that people would post images of themselves in illegal or compromising positions or that a user profile contained such explicit, detailed content. My wonder shifted to concern for these people. Didn't they know that their (profiles, images, videos, comments, etc.) were publicly accessible? Didn't they care about it? What I found was that, if you looked in the right places, you could find almost anything about a person, a network, or a company. Piecing together seemingly random pieces of data into meaningful stories became my passion and, ultimately, the reason for this course.
"I recognized that the barrier to performing excellent OSINT was not that there was no free data on the Internet. It was that there was too much data on the Internet. The challenge transitioned from 'how do I find something' to 'how do I find only what I need?' This course was born from this need to help others learn the tools and techniques to effectively gather and analyze OSINT data from the Internet."
- Micah Hoffman