SEC660: Advanced Penetration Testing, Exploit Writing, and Ethical Hacking (In French)
Mon, November 13 - Sat, November 18, 2017
The willingness from the instructors to help and answer questions in SEC660 is second to none!

I am very impressed at how well the instructor conveyed the material in SEC660. This is a hard topic, but I have a lot I can take home with me and practice. This material puts me at that next level.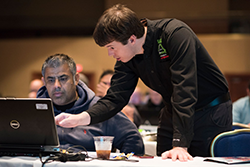 (Cette formation sera dispensée en français et les supports de cours seront en anglais)
SEC660 :Advanced Penetration Testing, Exploit Writing, and Ethical Hacking est la suite logique qui vous permettra de progresser si vous avez suivi SANS SEC560: Network Penetration Testing and Ethical Hacking, ou si vous avez déjà une expérience des tests d'intrusion. Vous serez exposé à des dizaines d'attaques réelles utilisées par les testeurs d'intrusion les plus expérimentés. La méthodologie d'une attaque donnée est d'abord exposée, puis elle est suivie d'exercices pratiques en labo pour consolider des concepts avancés et faciliter l'application immédiate des techniques sur votre lieu de travail. La formation inclut des séances d'entrainements intensifs, façon bootcamp, tous les soirs pendant 2 heures qui vous permettront d'assimiler et de maitriser les techniques abordées en cours. Voici quelques un des sujets traités pendant la formation : l'utilisation de Python dans le cadre de tests d'intrusion, les attaques contre des contrôles d'accès réseau (NAC) et la manipulation de VLAN, l'exploitation de dispositifs réseaux, l'évasion d'environnements restrictifs sous Linux et Windows, IPv6, l'élévation de privilèges sous Linux et l'écriture d'exploits, les tests d'implémentations cryptographiques, les tests de fuzzing, contourner les protections des systèmes d'exploitation modernes tels que ASLR et DEP, Return Oriented Programming (ROP), l'écriture d'exploits pour Windows, et bien plus.
Les assaillants sont de plus en plus malins et leurs attaques sont plus complexes que jamais.
Votre enthousiasme et désir de rester à la pointe des toutes dernières attaques couplées à un entrainement pratique dans un cadre dynamique avec les autres participants vous aideront à étoffer votre expérience. Cette formation vous inculquera une connaissance approfondie des vecteurs d'attaque les plus puissants et les plus importants dans un environnement qui vous permettra de mettre en pratique de nombreux scénarios d'attaque. La formation va au-delà du simple scan pour mettre en évidence la partie visible de l'iceberg; elle apprend aux testeurs d'intrusion à modeler les capacités de l'assaillant afin d'exposer des failles importantes dans un environnement ciblé et à démontrer les risques commerciaux associés à ces failles.
La formation SEC660 commence par une introduction de concepts d'intrusion avancés, et donne une vue d'ensemble aux stagiaires pour les préparer à la suite. L'objectif du premier jour porte sur les attaques de réseau, un domaine souvent négligé par les testeurs. Les sujets incluent l'accès, la manipulation et l'exploitation du réseau. Des attaques sont menées contre des NAC, VLANs, OSPF, 802.1X, CDP, IPv6, VOIP, SSL, ARP, SNMP, et autres. Au deuxième jour, les stagiaires débutent avec un module technique pour effectuer des tests d'intrusion contre des implémentations cryptographiques diverses. Ils abordent ensuite les attaques d'initialisation de réseau, et apprennent à sortir des environnements restreints Linux tels que chroot et des environnements bureautiques restreints de Windows. Le troisième jour est consacré à une introduction à Python pour les tests d'intrusion, Scapy pour la confection de paquets réseaux, des tests de sécurité de produits, des tests de fuzzing contre des applications, et des techniques de couverture de code. Au quatrième et cinquième jour, le cours explore l'exploitation de programmes sur les systèmes Linux et Windows. Vous apprendrez à identifier les programmes à privilèges élevés, à rediriger l'exécution de code, à désassembler des logiciels pour débusquer le code vulnérable, à obtenir l'exécution de code arbitraire afin d'obtenir un accès administratif à ligne de commande et à déjouer les protections des systèmes d'exploitation tels qu'ASLR, canaries et DEP en utilisant ROP et d'autres techniques. L'exploitation à distance et locale ainsi que côté client sont traitées. Le dernier jour est consacré à de nombreux tests d'intrusion à la manière d'une compétition « Capture the Flag » faisant appel aux acquis des stagiaires pour trouver des solutions à des problèmes complexes.
Un des plus grands atouts de la formation SEC660 et le temps supplémentaire alloué chaque soir aux exercices pratiques en laboratoire, guidé par un expert, pour renforcer et maitriser les connaissances acquises pendant la journée.
Vous apprendrez à :
Effectuer un test d'intrusion pour tester en toute sécurité les dispositifs réseaux tels que les routeurs, commutateurs et implémentations NAC
Tester les implémentations cryptographiques
Exploiter les environnements en utilisant la virtualisation et la technologie d'initialisation de réseau telle que PXE
Brouiller les applications autonomes et réseaux en les fuzzant
Ecrire des scripts d'exploitation contre des applications qui fonctionnent sur des systèmes Linux et Windows
Contourner les défenses contre les attaques tels qu'ASLR, DEP et stack canaries
Course Syllabus
Additional Information
You must bring VMware Workstation or Fusion to run multiple operating systems when performing class exercises. If you do not own a licensed copy of VMware, you can download a free 30-day trial copy from www.vmware.com. VMware will send you a time-limited serial number if you register for the trial on its website. Linux virtual machines with all necessary tools will be provided to you on the first day of the course.
You must bring your own virtual machine image of Windows 7 SP0 or SP1 (32-bit or 64-bit), preferably the English version. It is highly recommended to also bring Windows 8.0 or 8.1 (32-bit or 64-bit) for some optional exercises. You may also bring Windows 10, although this is optional.
Tools needed for Windows will be issued in class. Make sure that you have the administrative ability to disable all security software and protection, including antivirus and personal firewalls. You may not be able to complete the exercises without this level of control. Also make sure that you can install software which may be blocked by administrative or security controls due to their nature. You will be installing various debuggers and vulnerable applications onto the virtual machines.
Attention Mac Users: VMware Fusion will work with the exercises for SEC660 on Mac OSX; however, there is the potential for issues depending on the version of Fusion you are running and the different types of hardware included with, or plugged into, your system. Some of these issues could inhibit your ability to complete some of the labs. Version 4.2.4 or later of VirtualBox is an alternative way to complete the exercises on Mac OSX; however, you may experience some of the aforementioned issues. You must be running OS X 10.6 "Snow Leopard" or newer. If you elect to stay with Fusion, please be prepared for the possibility of experiencing more difficulty during the lab set-up than you would using VMware Workstation on a PC. You will also need to map function keys such as F7 and F9 through any virtualization application on OSX in order to perform debugging.
You will be provided with a USB drive containing course tools. This drive is formatted in exFAT. If you are going to use Linux or Mac OS X hosts, please ensure that you have drivers installed to read the exFAT file system type.
Mandatory Laptop Hardware Requirements
An external, USB Ethernet adapter - this is critical for certain labs
PIII 1Ghz CPU minimum/M Series 1.5 GHz or higher is recommended
4 GB of RAM minimum, 8 GBs or more is highly recommended
100 GB hard drive minimum (HARD DRIVE SIZE IS CRITICAL)
30 GB of free space on your hard drive
Bring your INSTALLATION DVDs or USBs to the course
Ensure that you have administrative access over your system
Verify that your processor architecture supports your VMware version. Do not wait until the day of class.
During the workshop, you will be connecting to one of the most hostile networks on earth! Your laptop might be attacked. Do not have any sensitive data stored on the system. SANS is not responsible for your system if someone in the class attacks it in the workshop.
If you have additional questions about the laptop specifications, please contact laptop_prep@sans.org.
Network and Systems Penetration Testers: SEC660 provides penetration testers with the training they need to perform advanced testing against known or unknown applications, services, and network systems. And the course gives students the expertise to perform complex attacks and develop their own exploits for existing and new frameworks.
Incident Handlers: SEC660 gives incident handlers the knowledge they need to understand advanced threats, as handlers are often tasked with determining the threat level associated with an attack. The ability to understand advanced attack techniques and analyze exploit code can help a handler identify, detect, and respond to an incident.
Application Developers: SEC660 teaches developers the ramifications of poor coding. Often, a developer or code reviewer is required to clearly demonstrate the threat and impact of a coding error. This course provides developers with the knowledge to create proof-of-concept exploit code and document their findings.
IDS Engineers: SEC660 teaches IDS professionals how to analyze exploit code and identify weaknesses. This knowledge can be used to write better IDS signatures and understand the impact of an alert.
This is a fast-paced, advanced course that requires a strong desire to learn advanced penetration testing and custom exploitation techniques. The following SANS courses are recommended either prior to or as a companion to taking this course:
Experience with programming in any language is highly recommended. At a minimum, students are advised to read up on basic programming concepts. Python is the primary language used during class exercises, while programs written in C and C++ code are the primary languages being reversed and exploited. The basics of programming will not be covered in this course, although there is an introductory module on Python.
You should also be well versed with the fundamentals of penetration testing prior to taking this course. Familiarity with Linux and Windows is mandatory. A solid understanding of TCP/IP and networking concepts is required. Please contact the author at stephen@deadlisting.com if you have any questions or concerns about the prerequisites.
Other Courses People Have Taken
Access to the in-class Virtual Training Lab for over 30 in-depth labs.
A course USB with many tools used for all in-house labs.
Virtual machines full of penetration testing tools and specimens specially calibrated and tested to work with all our labs and optimized for use in your own penetration tests.
Access to recorded course audio to help hammer home important network penetration testing lessons.
Perform fuzz testing to enhance your company's SDL process.
Exploit network devices and assess network application protocols.
Escape from restricted environments on Linux and Windows.
Test cryptographic implementations.
Model the techniques used by attackers to perform 0-day vulnerability discovery and exploit development.
Develop more accurate quantitative and qualitative risk assessments through validation.
Demonstrate the needs and effects of leveraging modern exploit mitigation controls.
Reverse-engineer vulnerable code to write custom exploits.
Exploit routing protocol implementations such as OSPF.
Bypass different types of NAC implementations.
Exploit patch updates.
Perform man-in-the-middle attacks to remove SSL.
Perform IPv6 attacks.
Exploit poor cryptographic implementations using CBC bit flipping attacks and hash length extension attacks.
Hijack network booting environments.
Exploit virtualization implementations.
Write Python scripts to automate testing.
Write fuzzers to trigger bugs in software.
Reverse-engineer applications to locate code paths and identify potential exploitable bugs.
Debug Linux applications.
Debug Windows applications.
Write exploits against buffer overflow vulnerabilities.
Bypass exploit mitigations such as ASLR, DEP, stack canaries, SafeSEH, etc.
Use ROP to bypass or disable security controls.
"For the first time ever, I actually understand assembly. Excellent lesson." - Alexander Cobblah, Booz Allen Hamilton
"SEC660 has been nothing less than excellent. Both the instructor and assistant are subject-matter experts who have extensive knowledge covering all aspects of the topics covered and then some." - Brian Anderson, Northrop Grumman Corporation
"Most comprehensive coverage of fuzzing - I would have signed up for the course for that alone." - Adam Kliarsky, Cedars-Sinai Medical Center
"No frills and goes right to the point. The first day alone is what other classes spend a full week on." - Michael Isbitski, Verizon Wireless
Author Statement
When conducting an in-depth penetration test, we are often faced with situations that require unique or complex solutions to successfully pull off an attack, mimicking the activities of increasingly sophisticated real-world attackers. Without the skills to identify and implement those solutions, you may miss a major vulnerability or not properly assess its business impact. Target system personnel are relying on you to tell them whether an environment is secured. Attackers are almost always one step ahead and are relying on our nature to become complacent, even with regard to the very controls we worked so hard to deploy. This course was written to keep you from making mistakes others have made, teach you cutting-edge tricks to thoroughly evaluate a target, and provide you with the skills to jump into exploit development. Contact me at stephen@deadlisting.com if you have any questions about the course!
- Stephen Sims (Lead Author)