SEC504: Hacker Tools, Techniques, Exploits and Incident Handling (In French)
Waitlist
Mon, June 26 - Sat, July 1, 2017
This course will be taught in French with course materials being provided in English
SEC504 was my first SANS course, and I am very impressed with the teaching and the materials. I can't wait to take my next SANS course.

From someone who just graduated college and is brand new to the field, the material in SEC504 is easy to follow and straight to the point!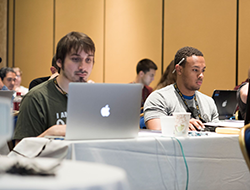 (Cette formation sera dispensée en français et les supports de cours seront en anglais)
De nos jours, Internet présente une source d'outils de piratage et d'intrusion, inépuisable pour les attaquants et les utilisateurs malveillants. Ces derniers vont rester à l'affût de la dernière faille de sécurité afin d'outrepasser les barrières de sécurité de votre système d'information.
En effet si vous décidez d'exposer votre organisation sur Internet, ce qui est fort est probable, vous augmentez ainsi la surface d'attaque de votre système d'information aux menaces externes. Sans compter bien sûr que la menace peut être aussi interne à l'exemple de l'employé qui décide de saboter votre système d'information pour exprimer son mécontentement. Qu'il s'agit 'd'une ou plusieurs intrusion externes, ou d'un salarié qui exfiltre des données confidentielles, le constat reste le même: les attaquants ne cessent d'innover pour augmenter leur force de frappe tout en étant furtif voire indétectable.
Face à cette situation, vous devez assurer la protection des actifs de votre système d'information qu'ils soient physiques (serveurs de production, chaînes de production, etc.) ou intellectuels (secrets de fabrication, propriété intellectuelle, etc.). Et cela passe essentiellement par la compréhension et la maitrise des mêmes techniques et outils utilisés par les attaquants.
Ce cours va inverser le rapport de force en vous aidant à comprendre les tactiques et les stratégies de vos ennemis ; il vous permettra de détecter les failles en amont, de repérer les intrusions et d'élaborer un plan global pour gérer les incidents. Il aborde les tout derniers vecteurs d'attaque particulièrement insidieux, les «bonnes vieilles» méthodes de piratage qui n'en restent pas moins répandues, et tout le reste.
Nous ne nous contentons pas de vous enseigner quelques astuces de hacker. Ce cours décrit, étape par étape, un processus éprouvé pour gérer les incidents, puis il détaille comment les assaillants déstabilisent les systèmes ainsi vous pourrez prévenir, détecter et répondre aux attaques. Le cours SEC504 aborde également les questions juridiques liées aux réponses à des attaques informatiques, notamment la surveillance des employés, la collaboration avec les forces de l'ordre, et la gestion des preuves. Enfin, les stagiaires participeront à un atelier pratique qui cible l'analyse des systèmes, les failles et la défense des systèmes. Il vous permettra de découvrir les failles dans votre système et de devancer les hackers!
Cette formation est particulièrement adaptée aux responsables et aux membres d'équipe de gestion des incidents. Les membres d'une équipe de sécurité opérationnelle, les administrateurs système et les architectes de sécurité pourront également en tirer profit pour mieux comprendre et donc mieux concevoir, créer et exploiter leurs systèmes dans le but de prévenir, détecter et gérer les attaques.
Vous apprendrez à :
Mettre en place les outils et processus permettant de mieux se préparer à une éventuelle attaque
Cerner et identifier les différentes approches adoptées par les attaquant durant leurs phase d'intrusion
Implémenter les défenses proactives et réactives pour chaque étape d'une attaque informatique
Identifier les attaques actives et les compromissions
Comprendre les derniers vecteurs d'attaque informatique et savoir comment les identifier et les contenir
Contenir correctement les attaques
Mettre en place les mécanismes de supervision permettant de bloquer un éventuel retour des attaquants
Procéder à une restauration des systèmes impactés par l'attaque pour assurer un retour optimal à l'état de fonctionnement normal
Comprendre et utiliser les outils et techniques de hacking
Connaitre les stratégies et outils pour détecter chaque type d'attaque
Prendre connaissance des techniques d'attaques et de défenses pour Windows, Unix, switches, routeurs, et autres systèmes
Comprendre les différentes familles des vulnérabilités applicatives impactant la couche Web (XSS, SQLi, etc.) ou la couche système (buffer overflow, format string, etc.)
Développer un processus de gestion d'un incident et préparer une équipe pour le combat
Traiter les questions juridiques qui relèvent de la gestion des incidents
Si vous n'êtes pas familier avec Linux, veuillez regarder cette courte vidéo d'introduction à Linux pour vous aider à démarrer.
SEC504 vs. SEC560 FAQ: https://www.sans.org/media/security-training/sec504vsec560.php
Notice:
It is imperative that you get written permission from the proper authority in your organization before using these tools and techniques on your company's system and also that you advise your network and computer operations teams of your testing.
Course Syllabus
Additional Information
IMPORTANT - BRING YOUR OWN LAPTOP WITH WINDOWS
To get the most value out of the course, students are required to bring their own laptop so that they can connect directly to the workshop network. It is the students' responsibility to make sure that the system is properly configured with all the drivers necessary to connect to an Ethernet network.
John Strand has created a video to help you walk through the setup requirements for the course. This short 10 minute video will help ensure your system is properly configured and ready for class.
Some of the course exercises are based on Windows, while others focus on Linux. VMware Player or VMware Workstation is required for the class. If you plan to use a Macintosh, please make sure you bring VMware Fusion, along with a Windows guest virtual machine.
Windows
The course includes a VMware image file of a guest Linux system that is larger than 12 GB. Therefore, you need a file system with the ability to read and write files that are larger than 3 GB, such as NTFS on a Windows machine.
IMPORTANT NOTE: You will also be required to disable your anti-virus tools temporarily for some exercises, so make sure you have the anti-virus administrator permissions to do so. DO NOT plan on just killing your anti-virus service or processes, because most anti-virus tools still function even when their associated services and processes have been terminated. For many enterprise-managed clients, disabling your anti-virus tool may require a different password than the Administrator account password. Please bring that administrator password for your anti-virus tool.
We also require that no enterprise group policies be applied to the system. These policies can and will interfere with our labs.
Enterprise VPN clients may interfere with the network configuration required to participate in the class. If your system has an enterprise VPN client installed, you may need to uninstall it for the exercises in class.
VMware
You will use VMware to run Windows and Linux operating systems simultaneously when performing exercises in class. You must have either the free VMware Player 6 or later or the commercial VMware Workstation 10 or later installed on your system prior to coming to class. You can download VMware Player for free here.
Alternatively, if you want a more flexible and configurable tool, you can download a free 30-day trial copy of VMware Workstation. VMware will send you a time-limited license number for VMware Workstation if you register for the trial on their website. No license number is required for VMware Player.
If you are using a Macbook or Macbook Pro with OS X 10.8 or later, you will need VMWare Fusion 5.0 or later.
VirtualBox is not supported and may interfere with our labs. It should not be installed on a system you are planning to use for this class.
We will give you a USB full of attack tools to experiment with during the class and to take home for later analysis. We will also provide a Linux image with all of our tools pre-installed that runs within VMware Player or VMware Workstation.
Linux
You do not need to bring a Linux system if you plan to use our Linux image in VMware. However, you are required to bring VMware Workstation or VMware Player. The class does not support VirtualPC or other non-VMware virtualization products.
Mandatory Laptop Hardware Requirements
x86-compatible or x64-compatible 2.0 GHz CPU minimum or higher
USB Port
8 GB RAM or higher required 16 GB strongly recommended
Ethernet adapter (a wired connection is required in class; if your laptop supports only wireless, please make sure to bring a USB Ethernet adapter with you)
USB Wireless adapter required. We recommend the following: https://hakshop.com/collections/wireless-gear/products/alfa-usb-wifi-awus036neh
70 GB available hard drive space
Any Service Pack level is acceptable for Windows 8, Windows 7, or Windows Vista
As part of this class we will have wireless labs. If the machine you are using is a virtual machine, please bring an external USB wireless card.
During the workshop, you will be connecting to one of the most hostile networks on Earth! Your laptop might be attacked. Do not have any sensitive data stored on the system. SANS is not responsible for your system if someone in the class attacks it in the workshop.
By bringing the right equipment and preparing in advance, you can maximize what you will see and learn as well as have a lot of fun.
If you have additional questions about the laptop specifications, please contact laptop_prep@sans.org.
Incident handlers
Leaders of incident handling teams
System administrators who are on the front lines defending their systems and responding to attacks
Other security personnel who are first responders when systems come under attack
A strong desire to understand hacker tools and techniques
A foundational understanding of the Windows Command Line
A foundational understanding of core networking concepts such as TCP/IP
A strong desire to understand how key defensive tactics can thwart advanced attackers
A DVD with all of the tools for class ready to go
Over 1,000 slides of instruction with detailed notes
Step-by-step instructions in self-contained labs showing you how to employ these hacker tools and techniques
MP3 audio files of the complete course lecture
Apply incident handling processes-including preparation, identification, containment, eradication, and recovery-to protect enterprise environments
Analyze the structure of common attack techniques in order to evaluate an attacker's spread through a system and network, anticipating and thwarting further attacker activity
Utilize tools and evidence to determine the kind of malware used in an attack, including rootkits, backdoors, and Trojan horses, choosing appropriate defenses and response tactics for each
Use built-in command-line tools such as Windows tasklist, wmic, and reg, as well as Linux netstat, ps, and lsof to detect an attacker's presence on a machine
Analyze router and system ARP tables along with switch CAM tables to track an attacker's activity through a network and identify a suspect
Use memory dumps and memory analysis tools to determine an attacker's activities on a machine, the malware installed, and other machines the attacker used as pivot points across the network
Gain access to a target machine using Metasploit, and then detecting the artifacts and impact of exploitation through process, file, memory, and log analysis
Analyze a system to see how attackers use the malware to move files, create backdoors, and build relays through a target environment
Run the Nmap port scanner and Nessus vulnerability scanner to find openings on target systems, and apply tools such as tcpdump and netstat to detect and analyze the impact of the scanning activity
Apply the tcpdump sniffer to analyze network traffic generated by a covert backdoor to determine an attacker's tactics
Employ the netstat and Isof tools to diagnose specific types of traffic-flooding denial-of-service techniques, and choose appropriate response actions based on each attacker's flood technique
Analyze shell history files to find compromised machines, attacker-controlled accounts, sniffers, and backdoors
Memory analysis
Metasploit attack and detect
Nmap and Nessus
SQL Injection
Cross-Site Scripting
Covert channel analysis
Detecting an insider with built-in Windows commands
Windows Command Line Kung-fu
Working with backdoors
Detecting Denial-of-Service attacks
Shell history analysis
Linux attack detection
Full day Capture the Flag event
"It is great to understand how hackers are exploiting a variety of systems. Learning how to prevent these as best as possible is imperative to protect key systems and resources. SEC504 course concepts are great." - Samantha Hanagan, Texel Tek
"SEC504 should be taken by anyone in your company that has anything to do with security. Especially valuable for sys admins as well as security personnel." - Karl Findorff, Xavier University of Louisiana
"Incident response is the most underused aspect in small companies. SEC504 gives us the ability to help management understand the value." - David Freedman, Nationwide Payment Solutions
"Higher education is often a hacker's playground/training camp. Courses like SEC504 are important to learn what to watch for (network traffic baseline)." - Michael Barton, Princeton University
"As someone who works in information security but has never had to do a full incident report, SEC504 is teaching me all the proper processes and steps." - Todd Choryan, Motorola Solutions
"SEC504 teaches not just how to do Incident Response, but why and most importantly what not to do." - Brad Milhorn, ii2P
Author Statement
One of my greatest joys in life is helping people understand the complex landscape of security so that they can implement really effective defenses. It may be difficult to fully grasp what truly impacts the security of your organization versus what is simply product marketing hype. This class is the nexus between attacks and defenses, chock full of vital information for thwarting today's nastiest attacks. Ed Skoudis and I continuously refine this class on the foundation of the multitude of penetration tests we conduct and incidents we handle regularly. We strive to keep the material relevant, interesting, and directly applicable to the job of infosec professionals. And I personally live for the moments when the light goes on within a 504 student and they finally see through the noise, and they begin to understand what is important from a threat and vulnerability perspective.
-John Strand