SEC566: Implementing and Auditing CIS Critical Controls
New
Mon, November 1 - Fri, November 5, 2021
Associated Certification: GIAC Critical Controls Certification (GCCC)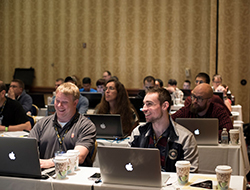 Building and Auditing Critical Security Controls
Cybersecurity attacks are increasing and evolving so rapidly that it is more difficult than ever to prevent and defend against them. In addition to defending their information systems, many organizations find themselves responsible for being compliant with a number of cybersecurity standards and requirements as a prerequisite for doing business. Dozens of cybersecurity standards exist throughout the world and most organizations are responsible for being compliant with more than one such standard. Does your organization have an effective method in place to detect, thwart, and monitor external and internal threats to prevent security breaches?
In February of 2016, then California Attorney General, Vice President Kamala Harris recommended that "the 20 controls in the Center for Internet Security's Critical Security Controls identify a minimum level of information security that all organizations that collect or maintain personal information should meet. The failure to implement all the Controls that apply to an organization's environment constitutes a lack of reasonable security."

The CIS Critical Controls are specific security controls that CISOs, CIOs, IGs, systems administrators, and information security personnel can use to manage and measure the effectiveness of their defenses. They are designed to complement existing standards, frameworks, and compliance schemes by prioritizing the most critical threat and highest payoff defenses, while providing a common baseline for action against risks that we all face.
As threats and attack surfaces change and evolve, an organization's security should as well. To enable your organization to stay on top of this ever-changing threat scenario, SANS has designed a comprehensive course on how to implement the CIS Critical Controls, a prioritized, risk-based approach to security. Designed by private and public sector experts from around the world, the CIS Critical Controls are the best way to block known attacks and mitigate damage from successful attacks. They have been adopted by international governments, the U.S. Department of Homeland Security, state governments, universities, and numerous private firms.
This course helps you master specific, proven techniques and tools needed to implement and audit the CIS Controls v8 as documented by the Center for Internet Security (CIS), as well as those defined by NIST SP 800-171 and the Cybersecurity Maturity Model Certification (CMMC). Students will learn how to merge these various standards into a cohesive strategy for defending their organization and being compliant with industry standards.
SANS' in-depth, hands-on training will teach security practitioners to understand not only how to stop a threat, but why the threat exists, and how to ensure that security measures deployed today will be effective against the next generation of threats. SEC566 shows security professionals how to implement the controls in an existing network through cost-effective automation. For auditors, CIOs, and risk officers, this course is the best way to understand how you will measure whether the Controls and other standards are effectively implemented.
THIS COURSE WILL PREPARE YOU TO:
Apply a security framework based on actual threats that is measurable, scalable, and reliable in stopping known attacks and protecting organizations' important information and systems
Understand the importance of each control, how it is compromised if ignored, and explain the defensive goals that result in quick wins and increased visibility of network and systems
Identify and utilize tools that implement controls through automation
Learn how to create a scoring tool for measuring the effectiveness of each controls the effectiveness of each control
Employ specific metrics to establish a baseline and measure the effectiveness of security controls
Understand how critical controls map to standards such as the NIST Cybersecurity Framework, NIST 800-171, CMMC, and more
Audit each of the CIS Critical Controls, with specific, proven templates, checklists, and scripts provided to facilitate the audit process
The CIS Controls v8 are listed below. You will find the full document describing them in detail posted at the Center for Internet Security.
CIS CRITICAL CONTROLS
CIS Control #1: Inventory and Control of Enterprise Assets
CIS Control #2: Inventory and Control of Software Assets
CIS Control #3: Data Protection
CIS Control #4: Secure Configuration of Enterprise Assets and Software
CIS Control #5: Account Management
CIS Control #6: Access Control Management
CIS Control #7: Continuous Vulnerability Management
CIS Control #8: Audit Log Management
CIS Control #9: Email and Web Browser Protections
CIS Control #10: Malware Defenses
CIS Control #11: Data Recovery
CIS Control #12: Network Infrastructure Management
CIS Control #13: Network Monitoring and Defense
CIS Control #14: Security Awareness and Skills Training
CIS Control #15: Service Provider Management
CIS Control #16: Application Software Security
CIS Control #17: Incident Response Management
CIS Control #18: Penetration Testing
NOTICE TO STUDENTS
The CIS released version 8 of the Controls in May 2021. This course content is updated to reflect the changes in the CIS Controls, as well as the most recent versions of the NIST SP 800-171 and the Cybersecurity Maturity Model Certification (CMMC).
LAB INFORMATION
During this course, students will have the opportunity to participate in hands-on lab exercises which illustrate the concepts discussed in class. The goal of these labs is to complement and enhance the student?s understanding of the defenses discussed in the course and to provide practical examples of how these controls can be applied in a practical, real-world scenario.
WHAT YOU WILL RECEIVE
MP3 audio files of the complete course lecture
Printed and Electronic Courseware
ADDITIONAL RESOURCES
WHAT TO TAKE NEXT
Course Syllabus
Additional Information
Important! Bring your own system configured according to these instructions!
We ask that you do four things to prepare prior to class start. This early preparation will allow you to get the most out of your training. You must bring a properly configured system to fully participate in this course. If you do not carefully read and follow the instructions below, you will likely leave the class unsatisfied because you will not be able to participate in hands-on exercises that are essential to this course. Therefore, we strongly urge you to arrive with a system meeting all the requirements specified below for the course. This section details the required system hardware and software configuration for your class. You can also watch a series of short videos on these topics at https://sansurl.com/sans-setup-videos.
SANS courses consist of instruction and hands-on sessions. The hands-on sessions are designed to allow students to practice the knowledge gained throughout the course in an instructor-led environment. Students will have the opportunity to install, configure, and use the tools and techniques that they have learned.
Requirement #1: Bring a Properly Configured Laptop to Class
Students attending this course are required to bring a laptop computer in order to complete the exercises in class. Please make sure you bring a computer that meets the Requirements 2 - 4 below, and that it is properly configured. There will not be enough time in class to help you install your computer, so it must be properly installed and configured before you come to class so you can get the most from the class. Please do not bring a regular production computer for this class! When installing software, there is always a chance of breaking something else on the system. Students should assume the worst and that all data could be lost.
Requirement #2: Laptop Hardware Requirements
In order to complete the in-class activities, please ensure the laptop that you bring to class is configured with at least the following hardware:
8 GB of hardware memory
64-bit processor
64 GB free disk space (at least)
Wireless (802.11) network adapter
USB ports (not restricted)
BIOS / Processor support for virtualization*
*Please verify that virtualization is supported on your laptop prior to coming to class. More information on how to do so can be found at https://kb.vmware.com/selfservice/microsites/search.do?language=en_US&cmd=displayKC&externalId=1003944.
Prior to coming to class, please ensure that the network interfaces are tested to prove that they can be configured and that all of the proper drivers have been installed.
Requirement #3: Laptop Operating System Requirements
In order to complete the in class activities, please ensure that the laptop that you bring to class is configured with at least the following operating system or configurations:
Latest version of Windows 10, macOS 10.15.x or later, or Linux that also can install and run VMware virtualization products described below.
Students must be local administrator of this host operating system
Students must know all BIOS or other passwords used on the system
No Group Policy Objects (GPOs) or other similar operating system restrictions should be in place; ideally this laptop should not be a member of any domain prior to class.
Students may bring Apple Mac OSX machines, but all lab activities assume that the host operating system is Microsoft Windows based. Students will need to be confident reconfiguring and administering their own system if they bring a laptop running any operating system other than Microsoft Windows noted above.
Requirement #4: Laptop Software Requirements
In order to complete the in-class activities, please ensure that the laptop that you bring to class is configured with at least the following software or configurations:
Microsoft Office 2010 (or later) installed and licensed on the laptop
Download and install either VMware Workstation Pro 15.5.x, VMware Player 15.5.x or Fusion 11.5.x or higher versions before class. If you do not own a licensed copy of VMware Workstation or Fusion, you can download a free 30-day trial copy from VMware. VMware will send you a time-limited serial number if you register for the trial on its website.
Other virtualization software, such as VirtualBox and Hyper-V, are not appropriate because of compatibility and troubleshooting problems you might encounter during class.
VMware Workstation Pro and VMware Player on Windows 10 is not compatible with Windows 10 Credential Guard and Device Guard technologies. Please disable these capabilities for the duration of the class, if they're enabled on your system, by following instructions in this section.
Our hope is that by following these simple instructions above, you will be able to make the most of your classroom experience.
Your course media will now be delivered via download. The media files for class can be large, some in the 40 - 50 GB range. You need to allow plenty of time for the download to complete. Internet connections and speed vary greatly and are dependent on many different factors. Therefore, it is not possible to give an estimate of the length of time it will take to download your materials. Please start your course media downloads as soon as you get the link. You will need your course media immediately on the first day of class. Waiting until the night before the class starts to begin your download has a high probability of failure.
SANS has begun providing printed materials in PDF form. Additionally, certain classes are using an electronic workbook in addition to the PDFs. In this new environment, we have found that a second monitor and/or a tablet device can be useful by keeping the class materials visible while the instructor is presenting or while you are working on lab exercises.
If you have additional questions about the laptop specifications, please contact laptop_prep@sans.org.
If you have additional questions about the laptop specifications, please contact laptop_prep@sans.org.
Information Assurance Auditors
System Implementers or Administrators
Network Security Engineers
IT Administrators
Department of Defense (DoD) personnel or contractors
Federal agencies or clients
Private sector organizations looking to improve information assurance processes and secure their systems
Security vendors and consulting groups looking to stay current with frameworks for information assurance
Alumni of the following SANS courses:
"A comprehensive walk through of the Critical Security Controls, not just focusing on the 'what', but more importantly the 'why'. Its been an invaluable learning experience for me." - Justin Cornell, LOM (UK) Limited
Author Statement
"Even though cybersecurity professionals like us have been working in this industry for more than 20 years, there are days when we wonder if our profession as a whole is getting better or worse at providing clear guidance to organizations that want to defend their information systems. An online search for cybersecurity standards will yield dozens of possible documents that all tell you that their approach is the one best suited to defend against the myriad of threats today. But when these documents give conflicting or vague advice, how is an organization to know what it should do to defend itself?
?In SANS SEC566: Implementing and Auditing the CIS Critical Controls, we aim to solve that problem. In writing this course, we analyzed all of the most popular cybersecurity standards in order to better understand the common cybersecurity controls that should be considered cybersecurity hygiene principles. While we considered dozens of control libraries, we will focus on those with the potential to provide the most meaningful impact to organizations today. Using the Center for Internet Security's Critical Controls, NIST SP 800-171, and the Cybersecurity Maturity Model Certification, this course will provide students with an understanding of a prioritized set of cybersecurity defenses that can help organizations defend their information systems. We hope to cut through the confusion to provide students with a clear and concise view of what they can do to be successful in this endeavor."
- James Tarala and Kelli K. Tarala
"Loved this course. It provides a method of measuring your security posture and applying the concept to any organization." - John M., US Military