ICS515: ICS Active Defense and Incident Response
ICS515 raised my awareness of incidents affected ICS today and broadened my knowledge of techniques and tools to manage them effectively.
Steven Romero, WGMI (Wood Group Engineering)

This course is the missing piece to get companies to take threats seriously, pursue the truth, and share their findings.
Rob Cantu, DOE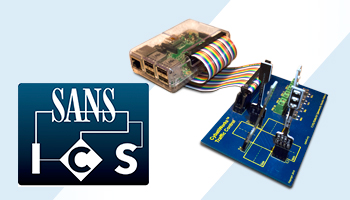 Course Author - Robert M. Lee - This course is designed to empower students with the ability to understand and utilize active defense mechanisms in concert with incident response for industrial control system networks to respond to and deny cyber threats. This class uses a hands-on approach to give students a technical understanding of concepts such as generating and using threat intelligence, communicating control system needs to information technology personnel to deploy appropriate defenses, detecting malicious actors or threats on control system networks, and performing threat triage and incident response to ensure the safety and reliability of operations technology.
You Will Learn:
Day 1: Students will gain an understanding of threat intelligence and learn how to generate their own as well as utilize what is available in the community. Additionally, they will be able to write a technical report that can be used internally with IT defense teams to ensure control system defense needs are met.
Day 2: Students will be introduced to the idea of active defense as well as cyber counter intelligence to limit their control system threat landscape and deploy effective detection and defense measures against known and unknown threats.
Day 3: Students will learn how to safely and properly respond to an incident internally. They will be able to identify device malfunctions vs. cyber threats as well as prepare and utilize sources of forensic data that can benefit incident response. The outcome will be to determine if a shutdown is necessary in the facility or if they have time and the ability to triage and learn more.
Day 4: Students will learn how to operate through an attack and gain the information necessary to instruct teams and management on when operations must shutdown or if it is safe to respond to the threat and continue operations. The outcome will be identifying ways forward as well as additional information which can feed back to incident response teams and threat intelligence teams.
Day 5: Students will go through a single scenario that combines the concepts and skills from the categories of threat intelligence, active defense, incident response, and threat triage. It will stress the circular nature of the process and how teams can work together to ensure safety and reliability on control networks.
Course Contents
Instructors
Schedule

ICS515.1: ICS Threat Intelligence
Robert M. Lee
Mon Jun 1st, 2015
9:00 AM - 5:00 PM


Topics

Case Study: HAVEX
Introduction to Active Defense and Response
Lab: CYBATI Kit Setup
Intelligence Life Cycle and Threat Intelligence
ICS Information Attack Surface
Lab: Pattern and Information Mapping
External Threat Intelligence
Internal Threat Intelligence
Lab: ICS Honeypot
Sharing and Consuming Threat Intelligence
Lab: Consuming Threat Intelligence

ICS515.2: Asset Identification and Network Security Monitoring
Robert M. Lee
Tue Jun 2nd, 2015
8:00 AM - 4:00 PM


Topics

ICS Asset and Network Visibility
Lab: Asset Discovery and Network Visualization
Identifying and Reducing the Threat landscape
ICS Network Security Monitoring - Collection
Lab: Collecting the Right Data
ICS Network Security Monitoring - Detection
Lab: Detecting the Bad Data
ICS Network Security Monitoring - Analysis
Lab: Analyzing and Responding

ICS515.3: Incident Response
Robert M. Lee
Wed Jun 3rd, 2015
9:00 AM - 5:00 PM


Topics

Incident Response and Digital Forensics Overview
Incident Response Fundamentals
Building an ICS Incident Response Team
Preparing Ahead of Time
Sources of Forensic Data in ICS Networks
Remote and Local Systems
Lab: Acquisition and Verification
Time Critical Incident Response
Lab: Indicators in Action
Maintaining and Restoring Operations
Lab: Capturing the Malware

ICS515.4: Threat and Environment Manipulation
Robert M. Lee
Thu Jun 4th, 2015
9:00 AM - 5:00 PM


Topics

ICS Threat and Environment Manipulation Goals and Considerations
Establishing a Safe Working Environment
Malware Analysis Methodologies
ICS Malware Analysis Essentials
Lab: Dynamic Malware Analysis
Malware manipulation
Lab: Neutralizing Malware Callbacks
Indicators of Compromise
Lab: IoC Development
Uncovering Ongoing Campaigns
Lab: Targeted Attack Identification
Environment Manipulation and Lessons Learned

ICS515.5: Active Defense and Incident Response Challenge
Robert M. Lee
Fri Jun 5th, 2015
9:00 AM - 5:00 PM


Topics

Phase One:

Divide class into teams and establish roles and responsibilities
Introduction brief to the scenario
Identification of current situation, defenses, and intelligence sources
Introduction of Threat Intel that must be made into IoCs

Phase Two:

Give the students data from CYBATIWorks Lab Network
Instruct the students to analyze the large dataset to identify the infrastructure and begin searching for threats
Students should leverage IoCs while creating new ones against observed threats
The students will develop IDS signatures and/or Firewall rules, as well

Phase Three:

An active threat has infiltrated their ICS facility
The threat triggered on one of the IDS rules but different TTPs are being used internally
Students will pull information from critical nodes
Students will identify a second and apparently unrelated threat

Phase Four:

Students need to focus on the most significant threat and triage the network
Logs will be given to determine what might be active threat vs. automated
Students will be given a sample of the malware to perform analysis on
Students should develop new IDS/Firewall rules
Students will prepare a recommendation to management on shutting down or continuing operations and why
This process will indicate a circular nature to the entire process

Additional Information

Testimonials

"Awesome!! This course being my 6th SANS course, Robert Lee demonstrated and reiterated the fact that SANS has world's best instructors!!" - Srinath Kannan, Accenture

"This course covered quite a bit of topics that showed an attack from start to finish. I liked it because most other classes only show specific steps, not the whole picture." - Anonymous

Laptop Required

NOTE: It is critical that students have administrator access to the operating system and all security software installed. Changes may need to be made to personal firewalls and other host-based software in order for the labs to work.

64-bit system
Laptop with Windows 7 or Windows 8.1 installed
Laptop with at least two USB ports.
Latest VMware Player 7 or higher installed.
Ability to disable all security software on their laptop such as Antivirus and/or firewalls
At least one hundred (100) GB of free hard drive space
At least six (6) GB of RAM (8 GB recommended)

If you have additional questions about the laptop specifications, please contact laptop_prep@sans.org.

Who Should Attend

IT and OT Support
IT and OT Cybersecurity
ICS Engineers

Prerequisites

Students from various technical backgrounds will do well in this course. Command line experience will be helpful, as well as SEC401, ICS410, or equivalent essential cybersecurity experience.

Other Courses People Have Taken

Other Courses People Have Taken

Courses that Lead-in:

Courses that are Pre-reqs:

Courses that are good follow-ups:

What You Will Receive

This course provides the student with a full functioning Cybati Works Mini-Kit
The ICS515 kit includes a Raspberry PI with PiFace Digital, Snap-Circuit components, Wireless and Magnetic I/O, USB cables (with Volt/Amp meter), memory, and the Virtual Machine with OPC, HMI, PLC, RTU, I/O, industrial protocols, commercial control system demonstration software from Rex Controls and PeakHMI
This course also makes use of numerous Virtual Machine environments throughout the hands on labs.

You Will Be Able To

Participants will gain hands-on experience with the following tools:

CYBATIWorks Kit and Virtual Machine with PeakHMI
Snort and Bro for tailoring and tuning Intrusion Detection System rules
Wireshark and TCPDump for network traffic capturing and packet analysis
FTK Imager and MD5Deep for forensic data acquisition and validation
OpenIOC and YARA for developing Indicators of Compromise
Xplico and NetworkMiner for network flow and data analysis

Hands-on Training

Lab: CYBATI Kit Setup
Lab: Pattern and Information Mapping
Lab: ICS Honeypot
Lab: Consuming Threat Intelligence
Lab: Asset Discovery and Network Visualization
Lab: Collecting the Right Data
Lab: Detecting the Bad Data
Lab: Analyzing and Responding
Lab: Acquisition and Verification
Lab: Indicators in Action
Lab: Capturing the Malware
Lab: Dynamic Malware Analysis
Lab: Neutralizing Malware Callbacks
Lab: IoC Development
Lab: Targeted Attack Identification
Day 5 is an entire day working through hands on activities