SANS believes that the cloud is a transformative technology that will define the technology landscape for many years to come. Given the unmitigated growth of Cloud, we have launched the Cloud Security Curriculum to give you the training and skills you need to become a cloud security expert.
Focus on where the cloud is going, not where it is today. Your organization is going to need someone with hands-on technical experience and cloud security-specific knowledge. You will be prepared not only for your current role, but also for a cutting-edge future in cloud security. Download the SANS Cloud Security Curriculum Brochure here.
Description of a SANS Cloud Ace
Security Focused | Technically Capable | Forward Thinking | Aware of Bigger Picture | Knowledgeable | Confident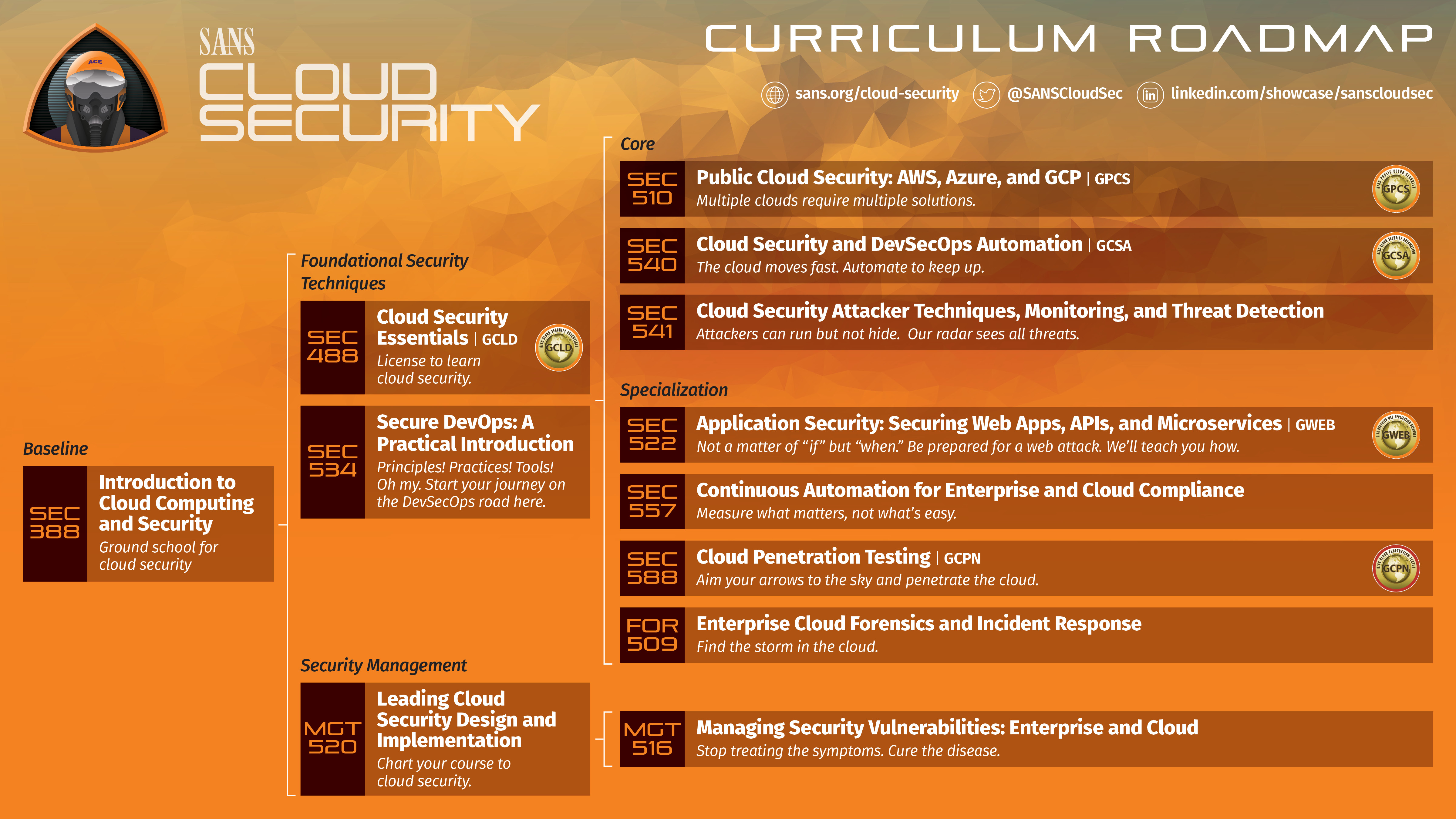 CURRENT SANS CLOUD SECURITY CURRICULUM
In Development Cloud Security Courses Coming in 2022
New Cloud Security Courses in 2021
New Cloud Security Courses in 2020
Review the entire list of SANS In-development courses here. You may choose to sign up to stay informed on your specific interests.

Cloud Job Roles Simplified
In the Cloud, all things are dependent on applications, code, and automation. As such, our curriculum takes a holistic approach to Cloud Security. Courses range in complexity for those new to Cloud as well as those who have been around for the block a few times. If you are a developer, an architect, an engineer, an analyst, or a manger, the SANS Cloud Security Curriculum has training for you. If you are ready for deep, hands-on, highly technical, skill-specific training, we're there for you. If you're new to cybersecurity as a whole and want to start a journey in Cloud Security, we have you covered. Working with AWS? Azure? GCP? Multicloud? No problem, we've got the training you need.
With the development of the larger curriculum, SANS has conscientiously looked at job roles, training needs within those roles, and how we help students progress along their professional cloud security journey. 

DevOps Professional – responsible for building applications and systems

Cloud Security Analyst – responsible for enabling defenses and analyzing issues
Cloud Security Engineer- responsible for building security capabilities
Cloud Security Architecture – responsible for designing
Cloud Security Manager – responsible for leading
The flight plan below shows a natural progression for a professional to follow within a specific job role from baseline to advanced, specialized topics.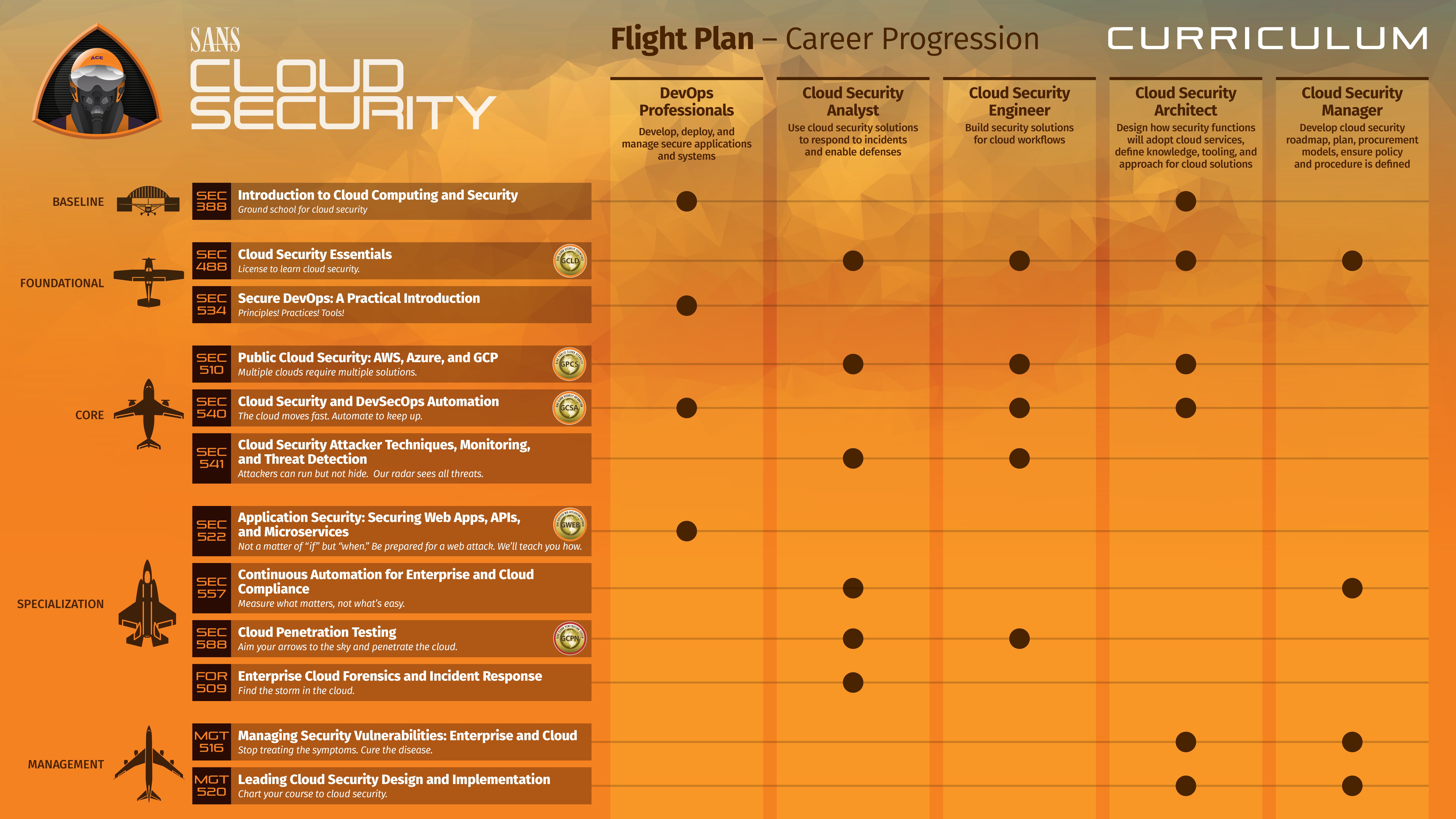 SANS CLOUD SECURITY CURRICULUM FLIGHT PLAN BY JOB TITLE
To help students find the best starting point, we have defined each level.
Baseline – Courses that impart the baseline skills required of any information security professional involved in Cloud Security, whether active practitioner or manager
Foundational – Courses that provide the basic knowledge to introduce students to a required skill set for the Cloud Security industry as a whole.
Core – Courses that prepare professionals for more focused job functions in Cloud Security, including manager, architect, engineer, analyst, and developer.
Specialization – Courses for critical, advanced skills, or specialized roles in Cloud Security
Management - Courses for leaders, managers, directors developing a cloud security roadmap, plan, procurement models, and ensuring policy and procedure are defined to support cloud
Why Take Cloud Security Training & Certification with SANS | GIAC?
Security-focused – technical training to properly secure services and workloads in the cloud
Holistic, Curated Curriculum – based on various job roles and focus areas
Multicloud Approach – training & comparisons on the Big 3 public cloud providers
Hands-On Labs – extensively focused on "the how" to properly deploy & secure a cloud environment using virtual machines, lab environments, and repeatable exercises
World-Class Instructors – versatile, real-world security practitioners authoring & instructing
Comprehensive Courseware – access to slides, notes, audio files, and labs for future reference
Certification Prep – specialized training that will help you prepare for a GIAC certification attempt
Providing Intensive, Immersion Training That is Immediately Applicable
We are here to help you get your hands dirty in cloud security training with re-deployable labs and a wealth of free training resources. Our curriculum has been developed through an industry consensus process and is a holistic approach to address public cloud. This includes multicloud, and hybrid-cloud scenarios for the enterprise and developing organizations alike. Don't merely learn the ins-and-outs of one platform, as the future demands in-depth technical abilities coupled with security knowledge for each big cloud service provider.
GIAC Certifications
In addition to courses, we offer five GIAC certifications with plans for more in 2022.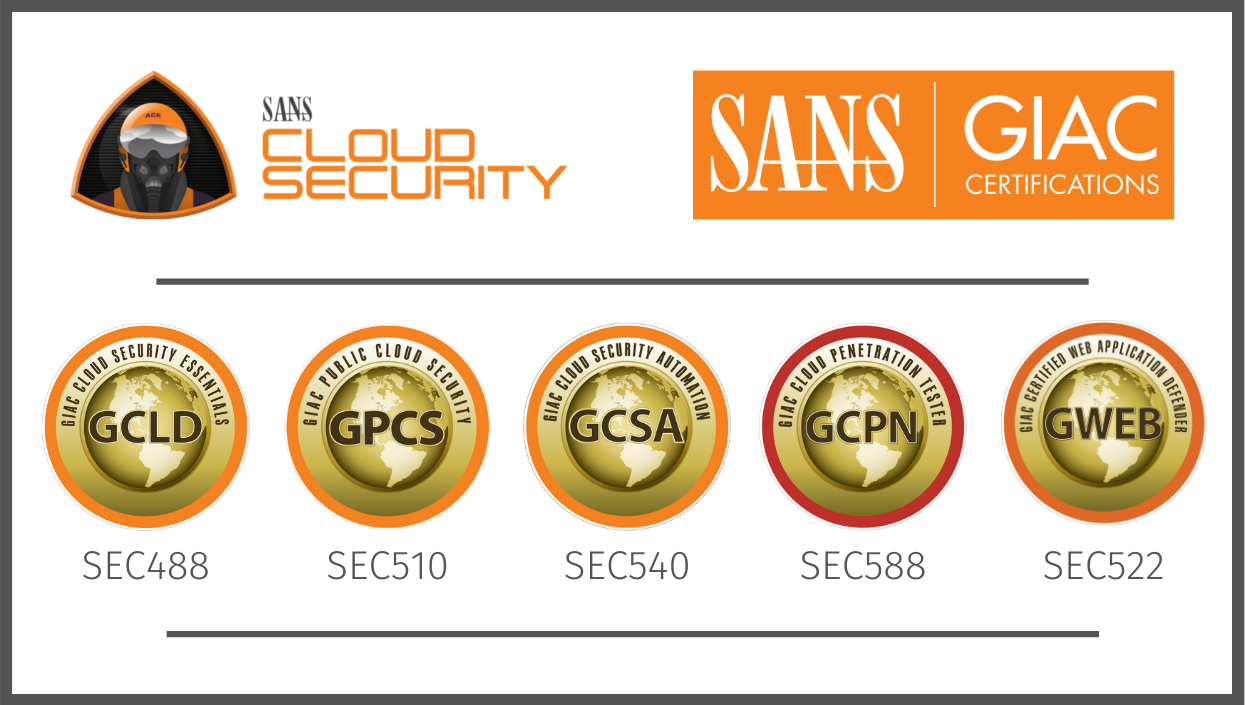 GCLD: GIAC Cloud Security Essentials
GPCS: GIAC Public Cloud Security
GCSA: GIAC Cloud Security Automation

GCPN: GIAC Cloud Penetration Tester
GWEB: GIAC Certified Web Application Defender
Cloud Security CyberTalent Assessment
Whether you are looking to hire new employees for cybersecurity positions or creating opportunities for your existing talent, SANS CyberTalent can help ensure you find the right skills match for the job. According to the U.S. Department of Labor, the cost of a bad hire is at least 30 percent of the employee's first-year earnings - for a security analyst, that's $27,000+. You can't afford to get hiring wrong at a time when talent is increasingly difficult to find. SANS CyberTalent Assessments measure the aptitude and skills of cybersecurity professionals, allowing employers to create professional development and retention programs for existing employees or test and rank the skill sets of candidates to fill open positions.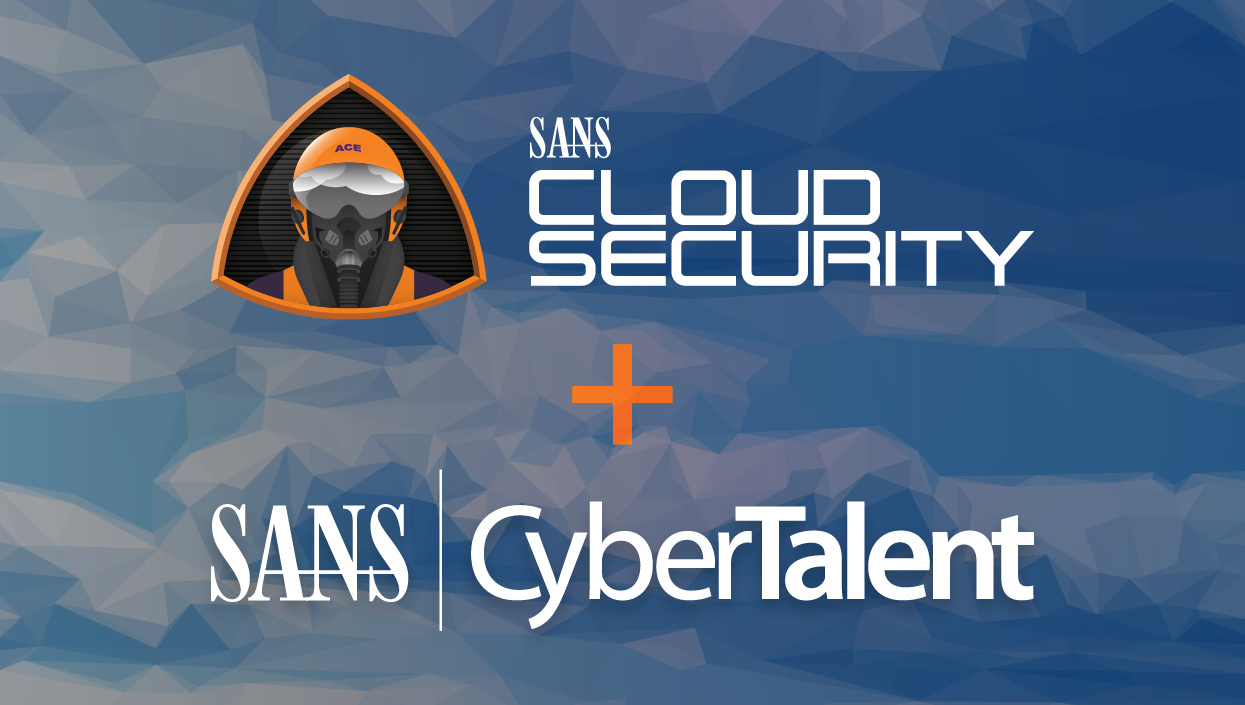 Graduate Certificate Program in Cloud Security

Large and critical segments of enterprise networks are outsourced to cloud service providers (CSPs) such as Amazon Web Services (AWS), Azure, and Google Cloud Platform (GCP). This creates new types of vulnerabilities and incredible opportunities for cybersecurity professionals with specialized skills. Designed for working information security professionals, the highly technical 12-credit-hour graduate certificate in Cloud Security prepares you to navigate your organization through the security challenges and opportunities presented by cloud service, and identify the risks of the various services offered by CSPs. You'll learn from some of the world's top cybersecurity experts, gain hands-on technical experience you can apply immediately on the job, and emerge with 4 industry-recognized GIAC certifications. This program is pending approval by the Maryland Higher Education Commission. A 100% online option is available.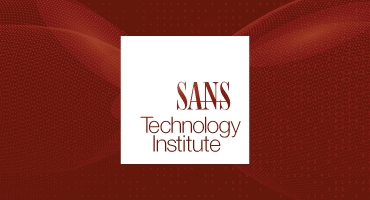 Challenge Coins
Hundreds of SANS Institute students have stepped up to the challenge and conquered. They've mastered the concepts and skills, beat out their classmates, and proven their prowess. These are the elite, the recipients of a SANS Challenge Coin, an award given to a select portion of the thousands of students that have taken any of theSANS courses.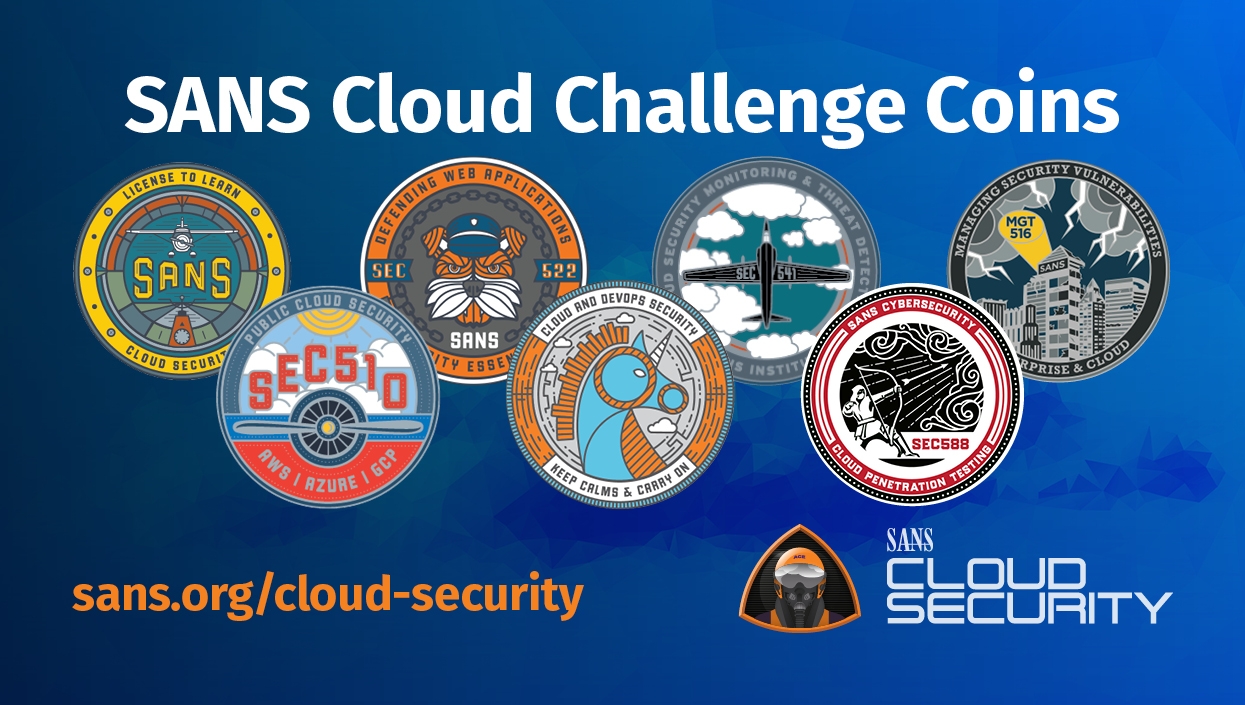 The following Cloud Security courses have Challenge Coins, with more to come in 2021!
SEC488: Cloud Security Essentials
SEC510: Public Cloud Security: AWS, Azure, & GCP
SEC522: Application Security: Securing Web Apps, APIs, and Microservices
SEC540: Cloud Security and DevSecOps Automation
SEC541: Cloud Security Attacker Techniques, Monitoring, and Threat Detection
SEC588: Cloud Penetration Testing
MGT516: Managing Security Vulnerabilities: Enterprise and Cloud

Free Resources
SANS Cloud Security Curriculum Brochure
Join Us On Social
linkedin.com/showcase/sanscloudsec
YouTube.com/c/SANSCloudSecurity
Purchase SANS Cloud Security Ace Gear!
Press Releases
SANS Cloud Security Curriculum Gaining Altitude, April 2021
GIAC GCLD: New Cloud Security Essentials Certification, April 2021
GIAC GCPN: New Cloud Penetration Tester Certification, Feb 2021
SANS Cloud Security Curriculum Takes Flight, Dec 2020
GIAC GCSA: New Cloud Security Automation Certification, April 2020