OnDemand Special Offers
Get an GIAC Certification Attempt Included or Take $350 Off with Any OnDemand 5 or 6 Day Course! 
Register now for this limited time offer - Ends July 7! See Terms & Conditions below.

SANS Institute's professional online training format, OnDemand, allows you to complete world-class courses anywhere delivered by top industry experts. Get a free GIAC Certification Attempt or Take $350 Off with your course purchase for a limited time! SANS most popular courses are eligible for this limited time offer, simply use your preferred discount code when you checkout to participate. Offer Ends July 7, 2021. 
Learn more about GIAC Certifications at giac.org.
Get started by following three easy registration steps:

1. Choose a qualifying OnDemand long course (5 or 6 day)
2. Use your preferred offer code at checkout (be sure to check the GIAC Certification in the Add-Ons of your registration page at checkout)
GIAC_2125 to receive a GIAC Certification Attempt (be sure to check the GIAC certification in the Add-Ons of your registration page at checkout)
350_2125 to receive a $350 discount

3. Pay for your course by July 7, 2021

OnDemand Training Special Offer Terms & Conditions
The GIAC Certification Attempt and $350 (USD) discount are available for our students in North and South America. This offer is valid from June 17 - July 7, 2021, and payment must be received by this expiration date to participate in the offer. This offer cannot be combined with any other offer or discount, including SANS Voucher Program or an OnDemand Bundle. This offer does not apply when courses are incorporated into certain larger SANS-related special programs, including the graduate program of the SANS Technology Institute. SANS course offerings are subject to change at any time, please refer back to [SANS.org](https://www.sans.org) for up-to-date course information. SANS shall not be held liable for students who elect marketing promotions or discounts that are not consistent with their employer's Standards of Conduct and/or procurement standards. SANS reserves the right to substitute this offer for an alternative product, service or cash award of approximately equivalent retail value.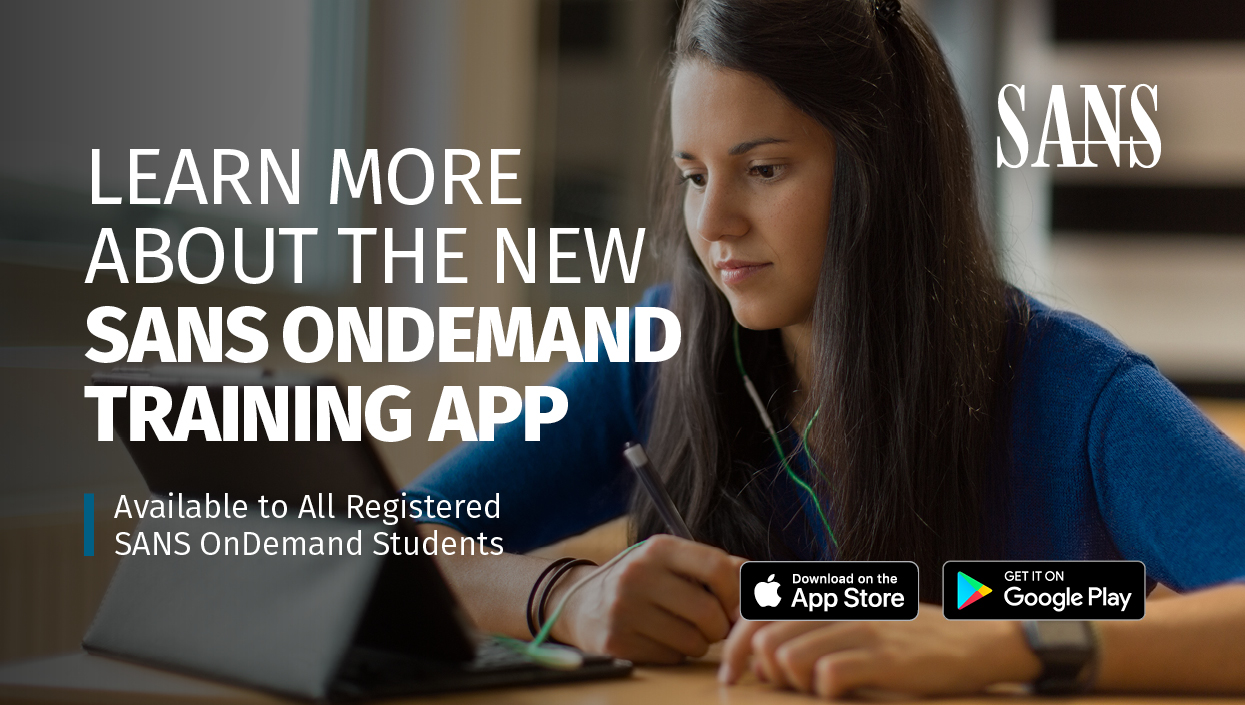 Introducing the NEW SANS OnDemand App!
Take your OnDemand Training on the go and download course content to review offline. Test your understanding with quizzes. Unparalleled training flexibility with the SANS OnDemand App. Register today! SANS OnDemand App works with OnDemand courses and the OnDemand Bundle content added to Live Online courses. Learn More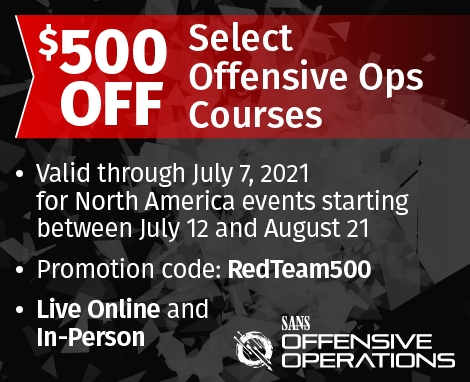 Live Training Special Offer
SANS Offensive Operations leverages the vast experience of our esteemed faculty to produce the most thorough, cutting-edge offensive cyber security training content in the world. Our goal is to continually broaden the scope of our offensive-related course offerings to cover every possible attack vector.
Save $500 off 6-day Offensive Operations courses during select Live Training events when you register and pay by July 7, 2021! Use code "RedTeam500" during registration. This special offer applies to the following courses during Live Online or In-Person events in North America that start between July 12th and August 21st.
If you have questions regarding this offer, please write to support@sans.org. You can also call (301) 654-7267 [Mon-Fri, 9:00 a.m. - 8:00 p.m. United States Eastern Time].
Live Training Special Offers Terms & Conditions
This special offer only applies to the courses listed above, and only during SANS Live Training events starting between July 12th and August 21st. This offer cannot be combined with any other offer or discount, including the SANS Voucher Program, beta discounts, or Early-Bird discounts.