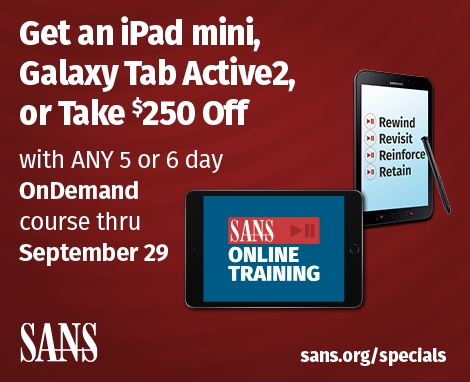 OnDemand Special Offers
Final Week to Get an iPad mini, Galaxy Tab Active2, or Take $250 Off with Any OnDemand 5 or 6 Day Course! 
Register now for this limited time offer - Ends September 29! See Terms & Conditions below.

SANS Institute's professional online training format, OnDemand, allows you to complete world-class courses anytime, anywhere delivered by top industry experts. Simply use your preferred discount code when you checkout to participate. Offer Ends September 29, 2021. 
Get started by following three easy registration steps:

1. Choose a qualifying OnDemand 5 or 6 day course 
2. Choose your preferred discount code at checkout: 
AP2138_Gray to receive an iPad mini in Space Gray 
AP2138_Pink to receive an iPad mini in Pink
AP2138_Purple to receive an iPad mini in Purple
AP2138_Starlight to receive an iPad mini in Starlight 
PC2138 to receive a Galaxy Tab Active2 
250_2138 to receive a $250 discount 
3. Pay for your course by September 29, 2021.

Terms & Conditions
Promo offer valid for OnDemand Long courses (5 & 6 day) only. The iPad mini and Galaxy Tab Active2 are available for students in North America. The $250 (USD) discount is available to students in North and South America. This offer is valid September 16 – September 29, 2021, and payment must be received by this expiration date to participate in the offer. Promotional items will not be ordered until full payment is received for OnDemand courses. Promotional items are shipped directly from the manufacturer/supplier. Allow 4 to 6 weeks for iPad mini or Galaxy Tab Active2 delivery. Allow additional time to ship to APO/FPO addresses. Canadian customers are responsible for paying any applicable duties, taxes or customs fees.
This offer cannot be combined with any other offer or discount, including SANS Voucher Program. This offer does not apply when courses are incorporated into certain larger SANS-related special programs, including the graduate program of the SANS Technology Institute. SANS course offerings are subject to change at any time, please refer back to SANS.org for up-to-date course information. SANS shall not be held liable for students who elect marketing promotions or discounts that are not consistent with their employer's Standards of Conduct and/or procurement standards. SANS reserves the right to substitute this offer for an alternative product, service or cash award of approximately equivalent retail value. iPad mini is a trademark of Apple Inc., registered in the U.S. and other countries. Galaxy Tab Active2 is a trademark of Samsung, LLC, registered in the U.S. and other countries.
Apple iPad mini (64 GB, Wi-Fi Only)
8.3" LED-backlit Multi-Touch display with IPS technology
2266-by-1488 resolution at 326 pixels per inch (ppi)
A15 Bionic chip with 64-bit architecture
12MP Wide camera
FaceTime video
Center Stage
Touch ID
iPadOS 15
Samsung Galaxy Tab Active2 (Wi-Fi Only)
Android 7.1 (Nougat)
16 GB
8" TFT (1280 x 800)
microSD slot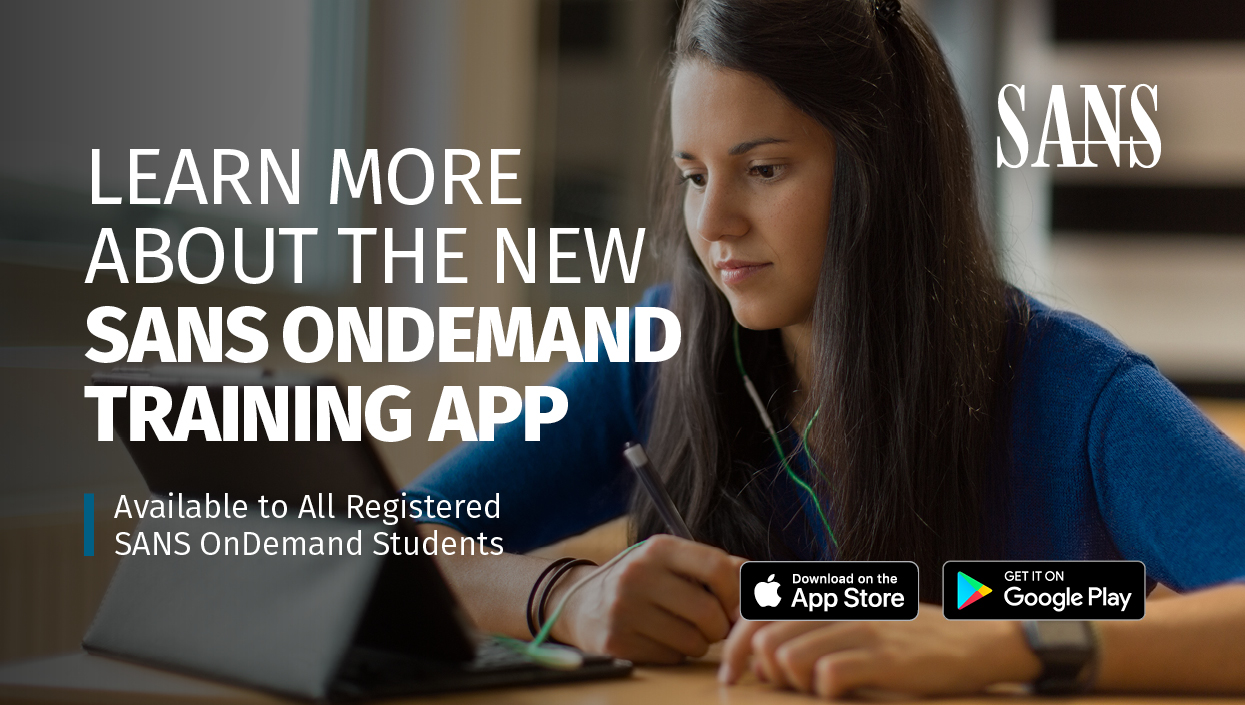 Introducing the NEW SANS OnDemand App!
Take your OnDemand Training on the go and download course content to review offline. Test your understanding with quizzes. Unparalleled training flexibility with the SANS OnDemand App. Register today! SANS OnDemand App works with OnDemand courses and the OnDemand Bundle content added to Live Online courses. Learn More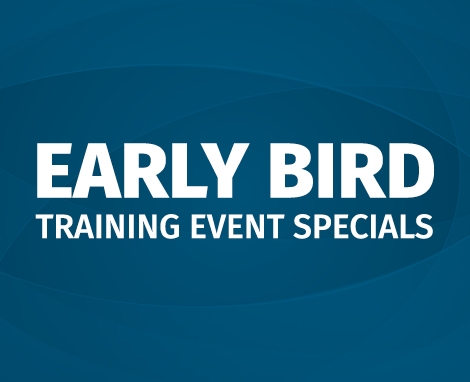 Live Training Special Offers
Discounts and Free Features Available for SANS Live Training - Register Today!
Learn real-world cybersecurity skills directly from top industry experts during SANS Live Training events featuring practical courses with hands-on labs, cyber range challenges, and networking opportunities. Events are available Live Online or In-Person in select locations.
Register Early to Save $300 Off 4-6 Day Courses:
This time-sensitive special offer is available for qualifying 4-6 day Live Training courses with the following discounts:
Early-Bird One: Largest Discount for Paid Registrations
Early-Bird Two: Reduced Discount for Paid Registrations
Less than 14 Days prior to Course Start Date: No Discount Available
For 4-6 day courses, use code EarlyBird21 to receive the discount available at the time of purchase.
Register Early to Save $300 Off Select 1-3 Day Courses:
Select 1-3 day courses are eligible for $300 off through our SANS Stay Sharp series. Learn more about SANS Stay Sharp, and use code StaySharp300 to receive the discount for applicable purchases.
See Live Training event pages for specific discount amounts and deadlines. The discount amount will be automatically calculated based on the date the order is PAID.
Free Features During Select Events:
Free Summits are available during select events. Please visit our Summits page to learn more.
NetWars Tournaments are free with course purchase during select events. Learn more about NetWars and view the Tournament schedule.
Note: Terms & Conditions apply, see below for details.
If you have questions regarding this offer, please write to support@sans.org. You can also call (301) 654-7267 [Mon-Fri, 9:00 a.m. - 8:00 p.m. United States Eastern Time].
Live Training Special Offers Terms & Conditions
Discounts cannot be combined with any other offer or discount, including the SANS Voucher Program. Beta courses are already discounted and are not eligible for additional discounts.