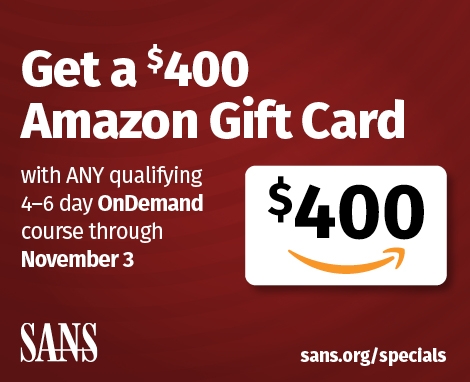 OnDemand Special Offers
Get a $400 Amazon Gift Card with ANY 4 - 6 day OnDemand course!
Limited Time Special Offer Ends November 3, 2021. See Terms & Conditions below.

Get started by following three easy registration steps:

Choose a qualifying OnDemand 4, 5, or 6 day course
Use offer code AGC_2142 at checkout 
Pay for your course by November 3, 2021

Terms & Conditions
The $400 (USD) Amazon Gift Card is available for students in North America who register for 4 – 6 day OnDemand courses. This offer is valid from October 14, 2021 to November 3, 2021 and payment must be received by this expiration date to receive the gift card in the offer. The gift card voucher will be sent to the email in the student registration. The gift cards are non-returnable. This offer cannot be combined with any other offer or discount, including SANS Voucher Program or an OnDemand Bundle. This offer does not apply when courses are incorporated into certain larger SANS-related special programs, including the graduate program of the SANS Technology Institute. SANS course offerings are subject to change at any time, please refer back to SANS.org for up-to-date course information. SANS shall not be held liable for students who elect marketing promotions or discounts that are not consistent with their employer's Standards of Conduct and/or procurement standards. SANS reserves the right to substitute this offer for an alternative product, service or cash award of approximately equivalent retail value.
The full promotion details and eligible course lists can also be found on our website here: https://www.sans.org/specials/north-america/.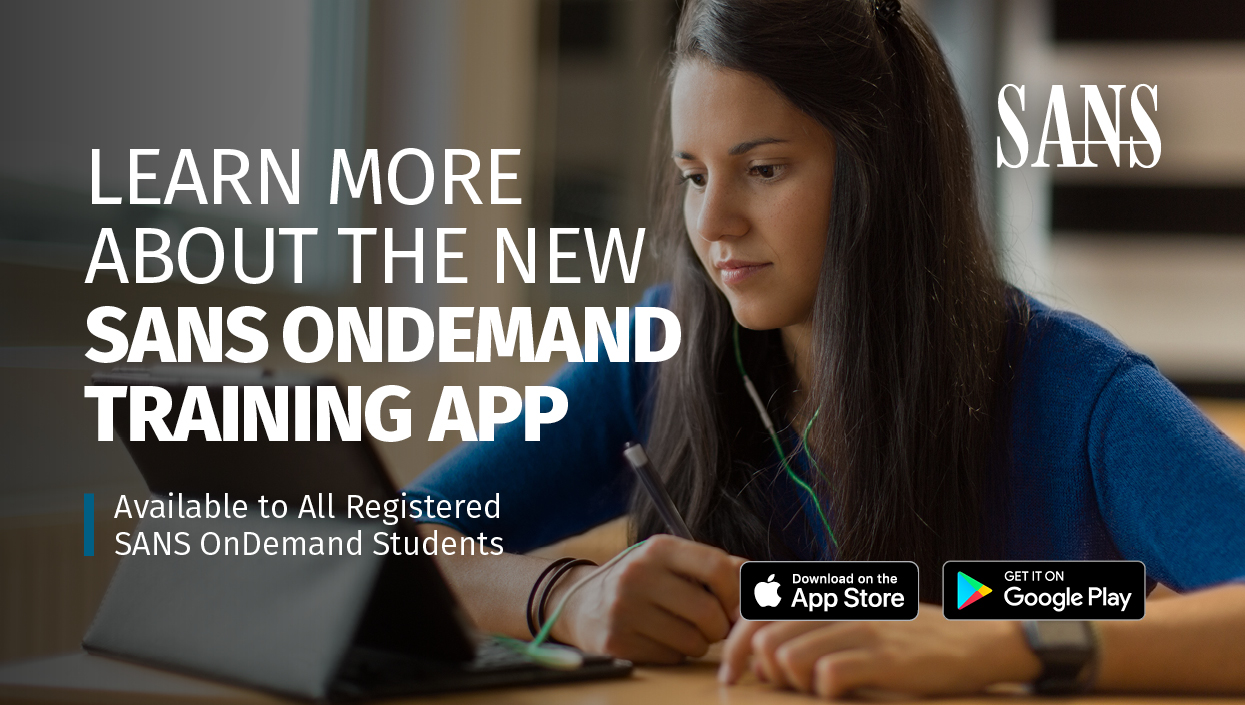 Introducing the NEW SANS OnDemand App!
Take your OnDemand Training on the go and download course content to review offline. Test your understanding with quizzes. Unparalleled training flexibility with the SANS OnDemand App. Register today! SANS OnDemand App works with OnDemand courses and the OnDemand Bundle content added to Live Online courses. Learn More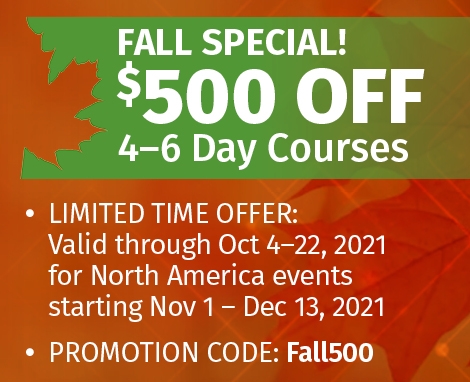 Live Training Special Offer
Success in information security requires committing to a career of learning, from fundamentals to advanced techniques. To put you on this learning path, get top-tier training from industry leaders addressing today's greatest cyber threats. Develop your skills now and advance your career!
Special Offer: Join us In-Person or Live Online for your next SANS 4-6 day course this November or December 2021, and save $500 with your course purchase.
Use code "Fall500" during registration.
Please note - This offer is valid through October 22nd, 2021, and available exclusively for any 4-6 day SANS courses during 2021 Live Training events in North America that run from November 1 - December 13.
Eligible events: 
View our full upcoming Live Training schedule. 

Live Training Special Offers Terms & Conditions
Discounts cannot be combined with any other offer or discount, including the SANS Voucher Program. Beta courses are already discounted and are not eligible for additional discounts.