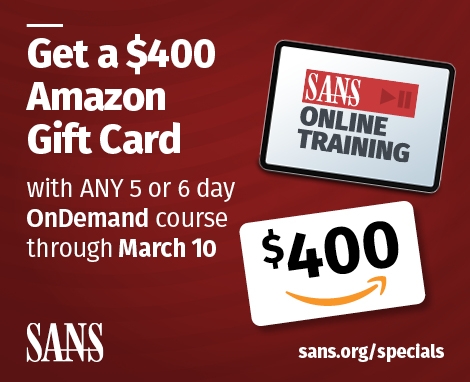 OnDemand Special Offers
Final Week!! Get a $400 Amazon Gift Card with ANY 5 or 6 day OnDemand course!
Limited Time Special Offer Ends March 10, 2021. See Terms & Conditions below.

Get started by following three easy registration steps:

Choose a qualifying OnDemand 5 or 6 day course
Use offer code AGC_2109 at checkout 
Pay for your course by March 10, 2021

Terms & Conditions

The $400 (USD) Amazon Gift Card is available for students in North America who register for 5 or 6 day OnDemand courses. This offer is valid from February 25, 2021 to March 10, 2021 and payment must be received by this expiration date to receive the gift card in the offer. The gift card voucher will be sent to the email in the student registration. This offer cannot be combined with any other offer or discount, including SANS Voucher Program or an OnDemand Bundle. This offer does not apply when courses are incorporated into certain larger SANS-related special programs, including the graduate program of the SANS Technology Institute. SANS course offerings are subject to change at any time, please refer back to SANS.org for up-to-date course information. SANS shall not be held liable for students who elect marketing promotions or discounts that are not consistent with their employer's Standards of Conduct and/or procurement standards. SANS reserves the right to substitute this offer for an alternative product, service or cash award of approximately equivalent retail value.
Live Online Special Offers
Discounts and Free Features Available for SANS Live Online Training - Register Today!
Join us during upcoming SANS Live Online training events for interactive courses taught by real-world practitioners, real-time support from GIAC-certified TAs, hands-on labs, dedicated chat channels for peer networking, an archive of course lectures uploaded to your account daily during the event, and four months of access to your course lectures after the event.
Register Early to Save $300 Off 4-6 Day Courses:
This time-sensitive special offer is available for qualifying 4-6 day Live Online courses with the following discounts:
Early-Bird One: Largest Discount for Paid Registrations
Early-Bird Two: Reduced Discount for Paid Registrations
Less than 14 Days prior to Course Start Date: No Discount Available
For 4-6 day courses, use code EarlyBird21 to receive the discount available at time of purchase.
Register Early to Save $300 Off Select 1-3 Day Courses:
Select 1-3 day courses are eligible for $300 off through our SANS Stay Sharp series. Learn more about SANS Stay Sharp, and use code StaySharp300 to receive the discount for applicable purchases.
See Live Online event pages for specific discount amounts and deadlines. The discount amount will be automatically calculated based on the date the order is PAID.
Free Features During Select Events:
Free Summits are available during select events. Please visit our Summits page to learn more.
NetWars Tournaments are free with a 4-6 day course purchase during select events. Learn more about NetWars and view the Tournament schedule. 
Note: Terms & Conditions apply, see below for details.
If you have questions regarding this offer, please write to support@sans.org. You can also call (301) 654-7267 [Mon-Fri, 9:00 a.m. - 8:00 p.m. United States Eastern Time].
Terms & Conditions
Discounts cannot be combined with any other offer or discount, including the SANS Voucher Program. Beta courses are already discounted and are not eligible for additional discounts.