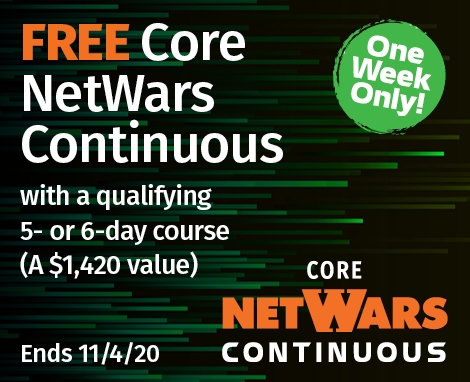 One Week Only! Get Core Netwars Continuous included when you purchase a qualifying SANS OnDemand 5- or 6-day course.
First time ever Special Offer! Get Core Netwars Continuous FREE with your qualifying OnDemand course purchase!
Select Netwars Core Continuous Bundle during registration and use code CoreNWC_2045 at checkout. Pay for your course by 11/4/2020.
Practice your skills in a challenging, immersive environment designed for all skill levels.
Learn hands-on offensive and defensive skills that can be applied immediately on the job.
Train at your own pace from anywhere in the world.
Get all of the tools you need, as they are provided with your subscription.
Level up your knowledge using a fully loaded Automated Hint System.
Use the personal scorecard provided that provides all the assessment data you need to make improvements.
Reach Level 3 of NetWars Continuous to earn 12 Continuing Professional Education credits (CPEs).

See Terms & Conditions below.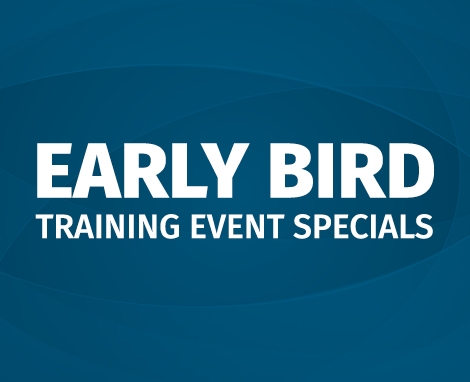 Live Online Training Event Early Birds
Multiple Live Online training events are currently offering early bird specials:
Save up to 25% on eligible 1-, 2- or 3-day course purchases
Save up to 30% on eligible 5- or 6-day course purchases
Terms & Conditions

The free Core Netwars Continuous offer is valid October 29 - November 4, 2020 for students in the US and Canada and payment must be received by this expiration date to participate in the offer. Promo offer valid for OnDemand Long (5- & 6-day) courses that offer the Core NetWars Continuous Bundle option during registration. This offer cannot be combined with any other offer or discount, including SANS Voucher Program or OnDemand Bundles. This offer does not apply when courses are incorporated into certain larger SANS-related special programs, including the graduate program of the SANS Technology Institute. SANS course offerings are subject to change at any time, please refer back to SANS.org for up-to-date course information. SANS shall not be held liable for students who elect marketing promotions or discounts that are not consistent with their employer's Standards of Conduct and/or procurement standards.