SEC450: Blue Team Fundamentals: Security Operations and Analysis
New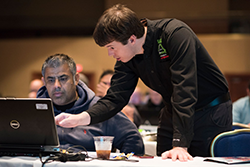 Is your organization looking for a quick and effective way to onboard new Security Analysts, Engineers, and Architects? Do your Security Operations Center (SOC) managers need additional technical perspective on how to improve analysis quality, reduce turnover, and run an efficient SOC?
SEC450 is an accelerated on-ramp for new cyber defense team members and SOC managers. This course introduces students to the tools common to a defender's work environment, and packs in all the essential explanations of tools, processes, and data flow that every blue team member needs to know.
Students will learn the stages of security operations: how data is collected, where it is collected, and how threats are identified within that data. The class dives deep into tactics for triage and investigation of events that are identified as malicious, as well as how to avoid common mistakes and perform continual high-quality analysis. Students will learn the inner workings of the most popular protocols, and how to identify weaponized files as well as attacks within the hosts and data on their network.
The course employs practical, hands-on instruction using a simulated SOC environment with a real, fully-integrated toolset that includes:
Security Information and Event Management (SIEM)
An incident tracking and management system
A threat intelligence platform
Packet capture and analysis
Automation tools
While cyber defense can be a challenging and engaging career, many SOCs are negatively affected by turnover. To preemptively tackle this problem, this course also presents research-backed information on preventing burnout and how to keep engagement high through continuous growth, automation, and false positive reduction. Students will finish the course with a full-scope view of how collection and detection work, how SOC tools are used and fit together, and how to keep their SOC up and running over the long term.
Course Syllabus
SEC450.1: Blue Team Tools and Operations
Overview
This day starts with an introduction to the blue team, the mission of a SOC, and how to understand an organization's threat model and risk appetite. It is focused on top-down learning to explain the mindset of an analyst, the workflow, and monitoring tools used in the battle against attackers. Throughout this course day students will learn how SOC information management tools fit together, including incident management systems, threat intelligence platforms, SIEMs, and SOAR tools. We end the day describing the various groups of attackers, how their methods differ, and their motivations.
Topics
Introduction to the Blue Team Mission

What is a SOC? What is the mission?
Why are we being attacked?
Modern defense mindset
The challenges of SOC work

SOC Overview

The people, process, and technology of a SOC
Aligning the SOC with the business
SOC functional components and organizational chart
Tiered vs. tierless SOCs
Important operational documents

Defensible Network Concepts

Understanding what it takes to be defensible
Network security monitoring (NSM) concepts
NSM event collection
Network zones
NSM at all network layers
Continuous security monitoring (CSM) concepts
CSM event collection
Monitoring sources overview
Data formats and centralization
Collecting data vs. metadat

Events, Alerts, Anomalies, and Incidents

Event collection
Event log flow
Alert collection
Alert triage and log flow
Alerts vs. anomalies
Alert triage workflow and incident creatio

Incident Management Systems

SOC data organization tools
Incident management systems options and features
Data flow in incident management systems
Case creation, alerts, observables, playbooks, and workflow
Incident categorization framework

Threat Intelligence Platforms

What is cyber threat intelligence?
Threat data vs. information vs. intelligence
Threat intel platform options and features
Event creation, attributes, correlation, and sharin

SIEM

Benefits of data centralization
SIEM options and features
SIEM searching, visualizations, and dashboards
Use cases and use case databases

Automation and Orchestration

How SOAR works and benefits the SOC
Options and features
SOAR value-adds and API interaction
Data flow between SOAR and the SIEM, incident management system, and threat intelligence platform

Who Are Your Enemies?

Who's attacking us and what do they want?
Opportunistic vs. targeted attackers
Hacktivists, insiders, organized crime, governments
Motivation by attacker group
Case studies of different attack groups
Attacker group naming conventions
SEC450.2: Understanding Your Network
Overview
Day 2 begins the technical journey of understanding the environment. To defend a network, you must thoroughly understand its architecture and the impact that it will have on analysis. This day introduces the concepts of a modern organization's network traffic flow by dissecting a basic home Internet connection and describing the features necessary for segmentation and monitoring. These modules ensure that students have a firm grasp on how network design affects their "view of the world" as an analyst.
We then go in-depth on common network services. Day 2 provides thorough working explanations of the current and upcoming features of DNS, HTTP(S), SMTP, and more, with a focus on the most important points for analysts to understand. These sections explain what normal data look like, as well as the common fields and areas that are used to spot anomalous behavior. The focus will be on quickly recognizing the common tricks used by attackers to turn these everyday services against us.
Topics
Corporate Network Architecture

Comparing home networks to your organization
Zones and traffic flow
Switches and VLANs
The logical vs. physical network
Points of visibility
Traffic capture
Home firewall vs. corporate next--gen firewall capabilities
Network architecture design ideals
Zero-trust architecture and least-privilege
Academia and other special cases

Traffic Capture and Visibility

Network traffic capture formats
NetFlow, Nfdump, and TShark
PCAP and layer 7 metadata collection
Wireshark and Moloch

Understanding DNS

Name to IP mapping structure
Request types
Setting records via registrars and on your own server
A and AAAA records
PTR records and when they might fail
TXT records and their uses
CNAME records and their uses
MX records for mail
SRV records
SOA records
NS records and glue records
DNS server and client types (stub resolvers, forwarding, caching, and authoritative servers)
Walkthrough of a recursive DNS resolution

DNS analysis and attacks

Detecting requests for malicious sites
Checking domain reputation, age, randomness, length, subdomains
Reverse DNS lookups and passive DNS
Shared hosting
Detecting DNS recon
Unauthorized server use
Domain shadowing
DNS tunneling
DNS traffic flow and analysis
IDNs, punycode, and lookalike domains
New DNS standards (DNS over TLS, DNS over HTTPS, DNSSEC)

Understanding HTTP and HTTPS

Decoding URLs
HTTP communication between client and server
Browser interpretation of HTTP
GET, POST, and other methods
Request headers
Response headers
Response codes
The path to the Internet
REST APIs
WebSockets
HTTP/2 & HTTP/3

Analyzing HTTP for Suspicious Activity

HTTP attack and analysis approaches
Credential phishing
Reputation checking
Sandboxing
URL and domain OSINT
Header and content analysis
User-agent deconstruction
Cookies
Base64 encoding works and conversion
File extraction and analysis
High-frequency GET/POST activity
Host headers and naked IP addresses
Exploit kits and malicious redirection
HTTPS and certificate inspection
SSL decryption -- what you can do with/without it
TLS 1.3

How SMTP and Email Attacks Work

Email delivery infrastructure
MUAs and MTAs
Ports and protocols for email sending and receiving
Reading email headers
Identifying spoofed email
Decoding attachments
How email spoofing works
How SPF works
How DKIM works
How DMARC works

Additional Important Protocols

SMB -- versions and typical attacks
DHCP for defenders
ICMP and how it is abused
FTP and attacks
SSH and attacks
PowerShell remoting
SEC450.3: Understanding Endpoints, Logs, and Files
Overview
It is extremely difficult to succeed at cyber defense without knowing where and how your data is produced, so day 3 takes us down to the host, logging, and file level. Starting with a survey of common endpoint-based attack tactics, we orient students to the array of techniques that are used against their hosts. These first sections, followed by a section on defense in-depth, will give students an idea of how each step of the attack lifecycle aligns with its defensive tools, and what students can use to prevent and detection adversary attack advancement on their endpoints.
To further prepare students for attack detection, these sections are followed by a thorough review of how Linux and Windows logging works. Reviewing logging capabilities gives students perspective on which logs will be present on any given system, where to find them, and how to interpret them. We cover several high-importance log events and provide an in-depth explanation of how to interpret Windows Kerberos logs. The course day then turns to the parsing and enrichment of logs, as well as how the SIEM normalization and categorization processes work. These topics give a complete view of what happens from the moment a log is generated to when it shows up in our security tools.
Many new analysts struggle to understand how files are structured at a low level and therefore are hesitant when it comes to answering questions such as "could a file of type x be used for evil?" The final part of day 3 provides students with the concepts needed to reason through the answer, diving into files at the byte level. We explain the difference between binary and text-based files, and what makes a file a valid document, pdf, .exe, or something else. We also explain file-based exploitation methods and the features and formats most commonly seen in attacks. Concepts such as using strings, hashes, and file signatures are explained to show students how to quickly and accurately identify potentially malicious file samples. Students will finish this day understanding how different common file formats work, how they are typically weaponized, and how to quickly decide whether or not a given sample is likely to be malicious.
Topics
Endpoint Attack Tactics

Endpoint attack centricity
Initial exploitation
Service-side vs client-side exploits
Post-exploitation tactics, tools, and explanations -- execution, persistence, discovery, privilege escalation, credential access, lateral movement, collection, exfiltration

Endpoint Defense In-Depth

Network scanning and software inventory
Vulnerability scanning and patching
Anti-exploitation
Whitelisting
Host intrusion prevention and detection systems
File integrity monitoring
Privileged access workstations
Windows privileges and permissions
Endpoint detection and response tools
File and drive encryption
Data loss prevention
User and entity behavior analytics

How Windows Logging Works

Logging approaches
Channels, event IDs, and sources
XML format and event templates
Log collection path
Channels of interest

How Linux Logging Works

Syslog log format
Syslog daemons
Syslog network protocol
Log collection path
Additional command line auditing options
Application logging
Service vs. system logs

Interpreting Important Events

Windows and Linux login events
Process creation logs for Windows and Linux
Additional activity monitoring
Firewall events
Object and file auditing
Service creation and operation logging
New scheduled tasks
USB events
User creation and modification
PowerShell logging

Kerberos and Active Directory Events

Authentication and ticket granting service
How the Kerberos security model works
Kerberos authentication steps
Kerberos log events in detail

Log Collection, Parsing, and Normalization

Logging pipeline and collection methods
Windows vs. Linux log agent collection options
Parsing unstructured vs. structured logs
The role of parsing and log enrichment
Log normalization and categorization process
Log storage and retention lifecycle

Files Contents and Identification

File contents at the hex level
How to identify a file by the bytes
Magic bytes
Nested files
Strings -- uses, encoding options, and viewing

Identifying and Handling Suspicious Files

Safely handling suspicious files
Dangerous files types
Exploits vs. program "features"
Exploits vs. Payloads
Executables, scripts, office docs, RTFs, PDFs, and miscellaneous exploits
Hashing and signature verification
Signature inspection and safety of verified files
Inspection methods, detecting malicious scripts and other files
SEC450.4: Triage and Analysis
Overview
Now that the course has covered the ground required to understand the tools and data most frequently encountered by analysts, it's time to focus on analysis itself. This day will focus on how the analysis process works and explain how to avoid the common mistakes new analysts can slip into. We can combat the tendency to overlook the obvious by examining how our memory perception affects analysis and how cognitive biases cause us to fail to see what is right in front of us. The goal is to teach students not only how to think clearly, but also how to explain and leave a trail of how they reached their conclusions that can support future analysis and act as an audit trail.
In addition, we will cover many of the mental models and concepts used in information security from both the offensive and defensive perspectives. Students will then use these models to look at an alert queue and get a quick and intuitive understanding of which alerts may pose the biggest threat, and thus must be attended to first. Safe analysis techniques and operational security concerns are covered to ensure that we do not give up our tactical advantage during the investigation process. We'll discuss specifics on alert triage methods and prioritization, as well as investigation techniques, so that students will leave this day better prepared to understand their alert queues and perform error-free investigation.
Topics
Alert Triage and Prioritization

Priority for triage
Spotting late-stage attacks
Attack lifecycle models
Spotting exfiltration and destruction attempts
Attempts to access sensitive users, hosts, and data
Targeted attack identification
Lower-priority alerts
Alert validation

Perception and Investigation

Psychology of intelligence analysis
The role of perception in observation and analysis
Effects of expectation and new information
Challenges of accurate perception in the SOC environment

Memory and Investigation

How memory affects analysis
Long-term memory and mental schemas
The memory of experienced practitioners vs. novices
Efficiently committing info to long-term memory
How the limitations of short-term memory affect analysis
The fix for short-term memory limitations
Memory and experience vs. creativity

Mental Models for Information Security

Network and file encapsulation
Cyber kill chain, campaign analysis, indicator types, courses of action
Defense in-depth
NIST cybersecurity framework
Incident response cycle
Threat intelligence levels, models, and uses
The OODA loop for defenders
Diamond model
Attack modeling, graph/list thinking, attack trees
Pyramid of pain
MITRE ATT&CK

Structured Analysis Techniques

Compensating for memory and perception issues
System 1 vs. system 2 thinking and battling tacit knowledge
Data-driven vs. concept-driven analysis
Structured analytic techniques
Idea generation and creativity, hypothesis development
Confirmation bias avoidance
Analysis of competing hypotheses
Diagnostic reasoning
Link analysis, event charting, event matrices

Analysis Tactics and OPSEC

Where to start
Evidence types
Alternative sources of network and host information
OPSEC vs. your threat model
Traffic light protocol and intel sharing
Permissible action protocol
Common OPSEC failures and how to avoid them

Network, File, and Event Alerts

Common delivery and exploit stage alerts
Common post-exploitation stage alerts
Common alert types by data source
File investigation
Hacking tools
Incident artifacts
Analyzing network events
Layer 3, 4, and 7 metadata and content inspection
Evil vs. hacked sites
Analysis of threat intelligence matches
Email-based attacks
Malicious attachment types
Assessing malicious links
Targeted vs. opportunistic attack alerts
Identifying and stopping business email compromise

Intrusion Discovery

Dwell time and intrusion type
Discerning attacker motivation
Assessing business risk
Choosing an appropriate response
Reacting to opportunistic/targeted attacks
Common missteps in incident response

Incident Closing and Quality Review

Steps for closing incidents
Quality review and peer feedback
Analytical completeness checks
Closed case classification
Attribution
Maintaining quality over time
Premortem and challenge analysis
Peer review, read team, team A/B analysis, and structured self-critique
SEC450.5: Continuous Improvement, Analytics, and Automation
Overview
Repetitive tasks, lack of empowerment or challenges, poorly designed manual processes -- analysts know these pains all too well. While these are just some of the common experiences in day-to-day work, they are major contributing factors to unhappiness and burnout that can cause turnover in a SOC. Do things have to be this way? Of course not, but it will take some understanding and work on your part to do things differently. This day focuses squarely on improving the efficiency and enthusiasm of working in SOCs by tackling the most common problems head on. Through process optimization, careful analytic design and tuning, and workflow efficiency improvements, we can eliminate many of these common pain points. This frees us from the repetitive work we loathe and allows us to focus on what we do best -- analysis! Having the time for challenging and novel work leads to a virtuous cycle of growth and engagement throughout the SOC -- and improving everyone's life in the process.
This day will focus on tuning your tools using clever analysis techniques and process automation to remove the monotonous and non-value-added activities from your day. We also cover containment activities, including the tools you can use and how to decide how to halt a developing incident or infection from the host or network angle. We'll wrap up the day with recommendations on skill growth, long-term career development, and how to get more involved in the cyber defense community.
Topics
Improving Life in the SOC

Expectations vs. common reality
Burnout and stress avoidance
Improvement through SOC human capital theory
The role of automation, operational efficiency, and metrics in burnout
Other common SOC issues

Analytic Features and Enrichment

Goals of analytic creation
Log features and parsing
High-feature vs. low-feature logs
Improvement through SIEM enrichment
External tools and other enrichment sources

New Analytic Design, Testing, and Sharing

Tolerance to false positives/negatives
The false positive paradox
Types of analytics
Feature selection for analytics
Matching with threat intel
Regular expressions
Common matching and rule logic options

Tuning and False Positive Reduction

Dealing with alert and runaway queues
How many analysts should you have?
Unneeded rules
Tuning from default rulesets
Low-priority alerts
Low-fidelity alerts
Log field statistical analysis
Using policy to raise fidelity
Sensitivity vs. specificity
Automation and fast lanes

Automation and Orchestration

The definition of automation vs. orchestration
What is SOAR?
SOAR product considerations
Common SOAR use cases
Enumeration and enrichment
Response actions
Alert and case management
The paradox of automation
DIY scripting

Improving Operational Efficiency and Workflow

Micro-automation
Form filling
Text expanders
Email templates
Smart keywords
Browser plugins
Text caching
JavaScript page modification
OS Scripting

Containing Identified Intrusions

Containment and analyst empowerment
Isolation options across network layers -- physical, link, network, transport, application
DNS firewalls, HTTP blocking and containment, SMTP
Host-based containment tools

Skill and Career Development

Learning through conferences, capture-the-flag challenges, and podcasts
Home labs
Writing and public speaking
Techniques for mastery and continual progress
SEC450.6: Capstone: Defend the Flag
Overview
The course culminates in a team-based design, detect, and defend the flag competition. Powered by NetWars, day six provides a full day of hands-on work applying the principles taught throughout the week. Your team will be challenged to progress through multiple levels and missions designed to ensure mastery of the concepts and data covered during the course.
Additional Information
Important! Bring your own system configured according to these instructions!
A properly configured sysstem is required to fully participate in this course. If you do not carefully read and follow these instructions, you will likely leave the class unsatisfied because you will not be able to participate in hands-on exercises that are essential to this course. Therefore, we strongly urge you to arrive with a system meeting all the requirements specified for the course.
This is common sense, but we will say it anyway. Back-up your system before class. Better yet, do no have any sensitive data sstored on the system. SANS is not responsbile for your system or data.
Baseline Hardware Requirements
CPU
Your system's processor must be a 64-bit Intel i5 or i7 2.0 GHz processor or higher. To verify on Windows 10, press Windows key + "I" to open Settings, then click "System", then "About". Your processor information will be toward the bottom of the page. To verify on a Mac, click the Apple logo at the top lef-thand corner of your display and then click "About this Mac."
BIOS
Intel's VT (VT-x) hardware virtualization technology should be enabled in yoru systems BIOS or UEFI settings. You must be able to access your system's BIOS throughout the class. If your BIOS is password-protected, you must have the password. This is absolutely required.
USB
At least one available USB 3.0 Type-A port is required for copying large data files from the USB 3.0 thumb drives we provide in class. Some newer laptops may have only the smaller Type-C ports. In this case, you will need to bring a USB Type-C to Type-A adapter.
RAM
8 GB RAM is highly recommended for the best experience. To verify on Windows 10, press Windows key + "I" to open Settings, then click "System", then "About." Your RAM information will be toward the bottom of the page. To erify on a Mac, click the Apple logo at the top left- hand corner of your display and then click "About this Mac."
Hard Drive Free Space
60 GB of FREE space on the hard drive is critical to host the VMs and additional files we distribute. SSD drives are also highly recommended, as they allow virtual machines to run much faster than mechanical hard drives.
Operating System
Your system must be running either Windows 10 or mac OS 10.12 or higher.
Additional Hardware Requirements
The requirements below are in additiona to baseline requirements provided above. Prior to the start of class, you must install virtualization software and meet additional hardware and software requirements as described below. If you do not carefully read and follow these instructions, you will leave the class unsatisfied because you will not be able to participate in hands-on exercises that are essential to this course.
Headphones
You will need a pair of headphones to listen, in the classroom, to the audio and video provided with this course.
Network, Wireless Connection
A wireless 802.11 B, G, N , or AC network adapter is required. This can be the internal wireless adapter in your system or an external USB wireless adapter. A wireless adapter allows you to connect to the network without any cables. If you can surf the Internet on your system without plugging in a network cable, you have wireless.
VMware Player
Install VMware Player 12, VMware Fusion 8, or VMware Workstation 12 (higher versions are also OK). Older versions will not work for this course. Choose the version compatible with your host OS. If you do not own a licensed copy of VMware Workstation or Fusion, you can download a free 30-day trial copy from VMware. VMware will send you a time-limited serial number if you register for the trial at their Web site. VMware Workstation Player is a free download that does not need a commercial license but has fewer features than Workstation. THIS IS CRITICAL: Other virtualization products such as Hyper-V or VirtualBox, are not supported and will not work with the course material.
If you have additional questions about the laptop specifications, please contact laptop_prep@sans.org.
This course is intended for those who are early in their career or new to working in a SOC environment, including:
Security Analysts
Incident Investigators
Security Engineers and Architects
Technical Security Managers
SOC Managers looking to gain additional technical perspective on how to improve analysis quality, reduce turnover, and run an efficient SOC
Anyone looking to start their career on the blue team
A basic understanding of TCP/IP and general operating system fundamentals is needed for this course. Being accustomed to the Linux command-line, network security monitoring, and SIEM solutions is a bonus. Some basic entry-level security concepts are assumed.
Custom distribution of the Linux Virtual Machine containing a pre-built simulated SOC environment
MP3 audio files of the complete course lecture
Introduction and walk-through videos of labs
USB 3.0 stick that includes the above and more
It is our belief that hands-on training is a crucial component of classroom learning, so each day of this course will include multiple hands-on exercises. To achieve the most realistic scenario possible, the class virtual machine is loaded with all the tools typically used in a SOC. Students will be introduced to the concepts, interconnections, and workflow associated with each of those tools. Throughout the class we will utilize a SIEM, threat intelligence platform, incident management and ticketing system, automation and orchestration tools, full packet capture, and analysis software, as well as multiple command line, open-source intelligence, and analysis tools. All of these tools have been set up and integrated to work with each other in order to re-create the workplace environment as closely as possible, allowing students to gain experience that they can directly translate to their own setup when they get back to the office.
Some of the highlights of what students will learn include:
How SIEM, threat intelligence platforms, incident management systems, and automation should connect and work together to provide a painless workflow for analysts
Analysis of common alert types including HTTP(S), DNS, and email-based attacks
Identification of post-exploitation attacker activity
Mental models for understanding alerts and attack patterns that can help to effectively prioritize alerts
How to perform high-quality, bias-free alert analysis and investigation
How to identify the most high-risk alerts, and quick ways to verify them
How logs are collected throughout the environment and the importance of parsing, enrichment, and correlation capability of the SIEM
How to create and tune threat detection analytics to eliminate false positives
Author Statement
"As someone who has held every position from entry-level analyst to SOC manager at a 100,000-employee company, I thoroughly understand the struggle of starting your first position in cyber defense. While there is a seemingly infinite amount of information to learn, there are certain central concepts that, when explained systematically, can greatly shorten the time required to become a productive member of the team. This course was written to pass this knowledge on to you, giving you both the high- and low-level concepts required to propel your career in cyber defense. It's packed with the concepts that I expected new employees to understand, as well the thought process we tried to cultivate throughout analysts' careers to ensure the success of the individual and the organization. I have also worked hard to distill the lessons I've learned through the years on staying excited and engaged in cyber defense work. While some believe SOC positions can feel like a grind, they do not need to be that way! This course goes beyond technical knowledge to also teach the concepts that, if implemented in your SOC, will keep you and your colleagues challenged, happy, and constantly growing in your day-to-day work, leading to a successful, life-long career on the blue team!"
John Hubbard
Additional Resources
Take your learning beyond the classroom. Explore our site network for additional resources related to this course's subject matter.
Pricing
| Price | Options |
| --- | --- |
| 7,020 USD | — |