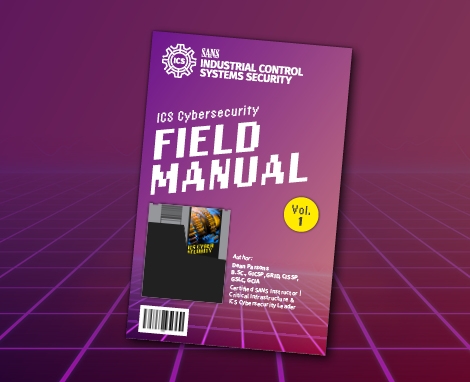 Get Your ICS Security Field Manual
The ICS Security Field Manual series comprises several volumes, each focusing on a different aspect of ICS and security defense for control environments. The manuals will cover what these systems are used for, how we rely on them, how they are attacked, and practical ways to defend and protect our critical infrastructure.
Volume one will quickly get you up to speed in ICS/OT security, provide long-lasting reference materials and free resources, and outline a training path for you and the teams you may manage in engineering and ICS security. This manual lays the foundation for future ICS security field manuals that will expand on intermediate to advanced topics.
The ICS Cybersecurity Field Manual – Vol. 1
Download the Essential Guide into ICS/OT Security
Don't Miss our FREE Webcast with Dean Parsons
Available OnDemand
What's in this webcast for you? Let Dean tell you!
SANS ICS HyperEncabulator
You know all about the Retroencabulator, now say hello to the HyperEncabulator! At SANS ICS Security, when we're not innovating… we're encabulating! Check out the whole new level of encabulation in this video. Remember folks, with the HyperEncabulator, side fumbling is still effectively prevented.
About SANS ICS Curriculum
SANS works with our top experts and industry leaders to strengthen the cybersecurity of ICS and OT. With our training courses and free resources, we're equipping security professionals and control system engineers with the security awareness, work-specific knowledge, practitioner resources, and hands-on technical skills needed to secure control system and automation networks as well as critical infrastructure. SANS Industrial Control Systems Security is defending what makes, moves, and powers the world.