SEC595: Applied Data Science and Machine Learning for Cybersecurity Professionals
Beta
Mon, August 23 - Fri, August 27, 2021
Because this course is offered as a beta including discounted pricing, seating is limited to a maximum of two seats per organization. No additional discounts apply.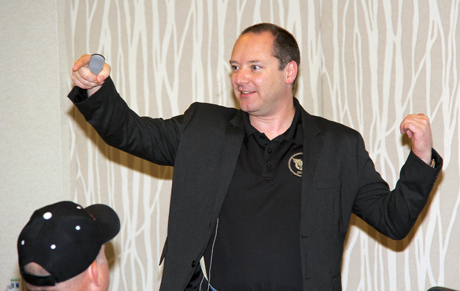 SEC595 is a crash-course introduction to practical data science, statistics, probability, and machine learning. The course is structured as a series of short discussions with extensive hands-on labs that help students develop a solid and intuitive understanding of how these concepts relate and can be used to solve real-world problems. If you?'ve never done anything with data science or machine learning but want to use these techniques, this is definitely the course for you!
Unlike other courses in this space, SEC595 is squarely centered on solving information security problems. Where other courses tend to be at the extremes of teaching almost all theory or solving trivial problems that don?t translate to the real world, this course strikes a balance. We cover only the theory and math fundamentals that you absolutely must know, and only in so far as they apply to the techniques that we then put into practice.
The major topics covered in SEC595 include:
Data acquisition from SQL, NoSQL document stores, web scraping, and other common sources
Data exploration and visualization
Descriptive statistics
Inferential statistics and probability
Bayesian inference
Unsupervised learning and clustering
Deep learning neural networks
You Will Be Able To:
Apply statistical models to real-world problems in meaningful ways
Generate visualizations of your data
Perform mathematics-based threat hunting on your network
Understand and apply unsupervised learning/clustering methods
Build Deep Learning Neural Networks
Build and understand Convolutional Neural Networks
Understand and build Genetic Search Algorithms
You Will Receive with this Course:
A supporting virtual machine
Jupyter notebooks of all of the labs and complete solutions
This Course Will Prepare You To:
Build AI anomaly detection tools
Model information security problems in useful ways
Build useful visualization dashboards
Solve problems with neural networks
Additional Resources:
Anaconda
TensorFlow (and supporting libraries)
Matplotlib
VMWare Workstation/Player/Fusion
Course Syllabus
Additional Information
A laptop with at least 8 gigabytes of RAM is required for this course. The course relies heavily on the Anaconda Individual environment, which you should pre-install before attending class. It also makes use of a VMWare based virtual machine. A VMWare based virtualization solution such as VMWare Player, VMWare Workstation, or VMWare Fusion is required.
Special note for those with an M1 Mac: Even though it is not possible to run the virtual machine on a M1 mac, the course exercises are fully supported on your device! Please identify yourself to your instructor at the start of the course so that the instructor can provide you with alternate instructions for some of the labs.
If you have additional questions about the laptop specifications, please contact laptop_prep@sans.org.
If you have additional questions about the laptop specifications, please contact laptop_prep@sans.org.
Cybersecurity professionals who want to understand machine learning
Professionals desiring to apply data science principles to real-world problems
Anyone who has tried to learn the basics but can?t figure out how to translate your problem into something that can be solved with machine learning
Blue team and Security Operations Center members looking to identify anomalies and perform custom threat hunting
A basic knowledge of Python or some similar scripting language is needed. You need not be proficient, but you should have written at least a handful of simple scripts at some point in your life.
Author Statement
"AI and machine learning are everywhere. How do the vendor solutions work? Is this really black magic? I wrote this course to fill an enormous knowledge gap in our field. I believe that if you are going to use a tool, you should understand how that tool works. If you don't, you don't really know what the results mean or why you are getting them. SEC595 is a crash course in statistics, mathematics, Python, and machine learning that will take you from zero to being a - I'm reluctant to promise 'hero', so let's just say to being a competent person who can solve real problems today!" - David Hoelzer