FOR578: Cyber Threat Intelligence
Sold Out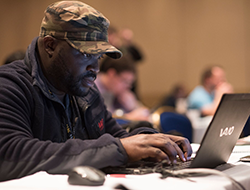 THERE IS NO TEACHER BUT THE ENEMY!
Make no mistake: current computer network defense and incident response contain a strong element of intelligence and counterintelligence that analysts must understand and leverage in order to defend their computers, networks, and proprietary data.
FOR 578: Cyber Threat Intelligence will help network defenders and incident responders:
Construct and exploit threat intelligence to detect, respond, and defeat advanced persistent threats (APTs)
Fully analyze successful and unsuccessful intrusions by advanced attackers
Piece together intrusion campaigns, threat actors, and nation-state organizations
Manage, share, and receive intelligence on APT adversary groups
Generate intelligence from their own data sources and share it accordingly
Identify, extract, and leverage intelligence from APT intrusions
Expand upon existing intelligence to build profiles of adversary groups
Leverage intelligence to better defend against and respond to future intrusions.
Conventional network defenses such as intrusion detection systems and anti-virus tools focus on the vulnerability component of risk, and traditional incident response methodology pre-supposes a successful intrusion. However, the evolving sophistication of computer network intrusions has rendered these approaches insufficient to address the threats faced by modern networked organizations. Today's adversaries accomplish their goals using advanced tools and techniques designed to circumvent most conventional computer network defense mechanisms, go undetected during the intrusion, and then remain undetected on networks over long periods of time.
The collection, classification, and exploitation of knowledge about adversaries - collectively known as cyber threat intelligence - gives network defenders information superiority that can be used to reduce the adversary's likelihood of success with each subsequent intrusion attempt. Responders need accurate, timely, and detailed information to monitor new and evolving attacks, as well as methods to exploit this information to put in place an improved defensive posture. Threat intelligence thus represents a force multiplier for organizations looking to update their response and detection programs to deal with increasingly sophisticated advanced persistent threats.
During a targeted attack, an organization needs a top-notch and cutting-edge incident response armed with the critical intelligence necessary to understand how adversaries operate and to combat the threat. FOR578: Cyber Threat Intelligence will train you and your team to detect, scope, and select resilient courses of action in response to such intrusions and data breaches.
Course Syllabus
FOR578.1: Cyber Threat Intelligence for Intrusions
---
Overview
A key facilitator of cyber threat intelligence (CTI) is to use a common lexicon that defines its most basic elements and ideas. This section introduces students to fundamental CTI concepts and models, beginning with an understanding of broader intelligence analysis tradecraft. The section introduces and defines CTI through conventional lectures, class participation, and exercises from the students' lab book.
Exercises
Step-by-step analysis of a spear phishing email
Analysis of a malicious PDF to determine indicators and identify courses of action
Identification of network scanning as adversary reconnaissance efforts
Topics
Course Introduction

Why CTI? Collection Requirements/Motivations
Intelligence and Intel Analysis
Traditional Intelligence Cycle
Lexicon and Definitions
Roles of CTI Analysts
Risk

Current Threat Landscape

Defining Threats, Abstractions
What a Threat Is NOT
How Does CTI Work?

Classic Intelligence Analysis

What Is Intelligence?
Sources
Intelligence Cycle
Analytical Process and the Scientific Method
Analysis of Competing Hypotheses
Biases in Intel Analysis
Counterintelligence

Intelligence in Computer Network Defense

The Indicator
Examples of Indicators
How Indicators Are Found: The Scan-Transform Loop
Understanding Signatures as Expressive CTI
Indicator Sources

Diamond Model
Kill Chain Introduction and Background
Kill Chain Phases in Detail
Analytical Aspects of the Kill Chain
Courses of Action Matrix
Indicator Lifecycle
Indicator Maturity Model

Model Definition
Application to Indicators and Signatures

Decision-making in Intelligence Exploitation

Intel Gain/Loss Considerations
Prioritization of Detections and Response
The Kill Chain and Intelligence in Conventional Incident Response

Additional, Alternate, and Emergent models
FOR578.2: Kill Chain for Computer Network Defense
---
Overview
One of the most commonly used and basic models covered in Section 1 is the "kill chain," or the series of steps an adversary must accomplish in order to be successful. This section will walk students through analysis of a multi-phase intrusion, from initial discovery of command-and-control to completion of analysis of the event, using the kill chain as a guide to collect intelligence on the sophisticated adversary involved. Other models introduced in Section 1, such as the Courses of Action Matrix, are woven into this section in order to show students their proper role in analyzing a successful intrusion as they slowly work their way up to being able to define a full campaign using the concepts introduced here.
Exercises
Initial victim analysis with Redline
Identification of adversary command-and-control beaconing and lateral movement
Analysis of exfiltration of a compromised host on the network and correlation of indicators to unveil the campaign
Topics
Scenario- based Kill Chain Analysis: Web Drive-by

Moving Forward in the Kill Chain
Moving Backward in the Kill Chain
Stages 1-7 in Discovery Order

Application of Courses of Action for Computer Network Defense
Analytical Completeness Guided by Kill Chain Analysis
Multi-Stage Intrusions and Kill Chain Sequencing
Second Scenario-based Kill Chain Analysis: Webserver Intrusion

Linkage to Prior Kill Chain
Stages 1-7 in Discovery Order

Historical Unsuccessful Intrusion Attempt: Phishing Attempt

Relationship to Present Incident
When to Analyze Unsuccessful Attempts
Analytical Completeness in Unsuccessful Intrusions

Completing the Picture with Available Intelligence
FOR578.3: Defining Campaigns
---
Overview
An intrusion is but a single attempt by an adversary to gain access to a system for some intended purpose. Dedicated adversaries, intent on exploiting systems that support specific organizations, people, or technologies, will not let one failed attempt deter them from their ultimate goal. Their sustained campaign will likely consist of multiple intrusions over an extended period of time, each with its individual kill chain. In this section, students learn what campaigns are, why they are important, and how to define them. Students then apply this knowledge by constructing their own campaign picture based on the intrusions they analyzed in Sections 1 and 2.
Exercises
Defining a campaign
Analysis of competing hypotheses
Identifying analytical errors
Topics
Abbreviated History of Threats in Cyberspace
Cross-Incident Correlation
Campaign Definitions
Key Indicators
Tactics, Techniques, and Procedures in Detail
Distinguishing Correlative and Actionable Intelligence
Measuring Indicator Effectiveness and Uniqueness
Pitfalls in Correlating Intrusions
Analysis of Competing Hypotheses
Interpreting Campaign Intersections
FOR578.4: Persons, Organizations, and Higher-Order Analysis
---
Overview
Behind campaigns are people, and just like network defenders and intelligence analysts, these intruders have roles within organizations, employers, bosses, and colleagues. This section will explore in more depth the characteristics of the networks behind intrusions, and how these characteristics are projected through intrusions. The enormous volume of intelligence about intrusions and services available to analysts can contain patterns that are extremely difficult to identify when looking at a single intrusion or campaign. Tools and techniques to perform higher-order analysis on structured and unstructured data can elucidate this intelligence and provide value for correlation, courses of action, campaign assembly, or perhaps even identifying the organizations behind the malicious activity. This section will help students master higher-order techniques that can tease out otherwise unrecognizable patterns.
Exercises
Large data set reduction and exploitation
Identifying patterns with Microsoft Excel
Temporal and link-based visualization using Maltego/Casefile
Indicator pivoting
Exploring online malware repositories
Beyond the cluttered link diagram: The "so what" factor
Topics
Attributing Campaigns

Persons
Roles
Organizations

Linguists and CTI Analysis
Trending Campaign Activity
Pivoting, Hunting, and External Intelligence Exploitation

Passive Network Activity
Malware Repositories
Domain and Organizational Data
Configuration Block Data

Identifying Intelligence Opportunities and Gaps
Exploratory Techniques for Campaign Analysis

Graph-based Tools
CTI Analysis with Excel

Confidence Assessments and Uncertainty Language
Common Analytical Mistakes
FOR578.5: Collecting and Sharing Intelligence and Making it Actionable
---
Overview
Intrusions consist of an enormous amount of information that, once refined, represents intelligence. In this section, students will learn effective ways to manage intelligence, collaborate with their peers, and empower their security teams. Campaigns consist of intrusions spanning months and sometimes even years, each with its own details linking its constituent intrusions. Collecting this intelligence is critical to making it actionable for defense, and appropriately sharing it with internal and peer organization security teams makes it possible to identify the resilient characteristics of adversaries and discover new campaigns. Intrusions will span organizations, and sometimes even spread across industries. External intelligence is key to keep up to date on the latest movements and tactics of adversaries, even if they are not (yet!) targeting you.
Exercises
Open-source intelligence using Recorded Future
IOC creation with YARA and OpenIOC
Internal threat intelligence sharing through the active cyber defense cycle
Critical analysis of threat Intelligence reporting
Topics
Intelligence Sharing Purposes and Considerations
Extracting Tactical Threat Intelligence

Indicators of Compromise (IOC) Formats

Open-Source Intelligence Collection (OSINT) on Adversaries
Commercial and Open-Source CTI Solutions

Threat Intel Collaborations
Sharing Platforms
CTI Feeds
Information Sharing and Analysis Centers (ISACs) and Fusion Centers

Intelligence Knowledge Management

Non-disclosure Agreements (NDAs), Classifications, and Other Restrictions
Technologies
Processes
Standards

Internal Threat Intel Sharing

Threat Intelligence Consumption for Network Security Monitoring
Threat Intelligence Consumption for Incident Response
Threat Intelligence Consumption for Threat and Environment Manipulation

Peer Collaboration

Approaches
Risks
Benefits
Selecting the Right Groups and Forums

Report Writing
Metrics
Additional Information
!IMPORTANT - BRING YOUR OWN LAPTOP CONFIGURED USING THESE DIRECTIONS!!
A properly configured system is required for each student participating in this course. Before coming to class, carefully read and follow these instructions exactly.
As your core operating system, you can use any 64-bit version of Windows, MAC OSX, or Linux that can also install and run VMware virtualization products. You must also have 8 GB of RAM or higher to support virtualization to function properly in the class.
Please download and install VMware Workstation 11, VMware Fusion 7, or VMware Player 7 or higher versions on your system prior to class beginning. If you do not own a licensed copy of VMware Workstation or Fusion, you can download a free 30-day trial copy from VMware. VMware will send you a time-limited serial number if you register for the trial on its website.
FOR578 SYSTEM HARDWARE REQUIREMENTS:
CPU: 64-bit Intel x64 2.0+ GHz processor or higher-based system is mandatory for this class (Important - Please Read: a 64-bit system processor is mandatory)
8 GB (Gigabytes) of RAM or higher is mandatory for this class (Important - Please Read: 8 GB of RAM or higher is mandatory)
Ethernet networking capability or Wireless 802.11 B/G/N/AC recommended.
USB 3.0 Ports Recommended
Windows-based operating system is preferred
PLEASE INSTALL THE FOLLOWING SOFTWARE PRIOR TO CLASS:
Microsoft Office (any version) - Note you can download Office Trial Software online (free for 60 days)
Install VMware Workstation 11, VMware Fusion 7, or VMware Player 6 (higher versions are okay)
Download and install 7Zip on your host
IN SUMMARY, BEFORE YOU BEGIN THE COURSE YOU SHOULD:
Bring the proper system hardware (64bit/8GB Ram) and operating system configuration
Install VMware (Workstation, Player, or Fusion), MS Office, and 7zip
If you have additional questions about the laptop specifications, please contact laptop_prep@sans.org.
Incident Response Team Members who regularly respond to complex security incidents/intrusions from APT adversaries and need to know how to detect, investigate, remediate, and recover from compromised systems across an enterprise.
Security Operations Center Personnel and Information Security Practitioners who support hunting operations that seek to identify attackers in their network environments.
Experienced Digital Forensic Analysts who want to consolidate and expand their understanding of filesystem forensics, investigations of technically advanced adversaries, incident response tactics, and advanced intrusion investigations.
Federal Agents and Law Enforcement Officials who want to master advanced intrusion investigations and incident response, as well as expand their investigative skills beyond traditional host-based digital forensics.
FOR578 is perfect for SANS DFIR Alumni who are looking to elevate their analytical skills beyond the technical minutiae of data collection, processing, and exploitation to more holistic, intelligence-oriented tradecraft. It is akin to a "capstone" course that teaches students how to "think about thinking," and although it employs techniques such as enterprise incident response (FOR508), network forensics (FOR572), malware analysis (FOR610), and memory analysis (FOR526), it enhances technical skills with an emphasis on analysis. As such, it is not a beginner course; it requires an established understanding of incident response, information security, and a good degree of comfort at Unix and Windows command lines. The degree to which students meet these thresholds will dictate the benefit they gain from the course.
Before registering for FOR578, we strongly recommend that you should have attended one of the following SANS courses: SEC504, SEC511, FOR508, FOR572, FOR526, or FOR610.
We are very proud to have the FOR578: Cyber Threat Intelligence course reviewed by many of the leading minds in cyber threat intelligence helping us gather key input and recommendations from commercial, government, and DoD organizations.
FOR578 Technical Reviewers:
Chris Anthony, Johns Hopkins University
Rich Barger, ThreatConnect
J. Brett Cunningham, Allsum, LLC
Rick Holland
Robert Huber
Eric Hutchins
Bertha Marasky, Verizon
Kyle Maxwell
Vivek Nakkady
Scott J. Roberts
Ray Strubinger
Adam Vincent, ThreatConnect
Adam Weidemann
"Cyber Threat Intelligence is an entire discipline not just a feed. This course will propel you along the path to understanding this rapidly maturing field of study." - Bertha Marasky, Verizon
"Threat Intelligence Analysis has been an art for too long, now it can finally become a science at SANS. Mike Cloppert and Robert Lee are the industry 'greybeards' that have seen it all; they are the thought leaders that should be shaping practitioners for the years to come." - Rich Barger, CIO at ThreatConnect Inc.
"This is an awesome course and long overdue. I like the way you have mixed the technical with the intelligence and this is the first time I've seen this done in a meaningful way. Amazing work!" - Rowanne Mackie
"Fantastic class! I love the way the terminology was covered." - Nate DeWitt, eBay
"This training was invaluable. It provided me with insight on how to set up my own intel driven defense." - Jason Miller, Warner Bros
Author Statement
"In teaching this course, my goal is to create a colleague - someone I trust and who understands how to look at defending networks by leveraging the perspective of our adversary. This course represents my wish list for the baseline knowledge and experience I'd like to see among all the new colleagues I will meet throughout my career."
- Mike Cloppert
"When considering the value of threat intelligence, most individuals and organizations ask themselves three questions: What is threat intelligence? When am I ready for it? How do I use it? This class answers these questions and more at a critical point in the development of the field of threat intelligence in the wider community."
- Robert M. Lee
"After spending years supporting and interfacing with government and private sector threat intelligence analysts, it became clear that the career path that each analyst took to arrive at their current position was varied. In creating this course, we have isolated the skills sets of the most effective analysts in order to arm students in this class with the practical knowledge to field a successful cyber threat intelligence program within their own environment."
- Chris Sperry