FOR578: Cyber Threat Intelligence
Sold Out
Sun, May 3 - Mon, May 4, 2015
This training very well summaries CTI and connects all the dots. The training gives you clear answers to the following questions: what is CTA, how important is it, what is it build up on, and how it can be applied in practice?

This course is excellent! Canít wait to share with my team and start implementing the methodologies.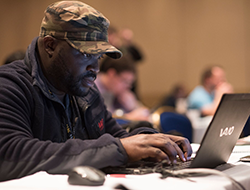 Make no mistake: current computer network defense and incident response contains a strong element of intelligence and counterintelligence that analysts must understand and leverage in order to defend their computers, networks, and proprietary data.
FOR578: Cyber Threat Intelligence will help network defenders and incident responders determine:
The role of cyber threat intelligence in their jobs
When the analysis of an intrusion by a sophisticated actor is complete
How to identify, extract, prioritize, and leverage intelligence from advanced persistent threat (APT) intrusions
How to expand upon existing intelligence to build profiles of adversary groups
Ways to leverage collected intelligence to improve success in defending against and responding to future intrusions
How to manage, share, and receive intelligence on APT actors
Conventional network defenses such as intrusion detection systems and anti-virus tools focus on the vulnerability component of risk, and traditional incident response methodology presupposes a successful intrusion. However, the evolving goals and sophistication of computer network intrusions has rendered these approaches insufficient to address the threats faced by many modern networked organizations. Today's adversaries accomplish their goals using advanced tools and techniques designed to circumvent most conventional computer network defense mechanisms, go undetected during the intrusion, and then remain undetected on networks over long periods of time.
Incident response techniques that collect, classify, and exploit knowledge about these adversaries - collectively known as cyber threat intelligence - enable network defenders to establish a state of information superiority that decreases the adversary's likelihood of success with each subsequent intrusion attempt. Threat intelligence can be a force multiplier as organizations look to update their response and detection programs to deal with increasingly sophisticated advanced persistent threats. Responders need accurate, timely, and detailed information to monitor new and evolving attacks, as well as methods to exploit this information to put in place an improved defensive posture.
During a targeted attack, an organization needs the best incident response and hunting team in the field, poised to combat these threats and armed with intelligence about how they operate. FOR578: Cyber Threat Intelligence will train you and your team to respond, detect, scope, and stop intrusions and data breaches.
Course Syllabus
FOR578.1: Cyber Threat Intelligence for Intrusions
Mike Cloppert
Sun May 3rd, 2015
9:00 AM - 5:00 PM
---
Overview
This section introduces students to the most fundamental concepts and models in cyber threat intelligence (CTI), beginning with an understanding of broader intelligence analysis tradecraft. One of the key enablers of CTI is the use of a common lexicon, and every field of study must define its most basic elements and ideas. This section introduces and defines CTI through conventional lectures, class participation, and exercises from the students' lab book.
Exercises
Step-by-step instructive decomposition of a basic, unsuccessful email intrusion attempt for the purposes of proper classification of intelligence
Digestion of an external report from a peer, with proper extraction and classification of the intelligence it contains
Selection of proper courses of action for information gathered thus far
Topics
Course Introduction

Why CTI? Collection Requirements/Motivations
Intelligence and Intel Analysis
Traditional Intelligence Cycle
Lexicon and Definitions
Roles of CTI Analysts
Risk

Current Threat Landscape

Defining Threats, Abstractions
What a Threat Is NOT
How Does CTI Work?

Classic Intelligence Analysis

What Is Intelligence?
Sources
Intelligence Cycle
Analytical Process and the Scientific Method
Analysis of Competing Hypotheses
Biases in Intel Analysis
Counterintelligence

Intelligence in Computer Network Defense

The Indicator
Examples of Indicators
How Indicators Are Found: The Scan-Transform Loop
Understanding Signatures as Expressive CTI
Indicator Sources

Diamond Model
Kill Chain Introduction and Background
Kill Chain Phases in Detail
Analytical Aspects of the Kill Chain
Courses of Action Matrix
Indicator Lifecycle
Indicator Maturity Model

Model Definition
Application to Indicators and Signatures

Decision-making in Intelligence Exploitation

Intel Gain/Loss Considerations
Prioritization of Detections and Response
The Kill Chain and Intelligence in Conventional Incident Response

Additional, Alternate, and Emergent models
FOR578.2: Kill Chain for Computer Network Defense
Mike Cloppert
Mon May 4th, 2015
9:00 AM - 5:00 PM
---
Overview
One of the most commonly used and basic models covered in Section 1 is the "kill chain," or the series of steps an adversary must accomplish in order to be successful. This section will walk students through analysis of a multi-phase intrusion, from initial discovery of command-and-control to completion of analysis of the event, using the kill chain as a guide to collect intelligence on the sophisticated adversary involved. Other models introduced in Section 1, such as the Courses of Action Matrix, are woven into this section in order to show students their proper role in analyzing a successful intrusion as they slowly work their way up to being able to define a full campaign using the concepts introduced here.
Exercises
Analysis, extracting, and exploiting indicators: Web drive-by
Analysis, extracting, and exploiting indicators: Webserver intrusion
Analysis, extracting, and exploiting indicators: Email phishing
Topics
Scenario- based Kill Chain Analysis: Web Drive-by

Moving Forward in the Kill Chain
Moving Backward in the Kill Chain
Stages 1-7 in Discovery Order

Application of Courses of Action for Computer Network Defense
Analytical Completeness Guided by Kill Chain Analysis
Multi-Stage Intrusions and Kill Chain Sequencing
Second Scenario-based Kill Chain Analysis: Webserver Intrusion

Linkage to Prior Kill Chain
Stages 1-7 in Discovery Order

Historical Unsuccessful Intrusion Attempt: Phishing Attempt

Relationship to Present Incident
When to Analyze Unsuccessful Attempts
Analytical Completeness in Unsuccessful Intrusions

Completing the Picture with Available Intelligence
Additional Information
!IMPORTANT - BRING YOUR OWN LAPTOP CONFIGURED USING THESE DIRECTIONS!!
A properly configured system is required for each student participating in this course. Before coming to class, carefully read and follow these instructions exactly.
You can use any 64-bit version of Windows, MAC OSX, or Linux as your core operating system that also can install and run VMware virtualization products. You also must have 8 GB of RAM or higher to support virtualization to function properly in the class.
Please download and install VMware Workstation 11, VMware Fusion 7, or VMware Player 7 or higher versions on your system prior to class beginning. If you do not own a licensed copy of VMware Workstation or Fusion, you can download a free 30-day trial copy from VMware. VMware will send you a time-limited serial number if you register for the trial at their Web site.
FOR578 SYSTEM HARDWARE REQUIREMENTS:
CPU: 64-bit Intel x64 2.0+ GHz processor or higher-based system is mandatory for this class (Important - Please Read: a 64-bit system processor is mandatory)
8 GB (Gigabytes) of RAM or higher is mandatory for this class (Important - Please Read: 8 GB of RAM or higher of RAM is mandatory)
Ethernet Networking Capability Recommended or Wireless 802.11 B/G/N/AC
USB 3.0 Ports Recommended
Windows based operating system is preferred
PLEASE INSTALL THE FOLLOWING SOFTWARE PRIOR TO CLASS:
Microsoft Office (any version) - Note you can download Office Trial Software online (free for 60 days)
Install VMware Workstation 11, VMware Fusion 7, or VMware Player 6 (higher versions are okay)
Download and install 7Zip on your host
IN SUMMARY, BEFORE YOU BEGIN THE COURSE YOU SHOULD:
Bring the proper system hardware (64bit/8GB Ram) and operating system configuration
Install VMware (Workstation, Player, or Fusion), MS Office, and 7zip
If you have additional questions about the laptop specifications, please contact laptop_prep@sans.org.
Incident Response Team Members who regularly respond to complex security incidents/intrusions from an APT group/advanced adversaries and need to know how to detect, investigate, remediate, and recover from compromised systems across an enterprise.
Experienced Digital Forensic Analysts who want to consolidate and expand their understanding of filesystem forensics, investigations of technically advanced adversaries, incident response tactics, and advanced intrusion investigations.
Information Security Professionals who may encounter data breach incidents and intrusions
Federal Agents and Law Enforcement who want to master advanced intrusion investigations and incident response, and expand their investigative skills beyond traditional host-based digital forensics.
Author Statement
"In teaching this course, my goal is to create a colleague - someone I trust and who understands how to look at defending networks by leveraging the perspective of our adversary. This course represents my wish list for the baseline knowledge and experience I'd like to see among all the new colleagues I will meet throughout my career."
- Mike Cloppert